Julia Child's White Bean Hummus
Julia Child's White Bean Hummus gets extra flavor from plenty of garlic, Tahini Sauce, and fresh basil! And if you serve this tasty hummus with low-carb pita bread, it's not as much of a splurge on carbs as you might be thinking. Or you can use veggie dippers for a version that's gluten-free and even lower in carbs
PIN Julia Child's White Bean Hummus to try it later!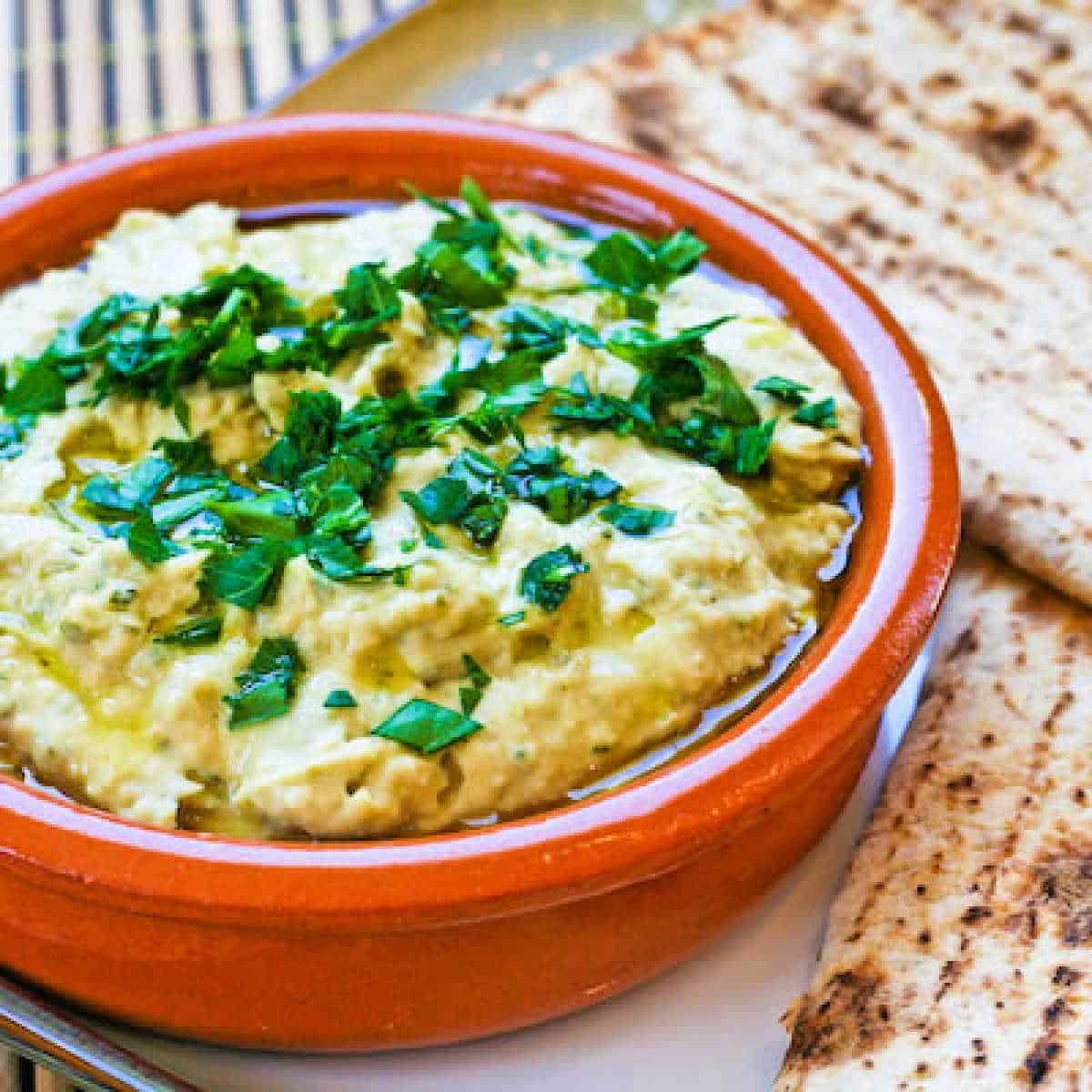 Julia Child's White Bean Hummus is a flavorful white bean dip made made with canned beans, fresh basil, lemon juice, Tahini Sauce, garlic, and olive oil. And if you like hummus, I bet you'll like this version made with white beans.
The amount of beans specified in this recipe is exactly what I measured from one can of beans, which seems like good evidence that the cooking goddess did indeed use canned beans. It surprised me to see that a recipe from a book published in 1970 included tahini sauce (which Julia called "sesame seed paste".)
I increased the amount of basil a little, and ate my white bean hummus with low-carb pita bread, wishing I was in Paris sharing the plate with Julia Child and Paul.
What ingredients do you need?
(This is only a list of ingredients; please scroll down for complete printable recipe. Or if you use the JUMP TO RECIPE link at the top of the page, it will take you directly to the complete recipe.)
What White Beans did I use for the hummus?
I used canned Great Northern Beans for this recipe, but any small white beans will work.
Other Julia Child Recipes I have loved:
I adapted the White Bean Hummus recipes from my one-and-only Julia Child cookbook called From Julia Child's Kitchen (affiliate link) which has now become a collector's item! The recipe from that book that I've made most is definitely Julia Child's Eggplant Pizza and if you like eggplant, I highly recommend trying that one!
Want more interesting ideas for hummus?
If you're a hummus fan you might also like Black-Eyed Pea Hummus, Parsley Hummus, or Roasted Tomato Hummus.
How to Make Julia Child's White Bean Hummus:
(This is only a summary of the steps for the recipe; please scroll down for complete printable recipe. Or if you use the JUMP TO RECIPE link at the top of the page, it will take you directly to the complete recipe.)
I made a double batch so I'd have leftovers in the fridge, so be aware that amounts in these photos are two times what the recipe says. I started with canned Great Northern beans, rinsed and drained in a colander.
It was the end of the season for basil, but luckily I still had enough in the garden to use a generous amount of chopped basil.
I used the food processor to partially chop the basil before I added the other ingredients, because I wanted finely chopped basil in the finished dish.
Here's how the white bean puree looked after I pureed the beans, lemon juice, tahini, and garlic. Decidedly short on looks, but long on flavor.
Serve with low-carb pita bread or use veggie dippers for a version that's gluten-free and lower in carbs.
More Recipes from Julia Child:
Yield: Makes about 8 servings
Julia Child's White Bean Hummus
Prep Time 20 minutes
Total Time 20 minutes
Fresh herbs give Julia Child's White Bean Hummus with Garlic and Herbs extra flavor, and I love the fresh basil in this recipe.
Ingredients
one 15 oz. can white beans (see notes)
20 leaves fresh basil
1 1/2 T fresh lemon juice (or more)
1/4 cup Tahini sauce
2 tsp. minced garlic (or more)
salt and fresh ground black pepper to taste
2 T olive oil (plus more for drizzling on top if desired)
Instructions
Empty the can of white beans into a colander placed in the sink, rinse well with cold water and let drain at least 5 minutes.
While beans are draining, wash basil leaves, spin dry in salad spinner or dry with paper towels, then put basil in the food processor and pulse until roughly chopped.
Add beans, fresh lemon juice, Tahini Sauce (affiliate link), and minced garlic and process until beans are well pureed, about 1 minute.
When mixture is blended, add olive oil through the feed tube, 1 T at a time.
Taste mixture to see if you want more lemon juice, then season with salt and fresh ground black pepper and pulse a few times to mix in.
Garnish with fresh herbs if desired, and serve with pita bread, veggies, or crackers.
Notes
Julia's recipe says garbanzo beans or black beans can also be used. This recipe slightly adapted from my only Julia Child Cookbook – From Julia Child's Kitchen.
Nutrition Information:
Yield:
8
Serving Size:
1
Amount Per Serving:
Calories: 138
Total Fat: 8g
Saturated Fat: 1g
Trans Fat: 0g
Unsaturated Fat: 6g
Cholesterol: 0mg
Sodium: 256mg
Carbohydrates: 14g
Fiber: 3g
Sugar: 0g
Protein: 5g
Nutrition information is automatically calculated by the Recipe Plug-In I am using. I am not a nutritionist and cannot guarantee 100% accuracy, since many variables affect those calculations.
Low-Carb Diet / Low-Glycemic Diet / South Beach Diet Suggestions:
Julia Child's White Bean Hummus will never be strictly low-carb because of the beans, but if you check the nutritional information, this might be lower in carbs than you think. I ate it with low-carb pita bread, and you could serve with celery, red bell pepper, or broccoli dippers for a low-carb option. Of course, canned white beans are a perfect low-glycemic food, and this dip without pita bread would also be suitable for any phase of the original South Beach Diet.
Find More Recipes Like This One:
Use Appetizers to find more recipes like this one. Use the Diet Type Index to find recipes suitable for a specific eating plan. You might also like to follow Kalyn's Kitchen on Pinterest, on Facebook, on Instagram, on TikTok, or on YouTube to see all the good recipes I'm sharing there.
Historical Notes for this Recipe:
This white bean hummus recipe was first posted in 2009 as an event celebrating Julia Child's birthday. It was last updated with more information in 2023.
We are a participant in the Amazon Services LLC Associates Program, an affiliate advertising program designed to provide a means for us to earn fees by linking to Amazon.com and affiliated sites. As an Amazon Associate, I earn from qualifying purchases.