Coconut Milk Shrimp over Cauliflower Rice (Video)
We loved this slightly-spicy Coconut Milk Shrimp served over Cauliflower Rice, but use regular rice if you prefer! Either way this is a delicious shrimp dinner that's loaded with flavor.
PIN the Coconut Milk Shrimp to make it later!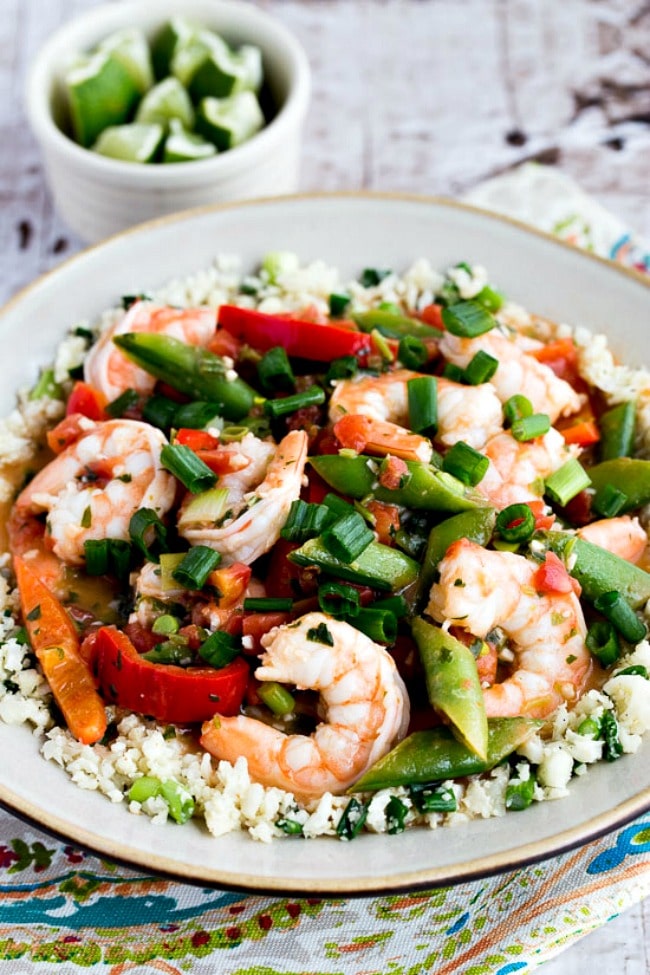 This Coconut Milk Shrimp over Cauliflower Rice started with a shrimp stew in coconut milk I found in Fine Cooking, but I used less shrimp to make it more budget-friendly, added some more veggies to stretch the shrimp even more, and served it over my favorite Easy Cauliflower Rice to make it a low-carb dish. And coconut milk + shrimp; how could that possibly not be delicious!
Jake and Kara and I experimented with this recipe three times to get just the results we wanted, and every time we made it we had to negotiate to see who would get the leftovers. So I think I can safely say that this Coconut Milk Shrimp is just as good reheated as it is right after you make it. Just be careful not to overcook the shrimp and you'll love this dish!
What ingredients do you need for this recipe?
frozen shrimp, thawed overnight in fridge
canned petite-diced tomatoes
Cauliflower Rice for serving
red bell pepper
sugar snap peas
olive oil
green onion
cilantro (optional)
Minced Garlic (affiliate link)
red pepper flakes
coconut milk
salt for shrimp
fresh squeezed lime juice
What size shrimp did we use?
In the U.S. shrimp is labeled with a number that tells how many shrimp make a pound. We used large 21-25 size shrimp for this recipe. You can use a smaller size, but watch carefully so you don't overcook the shrimp.
What kind of coconut milk did we use?
We used full-fat Coconut Milk (affiliate link) which gave a rich flavor to the dish. But if you prefer less fat you can get a good result with lite coconut milk for this recipe.
What adds the spicy flavor to this Coconut Milk Shrimp Recipe?
Red Pepper flakes are the ingredient that adds the spicy flavor to this dish. You can use more red pepper (or add another spicy ingredient like a little Sriracha Sauce or Thai Red Curry Paste) if you want more heat. If you don't want it spicy, just use less red pepper or leave it out completely.
Want more ideas for low-carb shrimp dinners?
I'm a pretty big fan of frozen shrimp which are so easy to pull out of the fridge and make a dinner that's really a wow. And I know shrimp isn't super inexpensive, but it's something I really love for a special meal. And for everyone else who really loves shrimp, there's a great collection of Low-Carb and Keto Shrimp Dinners on the blog; enjoy!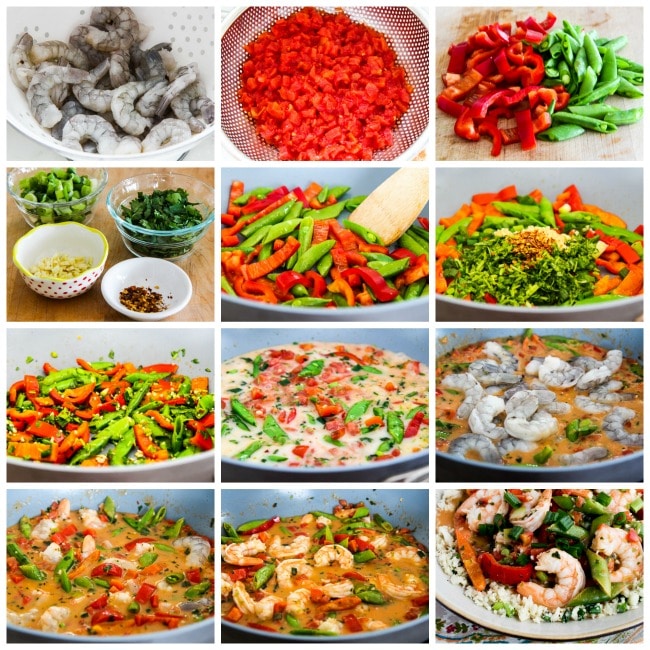 How to Make Coconut Milk Shrimp:
(Scroll down for complete printable recipe, including nutritional information.)
Thaw shrimp overnight in the fridge; then drain well in a colander placed in the sink. I used large 21-25 size frozen shrimp that had the shell and vein removed; pull off the tails if your shrimp has them one.
In another colander, drain the petite-diced tomatoes well.
Cut up the red bell pepper and sugar snap peas into same-size pieces.
Make Easy Cauliflower Rice, and keep warm while you cook the shrimp and veggies.
Have the seasonings and aromatics all ready when you start to stir-fry.
Heat oil over medium-high heat, then cook sugar-snap peas a few minutes; add peppers and cook a few minutes more.
Add green onions, cilantro, Minced Garlic, and red pepper flakes and cook about a minute more.
Then add the tomatoes and coconut milk, lower heat to medium low, and simmer about 4-5 minutes to blend flavors.
While this simmers, toss the shrimp with salt.
After veggies have cooked, add the shrimp and gently stir, then cook about 3 minutes more, or until all the shrimp have barely turned pink.
Add the lime juice to taste. as well as a bit more salt if desired.
Serve hot, over cauliflower rice or rice.
More Low-Carb Dinners with Shrimp:
Cauliflower Fried Rice with Shrimp
Yield: 6 servings
Coconut Milk Shrimp over Cauliflower Rice
Prep Time 30 minutes
Cook Time 17 minutes
Total Time 47 minutes
Coconut Milk Shrimp is a delicious low-carb dinner when served over cauliflower rice, or use regular rice if you prefer!
Ingredients
1 lb. frozen shrimp, thawed overnight in fridge and drained well (see notes)
1 can petite-diced tomatoes, drained well
4 cups Cauliflower Rice for serving (see notes)
1 large red bell pepper, sliced into short strips
2 cups sugar snap peas, sliced lengthwise on the diagonal
1 T olive oil (plus more for cauliflower rice is using)
1 1/2 cups sliced green onion (see notes)
1/2 cup chopped cilantro (see notes)
1 T minced garlic
1/2 tsp. red pepper flakes (or less if you don't like spicy)
1 can coconut milk (see notes)
1 tsp. salt for shrimp (plus more if desired)
2 T fresh squeezed lime juice (see notes)
Instructions
Thaw shrimp overnight in the refrigerator.
At least 15-20 minutes before you want to cook, dump the shrimp into a colander and let them drain well. Pull off tails if your shrimp has them.
Drain the tomatoes in a separate colander.
While they're draining, prepare Best Easy Cauliflower Rice if you're serving the shrimp with that, or cook rice or plain cauliflower rice.
Cut the red pepper into quarters lengthwise and cut away the stem area and all the seeds. Then cut each quarter crosswise into short strips.
Cut the sugar snap peas into lengthwise strips, cutting on the diagonal and cutting each pea into 2 or 3 strips. (You may need to cut off the ends, although sometimes they're soft.)
Slice the green onions, chop the cilantro, chop the garlic (or use minced garlic from a jar which works fine), and measure out the red pepper flakes.
Heat the olive oil in a large non-stick wok or frying pan over medium-high heat until the oil is shimmering. (I used my Green Pan Wok (affiliate link), but you can also use a large frying pan.)
Add the sugar snap peas and stir-fry a minute or two, then add the peppers and stir-fry for 2-3 minutes more, or until the veggies are barely starting to soften.
Then add the green onions, chopped cilantro, minced garlic, and red pepper flakes and stir-fry a minute more.
Shake the can of coconut milk before you open it, then add the drained tomatoes and coconut milk to the pan, immediately turn the heat to medium-low, gently stir, and let the mixture simmer about 4-5 minutes to combine the flavors.
While the veggie mixture simmers, pull the tails off the shrimp, put shrimp back in the colander and toss with the salt.
When the veggie mixture has cooked enough to combine the flavors, add the shrimp and cook about 3 minutes, or just until the shrimp has barely turned pink. (Stir a little so each piece of shrimp gets cooked through, but remember they will continue to cook once you turn off the heat so stop cooking when you think they are not quite done.)
Stir in lime juice to taste and season with salt as desired.
Serve hot, over Easy Cauliflower Rice, rice, or other side dish of your choice, or just serve in a bowl as a stew.
Notes
I used 21-25 count shrimp with shells and vein removed, and we pulled off the tails after we thawed the shrimp overnight.
If you aren't making the Easy Cauliflower Rice you will only need 1/2 cup sliced green onion. Just use more green onion and skip the cilantro if you're a cilantro hater.
You can use light or full-fat coconut milk, but full-fat coconut milk has a lot more flavor. I used my fresh-frozen lime juice; use more or less to taste.
We served the spicy shrimp and veggies over Easy Cauliflower Rice, but you can serve over plain cauliflower rice, regular rice, rice noodles, or even eat it in a bowl as a stew. This cooks quickly, so you should have the cauliflower rice or other dish you're serving it with ready when you begin the shrimp.
Recipe adapted from shrimp stew in coconut milk from Fine Cooking magazine, with lots of experimenting to get it just right!
Nutrition Information:
Yield:
6
Serving Size:
1
Amount Per Serving:
Calories: 302
Total Fat: 18g
Saturated Fat: 13g
Unsaturated Fat: 4g
Cholesterol: 161mg
Sodium: 1184mg
Carbohydrates: 15g
Fiber: 4g
Sugar: 6g
Protein: 23g
Nutrition information is automatically calculated by the Recipe Plug-In I am using. I am not a nutritionist and cannot guarantee 100% accuracy, since many variables affect those calculations.
Low-Carb Diet / Low-Glycemic Diet / South Beach Diet Suggestions:
When it's served over cauliflower rice, this Coconut Milk Shrimp would be a great dish for any phase of the original South Beach Diet, and also perfect for other low-carb and low-glycemic eating plans. Low-Carb or Keto diets would definitely use full-fat coconut milk. South Beach has always recommended light coconut milk, but personally I think that advice is out of date, and I'd greatly prefer full-fat coconut milk myself; take your choice on that if you're following South Beach.
Find More Recipes Like This One:
Use Stir-Fry Recipes to find more recipes like this one. Use the Diet Type Index to find recipes suitable for a specific eating plan. You might also like to follow Kalyn's Kitchen on Pinterest or on Facebook to see all the good recipes I'm sharing there.
We are a participant in the Amazon Services LLC Associates Program, an affiliate advertising program designed to provide a means for us to earn fees by linking to Amazon.com and affiliated sites. As an Amazon Associate, I earn from qualifying purchases.