Asian Cucumber Salad
This Asian Cucumber Salad has Vidalia Onions and cilantro, and this is a cucumber salad I've been making for years when the weather gets hot. You can skip the cilantro or use other sweet onion if you prefer, but whichever way you make it, this is a salad I'd enjoy as a side dish all summer long.
PIN the Asian Cucumber Salad to try it later!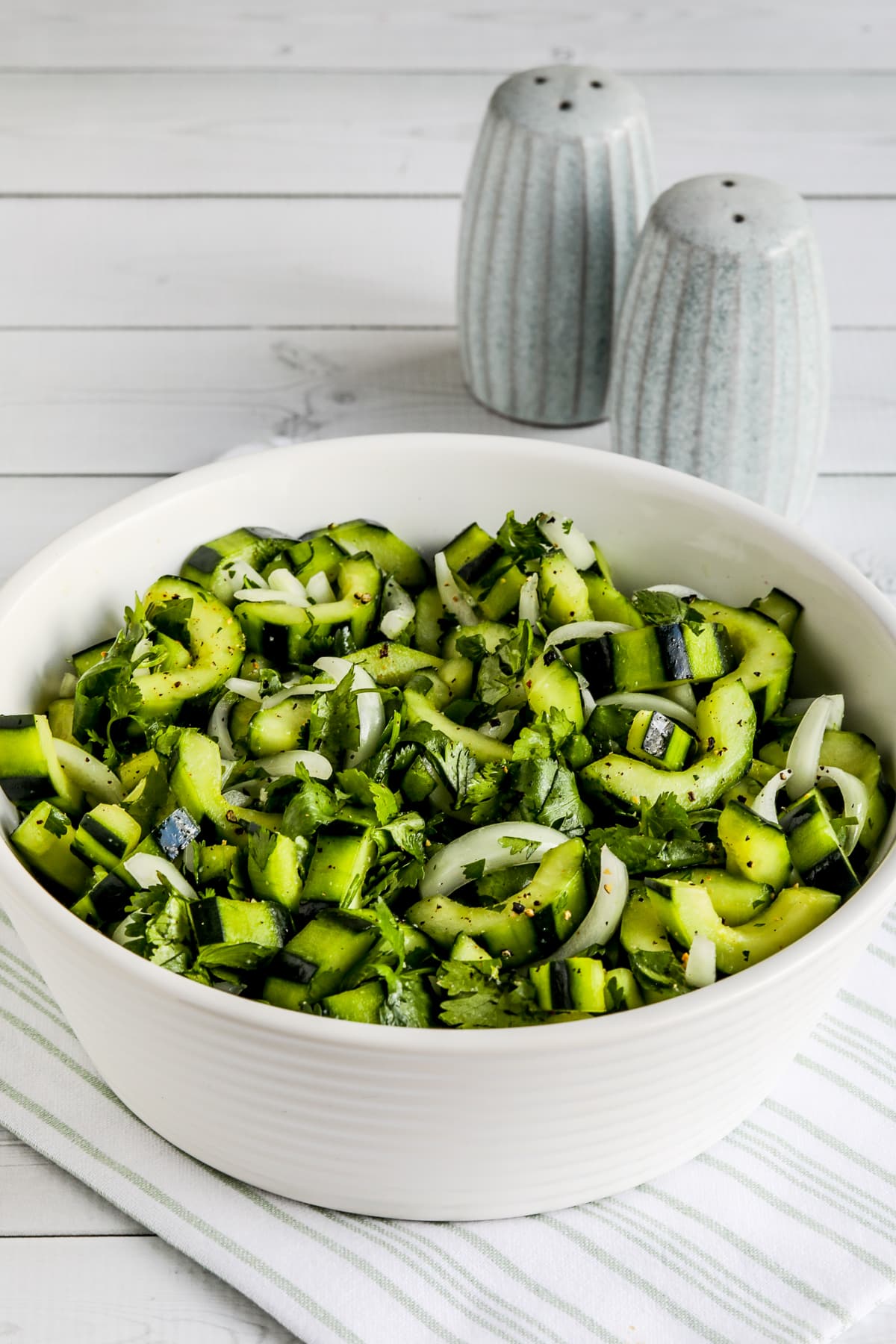 This favorite Asian Cucumber Salad that has Vidalia Onions (or any sweet onion) and cilantro was inspired by those thinly sliced cucumbers marinated in rice vinegar that are sometimes served with sushi. And I love this type of light and refreshing salad that's perfect for days when it's really scorching outside.
And even though I love the salad with the addition of sweet onions and cilantro, I think this rice vinegar dressing is also delicious on plain cucumbers, so if you don't like all the ingredients (or want fewer carbs without the sweet onion), just go for it with the cucumbers.
And this is one of those cucumber salads thats perfect to keep in the fridge, where it will stay good for a day or two so you can keep having a nibble. And truthfully I love this combination of flavors so much I've even been known to make it in the winter when it's not really cucumber salad season at all.
What ingredients do you need for this recipe?
(This is only a list of ingredients; please scroll down for complete printable recipe. Or if you use the JUMP TO RECIPE link at the top of the page, it will take you directly to the complete recipe.)
What cucumbers should you use for Asian Cucumber Salad?
This salad would be amazing with garden cucumbers or the the small Persian Cucumbers that are available now, and if you have those you can skip the step of scraping out the seeds. But if you have larger cucumbers with seeds just scrape out the seeds and slice cucumbers as shown in the photos. Of course, fresh garden cucumbers are always great, but I've made this salad many times in the winter with mini-cucumbers or European cucumbers.
Can you make the Asian Cucumber Salad without cilantro?
I'm a cilantro fan, so for me cilantro is an essential component in the salad, but I do realize that it doesn't taste good to everyone. If you're someone who doesn't enjoy the taste of cilantro, this salad would also be delicious with thinly sliced green onions or mint, or just omit the cilantro if you prefer!
What makes Asian Cucumber Salad low in carbs?
I made this salad with Monkfruit Sweetener (affiliate link) but use any low-carb sweetener you prefer for this salad. Be sure to use the unseasoned rice vinegar, which doesn't contain sugar. The recipe is pretty low in carbs as written, but if you want to make this salad for Keto you might want to omit the sweet onion, which will make it quite a bit lower in carbs.
More Cucumber Salads You Might Enjoy:
Check out 30 Low-Carb Cucumber Salads for more tasty cucumber salad ideas!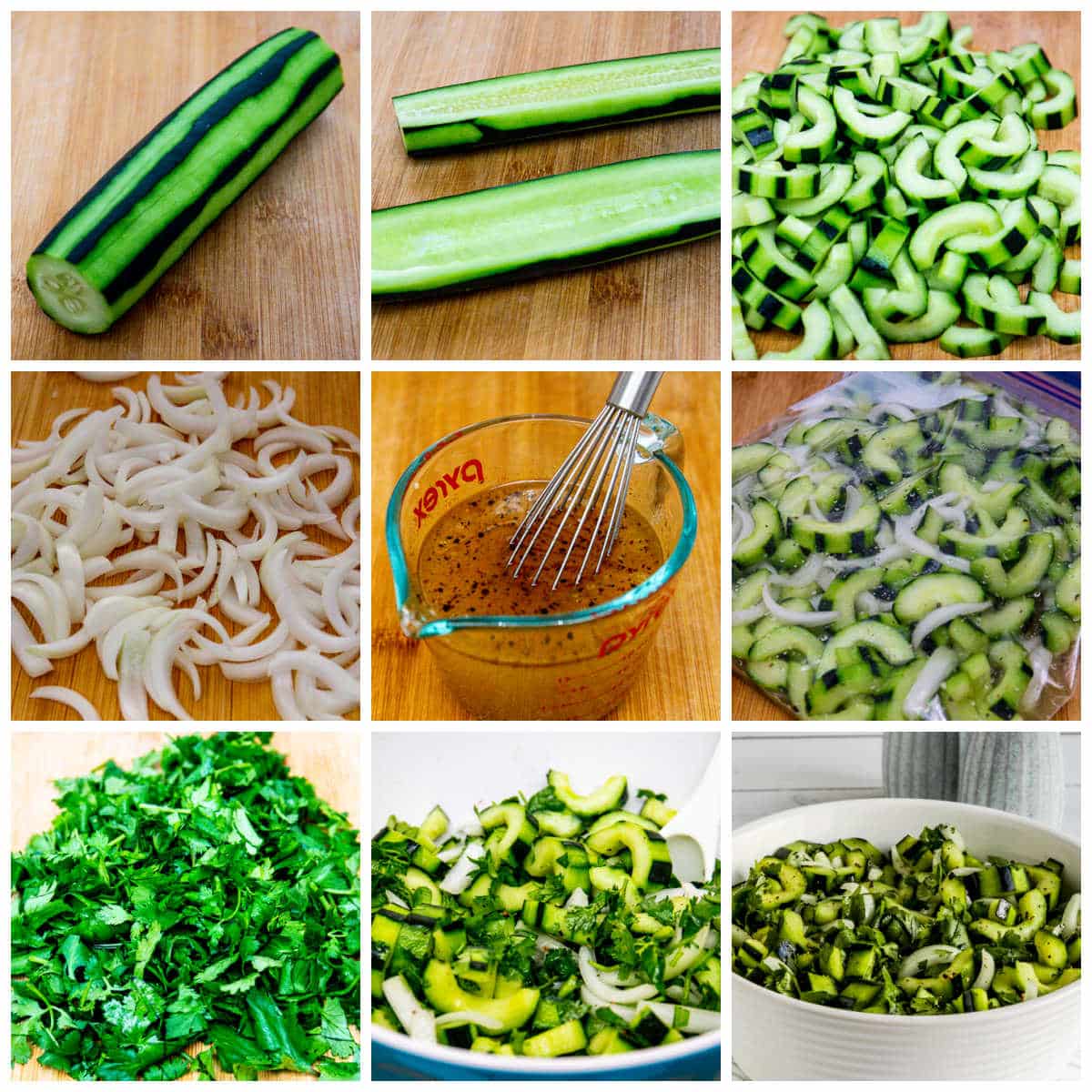 How to Make Asian Cucumber Salad:
(This is only a summary of the steps for the recipe; please scroll down for complete printable recipe. Or if you use the JUMP TO RECIPE link at the top of the page, it will take you directly to the complete recipe.)
If you have fresh garden cucumbers or European cucumbers I'd leave more strips of green peel showing, but regular cucumbers from the store should have quite a bit of the peel cut away.
For large cucumbers I'd scoop the seeds out with a spoon for this salad, see photo of the cucumber with the seeds scooped out.
I used four medium-sized cucumbers, which gave me a nice pile of sliced cucumbers.
Chop up one Vidalia onion or other sweet onion, making pieces that are not too large.
Mix together unseasoned rice vinegar, Monkfruit Sweetener or sweetener of your choice, Asian sesame oil, and garlic puree to make the dressing. I like a tiny pinch of hot pepper flakes in this too but it's optional
Put sliced cucumbers and onions in a large Ziploc bag with the dressing and let marinate in the refrigerator for 2 hours or longer.
When you're ready to eat, drain the cucumbers and onions into a colander and chop up a generous amount of fresh cilantro, crisped in ice cold water in a salad spinner (affiliate link) if needed.
You can use sliced green onion if you're a cilantro hater, or skip it completely. Some people might enjoy mint, but it's a strong flavor in this salad.
Mix the cilantro into the onions and cucumbers, season with fresh ground black pepper, and serve.
This will stay good in the fridge for several days, although cucumbers are more crisp when it's freshly made.
Make it a Low-Carb Meal!
For an amazing low-carb dinner I think this Asian Cucumber Salad would taste great with Very Greek Grilled Chicken, Grilled Cuban Flank Steak, Thai-Inspired Ground Turkey Stir Fry, Maple Glazed Salmon, or Grilled Boneless Pork Chops.
More salads with cucumbers I make over and over: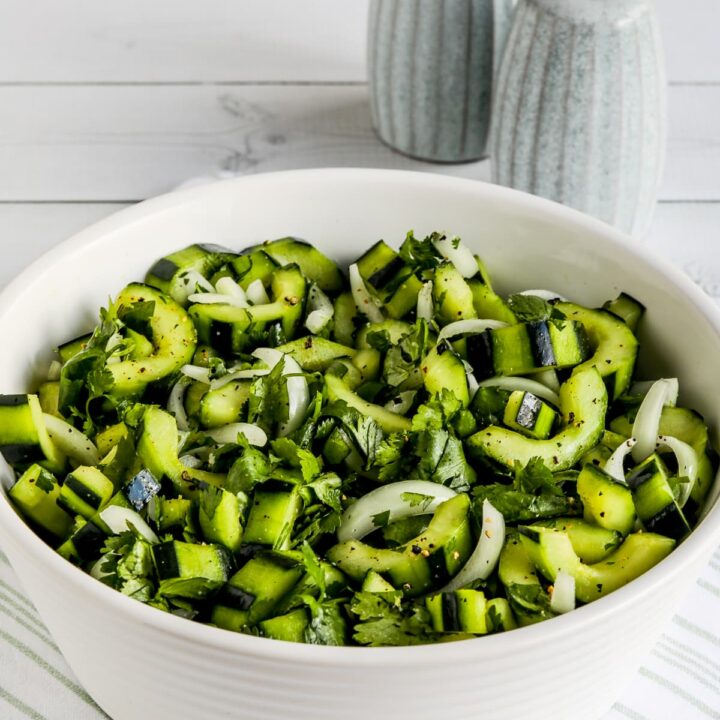 Yield: 8 servings
Asian Cucumber Salad
Prep Time 25 minutes
Additional Time 2 hours
Total Time 2 hours 25 minutes
Asian Cucumber Salad is a perfect salad to cool you down when the weather gets hot. But if I can find good cucumbers, this salad with cucumber, sweet onions, and cilantro is a salad I'd enjoy any time of year. And of course you can omit the cilantro if you prefer.
Ingredients
Ingredients:
4 medium cucumbers
1 large Vidalia onion (see notes)
1 bunch cilantro
Dressing Ingredients:
1 cup rice vinegar (see notes)
3 T Monkfruit Sweetener (see notes)
2 tsp. Asian sesame oil
2 tsp. garlic puree (see notes)
pinch hot pepper flakes (optional)
coarse ground black pepper to taste
Instructions
Peel cucumbers in large stripes if using garden cucumbers or peel even more if using store-bought cucumbers.
Cut cucumber in half lengthwise, and scrape out seeds if they're large, then cut up cucumbers into half slices.
Peel onion, cut in half both ways, then cut onion into small slivers of onion.
Combine rice vinegar, sweetener, sesame oil, garlic, and hot pepper flakes (if using) to make the dressing. I'd start with 3 T of sweetener and taste to see if you want more.
Place cucumbers and onions in Ziploc bag or plastic bowl with snap-on lid and pour the dressing over cucumber mixture.
Let it marinate in refrigerator 2-3 hours. (You can leave it slightly longer if needed, but I prefer this when the cucumbers are still slightly crisp.)
Just before serving, wash, dry, and chop cilantro. (Don't be afraid to use some of the stem; it is considered a delicacy in parts of Asia.)
Drain cucumbers and onions and combine with chopped cilantro. (You can use sliced green onion if you're a cilantro hater, or skip it completely. Some people might enjoy mint, but it's a strong flavor in this salad.)
Season the salad with fresh ground pepper and serve.
This will keep in the refrigerator a day or two, but the vegetables won't be as crisp as when it's freshly made.
Of course this is best made with fresh-from-the-garden cucumbers, but if you only have cucumbers from the store, it's still very good!
Notes
You can use any sweet onion if you don't find Vidalia onions at your store.
Garlic Puree is called Ground Garlic in Asian grocery stores.
Don't use seasoned vinegar which contains sugar. I would mix the dressing with 3 tablespoons of Monkfruit sweetener, then taste to see if you want a bit more sweetener.
This recipe created by Kalyn and was inspired by thinly-sliced marinated cucumbers served with sushi.
Nutrition Information:
Yield:
8
Serving Size:
1
Amount Per Serving:
Calories: 64
Total Fat: 1.7g
Saturated Fat: .3g
Trans Fat: 0g
Unsaturated Fat: 1.3g
Cholesterol: 0mg
Sodium: 15mg
Carbohydrates: 10g
Fiber: 1.6g
Sugar: 5.7g
Protein: 1.5g
Nutrition information is automatically calculated by the Recipe Plug-In I am using. I am not a nutritionist and cannot guarantee 100% accuracy, since many variables affect those calculations.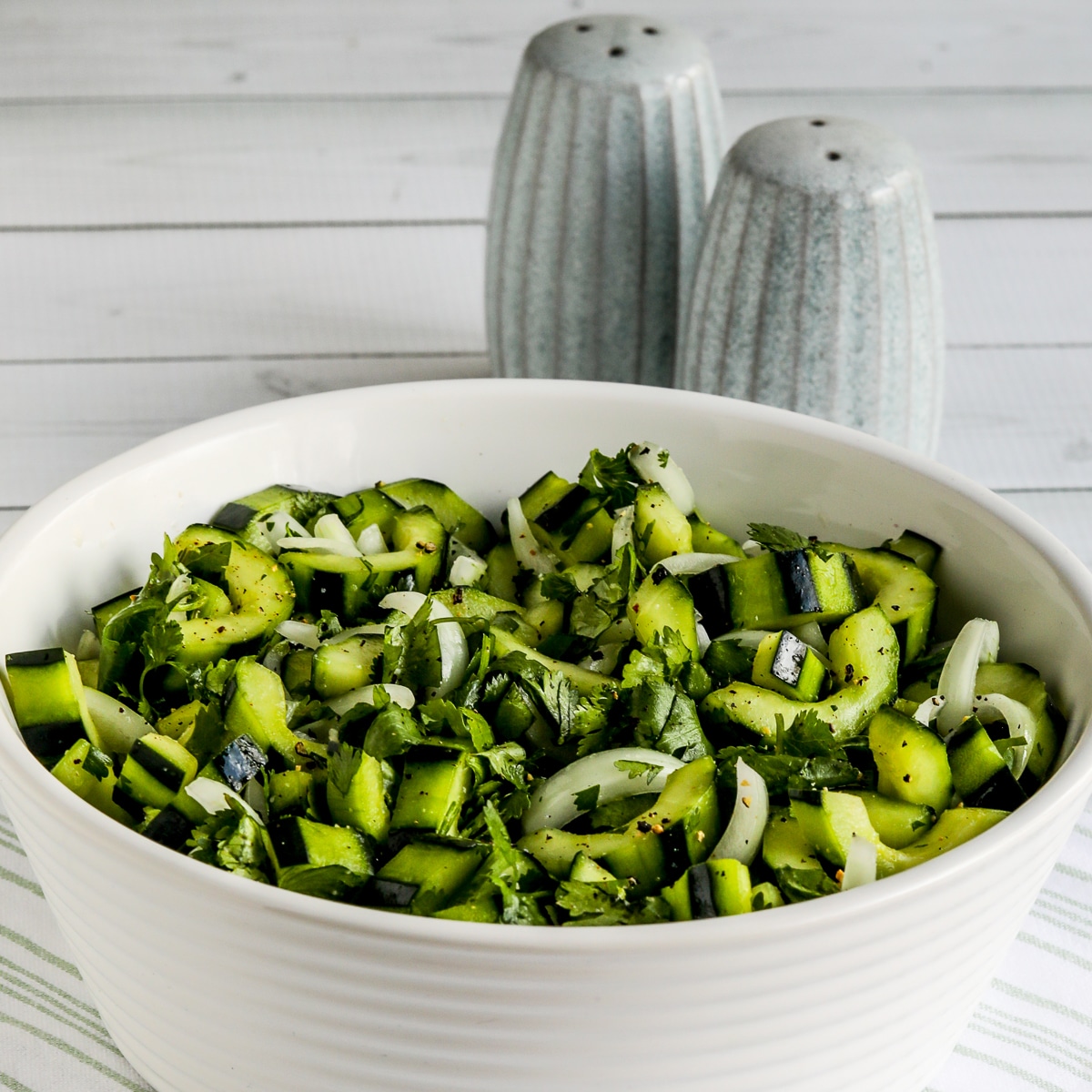 Low-Carb Diet / Low-Glycemic Diet / South Beach Diet Suggestions:
As long as you use Monkfruit Sweetener or another sweetener or your choice and avoid seasoned rice vinegar, Asian Cucumber Salad is a perfect salad for low-carb or Keto diets, and also for any phase of the original South Beach Diet. For Keto diets, you could use less sweet onion for even lower carbs.
Find More Recipes Like This One:
Use Cucumber Recipes or Salad Recipes to find more recipes like this one. Use the Diet Type Index to find recipes suitable for a specific eating plan. You might also like to follow Kalyn's Kitchen on Pinterest, on Facebook, on Instagram, on TikTok, or on YouTube to see all the good recipes I'm sharing there.
Historical Notes for this Recipe
This recipe was first posted in 2006 after a friend made it for me, and I've been making it ever since. It was last updated with more information (and greatly improved photos) in 2023.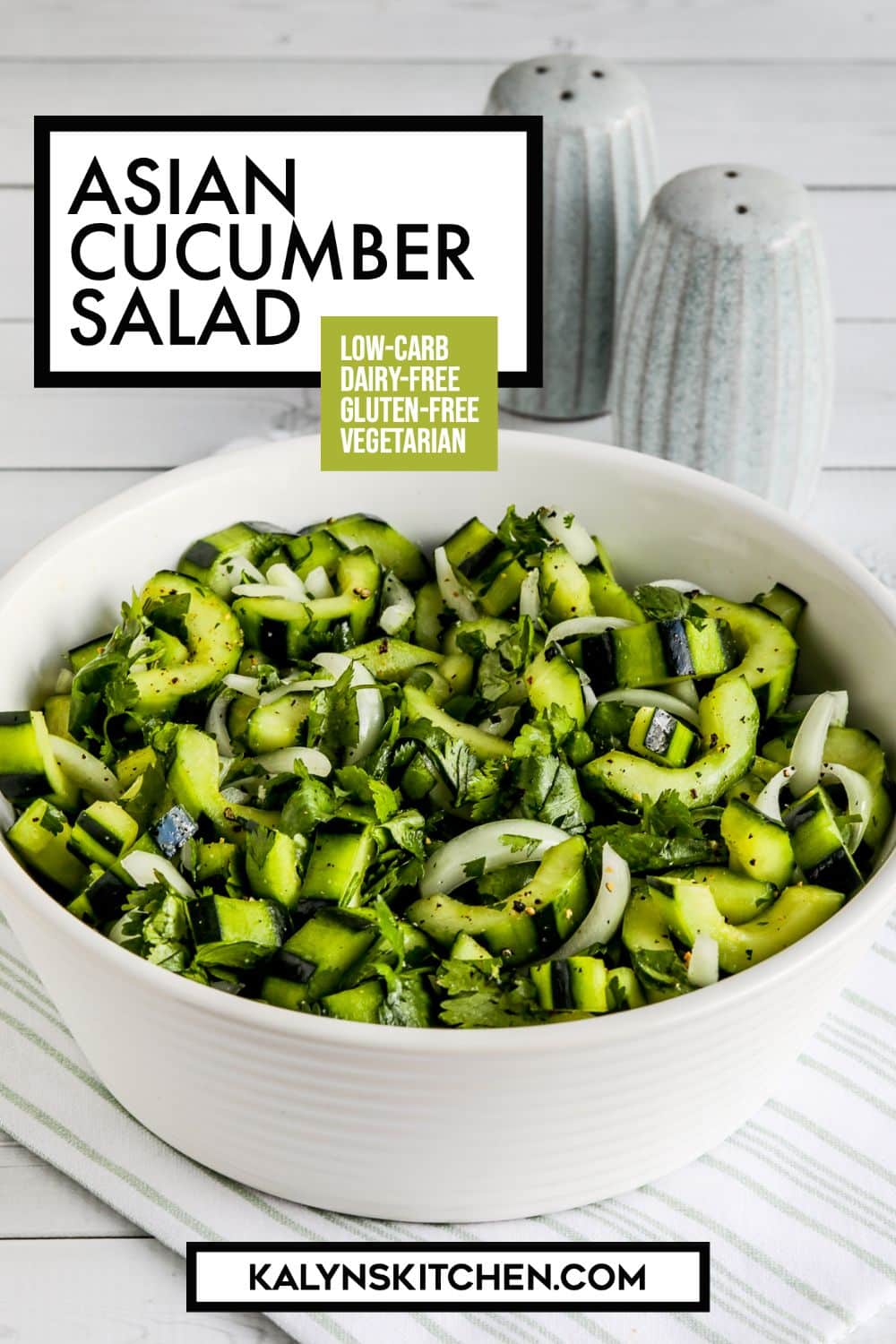 We are a participant in the Amazon Services LLC Associates Program, an affiliate advertising program designed to provide a means for us to earn fees by linking to Amazon.com and affiliated sites. As an Amazon Associate, I earn from qualifying purchases.