How to Make Tzatziki Sauce (VIDEO)
This post shows How to Make Tzatziki Sauce, and this Greek yogurt and cucumber sauce is the delicious sauce that's served with Greek Food!
PIN How to Make Tzatziki Sauce to try it later!
This recipe will show you everything you need to know about How to Make Tzatziki Sauce! And if you're not familiar with it, Tzatziki is one of the classic sauces in Greek cuisine, with as many versions as there are cooks who make it. If you've had a Gyro (pronounced yeero), Tzatziki is the type of white sauce that's often served on Gyros.
For years I've been calling this The World's Best Tzatziki Sauce because it was made by my friend Georgette, who's not only 100% Greek, but also one of the best cooks I know. I learned about the recipe after Georgette brought this delicious Greek yogurt and cucumber sauce sauce to my house when I cooked some lamb. And homemade Tzatziki is so much better than the kind you buy, and this recipe has a lot of fans!
I love Tzatziki on all kinds of grilled meats like Salmon, Kubideh, Souvlaki, chicken, and of course lamb. I've never had a version of Tzatziki sauce I didn't like, but this was hands-down the best one I've tasted. Try it if you've never made Tzatziki yourself!
What is Tzatziki Sauce?
Tzatziki Sauce is the traditional Greek Yogurt, Cucumber, and Dill sauce that's often served with Greek food, and if you've eaten Gyros it is the white sauce that some people call Gyro Sauce! I'm giving you some of my favorite ideas for dishes to serve with Tzatziki in this post, but there are so many different ways to use Tzatziki Sauce, and once you make some homemade Tzatziki you're going to want to eat it on everything!
What ingredients do you need for this recipe?
Greek Yogurt (or regular plain yogurt, strained through a filter for several hours)
lemon (I used my fresh-frozen lemon juice)
garlic clove
cucumbers
Kosher Salt (affiliate link) for salting cucumbers
fresh dill
Kosher Salt (affiliate link) and fresh ground black pepper to taste
How long will Tzatziki Sauce keep in the fridge?
If you start with very fresh yogurt that's not close to the use-by date, Tzatziki will keep in the fridge for at least 4-5 days, and probably as long as a week. But if you don't think you will use it all in that amount of time, you might want to cut this recipe in half.
What are some things you can add to Tzatziki Sauce?
The recipe you see here is the classic Greek Tzatziki Sauce. But many people like to add fresh mint to Tzatziki, which is good if you like that flavor. I've also seen Tzatziki recipes that used Za'atar Spice Mix (affiliate link). And I definitely wouldn't mind a bit of finely-crumbled Feta cheese stirred into my Tzatziki!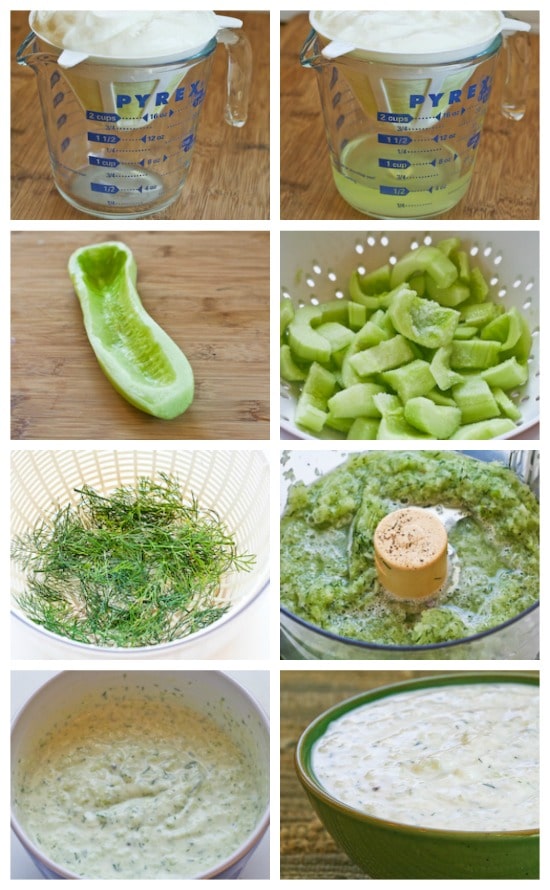 How to make Tzatziki Sauce:
(Scroll down for complete printable recipe with nutritional information.)
Tzatziki Sauce is made with Greek Yogurt, and there are many good brands.
If you can't find Greek yogurt, you can make something similar by straining regular plain yogurt for several hours to remove the liquid and thicken the yogurt. I use the yogurt strainer you see in this photo, but if you don't have one Georgette recommends using two coffee filters inside a colander, placed inside a bowl to catch the liquid.
The first photo shows the yogurt starting to drain.Let the yogurt drain on the counter for 2 hours, or until it reaches the thickness you want. The next photo shows how much liquid had drained out after 2 hours, when the yogurt was nice and thick.
Since Tzatziki contains finely-chopped cucumber, it's best to remove the seeds of the cucumber so the sauce doesn't get too watery. Use a sharp pointed spoon to scrape out seeds as shown in this photo.
Then cut cucumbers into thick slices and put in a colander placed in the sink. Sprinkle on salt and let cucumbers release water and drain for at least 30 minutes or more. (The water released rinses off most of the salt, but if you're limiting salt in your diet you can rinse them and pat dry with paper towels.)
Tzatziki traditionally contains fresh dill, which makes me glad I have dill from my garden. Use the fine tips of the dill leaves and discard the thick stems. Some versions of Tzatziki use mint, and I'm thinking dried dill weed would also work in a pinch.
Put the cucumbers, garlic, lemon juice, dill, and black pepper into food processor and process with the steel blade until cucumbers are finely chopped. When you see the liquid in this photo you can tell why it's important to drain the cucumbers first.
Then stir the pureed cucumber mixture into the Greek yogurt (or yogurt you've drained.)
Let this refrigerate for at least 2 hours before using to give flavors a chance to develop.
Tzatziki sauce will keep in the fridge for a day or two, and it's good on any kind of grilled meat. Look below for more serving suggestions.
Ten Favorite Dishes to serve with Tzatziki:
Baked Greek Meatballs with Feta
Grilled Middle Eastern Turkey Burgers
Ground Beef Meatball Gyro Lettuce Wraps
Greek Salmon with Tzatziki Sauce
Grilled Lamb Chops with Garlic, Rosemary, and Thyme
Kubideh: Grilled Ground Meat on Skewers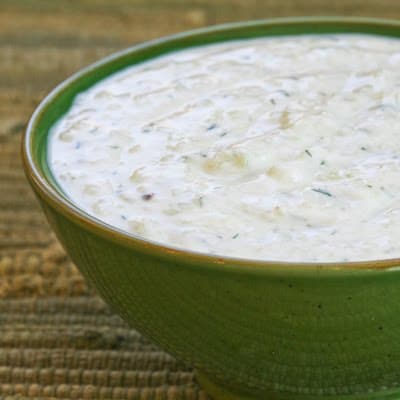 Yield: 14 servings (see note)
How to Make Tzatziki Sauce
Prep Time 2 hours 20 minutes
Total Time 2 hours 20 minutes
This post will show you How to Make the World's Best Tzatziki Sauce! And Tzatziki is delicious served in a variety of ways; enjoy!
Ingredients
3 cups Greek Yogurt (or regular plain yogurt, strained through a filter for several hours)
juice of one lemon (about 3 T)
1 garlic clove, chopped
2 medium cucumbers, seeded and diced
about 1 T kosher salt for salting cucumbers
1 T finely chopped fresh dill (can substitute mint leaves for a slightly different version)
Kosher salt and fresh ground black pepper to taste
Instructions
If you don't have Greek yogurt, strain plain yogurt for several hours until it thickens.
Peel cucumbers, then cut in half lengthwise and take a small spoon and scrape out seeds. Discard seeds. (If you use the small seedless or European cucumbers with few seeds, you can skip this step.)
Slice cucumbers, then put in a colander, sprinkle on 1 T salt, and let stand for 30 minutes to draw out water. Drain well and wipe dry with paper towel.
In food processor with steel blade, add cucumbers, garlic, lemon juice, dill, and a few grinds of black pepper. Process until well blended, then stir this mixture into the yogurt. Taste before adding any extra salt, then salt if needed.
Place in refrigerator for at least two hours before serving so flavors can blend. (This resting time is very important.)
This will keep for a few days or more in the refrigerator, but you will need to drain off any water and stir each time you use it.
Notes
Nutritional information is calculated on 1/4 cup serving size.
Recipe from Georgette Kapos.
Nutrition Information:
Yield:
14
Serving Size:
1
Amount Per Serving:
Calories: 37
Total Fat: 0g
Saturated Fat: 0g
Unsaturated Fat: 0g
Cholesterol: 2mg
Sodium: 558mg
Carbohydrates: 4g
Fiber: 0g
Sugar: 2g
Protein: 5g
Nutrition information is automatically calculated by the Recipe Plug-In I am using. I am not a nutritionist and cannot guarantee 100% accuracy, since many variables affect those calculations.
Low-Carb Diet / Low-Glycemic Diet / South Beach Diet Suggestions:
This recipe would be suitable for low-carb and Keto diets and for any phase of the original South Beach Diet or other low-glycemic diets. Yogurt is a dairy product where the South Beach Diet recommends always choosing non-fat or low-fat, but Tzatziki is a condiment, and you won't be eating enormous amounts of it so I would probably use full-fat yogurt for best flavor. And of course low-carb and Keto diets would absolutely want full-fat yogurt.
Find More Recipes Like This One:
Use Sauces to find more recipes like this one. Use the Diet Type Index to find more recipes suitable for a specific eating plan. You might also like to follow Kalyn's Kitchen on Pinterest, on Facebook, on Instagram, or on YouTube to see all the good recipes I'm sharing there.
Historical Notes for this Recipe:
This recipe was first posted in 2007, and I have made it many, many times since then! It was last updated with more information in 2022.
We are a participant in the Amazon Services LLC Associates Program, an affiliate advertising program designed to provide a means for us to earn fees by linking to Amazon.com and affiliated sites. As an Amazon Associate, I earn from qualifying purchases.