Kalyn's Pork Souvlaki Recipe (Video)
Kalyn's Pork Souvlaki Recipe is a classic recipe for pork that's marinated in Greek flavors and cooked on a skewer. I've been a fan of Greek Souvlaki for years and if you like Greek Food I bet you'll enjoy this recipe.
PIN the Pork Souvlaki Recipe to try it later!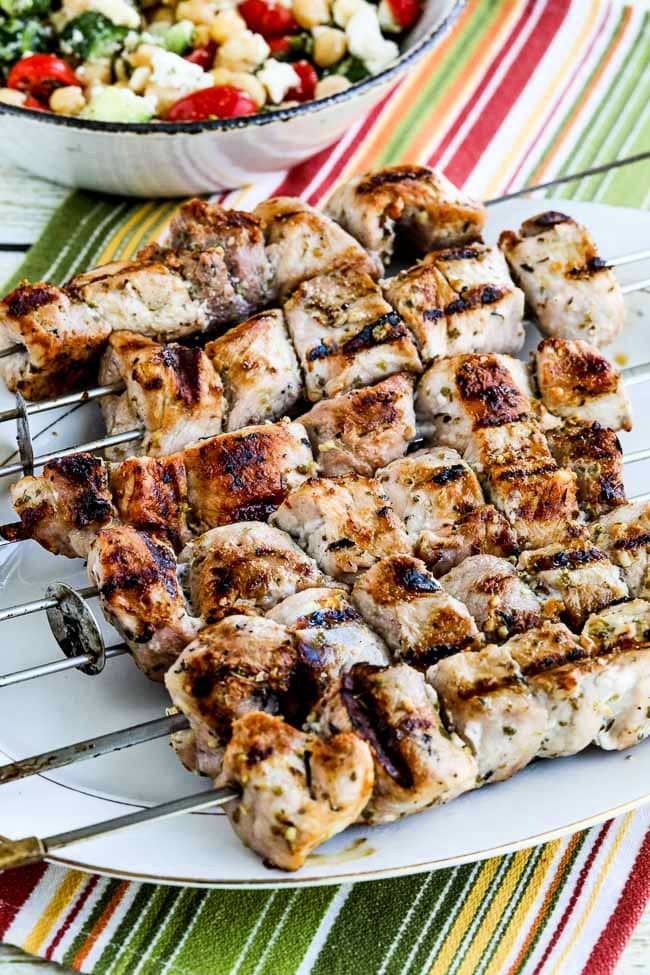 It's grilling season, and Kalyn's Pork Souvlaki Recipe is a favorite kabob recipe I love to make on the grill! Pork Souvlaki is easy to make and delicious and I often serve it with my perennial favorite Greek American Salad for a summer dinner that I'd never get tired of.
This recipe has been overdue for a photo update for quite a few years now, so I'm excited to share the new photos with you. I hope they'll entice you to make these grilled Pork Souvlaki kabobs if you haven't already tried the recipe. And if you're a huge Greek food fan like I am, scroll down to see lots more good ideas for Greek flavors for summer!
What is Souvlaki?
Souvlaki is a well-known and well-loved Greek dish of meat cooked on a skewer, and the more authentic spelling of this when it's multiple skewers would be Souvlakia. It's traditionally made with pork, marinated in the Greek flavor trinity of lemon, garlic, and oregano, and Greek Pork Souvlaki is a dish you'll always find on the menu at a Greek-American restaurant.
What ingredients do you need for this recipe?
(This is only a list of ingredients; please scroll down for complete printable recipe. Or if you use the JUMP TO RECIPE link at the top of the page, it will take you directly to the complete recipe.)
What if you can't marinate the pork overnight for Pork Souvlaki?
For this Pork Souvlaki recipe I highly recommend cutting up the pork and making the marinade in the evening, letting the meat marinate overnight and the next day, and having it for dinner that night. But if that's just not happening, marinate the meat as long as possible, preferably at least eight hours.
What do you serve with this Pork Souvlaki recipe?
Souvlaki is great served with Tzatziki Sauce, which is the Greek cucumber-yogurt sauce that's also served with Gyros. Most Greek or Greek-American restaurants serve Souvlaki with pita bread, and I'd love this with my favorite low-carb pita bread. And Souvlaki with be great with a salad with Feta Cheese on the side.
Want more Souvlaki options?
I'm a fan of Greek flavors and also love food cook on skewers on the grill, so my site also has great recipes for Chicken Souvlaki and Greek Lamb Souvlaki.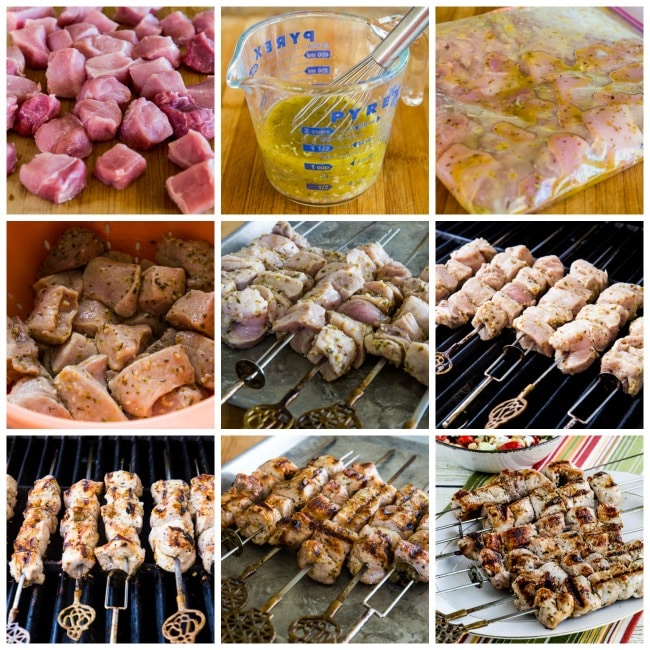 How to make Kalyn's Pork Souvlaki Recipe:
(This is only a summary of the steps for the recipe; please scroll down for complete printable recipe. Or if you use the JUMP TO RECIPE link at the top of the page, it will take you directly to the complete recipe.)
I've often made Souvlaki with those thick boneless pork chops you get at Costco. But this time I was shopping at the regular grocery store where thick pork chops weren't available so I got a pork loin boneless roast, and after I trimmed the roast and cut into cubes it was close to 3 pounds of pork. (The cooked Souvlaki is great warmed up, so I didn't mind having leftovers.)
I cut the pork into cubes about 2 inches square, mixed together olive oil, fresh lemon juice, red wine vinegar, Dried Oregano (affiliate link), Minced Garlic (affiliate link), and a little salt and pepper to make the marinade.
Let the pork marinate overnight if possible, or all day while you're at work.
When you're ready to cook, drain the pork cubes in a colander placed in the sink.
Thread pork on to skewers and let it come to room temperature while you preheat the grill.
Cook the souvlaki until it's nicely browned on all sides, about 15 minutes cooking time.
I used an Instant-Read Meat Thermometer (affiliate link) to check that the pork had reached 150F/65C.
Let it rest for at least 5 minutes after you remove from grill. Serve hot.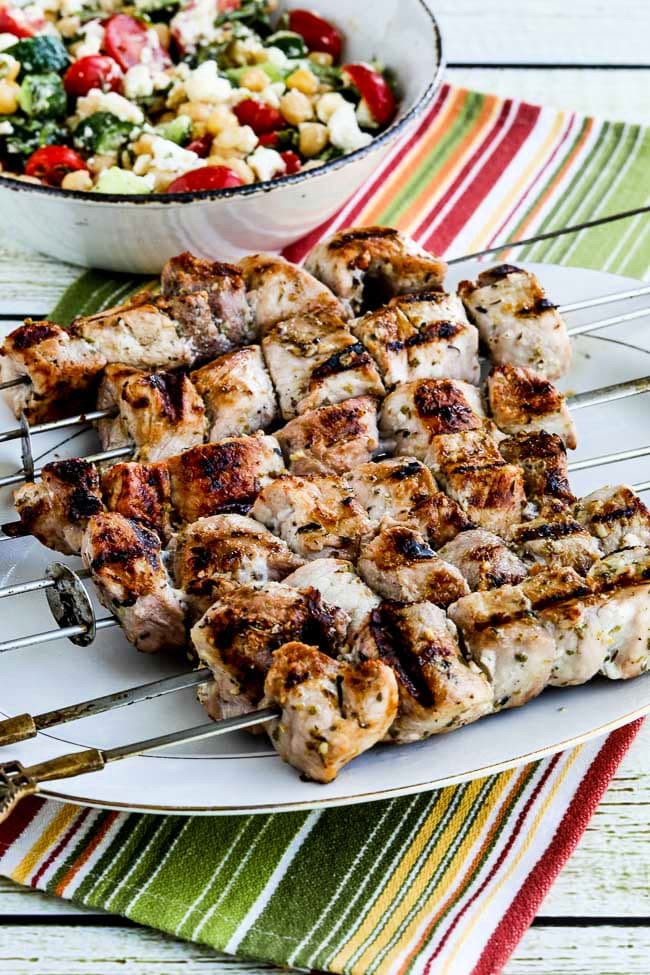 Make it a Low-Carb Meal:
The Souvlaki in this photo was served with Cucumber and Tomato Salad with Marinated Garbanzo Beans and Feta. But if you want a low-carb meal, this would be great with Cucumber Salad with Easy Balsamic Dressing, Al's Famous Hungarian Cucumber Salad, Cucumber Salad with Parsley and Feta, Spicy Chopped Greek Salad with Peperoncini, or Grilled Zucchini Greek Salad.
More Greek Flavors for Summer:
Weekend Food Prep:
This recipe has been added to a category called Weekend Food Prep to help you find recipes you can prep or cook on the weekend and eat during the week!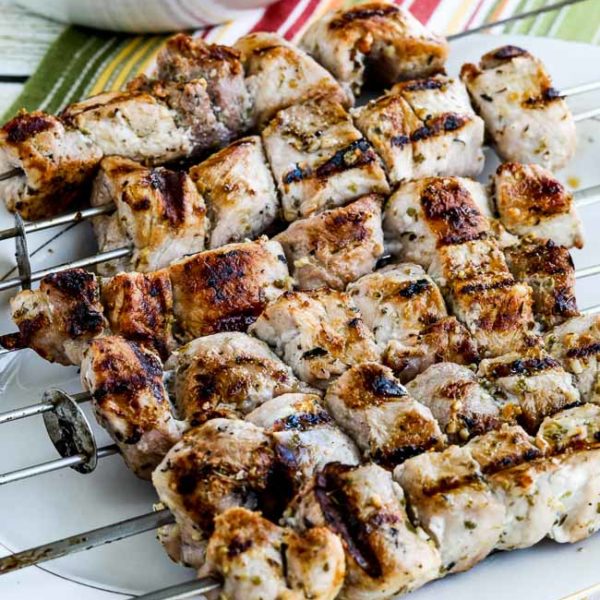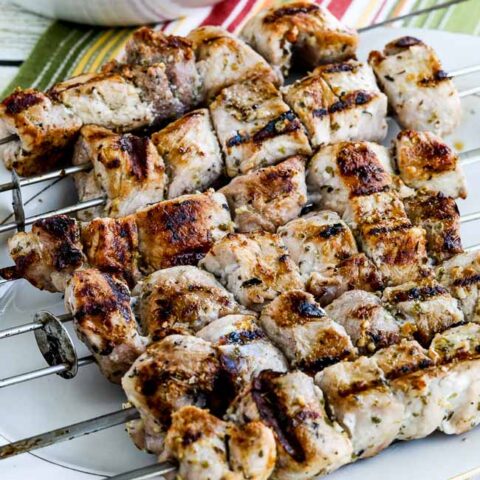 Yield: 6 servings
Kalyn's Pork Souvlaki Recipe
Prep Time 10 minutes
Cook Time 15 minutes
Additional Time 8 hours
Total Time 8 hours 25 minutes
This recipe for Kalyn's Pork Souvlaki is a classic version of Greek Sovlakia, or Greek grilled pork on a skewer.
Ingredients
6 thick boneless pork chops (see notes)
2 T olive oil, for brushing kabobs right before grilling
Marinade Ingredients:
1/2 cup olive oil
1/2 cup fresh squeezed lemon juice (see notes)
1 T red wine vinegar
1 T dried oregano
1 T finely minced garlic
salt and fresh-ground black pepper to taste
Instructions
Cut pork chops or pork roast into cubes about 2 inches square and place in Ziploc bag.
Combine marinade ingredients and pour over meat. Marinate in refrigerator for 6-24 hours.
When you're ready to cook, drain the pork cubes in a colander place in the sink while you preheat grill to high heat.
Thread meat on to skewers, pressing meat closely together so it doesn't spin on the grill. Double Kabob Skewers (affiliate link) or thick blade skewers are great if you can find them.
When grill is hot, brush kabobs with olive oil on both sides, place Souvlaki skewers on grill and reduce heat to medium-high.
Grill skewers, turning as soon as you see grill marks on each, until the Souvlaki is very well browned on all sides. This will take about 15 minutes total cooking time, but actual cooking time depends on the temperature of the meat, temperature of your grill, and the air temperature, so I like to use an Instant-Read Meat Thermometer (affiliate link) to check that the pork has reached 150F/65C.
Let it rest for at least 5 minutes after you remove from the grill, then serve hot.
Notes
You can use three pounds of pork loin boneless roast if you don't find thick pork chops. I used my fresh-frozen lemon juice for this recipe. Souvlaki is delicious served with Tzatziki sauce, a traditional Greek sauce made from yogurt, cucumbers, onions, garlic, and dill.
This is the Pork Soulaki Recipe that Kalyn has been perfecting for years, probably first discovered in a cooking magazine long before there was such a thing as the internet!
Nutrition Information:
Yield:
6
Serving Size:
1
Amount Per Serving:
Calories: 553
Total Fat: 44g
Saturated Fat: 10g
Trans Fat: 0g
Unsaturated Fat: 31g
Cholesterol: 110mg
Sodium: 234mg
Carbohydrates: 3g
Fiber: 1g
Sugar: 1g
Protein: 39g
Nutrition information is automatically calculated by the Recipe Plug-In I am using. I am not a nutritionist and cannot guarantee 100% accuracy, since many variables affect those calculations.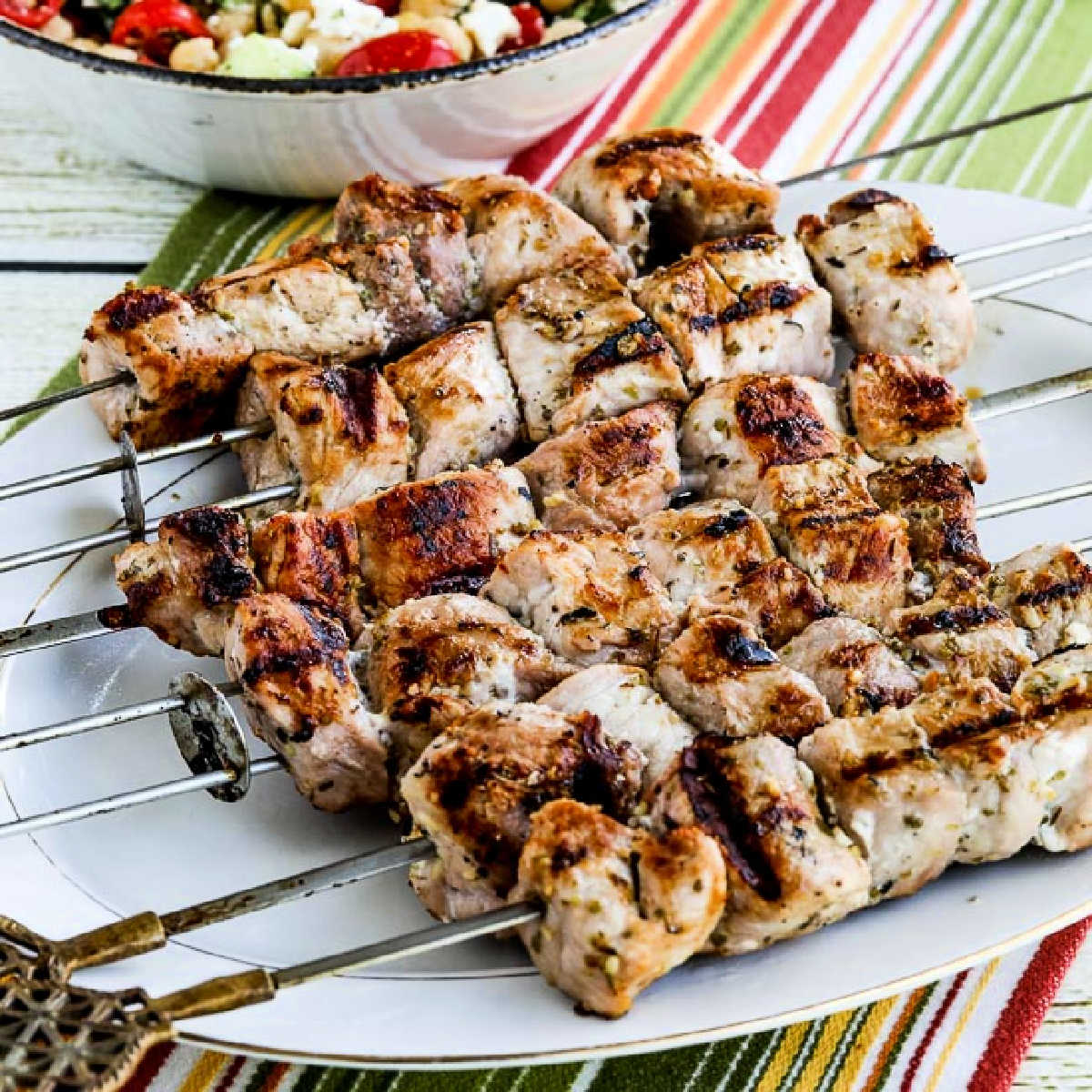 Low-Carb Diet / Low-Glycemic Diet / South Beach Diet Suggestions:
Kalyn's Pork Souvlaki Recipe is a perfect main dish for a low-carb, Keto, or low-glycemic meal, and if the pork is trimmed of most fat this would be suitable for any phase of the original South Beach Diet.
Find More Recipes Like This One:
Use the Grilling Index to find more recipes like this one. Use the Diet Type Index to find recipes suitable for a specific eating plan. You might also like to follow Kalyn's Kitchen on Pinterest, on Facebook, on Instagram, on TikTok, or on YouTube to see all the good recipes I'm sharing there.
Historical Notes for this Recipe:
This recipe was first posted in 2006, and since then I've made it many times during the summer months. It was last updated with more information in 2023.
We are a participant in the Amazon Services LLC Associates Program, an affiliate advertising program designed to provide a means for us to earn fees by linking to Amazon.com and affiliated sites. As an Amazon Associate, I earn from qualifying purchases.