25 Low-Carb Skillet Meals
Everyone likes meals that don't have a lot of clean-up, so here are 25 Low-Carb Skillet Meals that are easy make in one pan. This round-up includes dinners plus some meals you can eat for breakfast, lunch, or dinner.
PIN 25 Low-Carb Skillet Meals to try some later!
I'm a huge fan of one-pan meals, and this collection of 25 Low-Carb Skillet Meals has tasty options from Kalyn's Kitchen and blogs around the web. This round-up has so many good ideas for dinners that only need one pan, plus there's also an assortment of recipes that would be great for any time of day.
What types of Low-Carb Skillet Meals are featured here?
In this round-up I'm giving you a fun variety of meals made in one pan using ingredients like sausage, breakfast sausage, chicken, turkey, eggs, zucchini, greens, cabbage, bacon, beef, and more, and of course plenty of recipes with cheese.
What pan can you use for the Low-Carb Skillet Meals?
Many of these recipes are photographed in a cast iron skillet (affiliate link) and I love this type of pan for a one-dish meal recipe, but there are a variety of skillets or large frying pans that will work for these recipes. And no matter what type of skillet you have, I hope you enjoy trying one of the skillet meals!
How do you get the complete recipe?
Just click or tap any recipe title to see the full recipe on the original blog. Photos are copyrighted to the blog that originally posted the recipe.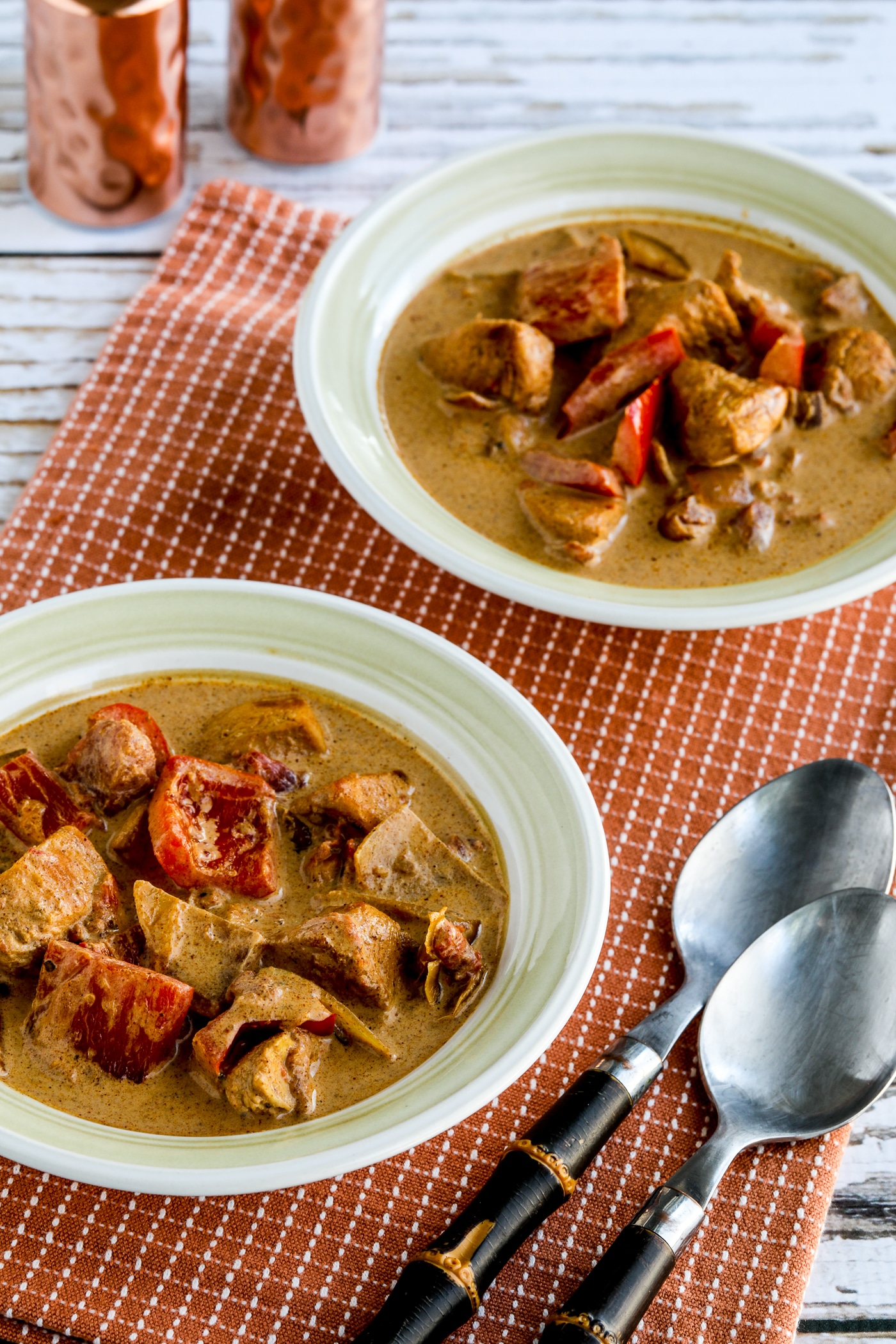 My recipe for Paprika Chicken is inspired by a famous Hungarian dish, and this is so delicious for an easy skillet meal.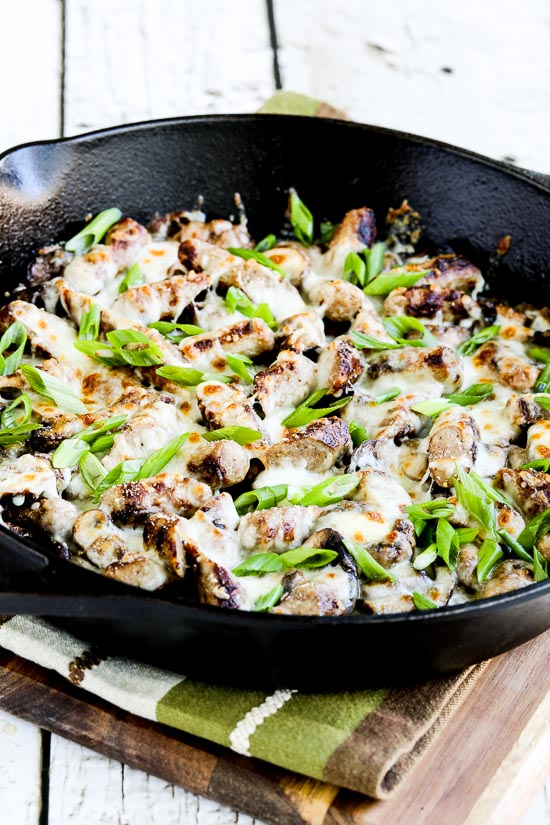 Cheesy Low-Carb No-Egg Sausage Mushroom Breakfast would also be great for dinner, and this is perfect when you're tired of eggs!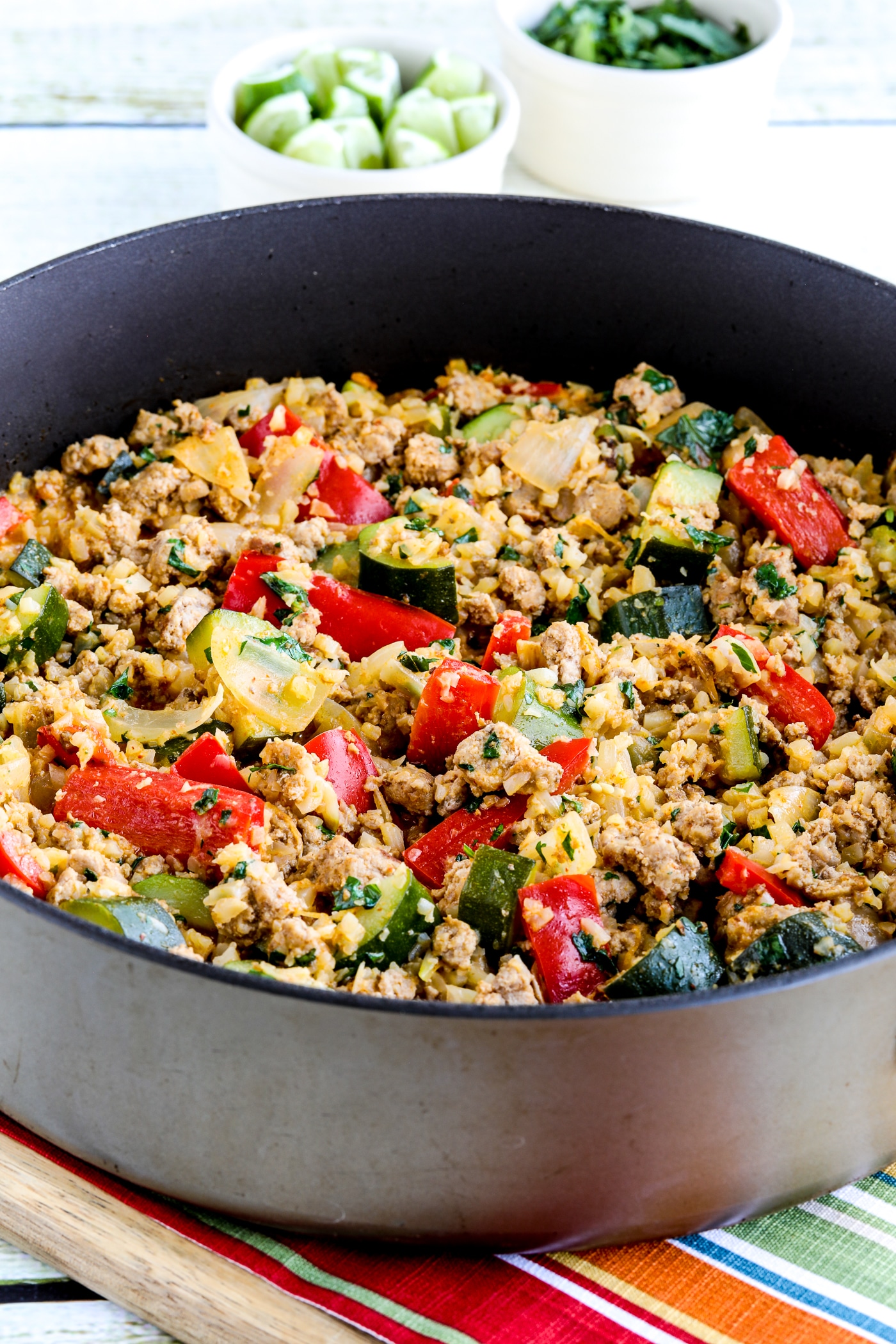 This One-Pan Ground Turkey Curry is an extra-easy recipe that can help you satisfy that craving for Thai Food, and this use ingredients you can find in most grocery stores.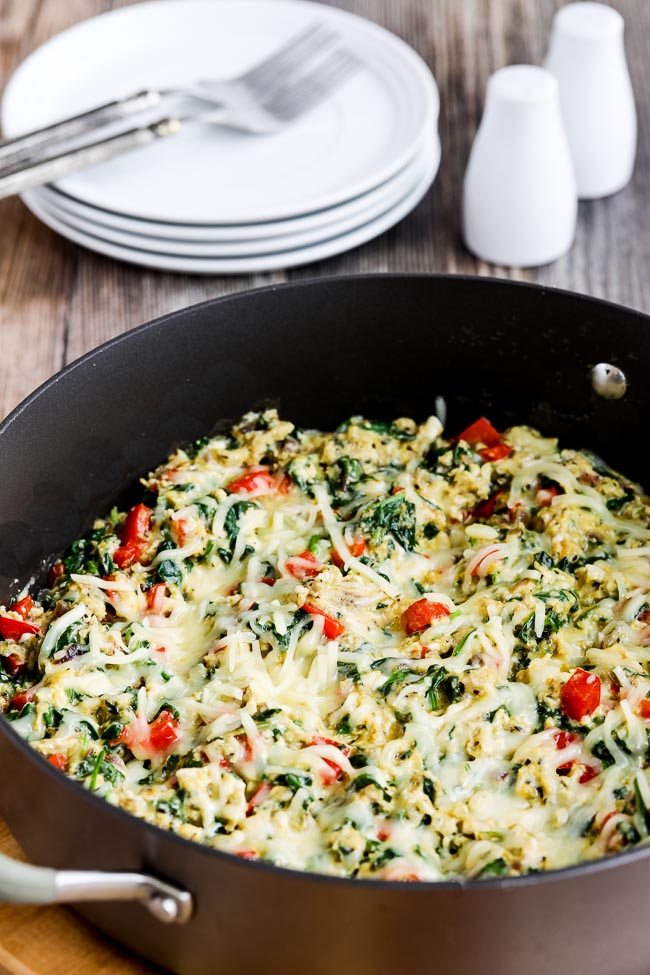 Power Greens Egg Skillet is great for breakfast or dinner, and this uses the blend of Power Greens that comes in a bag and is so nutritious.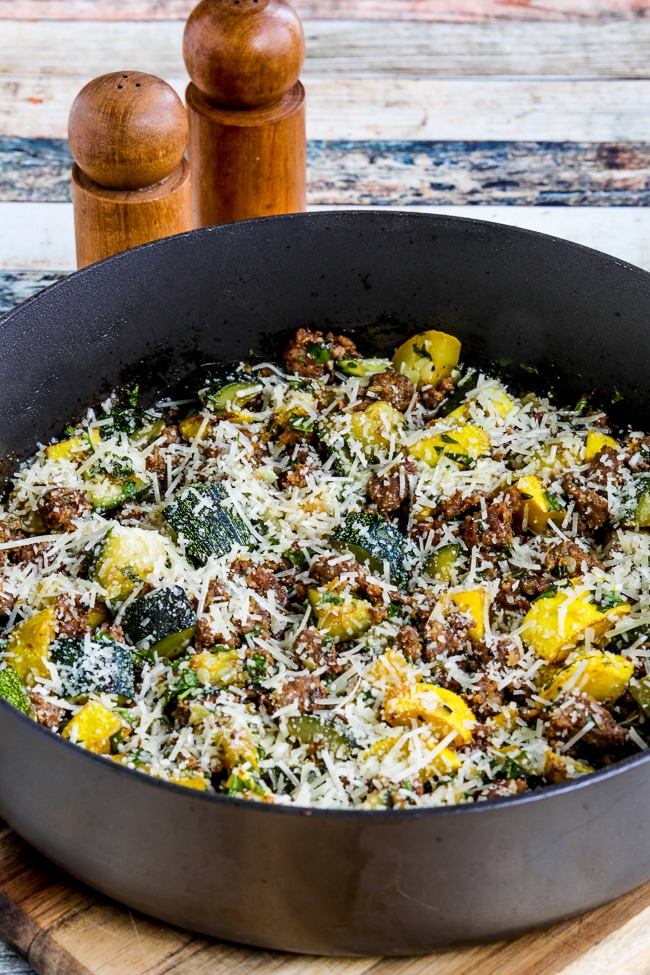 This Italian Sausage and Zucchini Skillet Meal is the newest skillet meal on my site, and we loved this when we tested the recipe!
Southwestern Egg Skillet is a recipe I got from a reader, and this is really a winner!
For anyone who likes cabbage and bacon this Fried Cabbage with Bacon is a perfect low-carb one-pan dinner!
Mushroom Lover's Egg Skillet with Spinach is cheesy and delicious, and this is so quick to get on the table!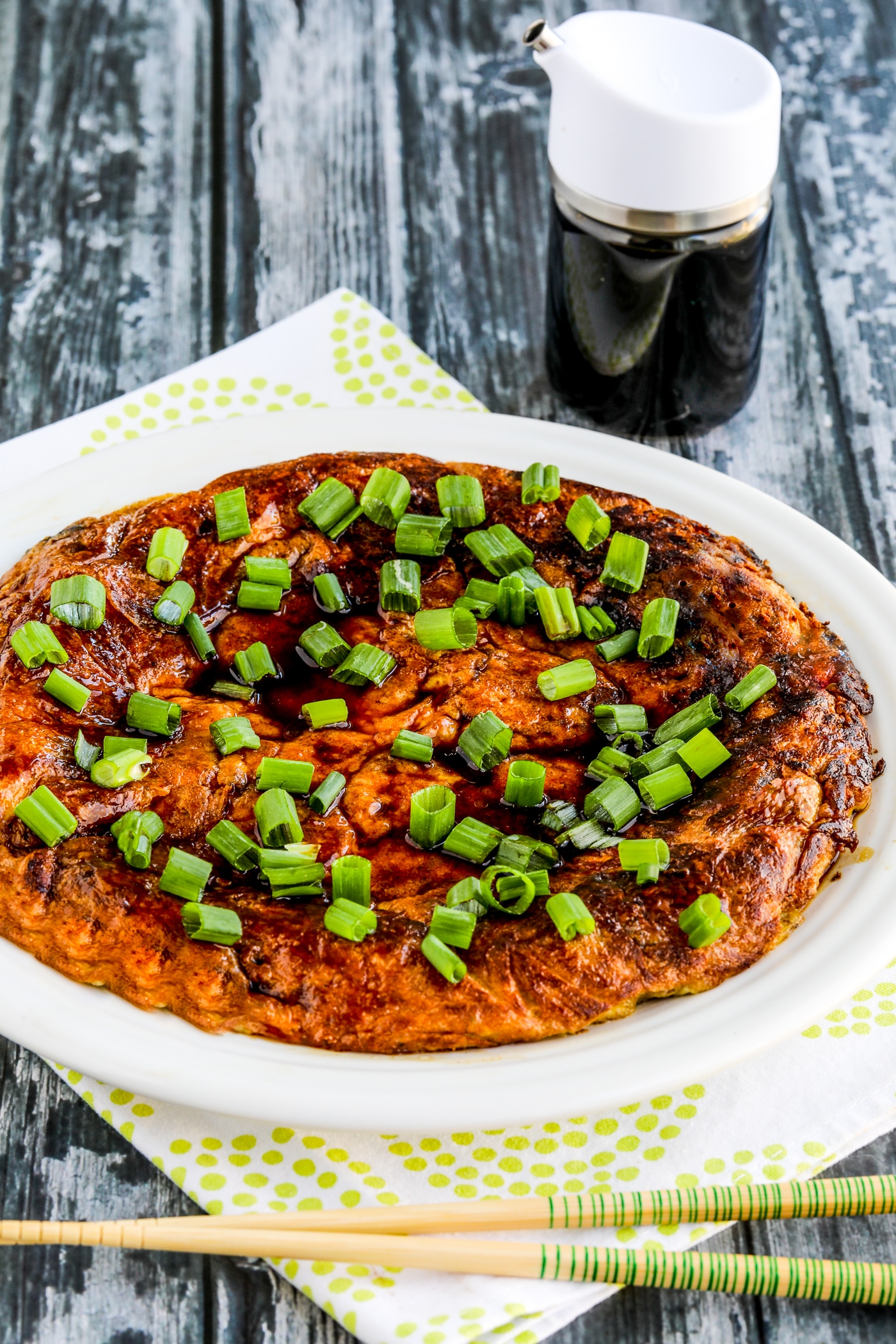 I love this interesting recipe for Chicken Egg Foo Yung and if you've enjoyed Egg Foo Yung in a restaurant, you might be surprised how easy it is to make it at home.
Baked Eggs Skillet with Avocado and Spicy Tomatoes is a fun breakfast idea that looks special but is easy to make. And this would be great for breakfast for dinner!
This Low-Carb Spicy Cauliflower Dirty Rice is easy to make and loaded with delicious flavors! And this has plenty of sausage to make it a one-dish dinner.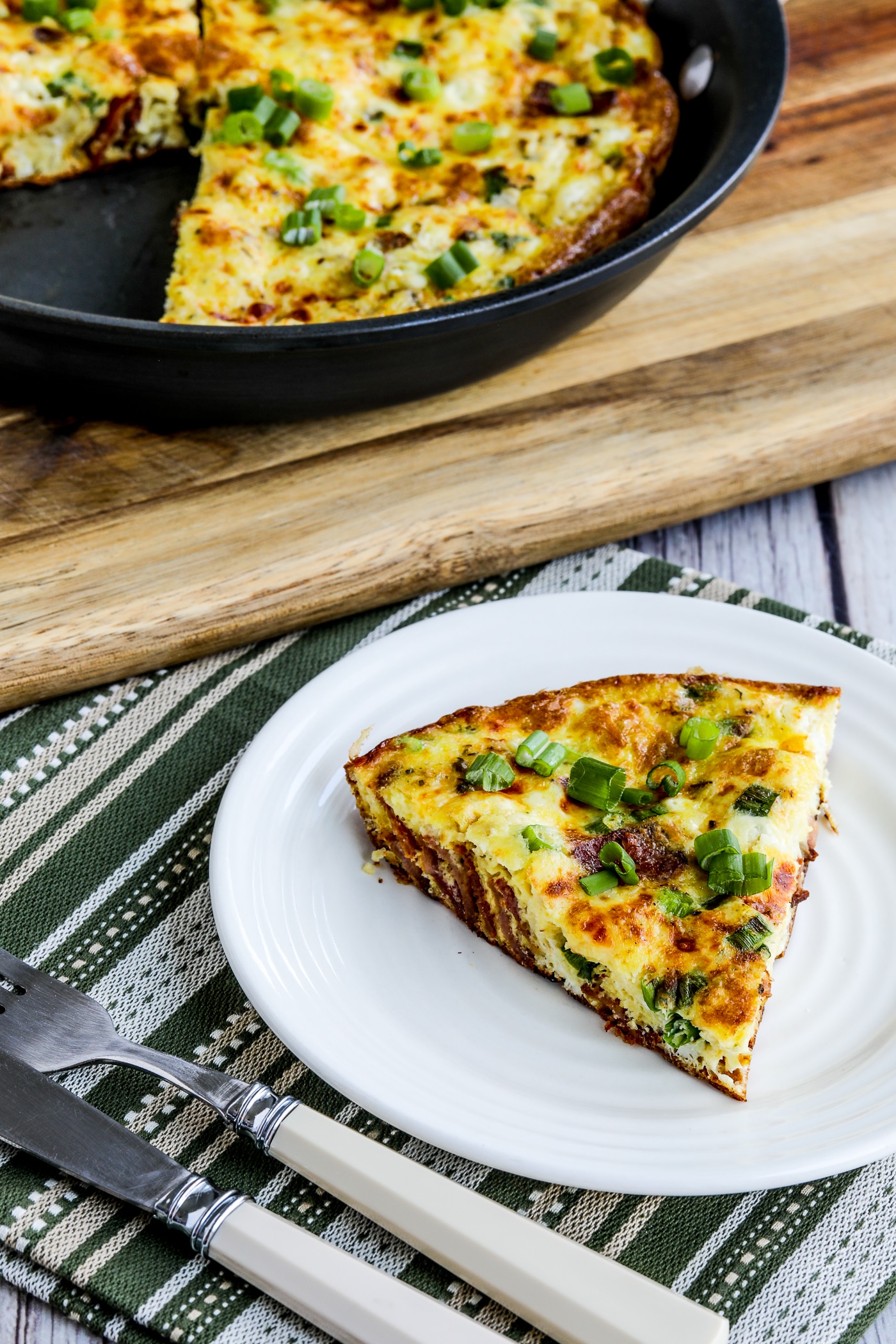 This very tasty Bacon Frittata with Two Cheeses is a perfect dish for breakfast, lunch, or dinner!
More Easy Low-Carb One-Pan Meals:
We are a participant in the Amazon Services LLC Associates Program, an affiliate advertising program designed to provide a means for us to earn fees by linking to Amazon.com and affiliated sites. As an Amazon Associate, I earn from qualifying purchases.