Cucumber Radish Tomato Salad
This Cucumber Radish Tomato Salad has amazing flavor from fresh ingredients, an interesting yogurt-tahini dressing, and a sprinkle of Sumac!
PIN Cucumber Radish Tomato Salad to try it later!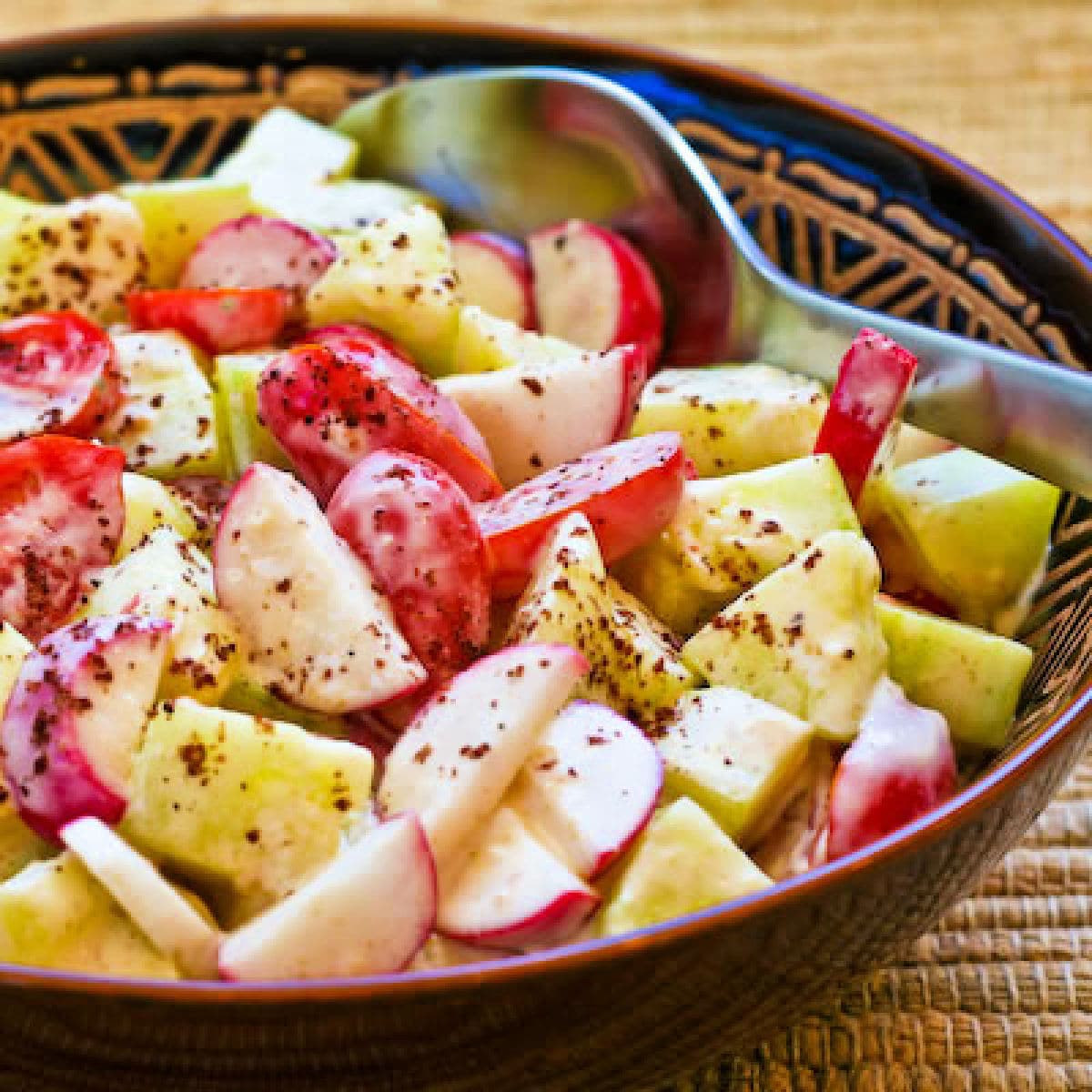 There must be thousands of variations of tomato and cucumber salad in the world, but recently I had a tomato and cucumber salad that really knocked my socks off. I was on the way to The Spice House with my blogging friend Lydia, and we stopped in at Old Jerusalem Restaurant for a quick lunch.
Lydia and I both have middle-eastern tastebuds, and we loved this unpretentious restaurant, with me especially swooning over the Jerusalem Salad with a yogurt and tahini dressing.I was determined to recreate the flavors from that dressing, and although when I found their website I realized my salad was a bit different, I loved the Cucumber Radish Tomato Salad I came up with in memory of that restaurant.
And if you're not sure about radishes in a tomato-cucumber salad, please trust me on this. The radishes added a delightful crunch and flavor that really made this salad a wow!
What ingredients do you need for this salad?
(This is only a list of ingredients; please scroll down for complete printable recipe. Or if you use the JUMP TO RECIPE link at the top of the page, it will take you directly to the complete recipe.)
What makes this Cucumber Radish Tomato Salad so good?
One thing that makes this salad so fun is the interesting addition of radishes to a cucumber and tomato salad. But the interesting dressing with middle eastern ingredients is another thing that really makes it a wow!
What if you don't have all the interesting ingredients?
I sometimes get e-mail from people urging me to just use "ordinary" ingredients on the blog, and this recipe isn't one that will make you happy if you're that kind of cook because it has Tahini Sauce (affiliate link), Sumac (affiliate link), and Aleppo Pepper (affiliate link), all of which are probably unusual ingredients for many people. If you don't want to look for those ingredients, check after the recipe for more lovely salads featuring cucumbers and tomatoes.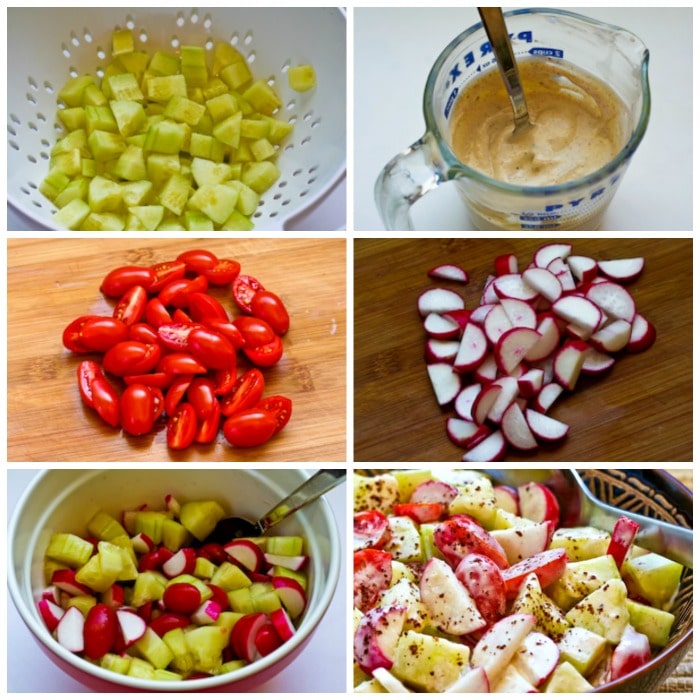 How to make Cucumber Radish Tomato Salad:
(This is only a summary of the steps for the recipe; please scroll down for complete printable recipe. Or if you use the JUMP TO RECIPE link at the top of the page, it will take you directly to the complete recipe.
Start by dicing the cucumbers and placing in a colander in the sink, then add a generous amount of salt (about 1 tsp.) Let the cucumbers sweat out the water and drain while you prep other ingredients. Most of the salt gets washed away in this process, but taste the salad before you add more salt.
Next mix the Greek yogurt, tahini sauce, lemon juice, cumin, garlic, and Aleppo pepper or cayenne. Taste and see if you want to add more cumin or a pinch of salt, then let the ingredients hang out together while you chop cucumbers and radishes.
I would have definitely used diced whole tomatoes from the garden if I had them (not yet!) but I used these grape tomatoes from Costco, which I love for salads.
The salad at Old Jerusalem Restaurant didn't have radishes, but I thought they would add a nice kick to it, plus I love radishes, especially when they're cut into half-moon shapes like this. I used more cucumbers than tomatoes or radishes because that's what I happened to have, but I think you can change the proportions here, or leave out the radishes completely if you don't happen to have any.
Mix in the desired amount of dressing (you might have some left for another salad).
Sprinkle salad with Sumac if you have some and serve! The salad makes four side-dish servings, but I'd happily eat twice as much and call it a meal when the weather is hot!
I'm guessing there are also lots of other salads that would work well with this dressing. If anyone tries it on something else, I'd love to hear about it!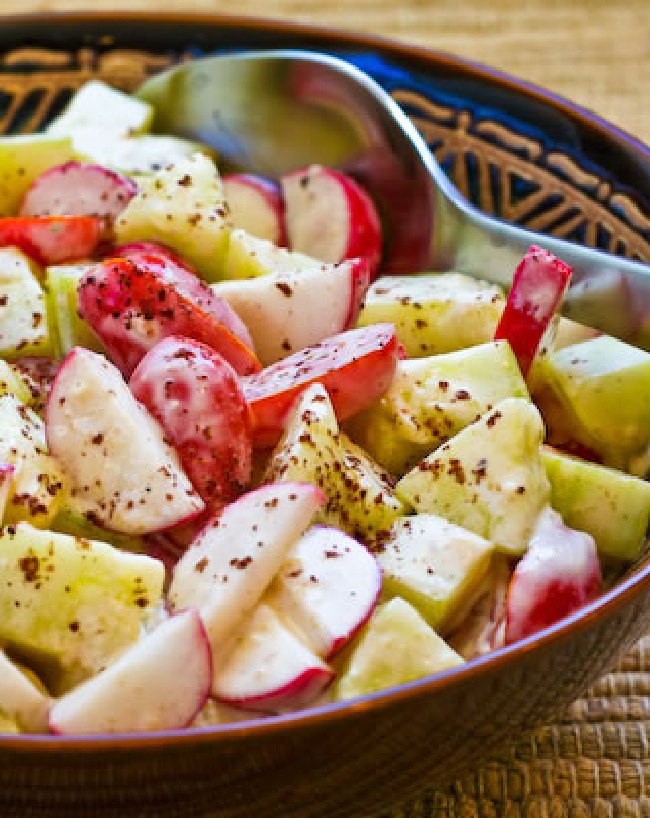 Make it a Low-Carb Meal:
Cucumber Radish Tomato Salad is a great side dish for any type of grilled food, especially something like Kubideh (ground meat kabobs) or Souvlaki.
More Salads with Tomatoes and Cucumbers:
Want More Summer Tomato Salads?
Check out my big round-up of Favorite Summer Tomato Salads for even more tomato salad ideas.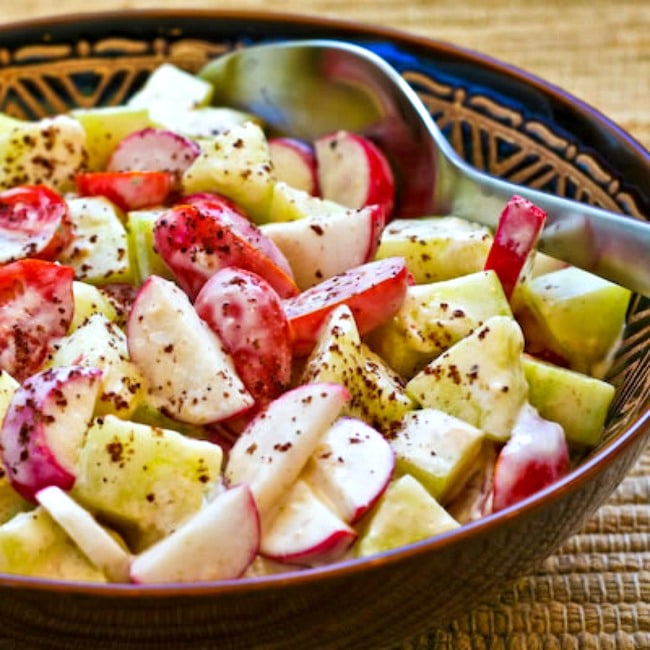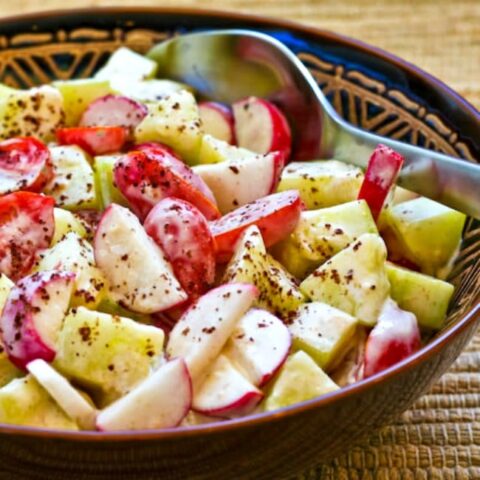 Yield: 4 servings
Cucumber Radish Tomato Salad
Prep Time 35 minutes
Total Time 35 minutes
Cucumber Radish Tomato Salad with Yogurt-Tahini Dressing is perfect in the summer when you have fresh ingredients from the garden. And this simple salad recipe is loaded with interesting flavors.
Ingredients
2 cups chopped cucumber
1 cup chopped tomato
1 cup chopped radishes (Any proportion of cucumber, tomato, and radishes can be used, or use just cucumber and tomato if you don't have any radishes)
1 tsp. salt (for salting cucumbers) plus more to taste
1/2 cup Greek yogurt
1/4 cup tahini sauce (See notes)
2 T fresh squeezed lemon juice (see notes)
1/2 – 1 tsp. ground cumin (start with 1/2 tsp. and taste)
1/2 tsp. finely minced garlic
2 pinches Aleppo pepper or cayenne pepper (see notes)
ground Sumac (optional, for sprinkling on salad)
Instructions
Wash cucumbers and peel if desired. (If you can get fresh garden cucumbers, they don't have to be peeled.)
Cut cucumbers into same-size pieces about 3/4 inch and place in a colander sitting in the sink.
Sprinkle with about 1 tsp. salt, mix with your hand so all the cucumber pieces are salted.
Let cucumbers stand and release water while you prep other ingredients, or if you have time, let cucumbers drain in the sink for 20-30 minutes. (The salad will be more watery if you skip this salting step, but if you're eating it right away it probably doesn't matter too much.
While cucumbers drain, put Greek yogurt, tahini sauce, lemon juice, 1/2 tsp. ground cumin, minced garlic, and Aleppo pepper in a small bowl or measuring cup and mix together. (I found a fork worked best for mixing.)
Taste and see if you want to add more ground cumin or a pinch of salt, then set aside to let ingredients blend.
Wash tomatoes and cut in half (if using cherry tomatoes) or cut into 3/4 inch pieces (if using whole tomatoes.)
Wash radishes, cut off stem and root ends, then cut in half and slice into half moon pieces.
Blot cucumbers dry with a paper towel (most of the salt will have rinsed off if you've drained them long enough.)
Combine cucumbers, tomatoes, and radishes in a bowl.
Stir in enough dressing to moisten (I used about half the dressing, save the rest in the fridge for another salad.)
Sprinkle salad with Sumac if desired.
Serve immediately.
Nutrition Information:
Yield:
4
Serving Size:
1
Amount Per Serving:
Calories: 132
Total Fat: 9g
Saturated Fat: 1g
Trans Fat: 0g
Unsaturated Fat: 7g
Cholesterol: 1mg
Sodium: 50mg
Carbohydrates: 10g
Fiber: 3g
Sugar: 4g
Protein: 7g
Nutrition information is automatically calculated by the Recipe Plug-In I am using. I am not a nutritionist and cannot guarantee 100% accuracy, since many variables affect those calculations.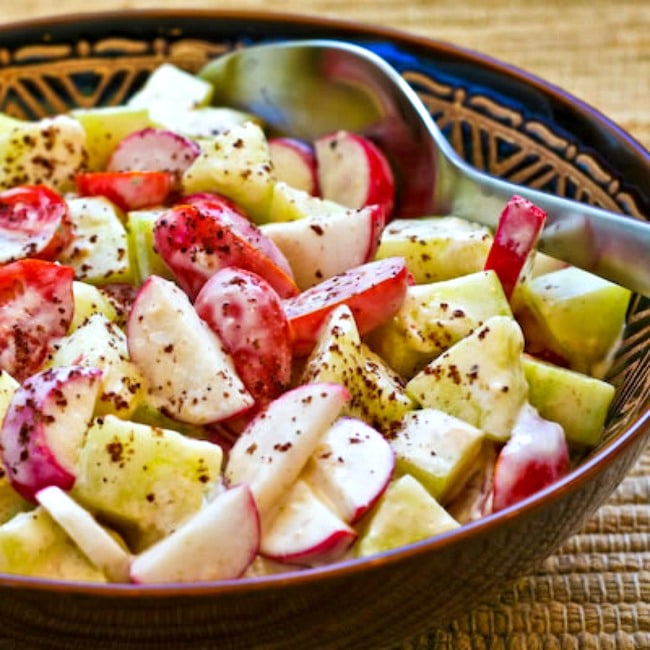 Low-Carb Diet / Low-Glycemic Diet / South Beach Diet Suggestions:
This Cucumber Radish Tomato Salad is a great choice for most any low-carb or low-glycemic diet plan. If made with low-fat or fat-free Greek yogurt, this could be a great choice for any phase of the original South Beach Diet; other low-carb diets will prefer full-fat yogurt.
Find More Recipes Like This One:
Use Salad Recipes to find more recipes like this one. Use the Diet Type Index to find recipes suitable for a specific eating plan. You might also like to follow Kalyn's Kitchen on Pinterest, on Facebook, on Instagram, on TikTok, or on YouTube to see all the good recipes I'm sharing there.
Historical Notes for this Recipe:
The Cucumber Radish Tomato Salad recipe was first posted in 2009 after I tried the recipe in Chicago with Lydia! It was last updated in 2023.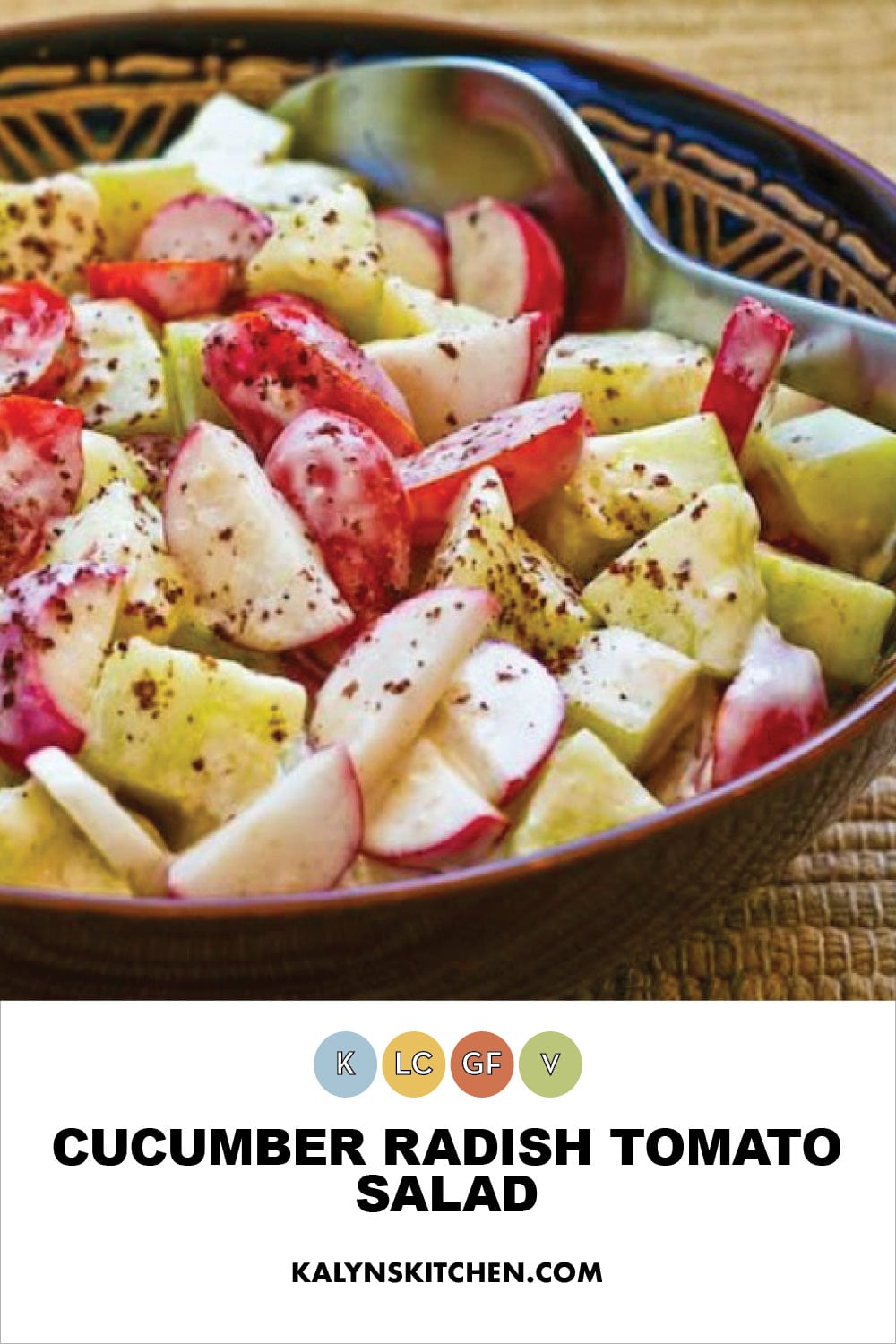 We are a participant in the Amazon Services LLC Associates Program, an affiliate advertising program designed to provide a means for us to earn fees by linking to Amazon.com and affiliated sites. As an Amazon Associate, I earn from qualifying purchases.