Tabbouleh Salad with Almonds
My Tabbouleh Salad with Almonds uses parsley, mint, slivered almonds, and much less bulgur wheat to make a more carb-conscious Tabbouleh! And the almonds add a delightful crunch to this classic Middle Eastern salad; enjoy!
PIN Tabbouleh Salad with Almonds to try it later!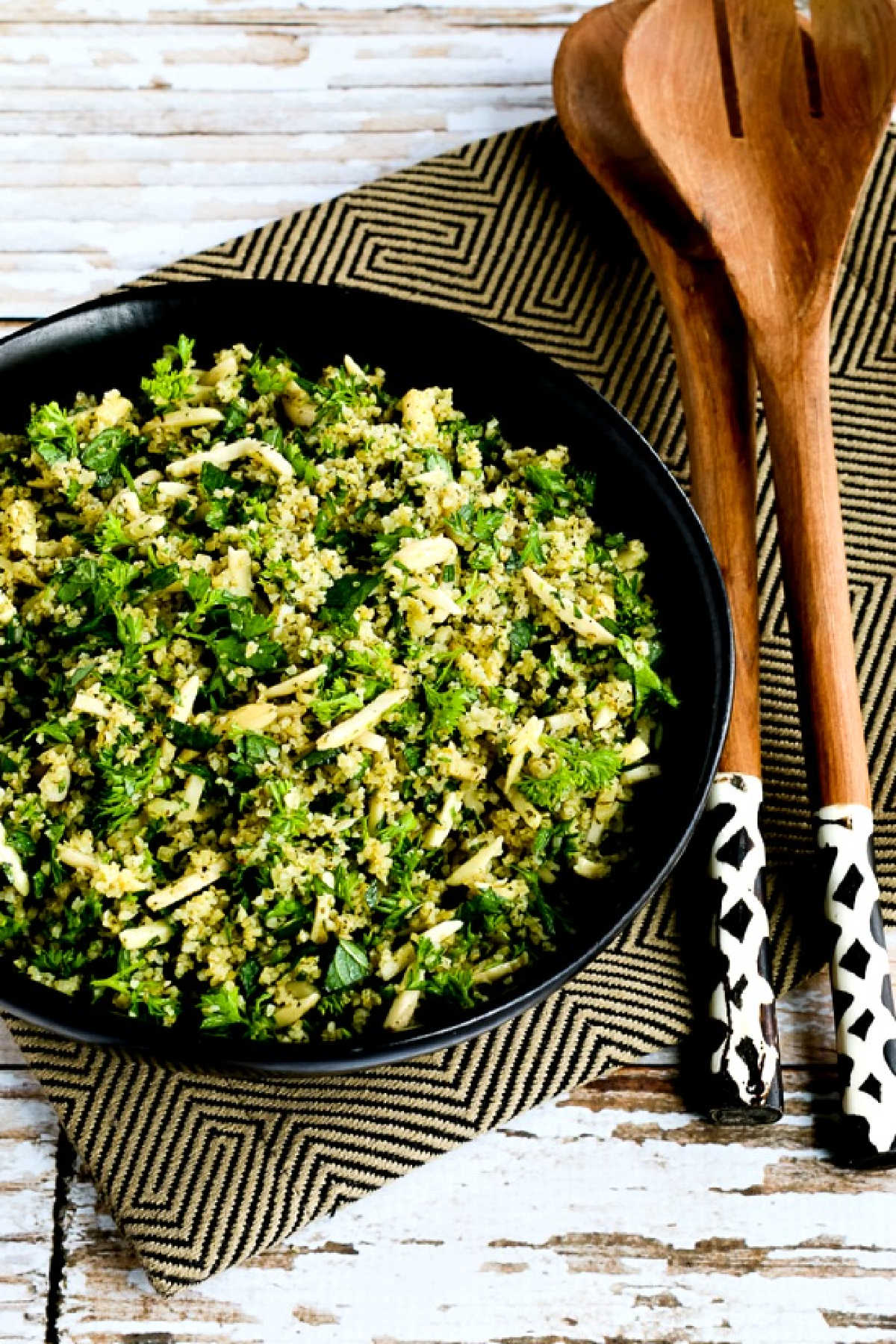 Before I became more focused on carb-conscious eating, this Tabbouleh Salad (also spelled Tabbouli and Tabouli) is something I would often take to pot-lucks and summer barbecues. And among my friends in those days it got the name Kalyn's Tabbouleh because people would ask each other, "Have you tried Kalyn's Tabbouleh with almonds?"
And even though I always used a pre-seasoned tabbouleh mix for the bulgur part in my Tabbouleh recipe, I had a woman from Lebanon come to a party at my house, and she went crazy over my version of this middle eastern salad.
Tabbouleh is another one of those classic middle eastern recipes that I loved from the first time I tasted it. Many people like tomatoes or cucumbers in Tabbouleh, but this combination is the one I make over and over.
Of course, you can add tomatoes and cucumbers if you prefer, which would mean the salad had even more lower-carb ingredients in proportion to the bulgur.
What ingredients do you need for this recipe?
What is Tabbouleh?
Tabbouleh Salad (also spelled Tabbouli and Tabouli) is a classic dish in the middle east, and traditional recipes for this bulgar wheat salad contain large amounts of parsley and mint, and much less of the other ingredients compared to the Tabbouleh that's often found in the U.S.
Can Tabbouleh Salad be Gluten-Free?
Definitely the bulgur wheat in traditional tabbouleh recipes won't work for gluten-free diets, but you can make Tabbouleh with quinoa, and that gluten-free version is also delicious.
My Favorite Shortcut for Making Tabbouleh: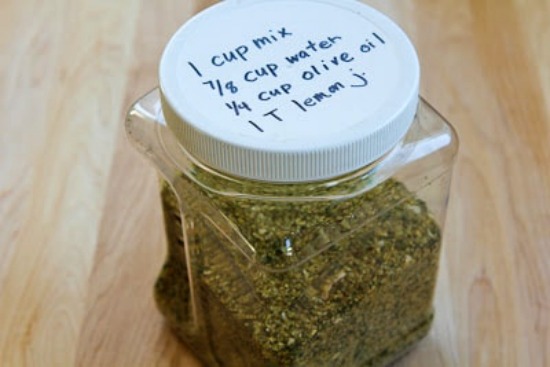 You can tell this tabbouleh recipe is a long-time favorite for me, because for years I would buy the mix in bulk and I had the recipe written on the lid of this jar. I always bought the mix from Smith's Marketplace, but last time I went to get it, it had disappeared from the bulk foods. Now I just buy a box mix and dump it into my jar!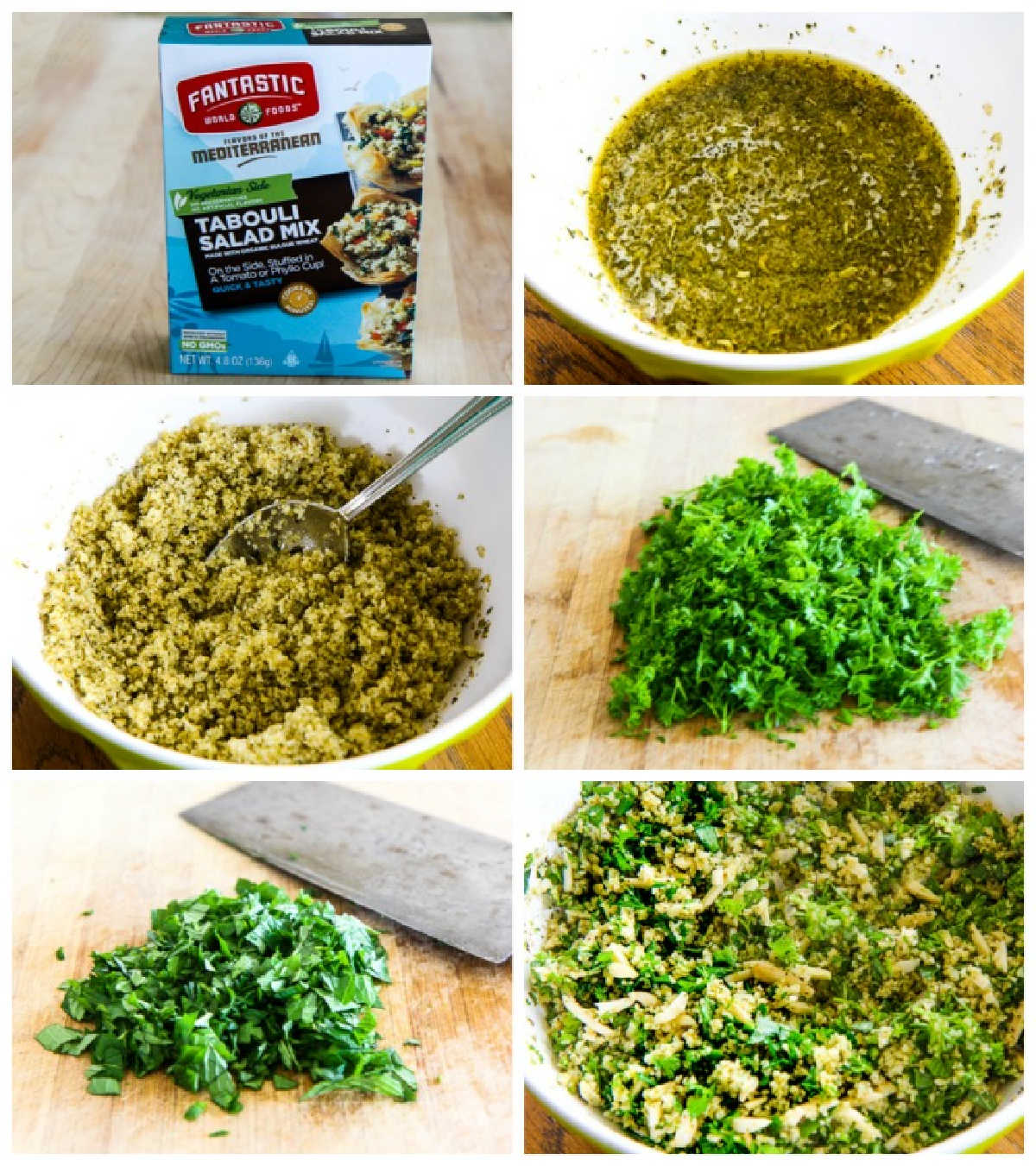 How to make Tabbouleh Salad with Almonds:
(Scroll down for complete printable recipe with nutritional information.)
This Fantastic Foods Tabouli Salad Mix (affiliate link) is the one I use most often these days (and no, they are not paying me to write about it, just in case you're wondering.)
Mix the dried tabouli mix with water, olive oil, and lemon juice and let it stand for a couple of hours, until the liquid and oil is absorbed.
After a few hours fluff the Tabbouleh with a large spoon or fork.
Coarsely chop the fresh parsley and fresh mint; I like a generous amount.
Then stir in the slivered almonds, and season with Spike Seasoning (affiliate link) and Vege-Sal (affiliate link) to taste.
Tabbouleh will keep in the fridge for a day or two, but it's definitely best the day you make it when the herbs are still fresh.
I love this photo of a Middle Eastern salad, in a bowl from Turkey, with forks from Kenya, and a placemat from Thailand!
Make it a Meal:
This Tabbouleh Salad with Almonds would taste great with Very Greek Grilled Chicken, Chicken Souvlaki, Greek Pork Chops, or Grilled Shrimp Skewers You could add Middle Eastern Tomato Salad for the perfect combination of middle eastern flavors.
More Versions of Tabbouli, Tabouli, or Tabbouleh!
Quinoa Tabbouleh Salad from Kalyn's Kitchen
Tabbouleh from David Lebovitz
Turkish Tabbouleh from Almost Turkish Recipes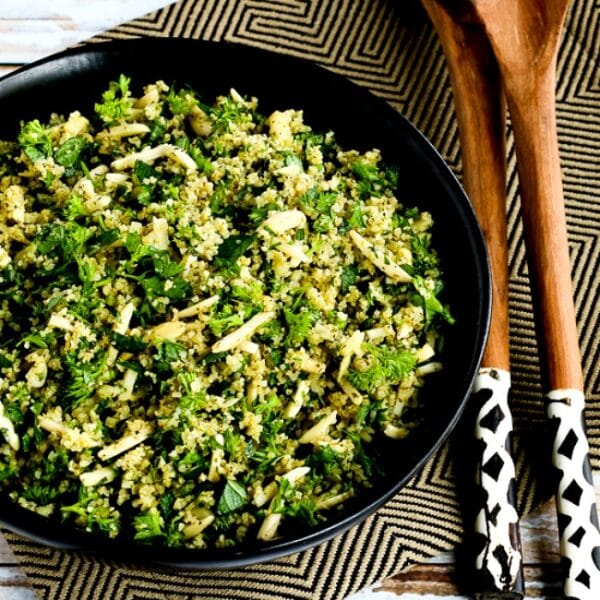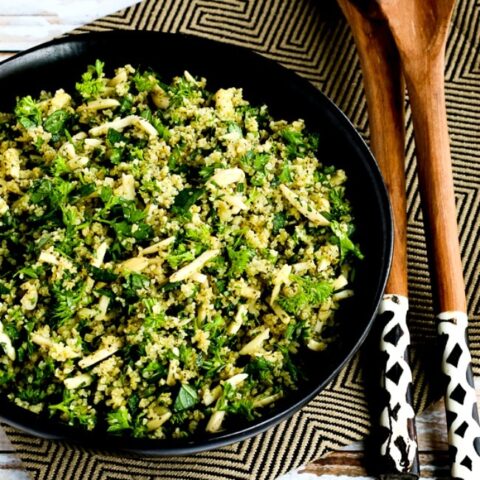 Yield: 6 servings
Tabbouleh with Almonds
Prep Time 2 hours 20 minutes
Total Time 2 hours 20 minutes
My favorite version of Tabbouleh Salad is made with almonds, mint, and parsley, and much less bulgur wheat than traditional Tabbouleh.
Ingredients
1 cup Fantastic Foods Tabouli mix (See Notes)
7/8 cup water
1/4 cup olive oil
1 T fresh lemon juice
1 cup finely chopped fresh parsley (measure after chopping)
1/2 cup finely chopped fresh mint (measure after chopping)
1 cups slivered almonds (more or less, to taste)
2 tsp. Spike Seasoning (see notes)
Vege-Sal or salt to taste
Instructions
Mix dry tabbouleh mix, water, olive oil, and lemon juice in a container with a lid and let sit in refrigerator several hours.
When ready to make salad, wash parsley and mint in salad spinner.
Then chop finely with large chef's knife or in food processor.
Mix mint and parsley into tabbouleh mixture.
This Tabbouleh Salad with Almonds will keep for 1-2 days in refrigerator, but best eaten fresh. (After it's been in the fridge I sometimes add a little more olive oil and Spike to perk it up.)
Notes
Fantastic Foods Tabouli Salad Mix (affiliate link) is the one I use now, or use bulk mix from the health food store if you're lucky enough to find it. Spike Seasoning (affiliate link) is highly recommended; I would never leave that out. Use another all-purpose seasoning blend if you don't have Spike.
Recipe created by Kalyn.
Nutrition Information:
Yield:
6
Serving Size:
1
Amount Per Serving:
Calories: 260
Total Fat: 17.5g
Saturated Fat: 1.9g
Trans Fat: 0g
Unsaturated Fat: 15.5g
Cholesterol: 0mg
Sodium: 926mg
Carbohydrates: 22.2g
Fiber: 5.6g
Sugar: 1.4g
Protein: 6.4g
Nutrition information is automatically calculated by the Recipe Plug-In I am using. I am not a nutritionist and cannot guarantee 100% accuracy, since many variables affect those calculations.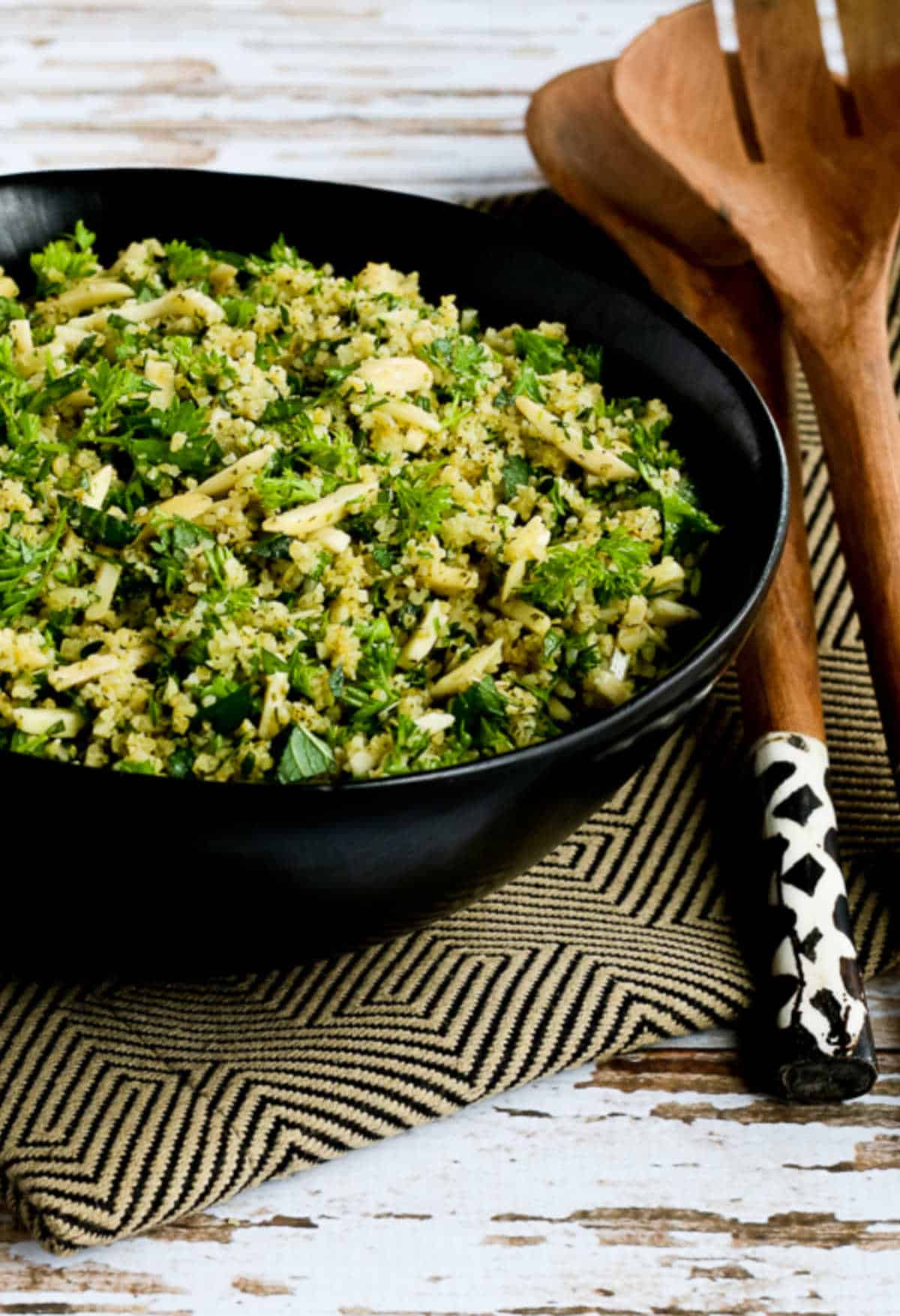 Low-Carb Diet / Low-Glycemic Diet / South Beach Diet Suggestions:
Tabbouleh Salad is made with bulgar wheat, which does have some carbs. You can make Tabbouleh with quinoa, which would be higher in protein, although this would probably still be too high in carbs for strict low-carb eating plans. Tabbouleh with Almonds would be limited to phase two or three for the original South Beach Diet, and you might want to use fewer almonds if you're strictly following South Beach.
Find More Recipes Like This One:
Use Salad Recipes to find more recipes like this one. Use the Diet Type Index to find recipes suitable for a specific eating plan. You might also like to follow Kalyn's Kitchen on Pinterest, on Facebook, on Instagram, or on YouTube to see all the good recipes I'm sharing there.
Historical Notes for this Recipe:
This Tabbouleh Salad with Almonds was updated with new photos and step-by-step instructions, July 2016. The recipe was updating and improved with nutritional information in 2020 and it was last updated with more information in 2022.
We are a participant in the Amazon Services LLC Associates Program, an affiliate advertising program designed to provide a means for us to earn fees by linking to Amazon.com and affiliated sites. As an Amazon Associate, I earn from qualifying purchases.