Mediterranean Chickpea Salad
This tasty Mediterranean Chickpea Salad has roasted red pepper, mint, and Sumac, and this is so delicious! And if you haven't tried the middle eastern spice called Sumac, get some soon and make this tasty salad that's vegan and gluten-free!
PIN Mediterranean Chickpea Salad to try it later!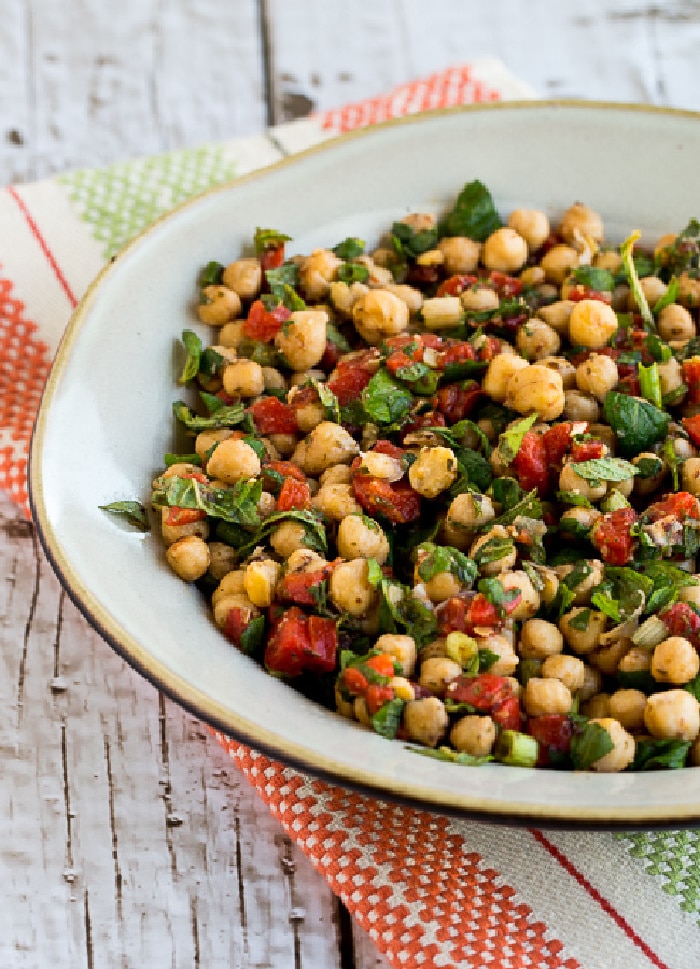 When you see the introduction for this Mediterranean Chickpea Salad, I'm hoping it's the word Sumac that jumps out at you. If you're not familiar with it, Sumac is a middle eastern spice made from the dried berry-like fruit of some species of the Sumac plant from that region. And this is an ingredient I'm passionate about, and it really turned this chickpea salad recipe into something special.
This vegetarian garbanzo bean salad that has red pepper, mint, and Sumac has some of my favorite salad ingredients, and this is perfect for a tasty meatless dinner on a hot summer day. When I spotted the inspiring recipe, it felt like it was meant to have Sumac (affiliate link) which I used to spice up the chickpeas and the dressing.
Of course you can certainly make the salad without Sumac, but I highly recommend getting some if you don't have it on hand. I also used some dried mint in the dressing, plus fresh mint in the salad but if you don't have dried mint this salad will still be delicious without it.
What ingredients do you need for this recipe?
(This is only a list of ingredients; please scroll down for complete printable recipe. Or if you use the JUMP TO RECIPE link at the top of the page, it will take you directly to the complete recipe.)
How to make Mediterranean Chickpea Salad lower in carbs?
As written this chickpea salad has 21 net carbs per serving, which I know is too many carbs for some of my readers. To make a version with fewer carbs, add more low-carb veggie ingredients to the salad like more red peppers, black olives, diced and briefly sauteed zucchini, or chopped fresh spinach. I would slightly increase the amounts for the dressing if you add more veggies to the salad.
What is Sumac?
I'm a long-time fan of Sumac, which is a reddish-purple ground spice that's commonly used in middle eastern cooking. It has a lemony flavor that's good on so many foods and I've used Sumac on hummus, in Fattoush Lebanese Salad, in salad dressing, and even on Cauliflower Rice. Sumac is often used on dishes with garbanzo beans, and it adds a nice flavor to this salad.
How did I learn to love salads with Sumac?
I had known about Sumac for years when a reader sent me a great recipe for Fattoush and I learned the trick of mixing Sumac into the dressing for a flavor boost that's really delightful, and I've been using it that way ever since. Then I went to Istanbul and met Zerrin, and she gave me some wonderfully fresh Sumac from Turkey.
Want more recipes using fresh mint?
Fresh mint is the other ingredient that makes this salad such a wow for me. If you have mint growing in your garden or you're getting it from the market, check out my ideas for Cooking with Fresh Mint.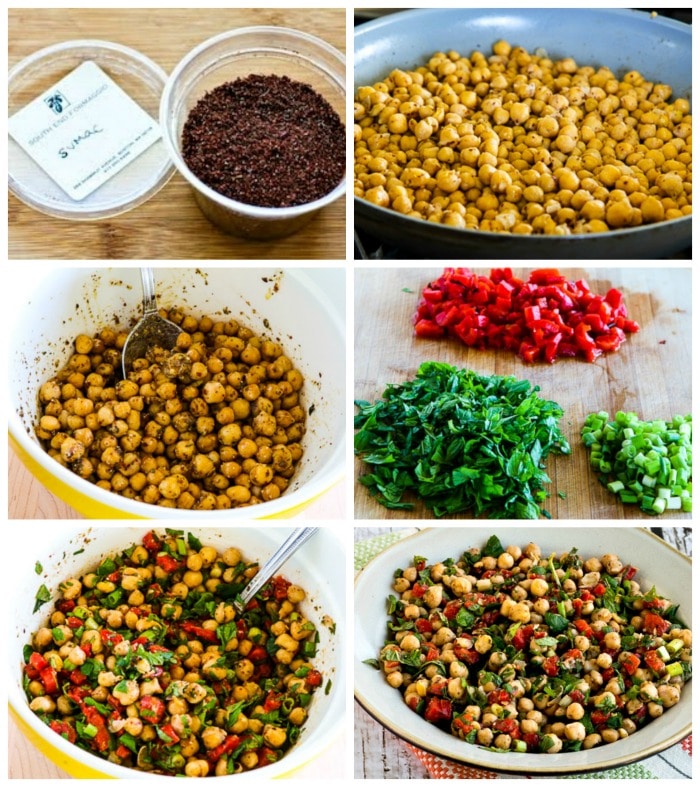 How to make Mediterranean Chickpea Salad:
(This is only a summary of the steps for the recipe; please scroll down for complete printable recipe. Or if you use the JUMP TO RECIPE link at the top of the page, it will take you directly to the complete recipe.
First, here's a picture of the Sumac (affiliate link) that adds so much flavor to this salad.
Saute the rinsed and drained chickpeas in olive oil, with a teaspoon of Sumac stirred in.
Whisk together lemon juice, ground Sumac, dried mint (If using), salt, finely minced garlic, and olive oil to make the dressing.
When the chickpeas are nicely browned, put them in a bowl, pour dressing over, and let them marinate in the dressing while you prep other ingredients.
Chop up the drained red peppers and mint and slice the green onion (or chop red onion).
When chickpeas are cooled to room temperature, mix in the red pepper, mint, and green onion and season salad with salt and fresh ground black pepper.
This salad can be refrigerated before you serve it, and it will keep for a day or two in the fridge, although I like it best when it's freshly made.
Make it a Vegetarian Meal:
This would be great with something like Spicy Grilled Eggplant, Antipasto Artichoke Salad, or Marinated Tomatoes with Herb Dressing for a vegetarian meal.
More Tasty Recipes with Chickpeas:
Weekend Food Prep:
This recipe has been added to a category called Weekend Food Prep where you'll find recipes you can prep or cook on the weekend and eat during the week!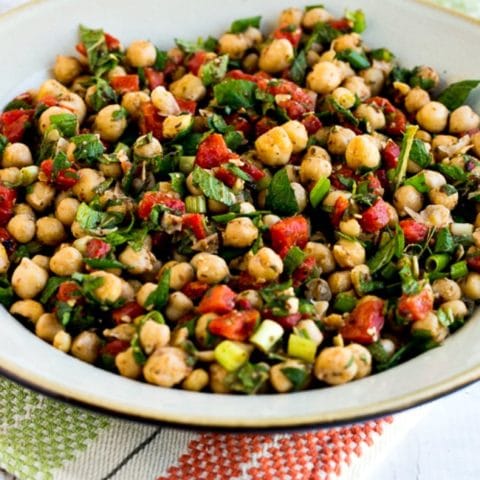 Yield: About 6 servings
Mediterranean Chickpea Salad
Prep Time 30 minutes
Cook Time 10 minutes
Total Time 40 minutes
If you haven't tried Sumac, get some soon and make this Mediterranean Chickpea Salad with red pepper, mint, and Sumac!
Ingredients
Ingredients:
two 15.5 oz. cans chickpeas (see notes)
1 T olive oil
1 tsp. ground Sumac (see note)
12 oz. jar roasted red bell peppers, drained (or use 3 red peppers and roast them yourself - see note)
1/2 cup - 1 cup chopped fresh mint (more or less, to taste)
3 T sliced green onions (see notes)
Dressing Ingredients:
2 T fresh-squeezed lemon juice
1 tsp. ground Sumac (see note)
1 tsp. dried mint (optional but good)
1/4 tsp. salt
1 tsp. finely minced garlic
3 T extra-virgin olive oil
Instructions
Put chickpeas into a colander placed in the sink and rinse with cold water until no more foam appears.
Let chickpeas drain well, or pat dry with a paper towel if you want to speed it up a bit.
Heat 1 T olive oil in a large frying pan, add drained chickpeas, sprinkle with 1 tsp. ground Sumac (affiliate link), and saute chickpeas until they are lightly browned.
This will take about 10 minutes, turning the chickpeas several times so they get browned on all sides.
While chickpeas are cooking, put roasted red peppers into a colander and let them drain well.
Whisk together the lemon juice, ground Sumac, dried mint (If using), salt, finely minced garlic, and olive oil to make the dressing.
When chickpeas are nicely browned, put then in a bowl and combine with about half the dressing.
Let the chickpeas marinate while you prep the other ingredients.
Wash mint, spin dry or dry with paper towels, and chop.
When red peppers are well drained, chop them into small bite-sized pieces.
Thinly slice the green onion.
When chickpeas have cooled to almost room temperature, combine them with the diced roasted red pepper, chopped mint, and capers in a medium-sized salad bowl.
Stir in enough dressing to lightly moisten all ingredients.
The salad can be served immediately, or it can marinate all day or even overnight in the fridge.
Notes
You can use about 4 cups freshly cooked chickpeas if you prefer.
If you don't have Sumac (affiliate link), you could substitute Za'atar Spice Mix (affiliate link) if you have that. 
Use my method for roasting your own red peppers if you want to use fresh peppers instead. Use chopped red onion if you don't have green onions.
This recipe adapted from Spanish Chickpea Salad at The Taste Space.
Nutrition Information:
Yield:
6
Serving Size:
1
Amount Per Serving:
Calories: 251
Total Fat: 13g
Saturated Fat: 2g
Trans Fat: 0g
Unsaturated Fat: 10g
Cholesterol: 0mg
Sodium: 131mg
Carbohydrates: 28g
Fiber: 7g
Sugar: 7g
Protein: 8g
Nutrition information is automatically calculated by the Recipe Plug-In I am using. I am not a nutritionist and cannot guarantee 100% accuracy, since many variables affect those calculations.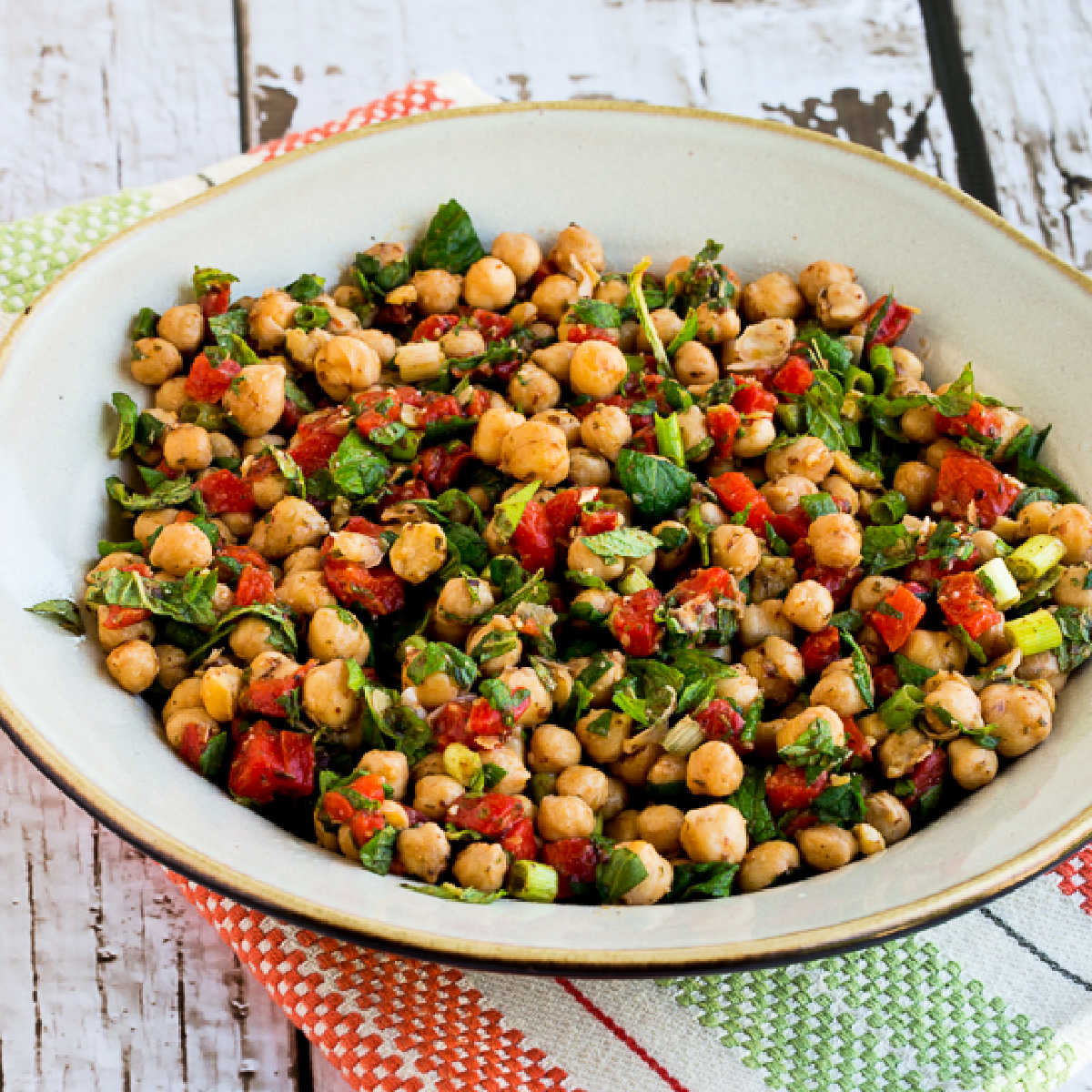 Low-Carb Diet / Low-Glycemic Diet / South Beach Diet Suggestions:
This Mediterranean Chickpea Salad is too high in carbs to be suitable for strict low-carb diets, but see tips in the post for making a version that's lower in carbs. However, everything in this salad would be approved for the original South Beach Diet. Dried beans are limited to 1/3 – 1/2 cup serving for Phase One and I would definitely serve this as a side dish salad for South Beach if you're actively trying to lose weight.
Find More Recipes Like This One:
Use Salad Recipes to find more recipes like this one. Use the Diet Type Index to find recipes suitable for a specific eating plan. You might also like to follow Kalyn's Kitchen on Pinterest, on Facebook, on Instagram, on TikTok, or on YouTube to see all the good recipes I'm sharing there.
Historical Notes for this Recipe:
This recipe was posted in 2011. It was last updated with more information in 2023.
We are a participant in the Amazon Services LLC Associates Program, an affiliate advertising program designed to provide a means for us to earn fees by linking to Amazon.com and affiliated sites. As an Amazon Associate, I earn from qualifying purchases.