Mediterranean Salad Dressing
Mediterranean Salad Dressing has red wine vinegar, lemon juice, and Sumac and it's a delicious and easy low-carb dressing. This can be used on a variety of greens, beans, or veggies, so get some Sumac and make this tasty dressing!
PIN Mediterranean Salad Dressing to try it later!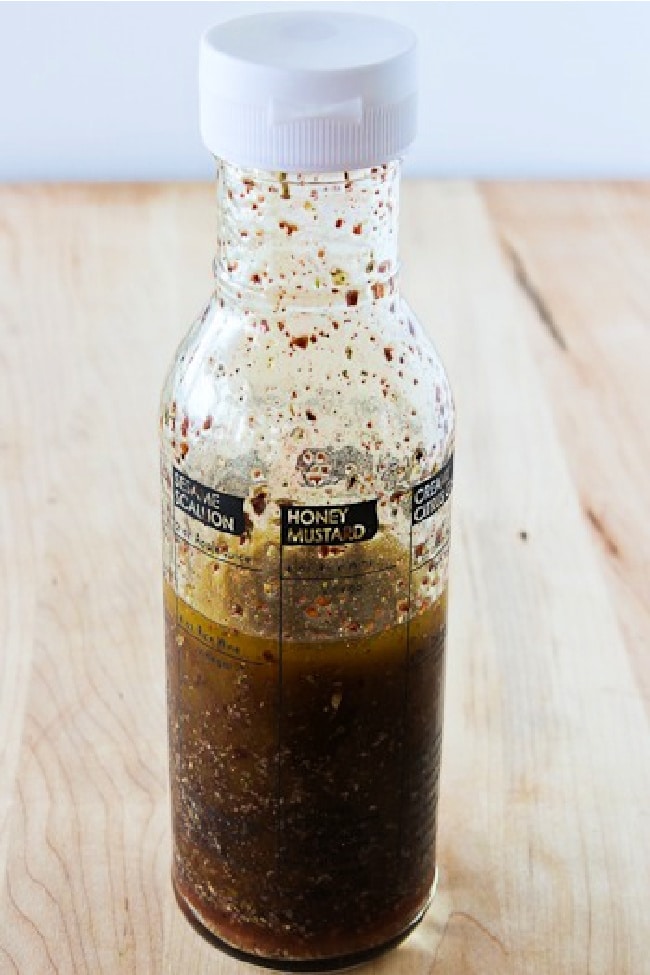 I love all types of Mediterranean flavors, and one of the ingredients I discovered through blogging is the spice called Sumac. If you've eaten at a Lebanese or Middle Eastern restaurant that had a little shaker jar of a dark reddish spice on the table, that was probably Sumac. I've used Sumac in lots of recipes, and some readers have told me that they tried it and liked it. But if you are still not acquainted with this wonderfully flavorful spice, I'm hoping this delicious Mediterranean Salad Dressing that's loaded with flavor from red wine vinegar, lemon juice, and Sumac will be reason enough to get you to try it.
This dressing was born whenI started experimenting with a dressing that included Sumac, and after several tries I came up with the dressing you see here. I love the combination of flavors in this dressing, and it's something I'd use to make a simple side dish salad whenever I need one. The Mediterranean Dressing is simple to make and keeps in the fridge for at least a few weeks (probably longer, but it doesn't last longer than that around here.) If you do try the dressing, I'd love to hear later in a comment about what type of salad you used it on!
What ingredients do you need for this recipe?
What is Ground Sumac?
Ground Sumac (affiliate link) maybe be an ingredient you haven't used but it's a dried spice from the middle east that's well worth adding to your spice cabinet, and Sumac is essential to making this Mediterranean Salad Dressing sing with flavor. It has a slightly lemony flavor, and You can read more about Sumac here if you want to see the plant it grows on and a great list of dishes that use Sumac.
What other recipes do I love with Sumac?
It's the Sumac, the lemon, and the fresh herbs that make Fattoush Lebanese Salad so amazing, and that salad definitely is one of the dishes that made me fall in love with this Sumac! I also love Sumac in Chickpea Salad with Red Pepper, Mint, and Sumac and Mediterranean Lettuce Salad with Purslane and Mint. Sumac is also amazing in Garbanzo Bean Soup with Garlic, Sumac, Olive Oil, and Lemon. And if you do have Sumac, or buy some for this recipe, just enter "Sumac" into the search bar on this site and you'll find other recipes where I've used it.
How to Make Mediterranean Salad Dressing:
(Scroll down for complete recipe with nutritional information.)
I like the idea of dressing made in a shaker jar, because there's no bowl to wash! I have several types of dressing shaker jars, and either one would work for this, but if you don't have a special shaker jar, just shake up the dressing in any jar with a tight-fitting lid.
Here's the Sumac I bought years ago when I was visiting Lydia in Boston. I've bought many jars or tins of Sumac since then, but this photo does show off the color.
Start by combining the red wine vinegar, lemon juice, Sumac (affiliate link), Greek Seasoning (affiliate link), Greek Oregano (affiliate link), and black pepper in a jar.
Then add the olive oil and shake like crazy. Taste and see if you want a little more oil. That's it!
More Recipes to Drizzle with this Dressing: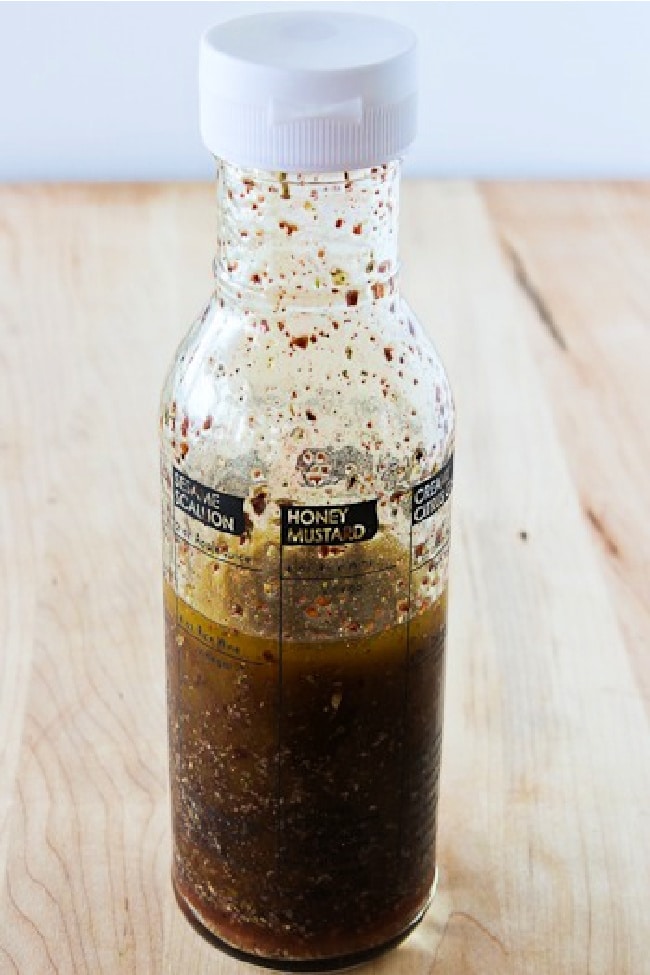 Yield: 6 servings
Mediterranean Salad Dressing
Prep Time 10 minutes
Total Time 10 minutes
Mediterranean Salad Dressing with Red Wine Vinegar, Lemon, and Sumac is easy to shake together in a jar, and this is a delicious dressing to use on a variety of greens, beans, or veggies.
Ingredients
3 T red wine vinegar
2 T fresh-squeezed lemon juice (see notes)
1 T  ground Sumac
2 tsp. Greek Seasoning
1/2 tsp. Greek oregano
1/2 tsp. coarse ground black pepper (or less)
1/2 cup best quality extra virgin olive oil
Instructions
Combine the red wine vinegar, lemon juice, Sumac (affiliate link), Greek Seasoning (affiliate link), Greek Oregano (affiliate link) and black pepper in a shaker jar or any jar with a tight-fitting lid.
Add the olive oil and shake for about 30 seconds, or until the ingredients are well-combined.
Taste and see if you want a little more oil.
Shake well every time you use it.
Notes
I use my fresh-frozen lemon juice for this recipe. This dressing will keep at least a week in the fridge, probably longer.  If your fridge is quite cold, you may need to let the bottle sit on the counter for a few minutes to warm up before you serve it.
Recipe created by Kalyn.
Nutrition Information:
Yield:
6
Serving Size:
1
Amount Per Serving:
Calories: 167
Total Fat: 18g
Saturated Fat: 3g
Trans Fat: 0g
Unsaturated Fat: 15g
Cholesterol: 0mg
Sodium: 546mg
Carbohydrates: 1g
Fiber: 1g
Sugar: 0g
Protein: 0g
Nutrition information is automatically calculated by the Recipe Plug-In I am using. I am not a nutritionist and cannot guarantee 100% accuracy, since many variables affect those calculations.
Low-Carb Diet / Low-Glycemic Diet / South Beach Diet Suggestions:
This Mediterranean Salad Dressing would be a good choice to get you to eat your greens for any phase of the original South Beach Diet or any low-carb eating plan.
Find More Recipes Like This One:
Use Salads to find more recipes like this one. Use the Diet Type Index to find more recipes suitable for a specific eating plan. You might also like to Follow Kalyn's Kitchen on Pinterest to see all the good recipes I'm sharing there.
Historical Notes for this Recipe
This recipe was posted in 2013. It was updated with more information in 2021.
We are a participant in the Amazon Services LLC Associates Program, an affiliate advertising program designed to provide a means for us to earn fees by linking to Amazon.com and affiliated sites. As an Amazon Associate, I earn from qualifying purchases.