Low-Carb and Keto Lettuce Wraps
Low-Carb and Keto Lettuce Wraps are an easy fun dinner any time of year, and they can be made with a wide variety of fillings. And this round-up of ideas for lettuce wraps also has some fun ideas for wraps made with cabbage!
PIN the Low-Carb and Keto Lettuce Wraps to try some later!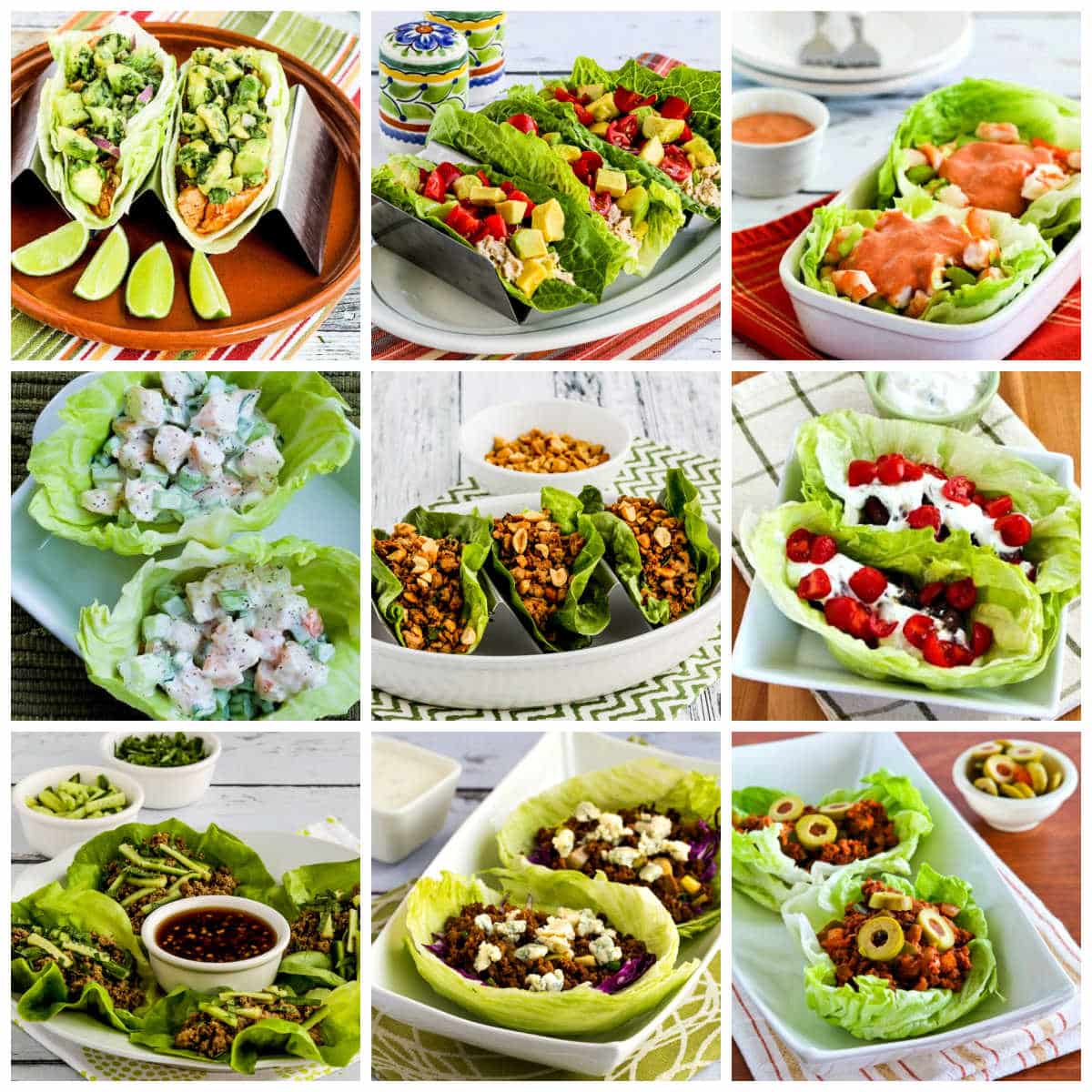 When you want a low-carb meal that's quick and easy you can't go wrong with lettuce wraps that are always fun to eat with your hands! And you can tell by this collection of Low-Carb and Keto Lettuce Wraps that I love these for a fun dinner idea that's especially perfect for the warmer months.
You'll find wraps here with several kinds of lettuce and also some tasty wraps with cabbage. And no matter what kind of greens you use, I think low-carb and Keto wraps are an amazing way to create highly-flavored low carb food that's also fun to eat. Hope you'll find some new ideas to try, and maybe even one or two that might become favorites at your house!
What fillings do I use in the Keto Lettuce Wraps?
I scoured the archives of Kalyn's Kitchen to gather up all my low-carb and Keto wraps for this collection and all these recipes are also gluten-free. Here you'll find wraps with beef, turkey, shrimp, tuna, chicken, corned beef, buffalo chicken, and Gyro meatballs. And there's even a lettuce wrap with tofu for the vegetarians!
How can you switch up the lettuce wrap recipes?
I love these Keto lettuce wrap ideas, and these are dinners I make regularly. But you can also get creative with these recipes by using a different type of greens as the wrap; have fun experimenting to see what combinations are a winner for you!
How do you get the complete recipe?
Just click or tap the recipe name under any photo to see the complete recipe on Kalyn's Kitchen. You can also use Lettuce Wraps to see all the lettuce wrap recipes on the blog!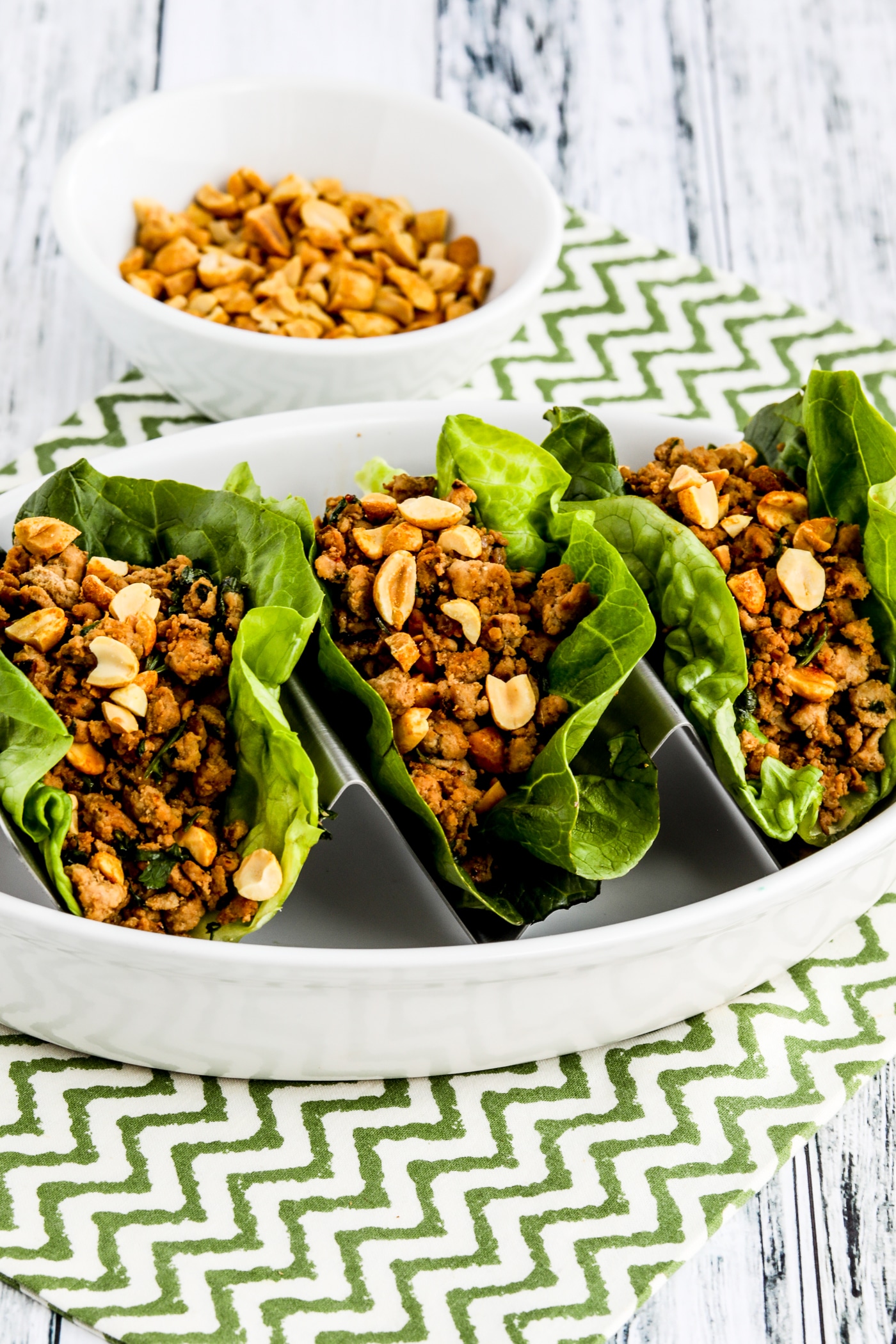 Asian Lettuce Cups with Spicy Ground Turkey were one of the first low-carb lettuce wraps recipes to show up on my blog, and they're hugely popular in my family.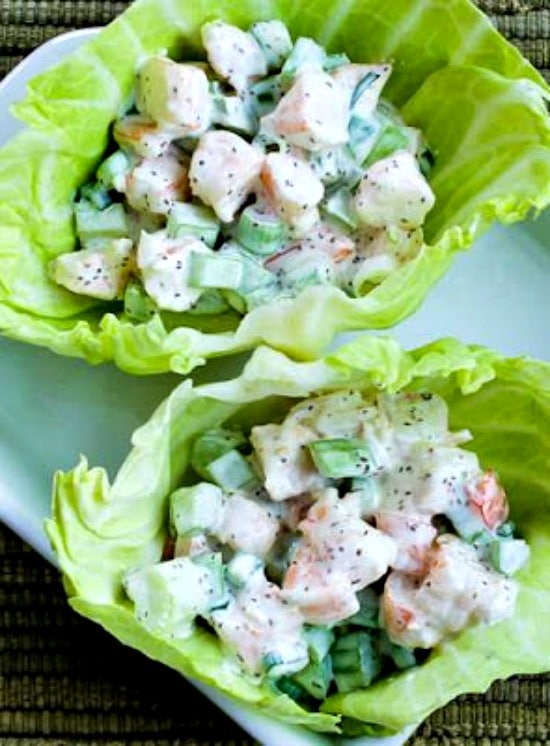 Think about how creamy slaw dressing really goes with fish tacos and you'll realize how this idea for Shrimp Salad Wraps was born! If cabbage just isn't a go for you, use lettuce to make these instead.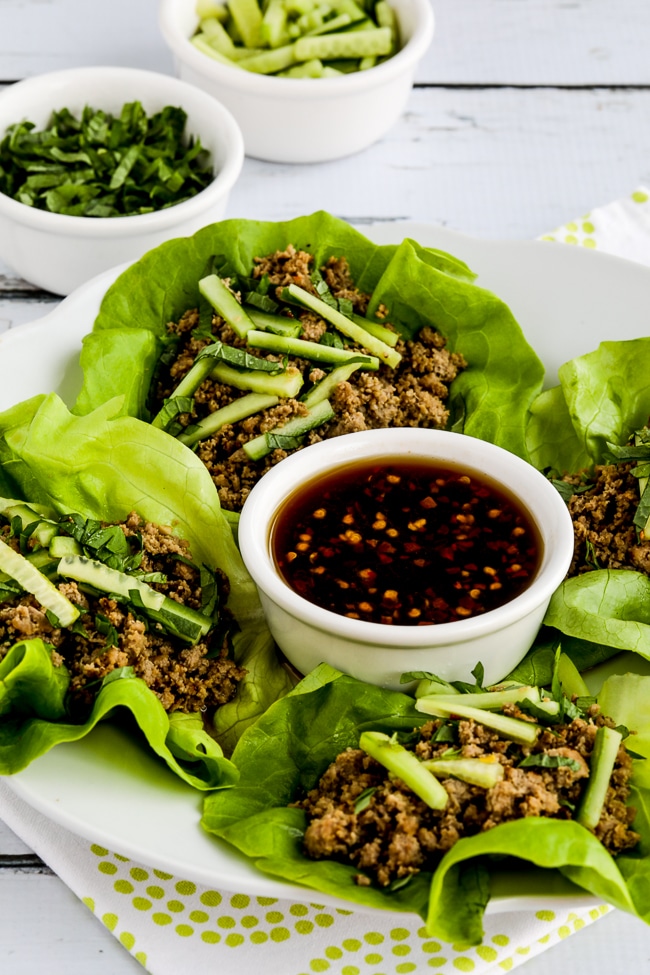 I love the Thai flavors in these Thai Turkey Lettuce Wraps, and anyone who likes Thai food will love this recipe.
Tuna Salad Lettuce Wraps are great for a quick lunch. I love to make this when I have fresh garden tomatoes, but you can use less tomatoes and avocado if you want this to be even lower in carbs!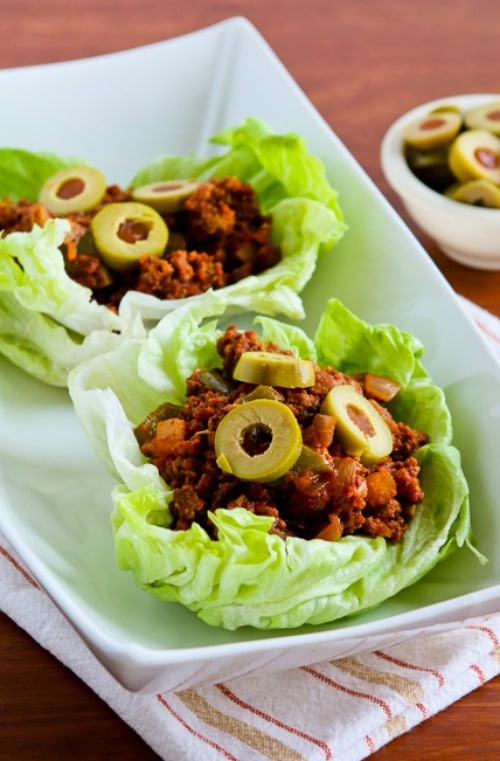 Picadillo is a type of spicy meat with green olives and I love these Turkey Picadillo Lettuce Wraps. This can also be made with beef if you prefer.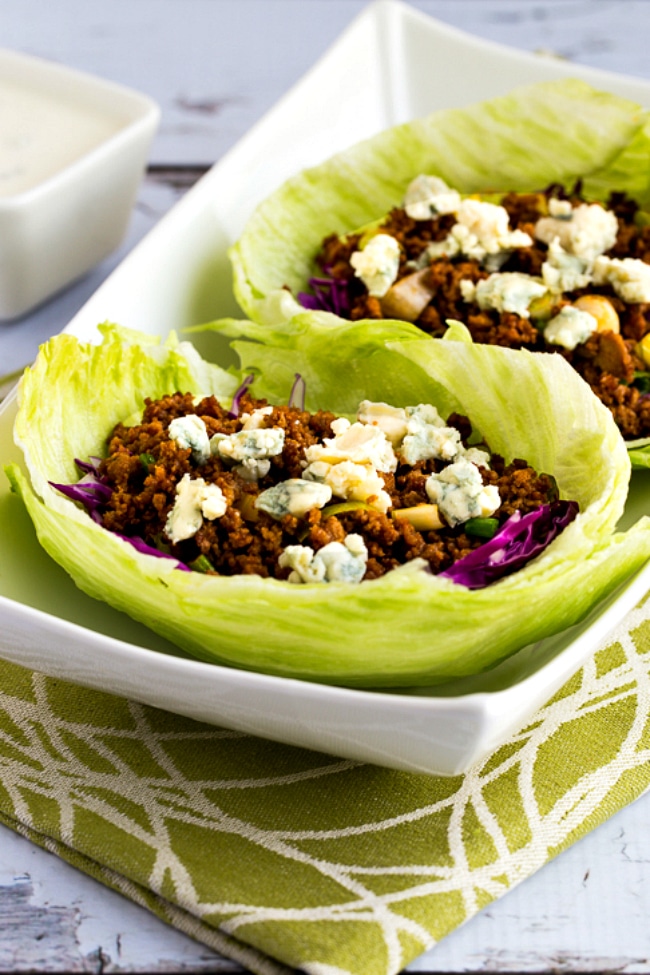 When I discovered Frank's Red Hot Sauce had zero carbs I went on a buffalo sauce binge, and came up with these Buffalo Turkey Lettuce Wraps (with crumbled blue cheese, of course).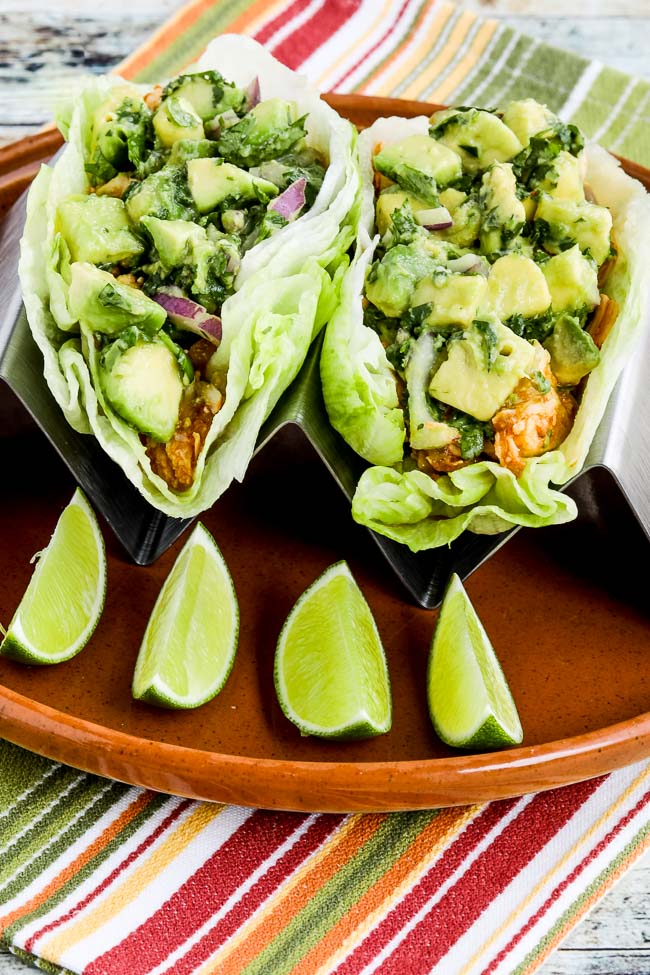 Spicy Shredded Chicken Lettuce Wrap Tacos have an avocado salsa that kicks up the flavors and these can be made in the slow cooker or the Instant Pot.
Everybody who likes shrimp cocktail will get the appeal of Shrimp Cocktail Lettuce Cups.
If you like the Greek pita sandwiches called Gyros, these Ground Beef Gyro Meatball Lettuce Wraps are a low-carb lettuce wrap with those same Greek flavors! You can just crumble the meat and cook it if you don't have time to make meatballs
Want even more Keto Lettuce Wraps?
More Lettuce Wraps from around the web: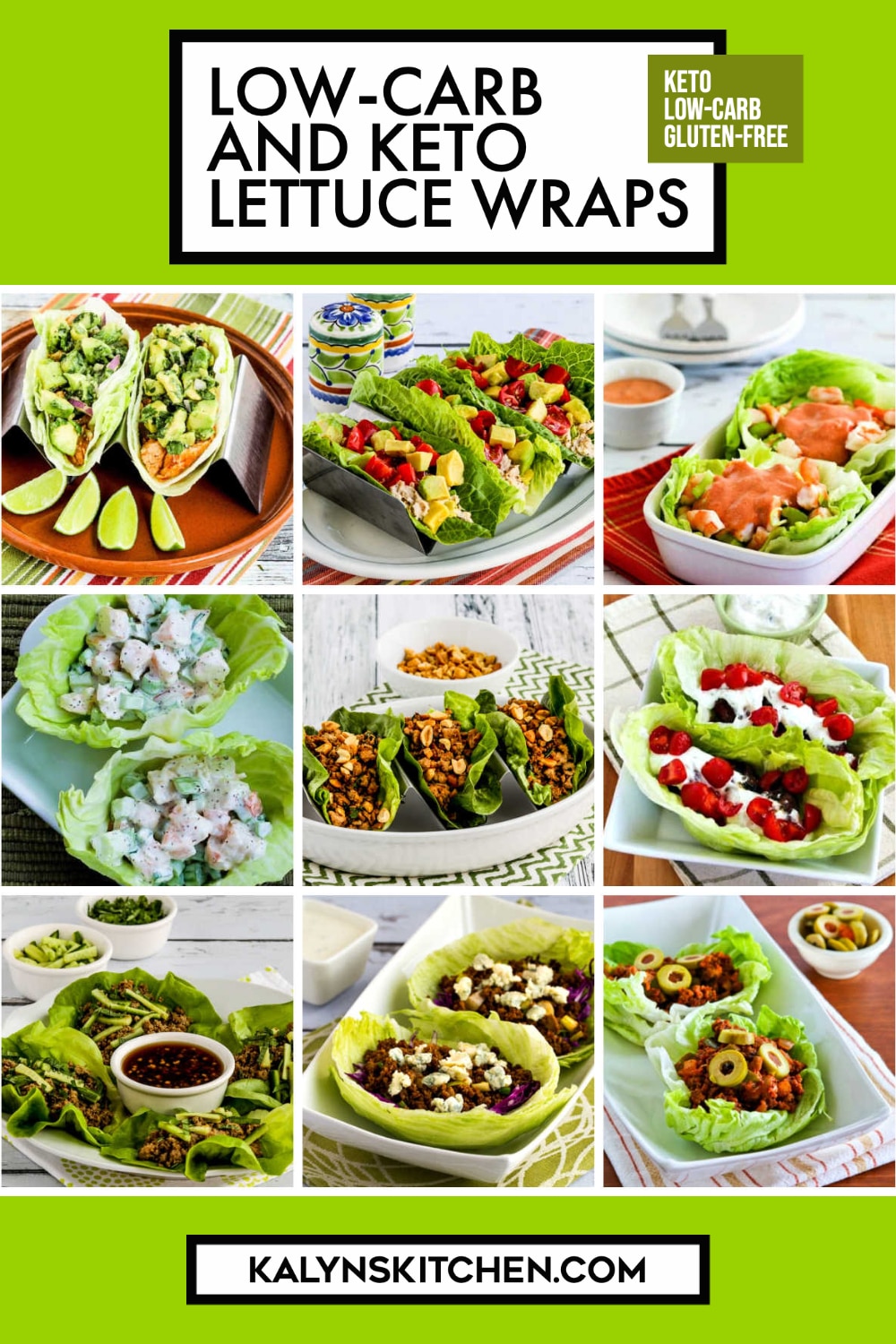 We are a participant in the Amazon Services LLC Associates Program, an affiliate advertising program designed to provide a means for us to earn fees by linking to Amazon.com and affiliated sites. As an Amazon Associate, I earn from qualifying purchases.