Kalyn's Kitchen Picks: Vege-Sal (Vegetable and Salt Seasoning Blend)
Don't confuse Vege-Sal vegetable and salt seasoning blend with Spike Seasoning, even though they're made by the same company. The bottles are similar, but the products are very different and I love them both for different uses.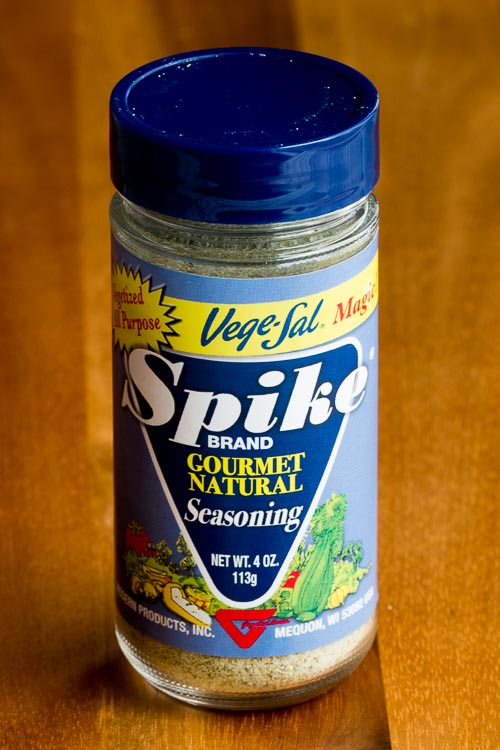 Vege-Sal is a product I learned to love from my Grandma Denny. I still remember as a young girl going on Sunday afternoon rides to Grandma Denny's house in Layton, Utah, and Grandma would always make popcorn seasoned with Vege-Sal. And Grandma used this in place of salt for just about everything she made.
Now Vege-Sal is a product that's been around for many, many years, and I'm willing to bet that every one of my siblings has a bottle of this in the cupboard at all times!
And now that I'm a food blogger who tries more products than the average person, I still love using this instead of regular salt for any recipe where I want to add that special something. And I like that using Vege-Sal adds salt flavor but doesn't add as much sodium as regular salt.
Why do I love Vege-Sal?
Vege-Sal is a blend of salt and ground vegetables that adds extra flavor to so many types of savory dishes. I use it regularly to season chicken, beef, pork, turkey, fish, eggs, soups, casseroles, and of course, vegetable dishes. In fact, in most of my recipes that just call for salt, I am probably using Vege-Sal when I make it myself, even if I don't always remember to note that in the recipe!
Is Vege-Sal low in sodium?
Vege-Sal is lower in sodium than regular salt, although it's probably not low enough for people who need to drastically reduce their consumption of salt. This salt and vegetable blend has 1440 mg. of sodium in one teaspoon, compared to 2115 mg. sodium in one teaspoon of regular table salt. And personally I feel that Vege-Sal is so flavorful that you can use less than you would if you were using regular salt.
How can you use Vege-Sal in place of salt?
If you're using this product for a recipe that just calls for salt, I would start with the same amount the recipe calls for, and Vege-Sal is so flavorful you might not need to add any more. Since regular salt is more salty-tasting than Vege-Sal, in my recipes that specify it, I recommend using slightly less regular salt if you don't have Vege-Sal.
Where can you buy it?
Vege-Sal is made by Modern Products, which also makes Spike Seasoning (affiliate link), another one of my favorites. In Utah I used to find Vege-Sal at most regular grocery stores. Now I can only get it at a natural foods store like Whole Foods, but most often I order Vege-Sal (affiliate link) from Amazon.com.
Recipes where I've used Vege-Sal:
I couldn't possibly list every recipe where I use Vege-Sal, and as I already said, for me it is so automatic that sometimes I probably don't remember to mention it when I write up the recipe. But here are some favorite dishes where I've used it.
Lunches or Appetizers:
Salads and Vegetable Recipes:
Chicken, Meat, or Fish Recipes:
Eggs Recipes:
Are you a fan of Vege-Sal seasoning salt?
If you have your own favorite recipe using this salt and vegetable seasoning blend, please share the link or your recipe idea in the comments!
About Kalyn's Kitchen Picks Featured Items
I purchased this product myself and this company has no idea whatsoever that I'm writing about their product. All items featured as Kalyn's Kitchen Picks are things I happily buy over and over, and so readers will know that my opinions are completely unbiased, I don't accept review products from the many companies who offer to send them to me. You can see the complete list of products I've chosen to feature at Kalyn's Kitchen Picks.
We are a participant in the Amazon Services LLC Associates Program, an affiliate advertising program designed to provide a means for us to earn fees by linking to Amazon.com and affiliated sites. As an Amazon Associate, I earn from qualifying purchases.