Freezing Fresh Herbs, Garden Tomatoes, and Vegetables
I had a big garden for many years and this round-up post has all my tips for Freezing Fresh Herbs, Garden Tomatoes, and Vegetables! There are lots of good ideas here for preserving the garden goodness to use during the colder months.
PIN tips for Freezing Fresh Herbs, Garden Tomatoes, and Vegetables!
For everyone who's growing tomatoes, vegetables, and herbs and starting to feel that longing to keep the garden produce around a bit longer, here are my tips for Freezing Fresh Herbs, Garden Tomatoes, and Vegetables. My favorite way to preserve garden goodness is by freezing things like tomato sauce, fresh herbs, pesto, and other garden sauces to use during the winter.
I've written a lot of posts about freezing things from the garden, and I'm collecting them all here into a round-up of freezing tips for garden produce. If you have a garden or buy produce at the Farmer's Market I hope you'll find some of my tips useful!
And I know there are other vegetables or herbs that can be frozen that I haven't tried, so if you have other tips about freezing garden produce, please share those in the comments. See Cooking for Gardeners for more recipes and tips using garden veggies and herbs.
Freezing Fresh Tomato Sauce and Pasta Sauce
Let's start with How to Make and Freeze Fresh Tomato Sauce. My method doesn't require a food mill, although you can strain the sauce if you want to. I love to use this plain tomato sauce in soups and stews during the winter.
If you have fresh tomatoes and basil in your garden, I recommend making Sausage and Basil Marinara Sauce and freezing it in containers to eat over pasta or use to make lasagna when it gets cold outside. If you have a lot of garden tomatoes you can use more fresh tomatoes and fewer canned tomatoes in that sauce.
Freezing Slow Roasted Tomatoes
If you're growing Roma tomatoes, you'll want to read How to Make Slow Roasted Tomatoes. This is something I started making many years ago, and I love to have them in the freezer and your house will smell amazing while you're making them.
How to Freeze Fresh Basil
One of the most popular posts on my blog is How to Freeze Fresh Basil. I use this chopped frozen basil that's coated with olive oil all winter long in soups, stews, and pasta sauce. (I bought these little containers at a store that's no longer in business, but any small container with a snap-tight lid will work.)
Making and Freezing Pesto or Pistou
If you have an abundance of basil you might also want to make Basil Pesto with Lemon for the freezer. (That post also has Ten Ideas for Using Basil Pesto, so make a double batch so you can eat some right away!) I also love to freeze Spinach Basil Pesto, Kale Pesto with Basil, and Garlic Scape Pesto with Chard, so keep reading for those.
Another sauce made with fresh basil that freezes beautifully is Julia Child's French Pistou Sauce. This doesn't contain nuts or cheese, and it's often used as a topping on vegetable or bean soups in France.
Something new that I made and loved is this Garlic Scape Pesto (with Chard), shown here in mini-muffin tins ready for the freezer. This is good on pasta, but I also like it stirred into rice or scrambled eggs. (If you have chard but no garlic scapes, the recipe has a suggestion for making it with minced fresh garlic.)
If you like kale and don't have much basil you might like this Kale Pesto with Basil which is also great to freeze in a mini-muffin tin!
I also loved this Spinach Basil Pesto which can also be frozen in ice cube trays or mini muffin tins like any of my other pesto recipes!
Freezing Rosemary and Thyme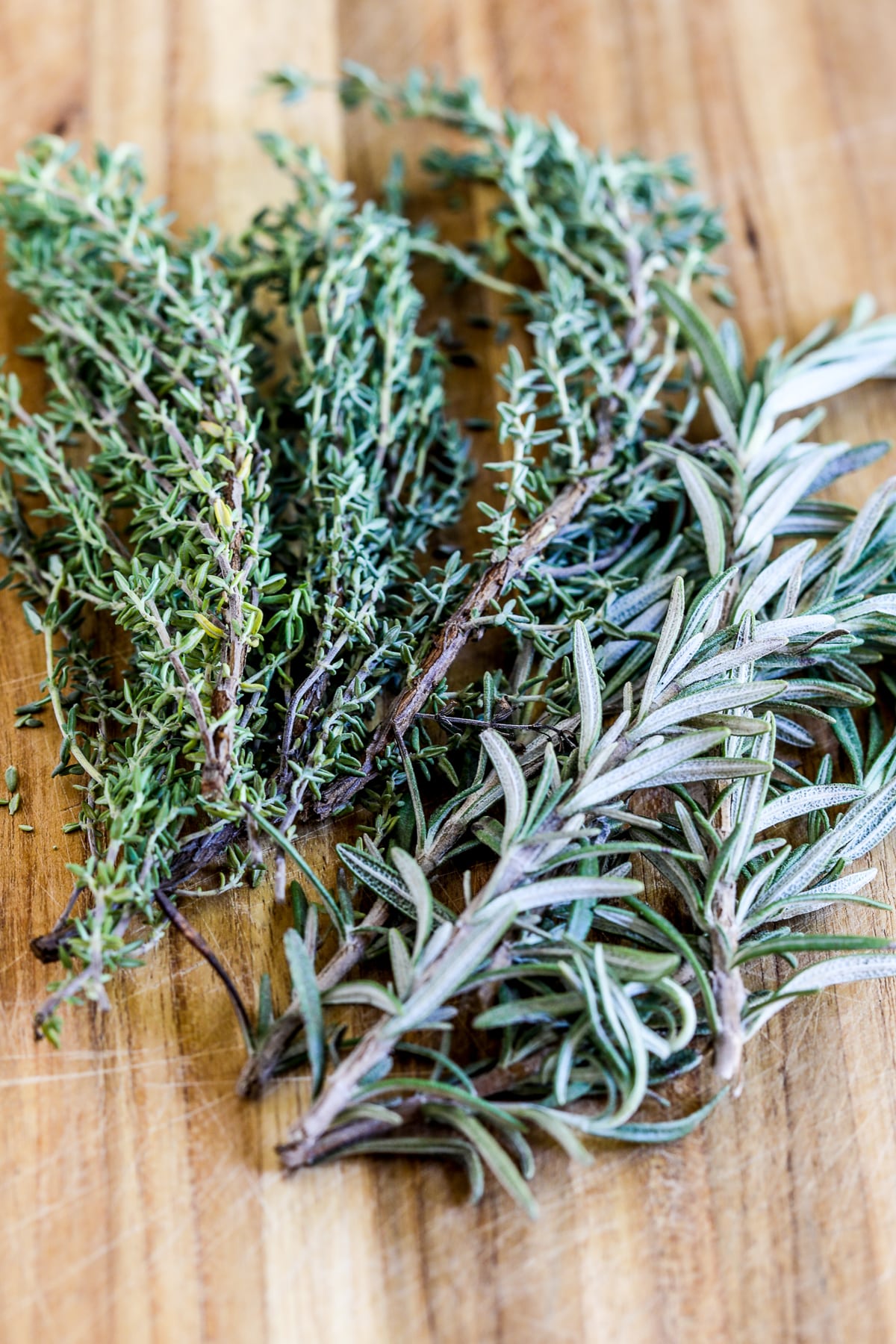 Another popular post (despite some pretty horrible old photos) is the one on How to Freeze Fresh Herbs: Rosemary and Thyme. I never have to buy fresh rosemary or thyme in the winter, because I always have it in the freezer!
Freezing Sage, Tarragon, and Mint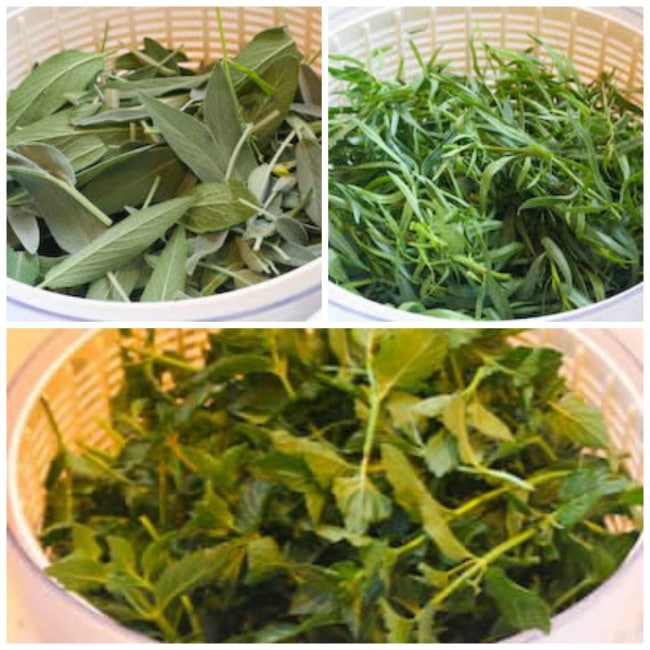 I also have a post about Freezing Sage, Tarragon, and Mint. (All froze very successfully, but I didn't find the frozen mint to be something I used nearly as much as the frozen sage or frozen tarragon.)
Freezing Roasted Red Peppers
If you're lucky enough to have an abundance of green, red, or yellow bell peppers in your garden, read my post about How to Roast Red Bell Peppers on a Barbecue Grill, and then chop up the roasted peppers and freeze them. (I'm not that great at growing bell peppers, so if anyone has pepper-growing tips lay them on me in the comments, please!)
Freezing Anaheim Chiles
And if you're growing any kind of spicy chile pepper just follow the instructions for How to Roast Anaheim Green Chiles on a Barbecue Grill, and they can be frozen once they're roasted. I didn't grow any hot chiles this year, but I think Poblanos are on my list for next year's garden!
My Favorite Freezing Tool:
Finally, one of my best freezing tips no matter what you're freezing is to seal the food inside a plastic bag using a FoodSaver Vacuum Sealer (affiliate link) before you put it in the freezer. I've had a FoodSaver for more than 20 years and couldn't imagine how I would get by without it; read more here about why I love the FoodSaver. I'm now on my second FoodSaver, a standing model that holds the bags inside, and I like it even more than the original one I had for many years. (FoodSaver probably doesn't know I'm alive, and the company has certainly never paid me or given me free merchandise to mention their products on my blog. )
More Gardening Info on Kalyn's Kitchen:
I've been growing a garden for more years than I can remember, although the last few years I haven't been reporting on my garden as much as I did in the early days of the blog! If you'd like to see more of my earlier posts about gardening, you can find them all collected together in Garden Updates. And happy gardening everyone!
We are a participant in the Amazon Services LLC Associates Program, an affiliate advertising program designed to provide a means for us to earn fees by linking to Amazon.com and affiliated sites. As an Amazon Associate, I earn from qualifying purchases.