Kalyn's Kitchen Picks: FoodSaver Vacuum Sealer Machine
The FoodSaver Vacuum Sealer is one of my favorite kitchen gadgets and I use it to preserve or freeze so many foods!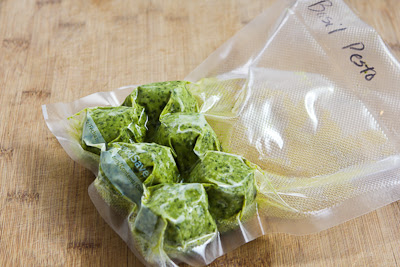 I'm years behind in spotlighting the FoodSaver Vacuum Sealer machine (affiliate link) as one of my Kalyn's Kitchen Picks, because this product is something I've owned for over 20 years and use all the time to freeze or store foods I buy in bulk. Interestingly, what has kept me from featuring the FoodSaver is also a good reason to recommend it, because the one I use is now so old it doesn't look much like the newer models, so I didn't want to take a photo of it.
After I'd had my original FoodSaver about 10 years it quit working (completely my fault, because I had sucked water into the machine when vacuum-packing Feta cheese). I called FoodSaver and for a very small fee they sent me a refurbished model that I've used ever since! (Just for the record and to keep the FTC happy, FoodSaver has no idea I'm featuring this product, and they have never given me samples or paid me in any way to promote their vacuum-packing Mysystems.)
My favorite ways to use the FoodSaver:
One of the main ways I use my FoodSaver is to store meat in serving-size packages in the freezer. I also use the FoodSaver for storing blocks of cheese, freezing herbs, freezing fresh basil, and freezing pesto or other herb mixtures. The FoodSaver will preserve things for several years in the freezer, and I've kept cheese for many, many months in the fridge.
Some FoodSaver Tips:
The FoodSaver works best with foods that are solid enough that they don't collapse when they're sealed in the bag, although some softer foods can be pre-frozen and then vacuum-packed. It's also a great way to preserve fresh vegetables that are going to be frozen. I haven't had much experience using it to preserve fresh vegetables or herbs in the fridge.
More About FoodSaver Vaccuum Sealers:
Food Saver Vacuum Sealing Machine (official company website)
13 Ways a Vacuum Sealer Can Save You Money from Money Crashers
Favorite Way to use the FoodSaver from Runaway Rice
Do you use a FoodSaver?
I'm pretty sure I'm not the only food blogger or cook who's discovered the joys of the FoodSaver Vacuum Sealing machine! If you have a FoodSaver (or any other machine that helps you save food by vacuum packing) please share your thoughts or tips for using it in the comments.
About products that are featured here:
I purchased the FoodSaver Vacuum Sealer myself and the company has no idea whatsoever that I'm writing about their product. All items featured as Kalyn's Kitchen Picks are things I would happily buy over and over, and so readers know that my opinions are completely unbiased, I don't accept review products from the many companies who offer to send them to me. You can see the complete list of products I've chosen to feature at Kalyn's Kitchen Picks.
We are a participant in the Amazon Services LLC Associates Program, an affiliate advertising program designed to provide a means for us to earn fees by linking to Amazon.com and affiliated sites. As an Amazon Associate, I earn from qualifying purchases.