Parmesan Crusted Zucchini (Video)
This Low-Carb and Gluten-Free Parmesan Crusted Zucchini is the perfect way to cook zucchini for everyone who loves Parmesan cheese. And this is one zucchini recipe where the whole family will devour it and ask for seconds!
PIN the Parmesan crusted zucchini recipe to try it later!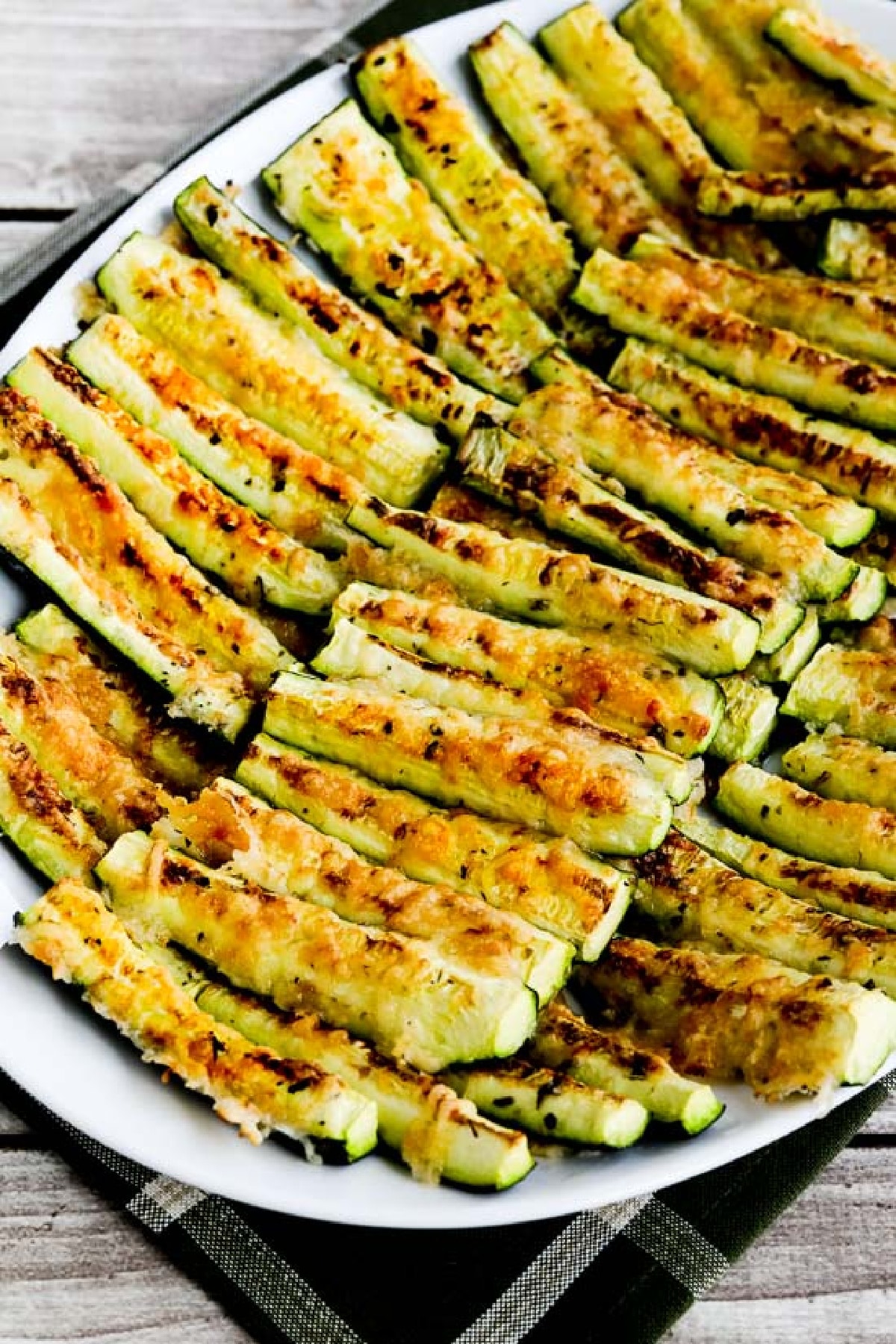 We haven't quite reached the time of the summer when people start leaving zucchini on the neighbor's porch, but the zucchini is pretty abundant already in my garden. So for this week's Friday Favorites post, here's a recipe for delicious Parmesan Crusted Zucchini to add to Zucchini Bake with Feta and Thyme and Easy Cheesy Zucchini Bake for the theme of low-carb cheesy zucchini that that so many people seem to like!
And everyone who likes melty Parmesan Cheese is going to love this easy way to make zucchini that's covered with Parmesan cheese!
The recipe originally came from Vegetables Every Day by Jack Bishop (affiliate link), a very old book that I still use all the time to look for ideas for cooking vegetables. But my preferred version of the recipe and the one I'm sharing here is actually simpler than the one in the cookbook, because years ago a reader told me they cooked the zucchini completely under the broiler, and that's the way I've been doing it ever since.
And I promise you it doesn't get easier than this for a delicious cheesy way to use up zucchini that even the kids are going to devour. You might need to experiment to get the timing perfect for your broiler since they can vary in temperature, but other than that, this recipe really is foolproof and delicious, enjoy!
What ingredients do you need for this recipe?
zucchini
olive oil
Italian Herb Seasoning (affiliate link), or your favorite seasoning blend
butter
coarsely grated Parmesan cheese
What kind of Parmesan Cheese should you use?
Of course freshly-grated Parmesan would be great for this recipe. But if you don't have a block of Parmigiano Reggiano, this recipe will work perfectly well with the coarsely-grated Parmesan that's widely available. I wouldn't use the finely grated Parmesan in the green jar for this; that won't melt and cover the zucchini in the way that makes this parmesan crusted zucchini recipe so good!
Want more low-carb zucchini winners?
This is one of the Top Ten Low-Carb Zucchini Recipes on Kalyn's Kitchen, and that's a great collection of zucchini ideas that are easy and delicious!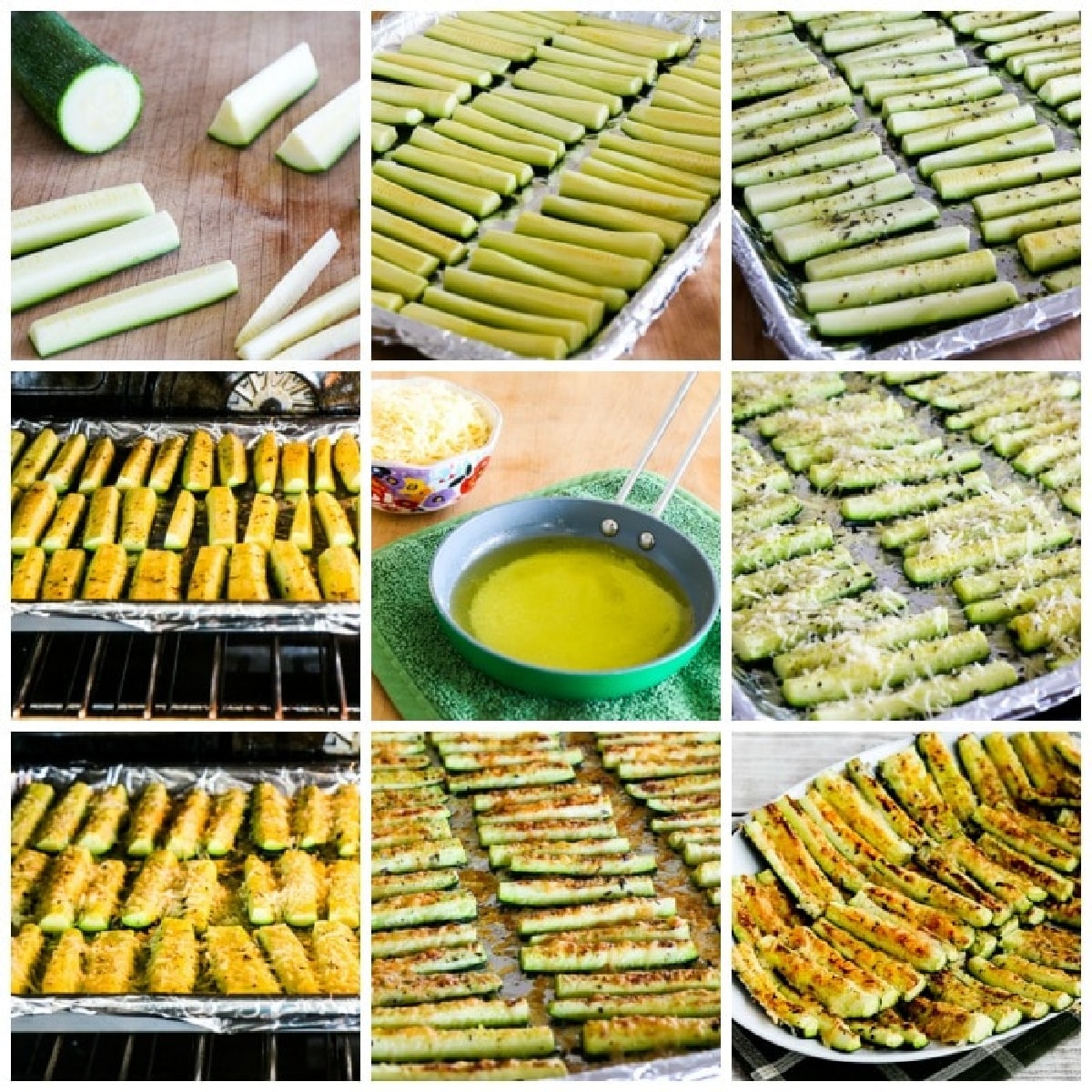 How to make Parmesan Crusted Zucchini:
(Scroll down for complete printable recipe with nutritional information.)
Trim the ends and cut each zucchini in quarters lengthwise, cut into strips about 3 inches long and then cut away the inner seedy part of each piece.
Cover baking sheet with foil and lay the zucchini on the baking sheet in rows.
Then brush or mist the zucchini with a tiny bit of olive oil (I used my Misto Olive Oil Sprayer (affiliate link) and sprinkle with Italian Herb Seasoning (affiliate link) or your favorite seasoning.
Put in a pre-heated broiler for 6-8 minutes, or until the zucchini is starting to get barely tender. (Remember the zucchini will cook longer when you're melting the cheese.)
While the zucchini cooks, melt the butter (or use a combination of butter and olive oil, or all olive oil) and measure about 3/4 cup of Parmesan cheese. (I recommend coarsely grated Parmesan that comes in a plastic jar or grate it yourself, but powdery pre-grated Parmesan won't work well for this.)
When zucchini is nearly as tender as you'd like it, remove from oven, brush with butter, sprinkle the zucchini generously with Parmesan, and put back under the broiler for 4-5 minutes, or until it's melted and starting to brown. Watch carefully towards the end!
Serve hot and wait for compliments! And there will not be leftovers!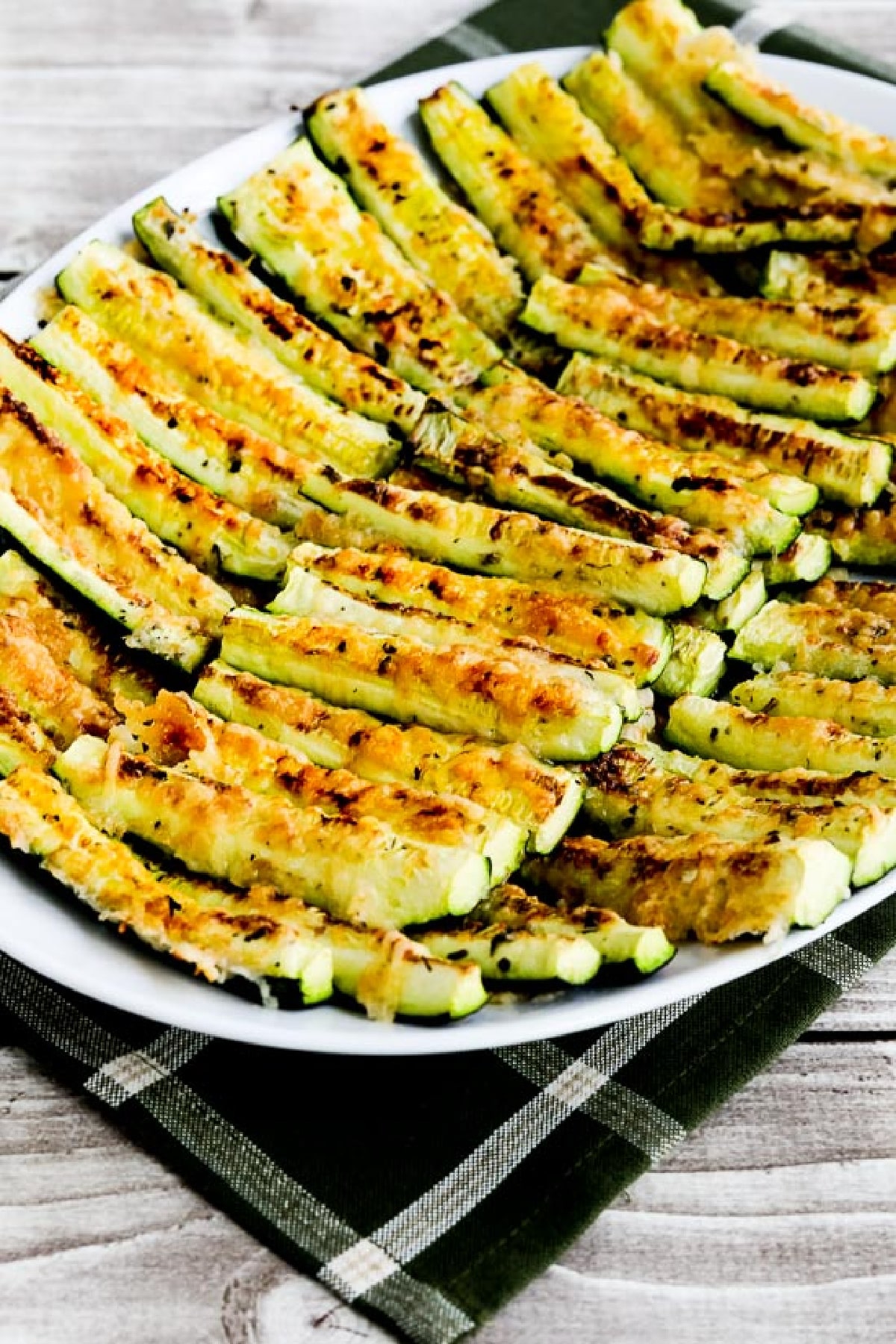 More Ideas for Cheesy Zucchini:
Roasted Zucchini and Mushrooms with Feta
Broiled Zucchini with Mozzarella and Pepperoni
Zucchini Bake with Feta and Thyme
Cheesy Zucchini with Garlic and Parsley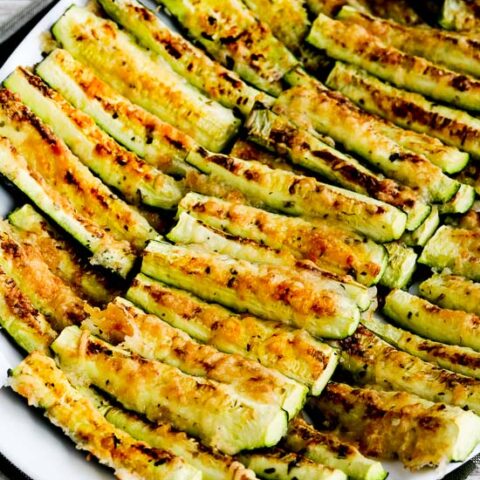 Yield: 4 servings
Parmesan Encrusted Zucchini
Prep Time 20 minutes
Cook Time 13 minutes
Total Time 33 minutes
Low-Carb and Gluten-Free Parmesan Encrusted Zucchini is the perfect way to cook zucchini and this is a recipe the whole family will love!
Ingredients
4 medium zucchini
1 T olive oil, for misting zucchini
1 tsp. Italian Herb Blend (or your favorite seasoning blend)
1/4 C butter, melted (see notes)
3/4 cup coarsely grated Parmesan cheese (more or less to taste)
Instructions
Preheat the broiler and adjust the rack so your pan will be about 6 inches away from the heat.
Cover a large baking sheet with foil (or spray with non-stick spray if you prefer).
Wash zucchini skins and pat dry, cut off stem and blossom end of each zucchini, and cut zucchini into four lengthwise strips and cut the zucchini pieces into strips about 3 inches long. Then cut away the inner seedy part of each piece.
Arrange zucchini on broiler pan in rows, close together, skin side down.
Mist or brush the zucchini with olive oil and season the zucchini with the Italian Herb Seasoning (affiliate link) or your favorite seasoning blend.
Broil zucchini about 6-8 minutes, or until it's starting to feel barely tender when you pierce it with a fork. (If your broiler is powerful I'd start checking after about 4-5 minutes. Remember the zucchini will cook more when you melt the cheese.)
When the zucchini is barely tender, remove the pan from under the broiler, brush zucchini with melted butter (or whatever combination of butter and olive oil you're using), and sprinkle Parmesan cheese over the zucchini, trying to get most of the zucchini covered.
Put zucchini under broiler and cook until cheese is completely melted and well-browned, about 4-5 minutes, or a little more or less, depending on how hot your broiler is and how close the pan is to the heat source.
Serve hot or warm. There won't be any leftovers, so you don't need to worry about whether this will keep in the refrigerator.
Notes
You can use a combination of butter and olive oil or all olive oil for brushing the zucchini if you prefer, but the butter adds a nice flavor.
This recipe adapted from Vegetables Every Day. (affiliate link)
Nutrition Information:
Yield:
4
Serving Size:
1
Amount Per Serving:
Calories: 251
Total Fat: 21g
Saturated Fat: 11g
Trans Fat: 1g
Unsaturated Fat: 8g
Cholesterol: 47mg
Sodium: 438mg
Carbohydrates: 10g
Fiber: 3g
Sugar: 5g
Protein: 9g
Nutrition information is automatically calculated by the Recipe Plug-In I am using. I am not a nutritionist and cannot guarantee 100% accuracy, since many variables affect those calculations.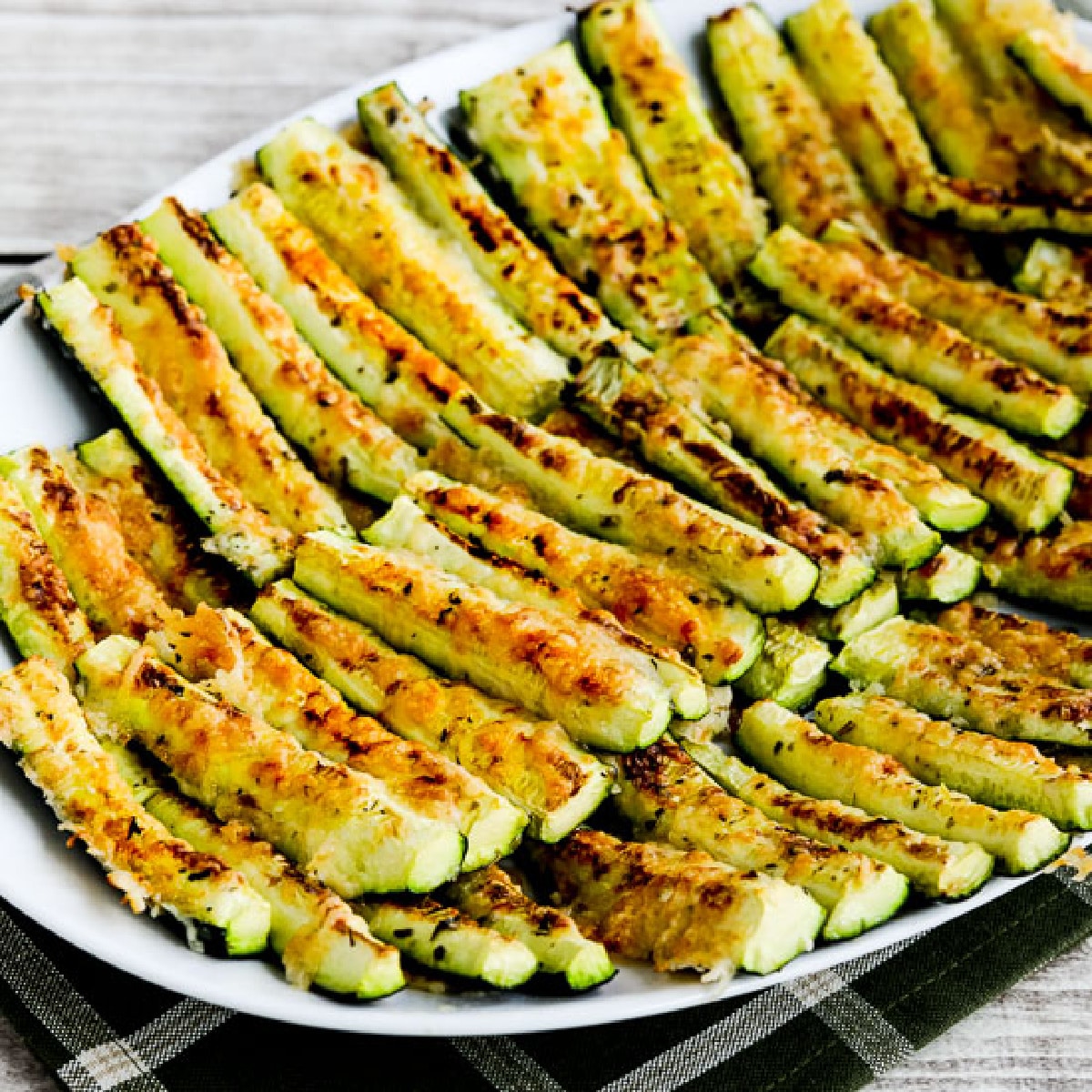 Low-Carb Diet / Low-Glycemic Diet / South Beach Diet Suggestions:
This Parmesan crusted zucchini is a great recipe for low-carb and Keto eating plans. It would probably be considered a "once in a while treat" for any phase of the original South Beach Diet, due to the amount of saturated fat in the cheese (and butter if you're using it), although zucchini is very low in calories, carbs, and fat.
Find More Recipes Like This One:
Use Zucchini Recipes or Side Dishes for more tasty ideas like this one.Use the Diet Type Index to find recipes suitable for a specific eating plan. You might also like to follow Kalyn's Kitchen on Pinterest, on Facebook, on Instagram, or on YouTube to see all the good recipes I'm sharing there.
Historical Notes for this Recipe:
This recipe was first posted in 2007, and I've made it many, many times for guests since then. It was last updated with more information in 2022.
We are a participant in the Amazon Services LLC Associates Program, an affiliate advertising program designed to provide a means for us to earn fees by linking to Amazon.com and affiliated sites. As an Amazon Associate, I earn from qualifying purchases.