Slow Cooker Bavarian Pork Roast
Slow Cooker Bavarian Pork Roast is served with Sour Cream Gravy and it's great for a tasty low-carb dinner!
PIN Slow Cooker Bavarian Pork Roast to make it later.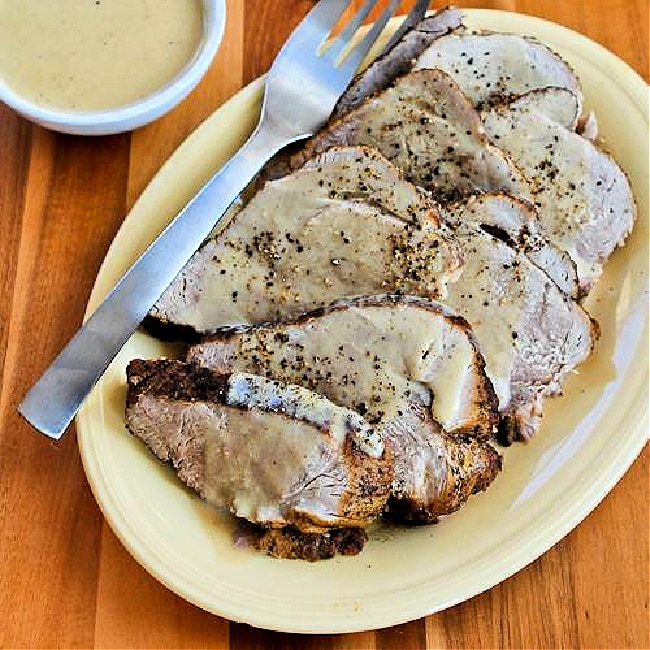 Even though I've been adding photos and re-doing posts on the blog for years now, there are still a few recipes hanging out in the archives without a photo, and when I spotted this Slow Cooker Bavarian Pork Sirloin Tip Roast recently, I remembered how good it had been and added pork roast to my shopping list.
This pork roast with interesting flavors would make a perfect low-carb dinner, maybe served with something like Twice-Baked Cauliflower or Pureed Cauliflower with Garlic, Parmesan, and Goat Cheese and a nice green salad. The ingredient that makes this a Bavarian Pork Roast is the use of caraway seeds, and if you're not sure how much you like that flavor (or you're cooking for kids), you might want to reduce the amount of this strongly-flavored spice.
What ingredients do you need for this recipe?
pork sirloin tip roast
whole caraway seeds (optional)
dried marjoram
Penzey's Pork Chop Seasoning (affiliate link), or other seasoning rub for pork
salt, preferably Vege-Sal (affiliate link)
fresh ground black pepper to taste
olive oil
water
white wine vinegar
sour cream
cornstarch for thickening
What gives this pork roast the Bavarian flavor?
It's the use of caraway seeds and the sour cream gravy that gives this slow cooker pork roast the Bavarian flavors.
Is this pork roast recipe low in carbs?
We used the tiniest amount of cornstarch to thicken the gravy in this recipe, but it's still extremely low in carbs.
Want more Slow Cooker Recipes?
Use Slow Cooker Recipes to see all the slow cooker recipes on my site. You can see lots more Slow Cooker / Instant Pot Recipes on my other blog.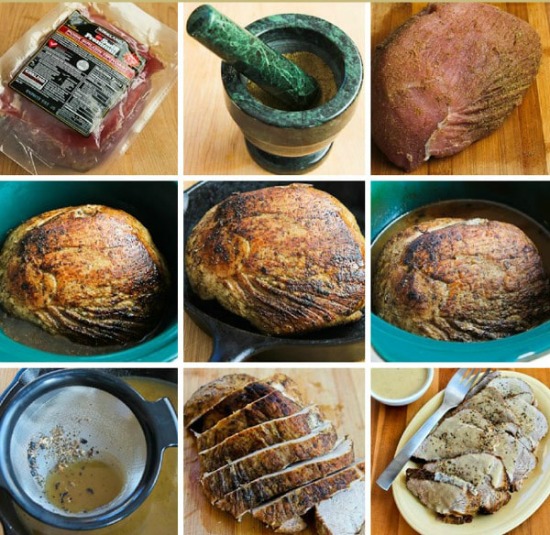 How to make Slow Cooker Bavarian Pork Roast:
(Scroll down for complete printable recipe, including nutritional information.)
I'd been seeing these inexpensive pork sirloin tip roasts at Costco and used that make Slow Cooker Bavarian Pork Roast. Because this cut is so lean, I knew it would need extra time in the slow cooker to make the meat tender.
I used a mortar and pestle to grind the caraway seeds, dried marjoram, Penzey's Pork Chop Seasoning (affiliate link), salt, and pepper to make a spice mix to rub on the meat.
Rub the pork roast all over with the spice mix.
Heat the olive oil in a heavy pan and brown the roast on all sides until it's well-browned. (Don't rush this step; the browning adds a lot of flavor.)
Deglaze the frying pan with the water, mix in the vinegar and pour over the roast.
Cook on high for 4-5 hours or on low for 8-10 hours. If you're home I would turn the meat a few times to keep the surface moist. Test the meat with a fork to see if it's tender before you take it out of the slow cooker.
Remove the roast from the slow cooker, keeping it warm, and strain the liquid into a pan. Simmer 10-15 minutes to reduce and make the flavor stronger.
Then mix the cornstarch with a little water and whisk in sour cream. Whisk this into the barely bubbling liquid and simmer until it's slightly thickened. (The sauce will be thin because we're using the tiniest bit of cornstarch here.)
Cut the roast against the grain into slices as thick as you'd like and serve hot, with the sauce drizzled over.
Serve hot, with some of the gravy spooned over the meat!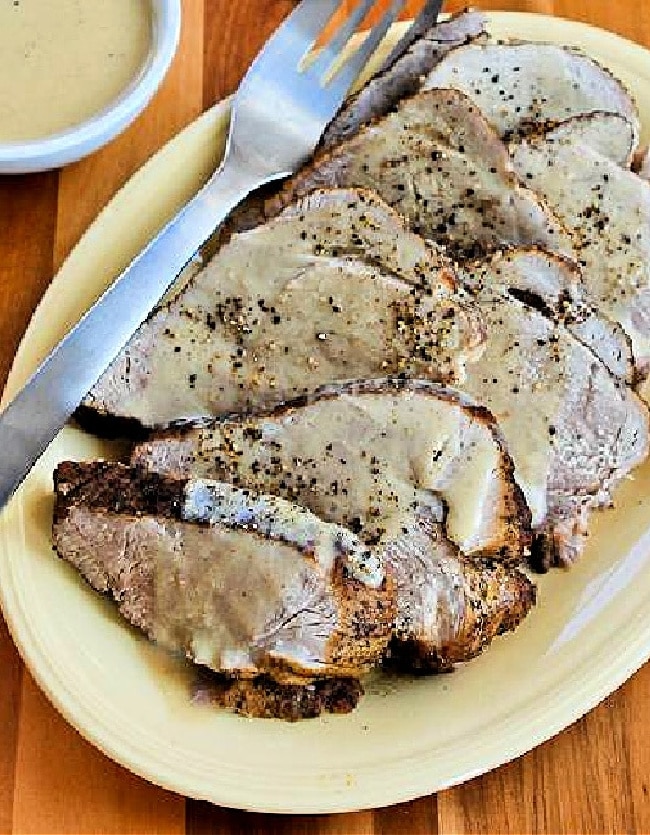 More Low-Carb Recipes for Pork:
Pork with Paprika, Mushrooms, and Sour Cream
Weekend Food Prep:
This recipe has been added to a new category called Weekend Food Prep where you'll find recipes you can prep or cook on the weekend and eat during the week!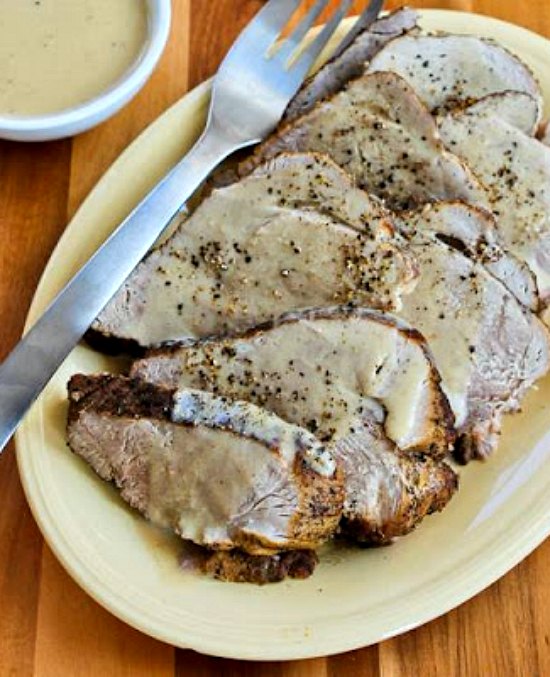 Yield: 6 servings
Slow Cooker Bavarian Pork Roast
Prep Time 35 minutes
Cook Time 5 hours
Total Time 5 hours 35 minutes
Slow Cooker Bavarian Pork Sirloin gets extra-tender in the slow cooker and then you serve it with Sour Cream Gravy for a tasty low-carb dish.
Ingredients
2 1/2 pounds pork sirloin tip roast, visible fat trimmed
1-2 tsp. whole caraway seeds (see notes)
1 tsp. dried marjoram
1 tsp. Penzeys Pork Chop Seasoning (see notes)
1/2 tsp. salt or Vege-Sal
fresh ground black pepper to taste
1 T olive oil
1/2 cup water
2 T white wine vinegar
8 oz. sour cream
2 tsp. cornstarch for thickening
Instructions
Trim all visible fat from the roast.
Put caraway seeds, marjoram, Penzey's Pork Chop Seasoning (affiliate link), salt or Vege-Sal (affiliate link) and pepper into mortar (or small ziploc bag) and pound with pestle (or flat side of meat mallet - affiliate link) until caraway seeds are crushed.
Rub spice mixture all over both sides of meat.
Heat olive oil in nonstick frying pan, add roast and brown very well on all sides. Don't rush this step; it will take at least 10 minutes to brown the roast thoroughly.
Place roast in crockpot, then deglaze pan with the water, scraping all brown bits from bottom of the frying pan.
Add vinegar to water and pour over roast.
Cook roast in crock pot 4-5 hours on high or all day (8-10 hours) on low. If you're home, turn the roast a few times so the surface stays moist.
When it pierces easily with a fork, remove roast from slow cooker and keep warm.
Strain liquid from the slow cooker into a small saucepan, bring to a low simmer, and cook 10-15 minutes to reduce and intensify the flavors.
Turn heat to very low.
Mix the cornstarch and water with the sour cream, whisk into the liquid and cook until gravy is slightly thickened and starting to bubble. (Gravy will be thin.)
Slice meat and pour gravy over.
Notes
You can also use 1/2-1 tsp. ground caraway; this is a strong flavor so use less or omit if you're not sure how much you like caraway. Pork Chop Seasoning is optional, but recommended; pork chop seasoning has salt, hickory smoke, garlic, onion, white pepper and ginger if you want to make your own.
I used a Crock-Pot 2.5-Quart Slow Cooker, but use the smallest size you can that will hold the pork roast.
Recipe adapted slightly from Better Homes and Gardens.
Nutrition Information:
Yield:
6
Serving Size:
1
Amount Per Serving:
Calories: 399
Total Fat: 15g
Saturated Fat: 6g
Unsaturated Fat: 7g
Cholesterol: 182mg
Sodium: 352mg
Carbohydrates: 3g
Fiber: 0g
Sugar: 1g
Protein: 60g
Nutrition information is automatically calculated by the Recipe Plug-In I am using. I am not a nutritionist and cannot guarantee 100% accuracy, since many variables affect those calculations.
Low-Carb Diet / Low-Glycemic Diet / South Beach DietSuggestions:
I reduced the amount of cornstarch in this Bavarian Pork Roast recipe so the amount of carbs per serving is very minimal, but if you want to skip the cornstarch and have the gravy be thinner, that would make the recipe even lower in carbs. Personally I would eat this for any phase of the original South Beach Diet or for a low-carb eating plan as well. South Beach would recommend low-fat sour cream, other low-carb plans would prefer full-fat sour cream.
Find More Recipes Like This One:
Use Slow Cooker Recipes to find more recipes like this one. Use the Diet Type Index to find recipes suitable for a specific eating plan. You might also like to follow Kalyn's Kitchen on Pinterest, on Facebook, on Instagram, or on YouTube to see all the good recipes I'm sharing there.
We are a participant in the Amazon Services LLC Associates Program, an affiliate advertising program designed to provide a means for us to earn fees by linking to Amazon.com and affiliated sites. As an Amazon Associate, I earn from qualifying purchases.