Power Greens Salad Mix
I make this Power Greens Salad Mix on the weekend, and having salad prepared in the fridge can really help you eat more vegetables! And this is the blend of salad ingredients I make most often for Weekend Food Prep!
PIN the Power Greens Salad Mix to make some later.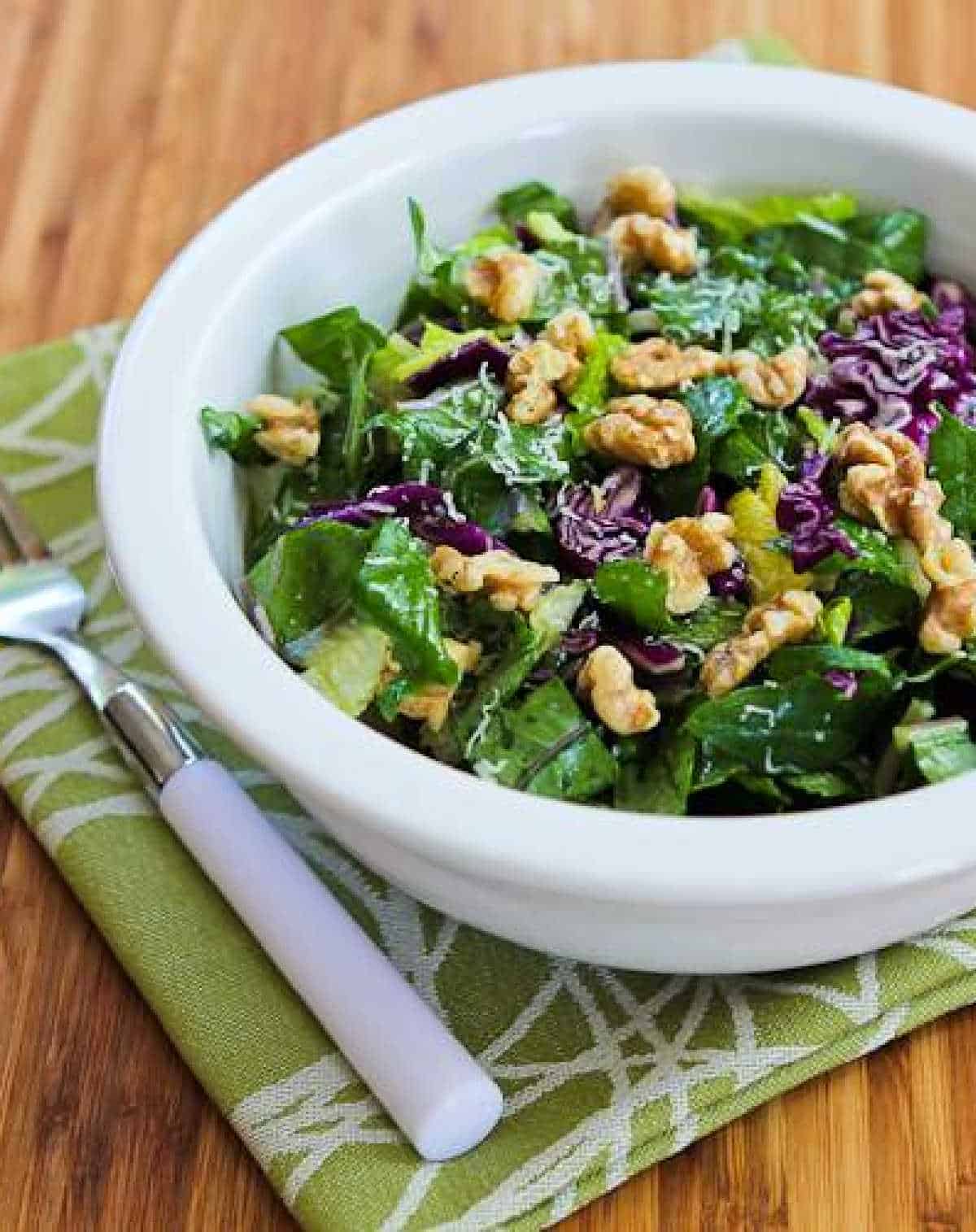 For years I've washed lettuce in advance and kept it in the fridge, but I think it was Kelly's Do It Yourself Organic Salad Mix at Mountain Mama Cooks that started me experimenting with a nutritious ready-to-eat salad mix that would entice me to eat salad more often.
It took a few tries to find a mix that would appeal to me, be extra nutrient dense, and stay good in the fridge for more than a day or two, and after some experimenting this blend that I'm calling Power Greens Salad Mix is starting to become a Weekend Food Prep staple in my fridge.
If I'm having lunch at home I eat a big bowl of this, usually with a something like a handful of nuts, some cubes of cheese, or extra veggies added. On days I go out for lunch I sometimes have this salad for dinner if I had a more indulgent lunch that day.
I like this blend with all types of dressing, and after the recipe you can see my suggestions for favorite dressing ideas for the Power Greens Salad Mix. Hope this recipe can help you be a bit more consistent with eating salads at home!
What is Weekend Food Prep?
Salad mix like this is one of the most consistent things I make for Weekend Food Prep, even on the weekends I don't manage to make anything else! And on my blog there's a category for Weekend Food Prep that features make-ahead recipes like this one, or things like casseroles, soups, and skillet meals that you can cook on the weekend and eat during the week.
What ingredients do you need for this food prep recipe?
kale or baby kale mix
romaine lettuce
red cabbage
What else could you add to the Power Greens Salad Mix?
You could add other greens or vegetables to this salad mix if you like. I'd love it with more green cabbage, chopped raw collard greens, green leaf lettuce, or even arugula if you like that spicy flavor. When I want a more veggie-loaded salad mix I also love to make Crunchy Low-Carb Chopped Salad for a Weekend Food Prep Salad mix.
How to Make Power Greens Salad Mix:
(Scroll down for complete recipe with nutritional information.)
You're probably not surprised that my Power Greens Salad Mix starts with kale, since I'm so crazy about it and kale is so nutritious. You could use Earthbound Farm Ready-to-use Organic Mixed Baby Kales, but when I have kale in my garden I start by giving it a good wash in the salad spinner.
If you're using bigger kale leaves you may need to cut away the ribs, but for my garden kale I just snip off the stems, lay the leaves on top of each other in a stack, and cut them into ribbons. Then I usually cut through the kale once or twice going the other way so I have short strips of kale.
Next is romaine hearts, which I break into pieces into the salad spinner and then crisp in very cold water and spin dry. The greens need to be quite dry or they won't last as long in the fridge.
The third ingredient that makes up my salad mix is red cabbage. This adds a nice crunch factor to the salad, and cabbage is loaded with nutrients.
I cut the cabbage in half, cut away the core from one of the halves, and then thinly slice the cabbage. (If the pieces are long, I chop them in half the other way like I did with the kale.)
I use a large metal bowl to get the salad ingredients well mixed.
This amount of salad will fit in a gallon size plastic zip-seal bag if you pack it in. I consider this to be six servings for a side-dish salad.
To make sure it stays good in the fridge, seal the bag part-way, press on it to remove all the air, and then finish sealing.
And just to show how well this will keep, here's a batch of salad that's been in the fridge for several days.
Put a couple of handfuls of salad into a bowl, toss with a flavorful dressing, add anything else you'd like such as nuts, cheese, tomatoes, avocado, carrots, fruit, canned beans, or croutons, and lunch is served!
Salad Dressing Ideas and Add-Ins for Power Greens Salad Mix:
Lemon Parmesan Vinaigrette (aka The Best Dressing Ever) from Mountain Mama Cooks (I like this with Feta!)
Green Goddess Salad Dressing from Kalyn's Kitchen (With cucumbers, tomatoes, and Feta)
Low-Fat Buttermilk Ranch Dressing from Skinnytaste (With chopped avocado and grated cheese)
Cafe Rio Style Creamy Tomatillo Dressing from Kalyn's Kitchen (With chopped avocado and black beans)
Our Everyday Salad Dressing from The Nourishing Gourmet (With carrots, cucumbers, and tomatoes.)
Mediterranean Salad Dressing from Kalyn's Kitchen (with fresh herbs and Feta)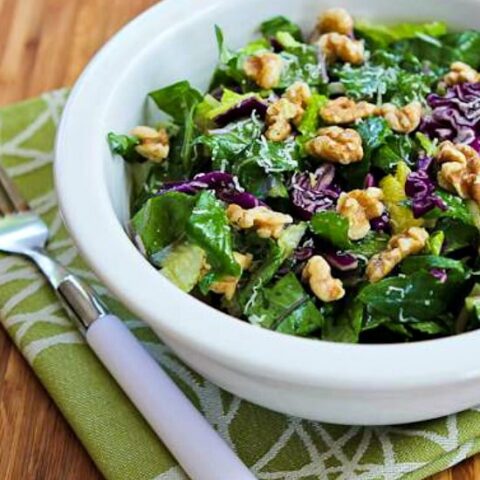 Yield: 6 side-dish salads
Power Greens Salad Mix
Prep Time 20 minutes
Total Time 20 minutes
Power Greens Salad Mix is so handy to keep in the fridge, and you'll love making this on the weekend for Weekend Food Prep and having salad mix already prepped when you want a salad.
Ingredients
5 oz. kale or baby kale mix (see notes)
2 large heads romaine lettuce (see notes)
1/2 small head red cabbage (see notes)
Instructions
If using kale leaves, cut off the stems and cut away the inner ribs if they're large.
Wash kale in the salad spinner and spin dry or dry with paper towels.
Stack up the kale leaves and cut them into ribbons about 3/8 inch thick.
Then slice through the leaves once or twice going the other way so you have short strips of kale. (Baby kale mix can be used just as it is from the package.)
Put kale into large metal bowl big enough to hold all the salad ingredients.
Break off and discard the outer damages leaves on each romaine head, making sure you remove any leaves that have rust spots.
Cut off the root end of each head, then break the romaine heads into bite sized pieces into the salad spinner.
Wash romaine in very cold water and spin until it's as dry as you can get it.
Add romaine to the kale in the salad bowl.
Cut a small head of red cabbage in half, wrapping one half and putting it back in the fridge for another time.
Cut away the core and remove the damaged outer leaves of the other half; then slice the cabbage into very thin strips.
When all the cabbage is sliced, give it a few chops going the other way so you have short, thin strips of cabbage.
Add the red cabbage to the kale and romaine in the bowl.
Toss the salad together so it's well-combined.
Then open a gallon size plastic bag that will zip tightly shut, and use your hands to tightly pack the salad into the bag.
Zip the end partly closed, then press on the bag to remove the air and finish zipping it shut.
Notes
I use about 4 cups chopped kale, about 4 cups torn lettuce, and about about 2 cups thinly sliced and chopped red cabbage. The salad will stay good in the fridge for 3-5 days, depending on how dry the lettuce is and how much air you manage to squeeze out. To assemble a salad, toss several handfuls of the salad mix with enough dressing to coat.  Add other ingredients like nuts, cheese, tomatoes, avocado, carrots, fruit, canned beans, or croutons as desired. Recipe inspired by Kelly's Do It Yourself Organic Salad Mix at Mountain Mama Cooks.
Nutrition Information:
Yield:
6
Serving Size:
1
Amount Per Serving:
Calories: 29
Total Fat: 0g
Saturated Fat: 0g
Trans Fat: 0g
Unsaturated Fat: 0g
Cholesterol: 0mg
Sodium: 24mg
Carbohydrates: 6g
Fiber: 2g
Sugar: 2g
Protein: 2g
Nutrition information is automatically calculated by the Recipe Plug-In I am using. I am not a nutritionist and cannot guarantee 100% accuracy, since many variables affect those calculations.
Low-Carb Diet / Low-Glycemic Diet / South Beach Diet Suggestions:
If you're making this Power Greens Salad Mix for the original South Beach Diet, choose salad dressings with not more than 2 or 3 grams of fat per serving. Many bottled dressings will fit this requirement, so read the labels until you find one you like if you don't want to make your own dressing. With that caution, this low-carb salad mix is a great choice for any phase of South Beach and should also be great for low-carb or Keto diet plans. And for low-carb or Keto, choose any full fat dressing you'd like!
Find More Recipes Like This One:
Click here to see more Salad Recipes! Use the Diet Type Index to find recipes suitable for a specific eating plan. You might also like to follow Kalyn's Kitchen on Pinterest, on Facebook, on Instagram, or on YouTube to see all the good recipes I'm sharing there.
Historical Notes for this Recipe:
Power Greens Salad Mix was first posted in 2012, when I had lots of kale in my garden and was making this mix every weekend. Now I have to buy the kale, but I still love mixing this up ahead for the week. The post was last updated with more information in 2022.
We are a participant in the Amazon Services LLC Associates Program, an affiliate advertising program designed to provide a means for us to earn fees by linking to Amazon.com and affiliated sites. As an Amazon Associate, I earn from qualifying purchases.