Zucchini Noodles with Tomatoes and Burrata
Discovering Burrata Cheese at Costco inspired these Zucchini Noodles with Tomatoes and Burrata, and this was a fun idea with zucchini noodles!
PIN the Zucchini Noodles with Burrata to try it later!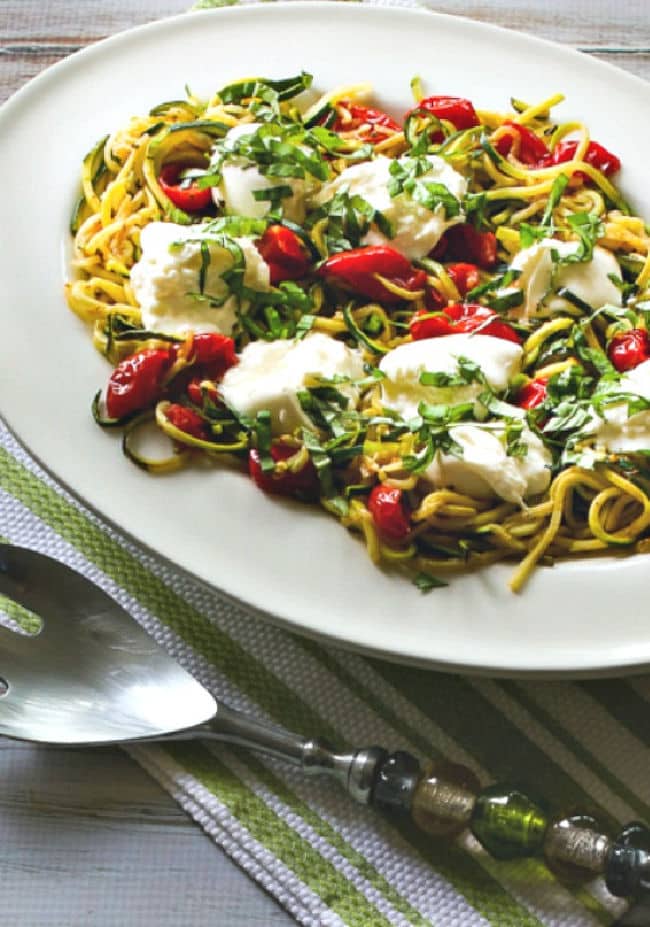 You probably could guess that I'm one of those food-obsessed people who loves to try out new things, and lately I've been hearing about Burrata, a fresh Italian cheese made from Mozzarella and cream. Of course that sounds amazing, and when I spotted some Burrata at Costco recently I had to try it.
Google told me that Burrata is good with pasta, so I immediately thought Zucchini Noodles, and my niece Kara and I came up with these Zucchini Noodles with Tomatoes and Burrata, which were delicious. We had fresh basil, which also bumped up the flavors here and really went well with the cheese, but fresh basil is optional; use any dried or fresh herb that appeals to you if you don't have basil.
What ingredients do you need for this recipe?
zucchini
cherry tomatoes
extra-virgin olive oil
large cloves of garlic
Italian Herb Seasoning (affiliate link)
Burrata cheese
sliced fresh basil for garnish (optional, but good)
What is Burrata cheese?
Mozzarella and Burrata are both soft Italian cheeses made from cow's milk or buffalo milk. But Burrata is a special type of mozzarella that's formed into a pouch and filled with soft curd and cream. That process makes the Burrata creamy and delicious, but it's also fairly expensive and once you open the package it only keeps for about 24 hours. I would buy it again, but I might not buy the big package from Costco, or I'd only buy it for a party where I had plenty of guests to eat it right away.
What other cheese can you use for this recipe?
If you don't want to buy a special cheese just to make this, I'd recommend soft goat cheese, crumbled Feta Cheese, or even diced fresh mozzarella for a substitute.
How do you make Zucchini Noodles?
If you're not experienced with noodles made with strips of zucchini, check out my post on How to Make Zucchini Noodles for easy gadgets you can use to make them. These noodles are sometimes called Zoodles.
How do you cook the Zucchini Noodles?
Zucchini noodles can be eaten raw or cooked, and I've made a lot of recipes using them raw. I do love the raw noodles, but for this recipe I wanted some heat to release the flavor of the cheese, and the zucchini noodles were slightly cooked in hot garlicky olive oil to make them really delicious, and this was a perfect light dinner that's a plant-based meal.
How to make Zucchini Noodles with Tomatoes and Burrata:
(Scroll down for complete printable recipe including nutritional information.)
Burrata has balls of mozzarella that are filled with softened mozzarella and cream; we cut the balls into four pieces each to top the zucchini noodles.
Cut cherry tomatoes in half.
Use any of the Three Ways to Make Zucchini Noodles, but remember to cut a slit in the zucchini to make short noodles!
If you're using fresh basil, chop that up now. (I used my Herb Scissors to get thin strips of basil.)
Prepare some fresh garlic cloves, then heat the oil with garlic cloves to season the oil.
Remove the garlic and cook the tomatoes about 2 minutes with a little Italian Herb Blend.
Add the noodles and cook about 4 minutes, turning a few times.
Serve the noodles hot, topped with Burrata (or other cheese of your choice) and fresh basil. YUM!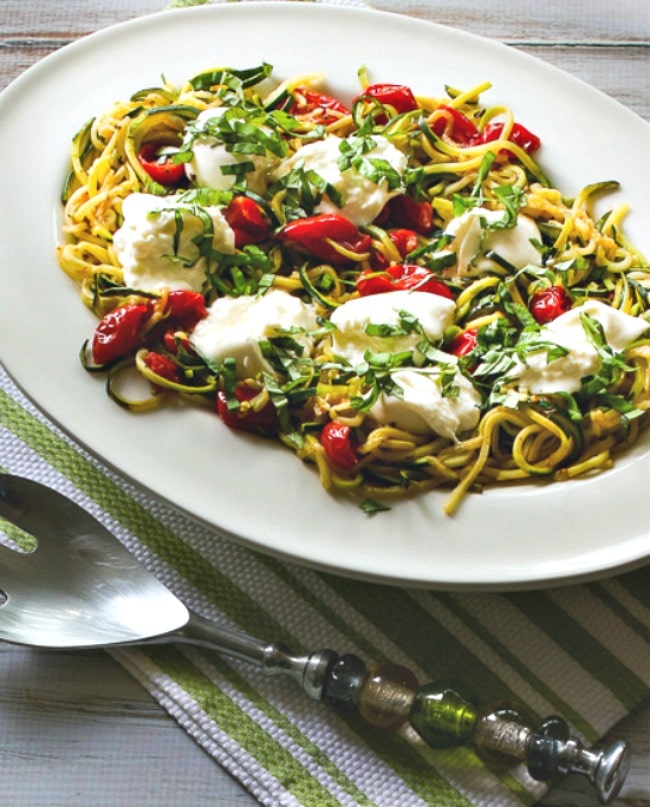 Make it a Low-Carb Meal:
The Zucchini Noodles with Tomatoes and Burrata could be delicious as a main dish for a low-carb plant-based meal. But if you want to serve it as a side dish, this would taste great with Chicken Souvlaki, Very Greek Grilled Chicken, Grilled Lamb Chops with Garlic, Rosemary, and Thyme, Grilled Cuban Flank Steak, or Low-Carb Marinated Beef Kabobs.
More Recipes with Zucchini Noodles:
Zucchini Noodles with Cherry Tomato Pasta Sauce ~ Kalyn's Kitchen
Zucchini Pad Thai Noodles ~ White on Rice Couple
Julienned Zucchini Vegan Mexican Bowl ~ Kalyn's Kitchen
Two Ideas for Zucchini Noodle Salad ~ Vintage Mixer
Zucchini Noodle Mock Pasta Salad ~ Kalyn's Kitchen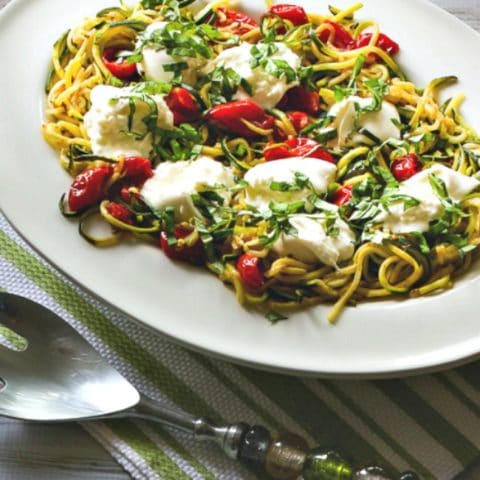 Yield: Makes 4 servings
Zucchini Noodles with Tomatoes and Burrata
Prep Time 20 minutes
Cook Time 7 minutes
Total Time 27 minutes
Zucchini Noodles with Tomatoes and Burrata are a delicious low-carb meal, use goat cheese, Feta, or fresh Mozzarella if you don't have Burrata.
Ingredients
3 medium zucchini (see notes)
1 1/2 cup cherry tomatoes, cut in half
2 T extra-virgin olive oil (use a flavorful oil)
3 large cloves garlic, cut in half (for seasoning the oil)
1 tsp. Italian Herb Blend
3 balls Burrata cheese, cut into quarters (see notes)
thinly sliced fresh basil for garnish (optional, but good)
Instructions
Cut ends off the zucchini and wash if needed. Cut a slit in the zucchini so you don't end up with one long noodle!
Then make the noodles, using one of the Three Ways to Make Zucchini Noodles.
If you're using basil or another fresh herb, thinly slice or chop that now, or use Herb Scissors (affiliate link) if you have them.
Cut cherry tomatoes in half and cut each ball of Burrata into fourths. (If you're using another type of cheese, cut or crumble it.)
Heat the oil in a large heavy frying pan over medium heat; add the garlic cloves and cook until garlic cloves are fragrant, about a minute. (Don't let the garlic get brown or it will leave a bitter taste in the oil.)
Remove garlic from the pan, add the cherry tomatoes and Italian Herb Blend, and cook about 2 minutes, stirring a few times.
Then add the Zucchini Noodles and cook about 4 minutes, or until they're barely starting to get tender but are heated through, turning the noodles over carefully a few times.
Put the noodle/tomato mixture on to a serving dish and top with the chunks of soft cheese.
Serve immediately.
Notes
Use zucchini that is 8-10 inches long. Use another type of soft cheese like Goat Cheese, Feta, or fresh Mozzarella if you don't have Burrata.
This recipe created by Kalyn and Kara.
Nutrition Information:
Yield:
4
Serving Size:
1
Amount Per Serving:
Calories: 162
Total Fat: 12g
Saturated Fat: 4g
Trans Fat: 0g
Unsaturated Fat: 8g
Cholesterol: 17mg
Sodium: 142mg
Carbohydrates: 8g
Fiber: 2g
Sugar: 5g
Protein: 7g
Nutrition information is automatically calculated by the Recipe Plug-In I am using. I am not a nutritionist and cannot guarantee 100% accuracy, since many variables affect those calculations.
Low-Carb Diet / Low-Glycemic Diet / South Beach Diet Suggestions:
Burratta is a relatively low-fat cheese, and these Zucchini Noodles with Tomatoes and Burrata are a perfect meal for any phase of the original South Beach Diet. This recipe is also good for other low-carb eating plans, although tomatoes do have some carbs so if you're following a strict low-carb plan you might want to use fewer tomatoes.
Find More Recipes Like This One:
Use Spiralizer Recipes to find more recipes like this one. Use the Diet Type Index to find recipes suitable for a specific eating plan. You might also like to follow Kalyn's Kitchen on Pinterest, on Facebook, on Instagram, or on YouTube to see all the good recipes I'm sharing there.
Historical Notes for this Recipe:
This recipe was first posted in 2014. It was last updated with more information in 2022.
We are a participant in the Amazon Services LLC Associates Program, an affiliate advertising program designed to provide a means for us to earn fees by linking to Amazon.com and affiliated sites. As an Amazon Associate, I earn from qualifying purchases.