Cheesy Zucchini with Garlic and Parsley
Cheesy Zucchini with Garlic and Parsley is a simple low-carb zucchini side dish that everyone will enjoy, and this is quick and easy to make!
PIN the Cheesy Zucchini to try it later!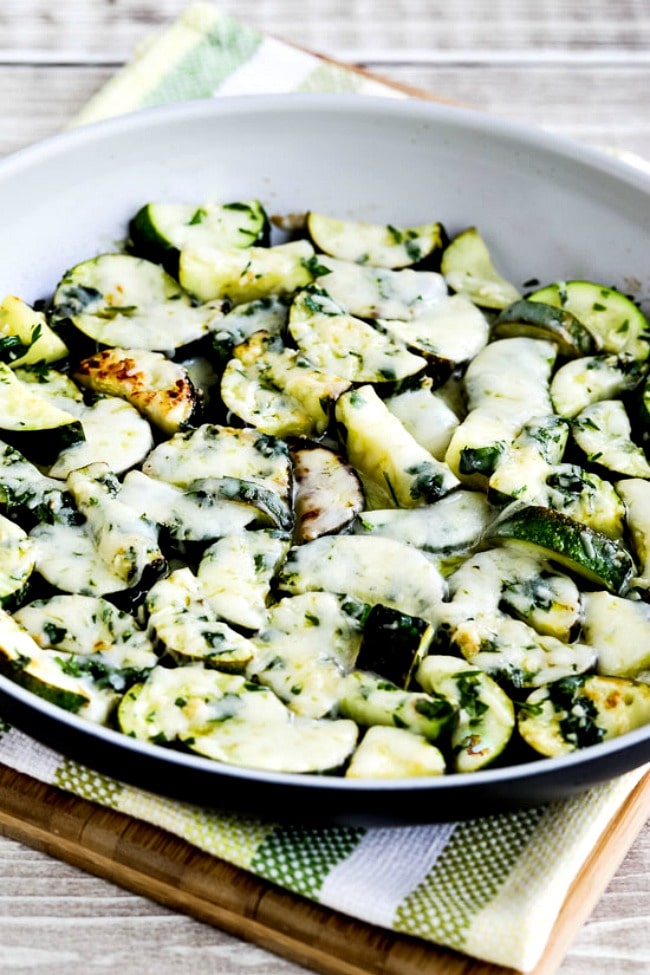 This time of year people who are growing zucchini need ideas for using it! And even though my little garden only has one zucchini plant and one yellow summer squash plant, I'm definitely getting an abundance of summer squash. That's what my mother used to call "a good problem to have," but it's still a challenge to stay ahead of the zucchini coming from the garden.
So in this time of zucchini abundance for many people, I'm featuring Cheesy Zucchini with Garlic and Parsley for Friday Favorites to remind you about this recipe that's a quick and easy way to cook zucchini.
And if you're a fan of my mega-popular Low-Carb Easy Cheesy Zucchini Bake you'll probably enjoy this one too! It's similar but with slightly different flavors and this is made on the stove in case you don't want to use your oven!
One thing that makes this recipe extra easy is using minced garlic from a jar, and I love the garlic flavor and generous amount of cheese in this easy zucchini dish. If you like garlic and cheesy zucchini, this is a simple side dish that you'll be so happy to have in your zucchini recipe collection! Please try it and come back and tell me how you liked it!
What ingredients do you need for this recipe?
zucchini
olive oil
Minced Garlic (affiliate link)
sea salt to taste
chopped flat parsley
coarsely grated Parmesan cheese
grated Mozzarella cheese
Can you make this with other types of summer squash?
This recipe is a perfect way to use zucchini, but you can also make it with yellow summer squash or crookneck squash, scallop squash, or any of the other types of summer squash you might find in the garden or at the farmers market!
Can you make this with other types of cheese?
There are so many cheeses that taste good with zucchini, and you can use any white cheese that melts well for this recipe such as Monterey Jack, white cheddar, or Havarti.
Need more ideas for using zucchini?
Check the category for Zucchini Recipes on this site, where you'll find more than 100 tasty carb-conscious recipes for using zucchini!
How to make Cheesy Zucchini with Garlic and Parsley:
(Scroll down for complete printable recipe with nutritional information.)
Trim ends of zucchini and cut the zucchini into half moon slices about 1//2 inch thick.
Heat a non-stick pan over medium heat, add the olive oil and minced garlic, heat just until you smell the garlic.
Then add the zucchini, stir, cover, and cook about 4 minutes.
Uncover and cook a couple of minutes more.
When zucchini is tender but still a tiny bit crisp, sprinkle with generous amount of chopped parsley and salt to taste and let it wilt.
Sprinkle Parmesan over and let it melt for a minute or so.
Then sprinkle with grated Mozzarella, cover the pan and turn off the heat.
Let it sit until the cheese is nicely melted, then serve immediately!
That's all there is to it for this amazing zucchini side dish that everyone will like!
Make it a Low-Carb Meal:
This tasty zucchini that's loaded with cheese would be a great low-carb meal with something like Juicy Grilled Chicken Breasts, Chicken Cutlets with Mustard Sauce, Paprika Chicken, Maple Glazed Salmon, or Air Fryer Chicken Drumsticks.
More Favorite Low-Carb Zucchini Recipes:
Low-Carb and Keto Grilled Zucchini Recipes
The Top Ten Low-Carb Zucchini Recipes
Spectacular Low-Carb Soups with Zucchini
Recipes for Extra Large Zucchini
Yield: 4 servings
Cheesy Zucchini with Garlic and Parsley
Prep Time 15 minutes
Cook Time 15 minutes
Total Time 30 minutes
Cheesy Zucchini with Garlic and Parsley is a delicious and simple low-carb zucchini side dish that your family will love.
Ingredients
3 medium zucchini, cut into 1/2 inch thick slices (see notes)
2 T olive oil
2 T minced garlic (see notes)
sea salt to taste
1/2 cup chopped flat parsley
3 T coarsely grated Parmesan cheese
1/2 cup grated Mozzarella cheese
Instructions
Cut both ends off the zucchini, then cut into 1/2 inch thick slices (if zucchini are larger, cut in half or fourths lengthwise, then slice.
Heat a non-stick pan over medium heat , heat the olive oil in a large frying pan with a lid; I used my favorite Green Pan 12 Inch Frying Pan (affiliate link).
Add minced garlic and cook about 1 minute, or until you start to smell garlic.
Add squash and stir to coat with oil and garlic, then cover and cook 4-5 minutes, stirring once or twice.
After 4-5 minutes, check to see if there is a lot of liquid and whether squash is tender. Cook 1-2 more minutes, uncovered until zucchini is tender-crisp and liquid is evaporated.
Sprinkle squash with salt and chopped parsley and stir to wilt parsley.
Add Parmesan and cook until it melts, about 1 minute.
Sprinkle mozzarella cheese over the squash, cover pan again and turn off the heat. Let sit 1-2 minutes until cheese is melted and serve hot.
Notes
If the zucchini are larger, cut in half or fourths lengthwise, then slice. Minced garlic from a jar is fine for this, but use fresh garlic if you prefer.
This recipe adapted slightly from Food to Live By (affilate link).
Nutrition Information:
Yield:
4
Serving Size:
1
Amount Per Serving:
Calories: 151
Total Fat: 12g
Saturated Fat: 3g
Trans Fat: 0g
Unsaturated Fat: 7g
Cholesterol: 14mg
Sodium: 311mg
Carbohydrates: 7g
Fiber: 2g
Sugar: 3g
Protein: 7g
Nutrition information is automatically calculated by the Recipe Plug-In I am using. I am not a nutritionist and cannot guarantee 100% accuracy, since many variables affect those calculations.
Low-Carb Diet / Low-Glycemic Diet / South Beach Diet Suggestions:
Cheesy Zucchini with Garlic and Parsley would make a great side dish for low-carb, Keto, or low-glycemic eating plans. It would also work for any phase of the original South Beach diet if you used reduced fat cheese and watch the portion size so you stay within South Beach guidelines for fat intake.
Find More Recipes Like This One:
Use Zucchini Recipes or Side Dishes to find more recipes like this one. Use the Diet Type Index to find recipes suitable for a specific eating plan. You might also like to follow Kalyn's Kitchen on Pinterest, on Facebook, on Instagram, or on YouTube to see all the good recipes I'm sharing there.
Historical Notes for this Recipe:
This recipe was first posted in 2007, when I had an abundance of zucchini in my large garden, and I've been making it ever since those days. It was last updated with more information in 2022.
We are a participant in the Amazon Services LLC Associates Program, an affiliate advertising program designed to provide a means for us to earn fees by linking to Amazon.com and affiliated sites. As an Amazon Associate, I earn from qualifying purchases.