Cauliflower Rice with Basil, Parmesan, and Pine Nuts (Video)
Cauliflower Rice with Basil, Parmesan, and Pine Nuts is a perfect low-carb side dish to make whenever you have fresh basil.
PIN Cauliflower Rice with Basil, Parmesan, and Pine Nuts to try it later!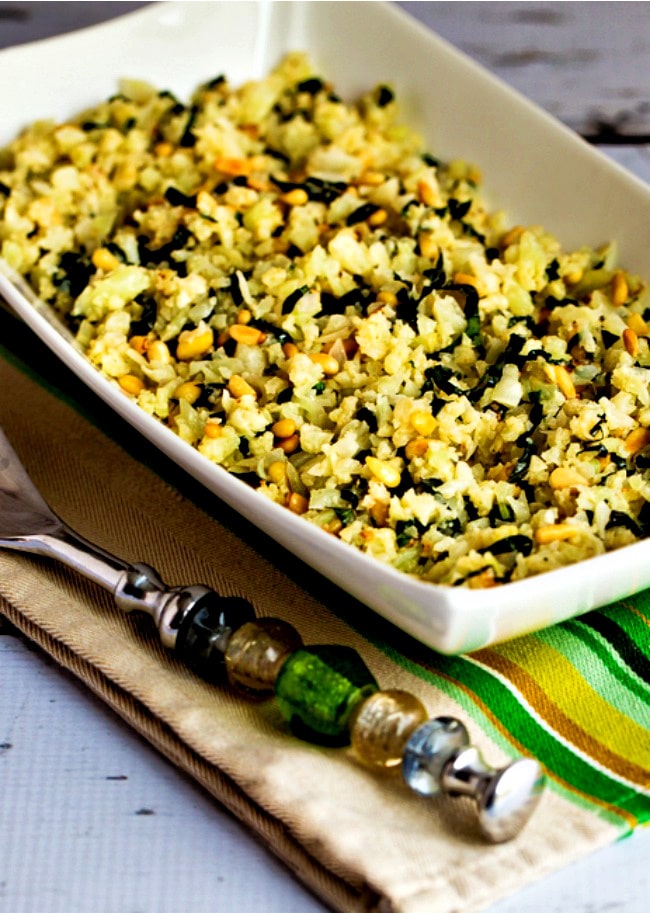 My love for fresh basil is pretty obvious on this blog, and every summer I look forward to using it in recipes like Basil Pesto with Lemon, Chicken Salad with Basil, and of course the Basil Vinaigrette that I drizzle over tomatoes or use on salads all summer long.
Recently I bought my first basil plants of the year, and this amazing Cauliflower Rice with Basil, Parmesan, and Pine Nuts was on the menu again! This is a recipe I've enjoyed so many times, so today I am reminding you about it for Friday Favorites.
I hope you'll look for basil plants to keep in the kitchen window next time you're at the grocery store. I always buy basil plants at Trader Joe's in Salt Lake, but if there's not a Trader Joe's close to you, most big grocery stores will get big basil plants when it's garden planting time.
If you like basil, Parmesan, and pine nuts, I promise you're going to love them in cauliflower rice! And if you're a fellow basil fan, be sure to check out the huge collection of recipes using fresh basil in my post on Cooking with Fresh Basil!
What ingredients do you need for this recipe?
finely chopped fresh cauliflower (or 4 cups frozen cauliflower rice)
Olive Oil (affiliate link)
large garlic cloves
freshly grated Parmesan cheese
fresh basil leaves
Pine Nuts (affiliate link)
What can you use instead of pine nuts?
Pine nuts can be pricey if you don't live near a Costco (and lately my Costco is out of them) but slivered almonds would also be amazing in this recipe. Or use any kind of chopped nuts you prefer and it will still be delicious!
Can you make this recipe with frozen cauliflower rice?
I'm not always a purist, but when I make a recipe where cauliflower is the main ingredient, I often prefer fresh cauliflower. So for this recipe I would like it with cauliflower grated in the food processor to produce "rice." But if that is just not happening at your house, this will still be delicious made with 4 cups of frozen cauliflower rice!
Want more ideas for Cauliflower Rice?
Check out Cauliflower Rice Casserole Recipes, Low-Carb and Keto Soups with Cauliflower Rice, and Low-Carb Dinners Using Frozen Cauliflower Rice for lots more fun and creative recipes using cauliflower rice!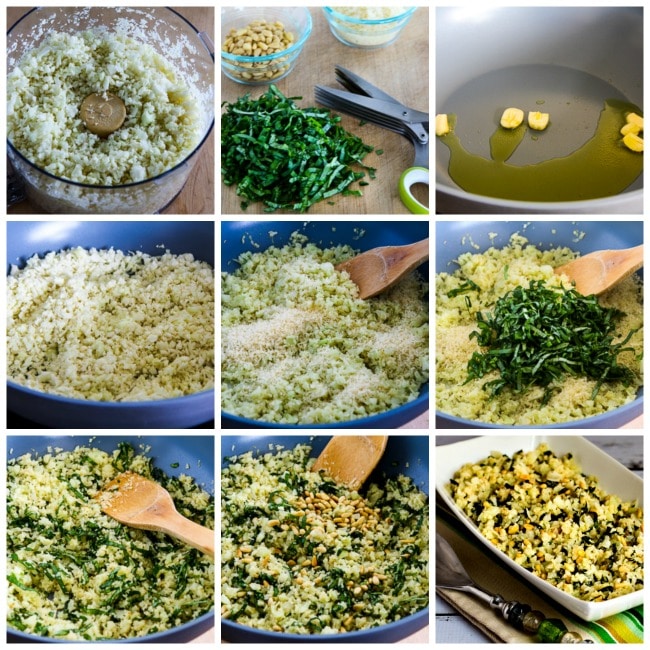 How to make Cauliflower Rice with Basil, Parmesan, and Pine Nuts:
(Scroll down for complete printable recipe, including nutritional information.)
I used freshly-chopped cauliflower for this recipe; use the food processor to chop up the cauliflower so it's about the size of cooked grains of rice.
If you prefer using frozen cauliflower rice it will cook in approximately the same amount of time, but I would check the recommended cooking time on the package.
Have the freshly-grated Parmesan, toasted pine nuts, and sliced basil ready to go. (I used my Herb Scissors (affiliate link) to get those wonderful slices of basil, but you can also chiffonade the basil with a sharp knife.)
Heat the oil over medium-high heat and then add garlic cloves and season the oil.
Remove garlic, add cauliflower and cook until it's done to your liking, about 4 minutes for me, although frozen cauliflower rice might take a minute or two longer.
Turn off the heat, then one at a time add the Parmesan, the basil, and the pine nuts and gently stir into the rice.
Season Cauliflower Rice with Basil, Parmesan, and Pine Nuts with salt and fresh-ground black pepper, serve hot, and enjoy!
Make it a Meal:
Cauliflower Rice with Basil, Parmesan, and Pine Nuts would be a great side dish for Chicken and Asparagus with Tahini Sauce, Baked Mayo-Parmesan Fish, or Foil-Baked Salmon with Pesto and Tomatoes!
More Low-Carb Recipes with Cauliflower Rice: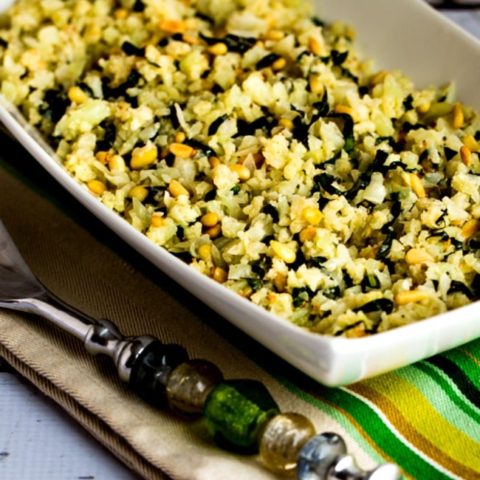 Yield: 4 servings
Cauliflower Rice with Basil, Parmesan, and Pine Nuts
Prep Time 20 minutes
Cook Time 5 minutes
Total Time 25 minutes
Cauliflower Rice with Basil, Parmesan, and Pine Nuts gets a big flavor boost from fresh basil and of course Pine Nuts!
Ingredients
4 cups finely chopped cauliflower (see notes)
1 T olive oil (or slightly more if you don't have a good non-stick pan)
3 large garlic cloves, sliced
1/3 cup freshly grated Parmesan cheese
3/4 cup thinly sliced fresh basil leaves (see notes)
1/4 cup toasted pine nuts
Instructions
Finely chop the cauliflower into pieces that are about the size of grains of rice, or slightly bigger. (Be careful not to get them too small; you want some texture in the cauliflower. I used my beloved Cuisinart Food Processor (affiliate link), but you can use a knife or a stand grater too.)
Slice the garlic cloves into 2-3 slices each and grate the Parmesan cheese.
Wash basil if needed and spin dry or dry with paper towels, then thinly slice the basil. (I used my RSVP Herb Scissors (affiliate link) to slice the basil, but you can use a knife to chiffonade basil instead.
Toast the pine nuts in a dry frying pan for 1-2 minutes, just until they are barely starting to brown.
Heat the oil in a non-stick frying pan over medium-high heat. I used my new Green Pan Wok (affiliate link), which was perfect for this.
When the oil is hot, add the garlic and cook about 30-45 seconds, or just until you can smell garlic. (Don't brown the garlic; that will make it bitter.)
Remove garlic and discard; then add the cauliflower and stir-fry until it's barely cooked through, about 4 minutes. (I like it when the cauliflower still has a little bite to it; taste and see when you think it's done.
Season cauliflower with salt and freshly ground black pepper.
Then turn off the heat and one at a time gently stir in the Parmesan, the sliced basil, and the pine nuts.
Serve hot.
This isn't bad when it's stored in the fridge overnight but the flavor of the fresh basil really shines through best when it's freshly made.
Notes
I prefer freshly-chopped cauliflower for this recipe so if you use frozen cauliflower rice refer to the cooking time on the package. Use more or less basil to taste and depending on how much fresh basil you have
Recipe adapted from Basil and Parmesan Rice with Pine Nuts, which was adapted from Pine Nut and Basil Rice at Epicurous.com.
Nutrition Information:
Yield:
4
Serving Size:
1
Amount Per Serving:
Calories: 155
Total Fat: 12g
Saturated Fat: 2g
Trans Fat: 0g
Unsaturated Fat: 8g
Cholesterol: 7mg
Sodium: 168mg
Carbohydrates: 8g
Fiber: 3g
Sugar: 3g
Protein: 6g
Nutrition information is automatically calculated by the Recipe Plug-In I am using. I am not a nutritionist and cannot guarantee 100% accuracy, since many variables affect those calculations.
Low-Carb Diet / Low-Glycemic Diet / South Beach Diet Suggestions:
Cauliflower Rice with Basil, Parmesan, and Pine Nuts is a perfect recipe for any type of low-carb eating plan and also for all phases of the original South Beach Diet.
Find More Recipes Like This One:
Use Side Dishes to find more recipes like this one! Use the Diet Type Index to find recipes suitable for a specific eating plan. You might also like to follow Kalyn's Kitchen on Pinterest, on Facebook, on Instagram, or on YouTube to see all the good recipes I'm sharing there.
Historical Notes for this Recipe:
This recipe was posted in 2015. It was last updated with more information in 2022.
We are a participant in the Amazon Services LLC Associates Program, an affiliate advertising program designed to provide a means for us to earn fees by linking to Amazon.com and affiliated sites. As an Amazon Associate, I earn from qualifying purchases.