Tomato, Egg, and Olive Salad with Gorgonzola Vinaigrette
Any time you have hard-boiled eggs and can get flavorful tomatoes, make this Tomato, Egg, and Olive Salad with Gorgonzola Vinaigrette! If you like these ingredients you'll love this simple salad.
PIN the Tomato Egg Olive Salad to try it later!
Sometimes the simplest combination of ingredients can result in a dish where the result is completely a wow. I shared this Tomato, Egg, and Olive Salad with Gorgonzola Vinaigrette with my nephew Jake, and we both completely loved this combination of delicious summer flavors.
The salad is simply fresh, vine-ripened tomatoes, sliced and layered with slices of boiled egg and olives, then drizzled with a vinaigrette that had bits of gorgonzola cheese. What could be simpler or more delicious? And when summer tomatoes are at the peak of ripeness, this is the perfect thing to eat on a hot summer day.
What ingredients do you need?
fresh tomatoes
boiled eggs
can of black olives
salt and fresh ground black pepper to taste
extra virgin Olive Oil (affiliate link)
Balsamic Vinegar (affiliate link)
crumbled gorgonzola
What is Gorgonzola?
Gorgonzola is a type of cow's milk blue cheese that originated in Italy. It is often milder and a bit more buttery than other blue cheese varieties.
What's the best way to make hard-boiled eggs for this salad?
Check out my post about Perfect Hard-Boiled Eggs for four foolproof methods for making hard-boiled eggs that will be easy to peel and won't have a green ring around the yolk!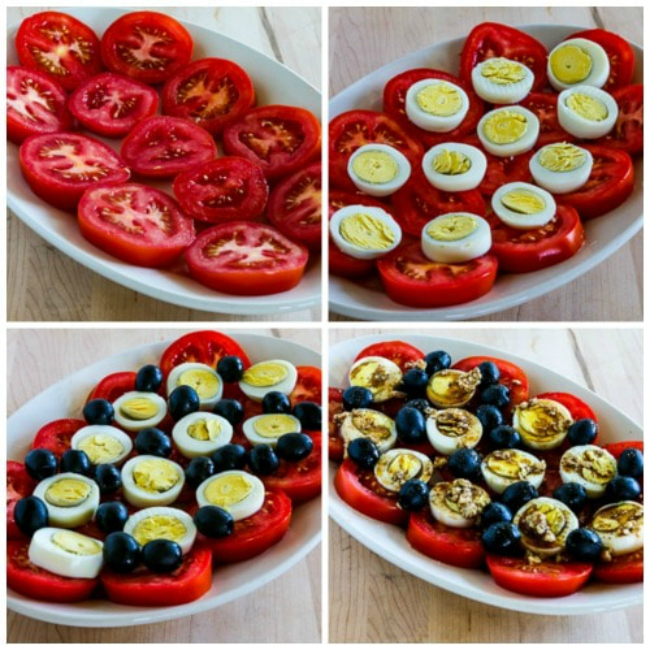 How to Make for Tomato, Egg, and Olive Salad:
(Scroll down for complete recipe with nutritional information.)
Arrange perfectly ripe sliced tomatoes on a serving platter.
Top the tomatoes with slices of Perfect Hard-Boiled Eggs.
Drain a can of olives and sprinkle over the salad.
Whisk together olive oil, balsamic vinegar, and crumbled Gorgonzola to make the dressing and drizzle over the salad.
That's all there is to it for this simple salad. Enjoy!
Don't forget a little sea salt and some fresh-ground black pepper for the perfect finishing touch.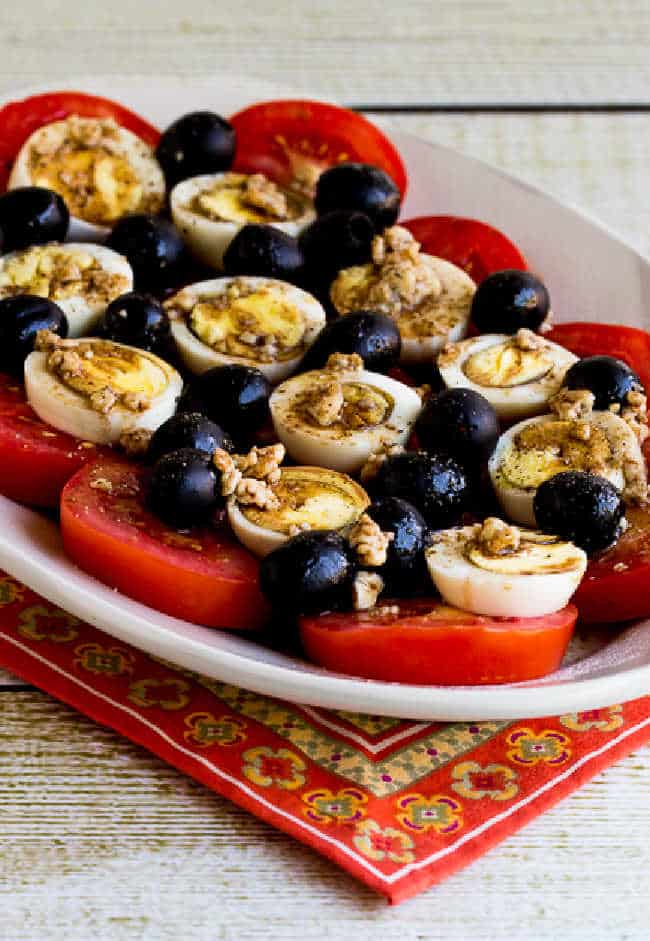 More Salad Recipes with Summer Tomatoes:
Summer Tomato Salad with Goat Cheese
Want More Summer Tomato Salads?
Check out Twenty Summer Tomato Salads for more amazing salad ideas for summer tomatoes!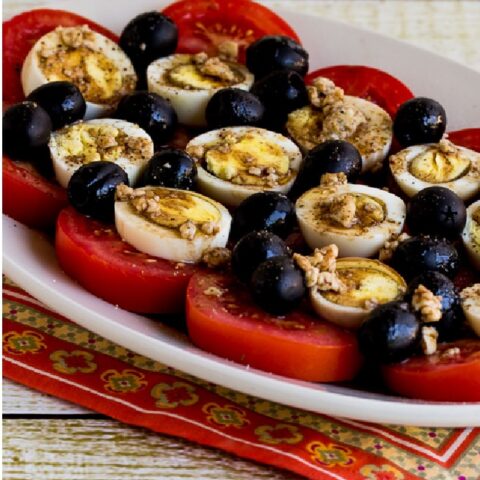 Yield: 4 servings
Tomato, Egg, and Olive Salad with Gorgonzola Vinaigrette
Prep Time 15 minutes
Total Time 15 minutes
Fresh garden tomatoes make this Tomato, Egg, and Olive Salad with Gorgonzola Vinaigrette such a winner!
Ingredients
Ingredients:
3 fresh tomatoes, sliced 1/2 inch thick
3 boiled eggs, sliced 1/2 inch thick (see notes about hard-boiled eggs)
6 oz. can black olives, well drained
salt and fresh ground black pepper to taste (see notes)
Vinaigrette Ingredients:
2 T extra virgin olive oil
1 T best quality balsamic vinegar
2 T crumbled gorgonzola
Instructions
Drain olive into a colander placed into the sink.
Slice tomatoes in 1/2 inch slices, and arrange on serving plate (with cut side up on ends of tomatoes).
Slice boiled eggs and layer on top of tomatoes.
Arrange drained olives on top of tomatoes and eggs.
Put olive oil in small dish.
Whisk in balsamic vinegar, then stir in gorgonzola.
Drizzle dressing over salad, season with salt and pepper and serve immediately.
You may not need all the dressing, depending on how you prefer your salad.
This dressing will keep in the fridge for a few days, so you may want to double or triple the dressing amounts.
You will need to let it come to room temperature and shake the bottle before serving if it's been refrigerated.
Nutrition Information:
Yield:
4
Serving Size:
1
Amount Per Serving:
Calories: 203
Total Fat: 17g
Saturated Fat: 4g
Trans Fat: 0g
Unsaturated Fat: 12g
Cholesterol: 143mg
Sodium: 559mg
Carbohydrates: 8g
Fiber: 3g
Sugar: 3g
Protein: 7g
Nutrition information is automatically calculated by the Recipe Plug-In I am using. I am not a nutritionist and cannot guarantee 100% accuracy, since many variables affect those calculations.
Low-Carb Diet / Low-Glycemic Diet / South Beach Diet Suggestions:
Tomato, Egg, and Olive Salad with Gorgonzola Vinaigrette would make a perfect summer lunch for the original South Beach Diet, any phase, and would also be great for most other low-carb eating plans. Obviously the highest-carb ingredient here is the tomatoes so if you want fewer carbs, use less tomatoes and more of the other ingredients.
Find More Recipes Like This One:
Check Tomato Recipes or Salad Recipes for more recipes like this one. Use the Diet Type Index to find recipes suitable for a specific eating plan. You might also like to follow Kalyn's Kitchen on Pinterest, on Facebook, on Instagram, on TikTok, or on YouTube to see all the good recipes I'm sharing there.
Historical Notes for this Recipe:
The Tomato Egg Olive Salad was first posted in 2006, maybe without even a single photo! It was last updated with more information in 2022.
We are a participant in the Amazon Services LLC Associates Program, an affiliate advertising program designed to provide a means for us to earn fees by linking to Amazon.com and affiliated sites. As an Amazon Associate, I earn from qualifying purchases.