Avocado Tomato Salad
It's fresh tomato season, and I swooned over this Avocado Tomato Salad that has Feta cheese and an interesting tahini-balsamic vinaigrette! See some other suggestions for cheese if you're not a fan of Feta.
PIN Avocado Tomato Salad to try it later!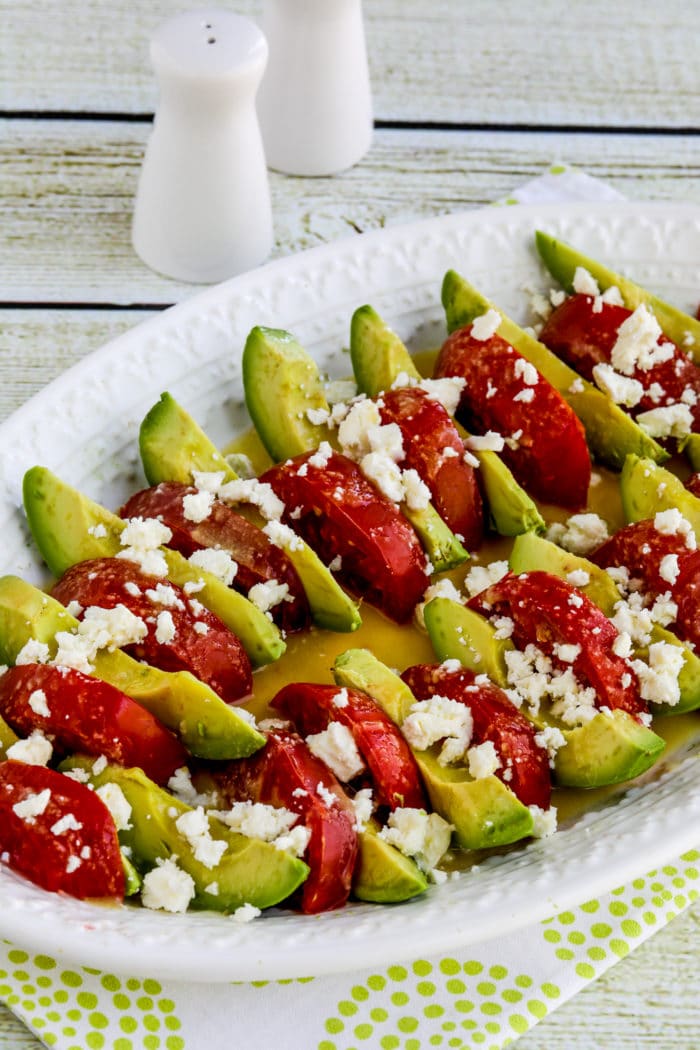 It's tomato salad time, and even though I have my favorite summer tomato salads that I make over and over when juicy vine-ripened tomatoes are abundant, every summer I love coming up with new salads or improving older ones! This Avocado Tomato Salad was an idea that popped into my head a few year ago.
And although I love the combination of perfect summer tomatoes, ripe avocado, salty Feta cheese, and a drizzle of tahini-balsamic vinaigrette, the original photos didn't really show it off as well as they could have. So recently when I had fresh garden tomatoes, I made it again and snapped some better pictures!
And then I ate some and swooned over the salad! This is an easy but impressive salad that would be perfect to make for guests or take to a party.
I'd cut the tomatoes, mix the dressing, and crumble the feta at home; then when you get to the party grab a knife and slice the avocado, assemble the Avocado Tomato Salad, drizzle on the dressing and sprinkle on the Feta. Then stand back and wait for raves for this perfect salad with avocado and tomato!
What ingredients do you need for this recipe?
vine-ripened red summer tomatoes
avocados
crumbled Feta (or other cheese of your choice)
sea salt to taste
fresh ground black pepper to taste
white balsamic vinegar (affiliate link)
fresh-squeezed lemon juice, I used my fresh-frozen lemon juice
Tahini Sauce (affiliate link), preferably Soom Tahini
extra-virgin olive oil
What is Tahini Sauce?
Tahini is a thick sauce that's made from toasted ground sesame seeds, and it's an essential ingredient in many middle eastern foods. When this salad idea popped into my head, it was partly inspired by my recent purchase of Soom Tahini (affiliate link), which I read about in my friend David Lebovitz's post about Zahav Restaurant. I bought Soom Tahini from Amazon.com, and it's the best tahini I've ever used, but use whatever tahini you have on hand!
What if you don't have Tahini Sauce?
I love the slightly nutty flavor the Tahini adds to the dressing for this Avocado Tomato Salad. But if you don't have Tahini and don't want to buy an ingredient just to make this salad, I think the recipe will still be great without it. You might need a tiny bit more olive oil in the dressing if you don't use Tahini.
What if you don't have White Balsamic Vinegar?
If you don't have White Balsamic Vinegar, use another mild white vinegar plus a tiny bit of sweetener.
What can you use besides Feta Cheese for the Avocado Tomato Salad?
I love Feta but I know some people aren't crazy about it. If you'd like to switch out the Feta for another cheese I think Goat Cheese (the kind that comes in a log), Queso Fresco, or Cotija Cheese would all be great on this salad. And pretty much any crumbly white cheese you enjoy will probably work, so have fun experimenting!
How to Make Avocado Tomato Salad:
(Scroll down for complete printable recipe with nutritional information.)
Whisk together white balsamic vinegar (affiliate link), lemon juice, Tahini Sauce (affiliate link), salt, and olive oil to make the dressing and crumble the Feta.
Cut the tomatoes in thick half-slices. Carefully peel avocado and cut the avocado into 8 lengthwise slices.
Arrange alternating tomato and avocado slices on a serving plate.
Drizzle over desired amount of dressing; then sprinkle with Feta cheese.
Season with a little salt and fresh-ground black pepper and serve.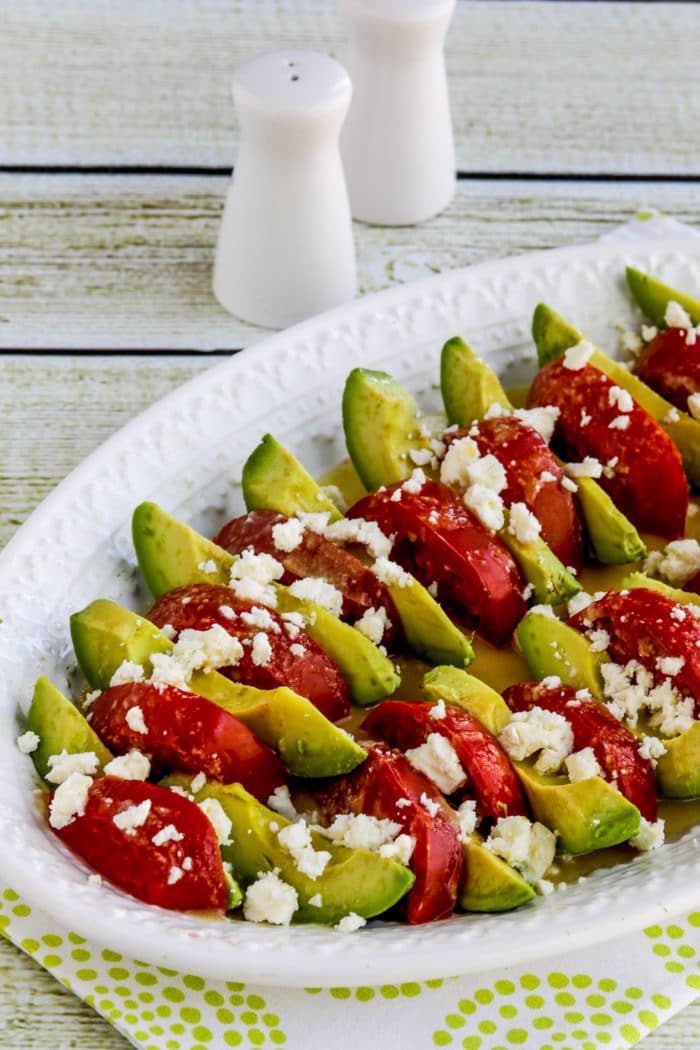 Make it a Low-Carb Meal:
This amazing Avocado Tomato Salad would be great with Rosemary Mustard Grilled Chicken, Chicken Souvlaki, Grilled Lamb Chops with Garlic, Rosemary, and Thyme, Chicken Cutlets with Mustard Sauce, or Slow Cooked Salmon with Butter, Garlic, Capers, and Lemon for a low-carb meal.
More Avocado Salads to Make You Swoon:
Chicken and Avocado Salad with Lime and Cilantro
Heart of Palm and Avocado Salad
Cucumber Salad with Avocado and Feta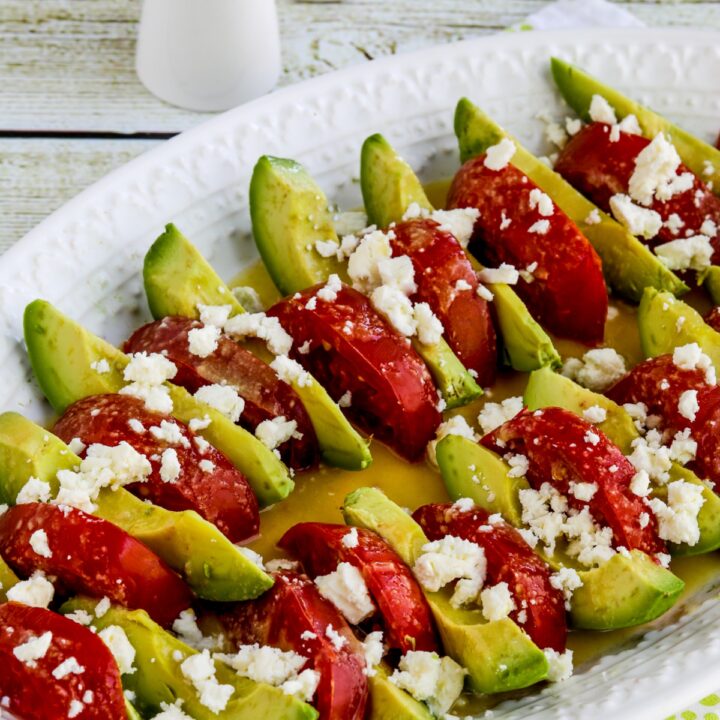 Yield: 6 servings
Avocado Tomato Salad
Prep Time 15 minutes
Total Time 15 minutes
This Avocado Tomato Salad makes a great summer lunch and it's delicious with the tahini-balsamic vinaigrette! You can adapt this salad to the ingredients you have on hand, and it will always be good!
Ingredients
Ingredients:
4 large vine-ripened red summer tomatoes, cut into thick half-slices
2 medium avocados, cut into slices
2 oz. crumbled Feta 
sea salt to taste
fresh ground black pepper to taste
Dressing Ingredients:
1 T white balsamic vinegar (see notes)
1 T fresh-squeezed lemon juice (see notes)
2 tsp. Tahini Sauce
salt to taste; I used about 1/4 tsp. sea salt
2 T + 1 tsp. extra-virgin olive oil
Instructions
Whisk together the vinegar, lemon juice, tahini, salt, and olive oil to make the dressing.
Crumble the desired amount of Feta.
Cut off a thin slice from both ends of the tomatoes and then cut tomatoes into thick slices and cut each slice in half to make half-moon slices.
Cut each avocado in half and remove the seeds. Carefully peel the avocado halves, then cut each one lengthwise in half and in half again.
Arrange alternating pieces of tomatoes and avocado on a serving plate.
Drizzle with dressing and sprinkle with crumbled Feta.
Season with a little sea salt and a generous amount of fresh-ground black pepper.
Serve right away.
To make ahead for a party, slice the tomatoes, mix the dressing and crumble the feta ahead.
When you're ready to serve, cut the avocado, assemble the salad, drizzle with dressing, top with Feta, and season.
Nutrition Information:
Yield:
6
Serving Size:
1
Amount Per Serving:
Calories: 174
Total Fat: 14g
Saturated Fat: 3.1g
Trans Fat: 0g
Unsaturated Fat: 10g
Cholesterol: 8mg
Sodium: 385mg
Carbohydrates: 12g
Fiber: 6.1g
Sugar: 4.5g
Protein: 4.1g
Nutrition information is automatically calculated by the Recipe Plug-In I am using. I am not a nutritionist and cannot guarantee 100% accuracy, since many variables affect those calculations.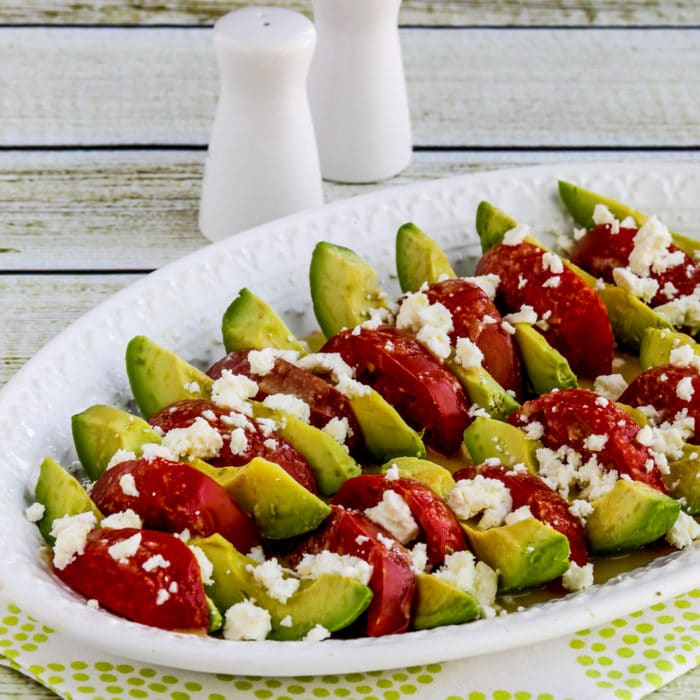 Low-Carb Diet / Low-Glycemic Diet / South Beach Diet Suggestions:
With a moderate serving size, everything in this Avocado Tomato Salad is a good choice for all low-carb and Keto eating plans and any phase of the original South Beach Diet.
Find More Recipes Like This One:
Use Avocado Recipes or Salads to find more recipes like this one.Use the Diet Type Index to find recipes suitable for a specific eating plan. You might also like to follow Kalyn's Kitchen on Pinterest, on Facebook, on Instagram, or on YouTube to see all the good recipes I'm sharing there.
Historical Notes for this Recipe:
This recipe was first posted in 2015. It was updated with better photos in 2021 and with more information about the ingredients in 2022.
We are a participant in the Amazon Services LLC Associates Program, an affiliate advertising program designed to provide a means for us to earn fees by linking to Amazon.com and affiliated sites. As an Amazon Associate, I earn from qualifying purchases.