Easy Kabobs with Zucchini and Sausage
These Easy Kabobs with Zucchini and Sausage might even be the World's Easiest Kabobs, and this is perfect for a no-fuss low-carb dinner!
PIN the easy kabobs with zucchini to try them later!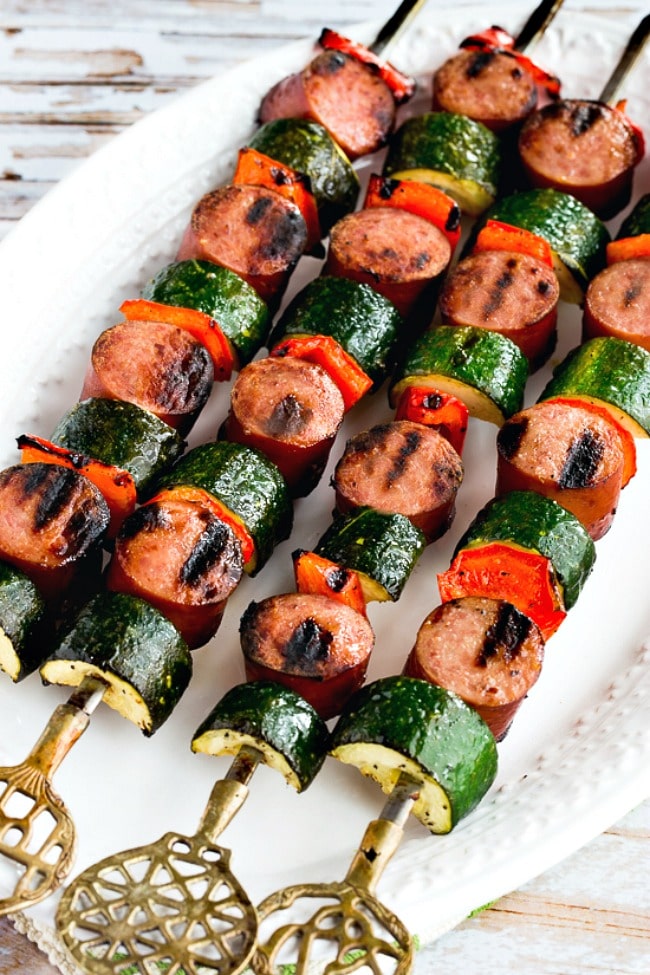 These Easy Kabobs with Zucchini and Sausage are a great reason to be cooking on the grill, and grilling at home is even more enjoyable when you have a tasty recipe that's also easy, right? This is one of my favorite grilling recipes for those nights when you just want an easy dinner, so I'm featuring this long-time favorite as my Friday Favorites pick to encourage you to try it.
I've been making variations on this theme for years when I want a quick easy dinner. In the recipe I share some tricks for maximizing flavor for these kabobs with sausage and zucchini, depending on how much time you want to invest.
But even if you just stick the sausage and veggies on skewers, brush with Italian salad dressing, and grill, this is a pretty good tasting meal.
What ingredients do you need for this recipe?
(This is only a list of ingredients; please scroll down for complete printable recipe. Or if you use the JUMP TO RECIPE link at the top of the page, it will take you directly to the complete recipe.)
What sausage did I use for the kabobs with zucchini?
I've made this many times with beef polish sausages from Costco, but chicken or turkey sausage will also be great. Any pre-cooked sausage will work for this recipe. Look for gluten-free sausage if needed.
Can you make the zucchini sausage kabobs without an outdoor grill?
If you don't have an outdoor grill (or it's not grilling weather) these zucchini and sausage kabobs can be cooked on a stove-top grill pan with ridges or George Foreman Grill as well. (affiliate links)
Want more recipes for Easy Kabobs on the Grill?
If you're a fan of kabobs, check out Amazing Recipes for Grilled Kabobs for more tasty ideas!
How to make Easy Kabobs with Zucchini and Sausage:
(This is only a summary of the steps for the recipe; please scroll down for complete printable recipe. Or if you use the JUMP TO RECIPE link at the top of the page, it will take you directly to the complete recipe.)
I call this recipe Zucchini and Sausage Kabobs, because the red bell peppers (or red onions) are definitely optional, but they're good if you have some.
If you have time, cut up veggies in advance and marinate in a little bit of Italian salad dressing for a few hours.
Cutting the veggies in same size, same shape pieces will give better results here.
When it's time to assemble kabobs, drain the marinated veggies. (You can skip the marinating step entirely and just brush the vegetables with dressing, but marinating does add more flavor.)
When we cut the sausage and zucchini we tried to create flat sides so we could get some grill marks; notice that the individual pieces were carefully put on the skewers so the flat side was facing out.
When you're ready to cook, preheat grill to medium, and spray with non-stick spray.
Cook the kabobs, turning several times, until the sausage is nicely browned and the vegetables are starting to soften but still slightly tender-crisp, about 15 minutes.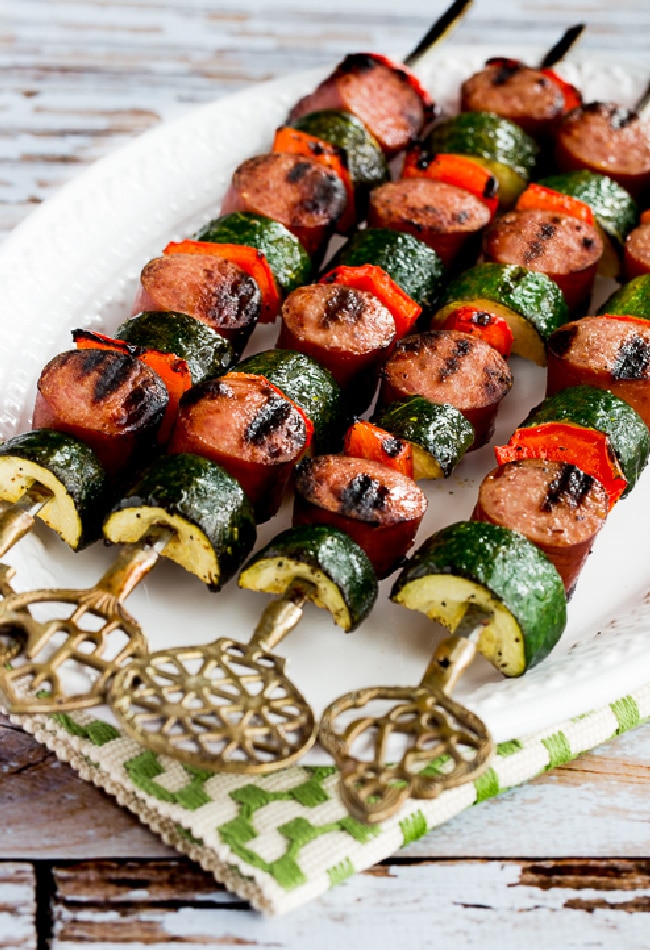 Make it a Low-Carb Meal:
Serve the kabobs with zucchini hot, with an easy summer side dish like Cucumbers Caesar, Effie's Cottage Cheese Salad with Za'atar, Laurel's Jicama Salad, Low-Carb Italian Pasta Salad, or Grilled Mushrooms on the side.
More Easy Kabobs on the Grill: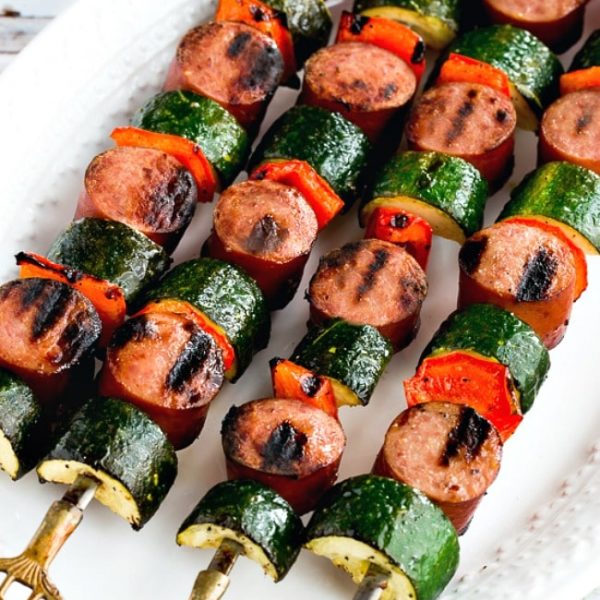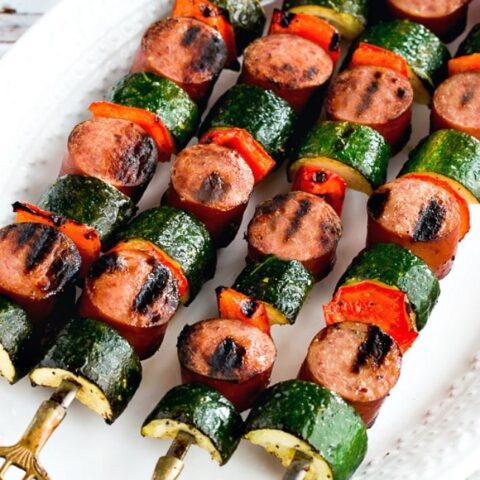 Yield: 4 servings
Easy Kabobs with Zucchini and Sausage
Prep Time 10 minutes
Cook Time 15 minutes
Additional Time 1 hour
Total Time 1 hour 25 minutes
Easy Kabobs with Zucchini and Sausage are perfect for a quick and easy low-carb summer dinner!
Ingredients
16 oz. package pre-cooked sausages (see notes)
4 small zucchini
2 red bell peppers (optional)
1 small red onion (optional)
1/4 cup Newman's Own Classic Oil and Vinegar Dressing (see notes)
Instructions
Instruction if you're marinating vegetables:
Cut zucchini and any other vegetables you're using into same-size pieces, cutting some flat edges and making the zucchini slightly smaller than you'll cut the sausage.
Put vegetables into Ziploc bag and pour in enough Italian dressing to moisten all the vegetables. I used Newman's Own Olive Oil and Vinegar Dressing (affiliate link) for the veggies in the photo; this is the brand I always use if I have it.
Let vegetables marinate for an hour or so, or even all day if desired. (Refrigerate if marinating for more than an hour.)
Instructions to cook kabobs:
Brush gas or charcoal grill grates with olive oil or spray with non-stick spray and preheat grill or broiler to medium heat (you can hold your hand there about 3 seconds at that heat.)
Cut sausage into chunks, about five pieces per sausage.
Drain marinated vegetables, or cut vegetables into pieces if you didn't marinate.
Thread sausage and vegetables onto skewers, alternating, and putting the skewer through the skin of the sausage and veggies so they won't spin around and arranging them with a flat side facing out for best grill marks.
You can brush kabobs with Italian Salad Dressing if you didn't marinate the vegetables.
Grill kabobs over medium heat, turning frequently. Kabobs are done when sausage is browned but zucchini and other vegetables are barely tender, about 15 minutes.
Serve hot.
Notes
You can use pork, beef, chicken, or turkey sausage, whichever you prefer.
I use Newman's Own Classic Oil and Vinegar Dressing (affiliate link) for this recipe. Be sure to choose dressing with not more than 1 or 2 carbs per serving for South Beach Diet or low-carb diets.
Using double skewers or wider blade-type skewers (affiliate links) like I used in the new photos will make these kabobs much easier to turn on the grill. (My skewers are from Turkey; if you ever make it there be sure to get some!)
This recipe created by Kalyn and perfected over many years of making sausage kabobs..
Nutrition Information:
Yield:
4
Serving Size:
1
Amount Per Serving:
Calories: 401
Total Fat: 33g
Saturated Fat: 11g
Trans Fat: 0g
Unsaturated Fat: 17g
Cholesterol: 69mg
Sodium: 945mg
Carbohydrates: 11g
Fiber: 3g
Sugar: 7g
Protein: 16g
Nutrition information is automatically calculated by the Recipe Plug-In I am using. I am not a nutritionist and cannot guarantee 100% accuracy, since many variables affect those calculations.
Low-Carb Diet / Low-Glycemic Diet / South Beach Diet Suggestions:
Easy Kabobs with Zucchini and Sausage would be suitable for low-carb or Keto eating plans, which will prefer full-fat sausage. To make the kabobs suitable for the original South Beach Diet, use lower-fat pre-cooked chicken or turkey sausage. If you're using lower-fat sausage, be extra careful to oil the grill before you heat it, and you may want to brush the sausage pieces with olive oil to prevent sticking. Choose Italian dressing with not more than 1 or 2 grams of carbs for South Beach or low-carb diets
Find More Recipes Like This One:
Use the Grilling Recipes to find more recipes like this one. Use the Diet Type Index to find more recipes suitable for a specific eating plan. You might also like to follow Kalyn's Kitchen on Pinterest, on Facebook, on Instagram, on TikTok, or on YouTube to see all the good recipes I'm sharing there.
Historical Notes for this Recipe:
This favorite summer dinner idea for kabobs with zucchini and sausage was first posted in 2006! The recipe has been updated and improved many times through the years; it was last updated with more information in 2023.
We are a participant in the Amazon Services LLC Associates Program, an affiliate advertising program designed to provide a means for us to earn fees by linking to Amazon.com and affiliated sites. As an Amazon Associate, I earn from qualifying purchases.