Healthy Swiss Chard Recipes
Here's my Salute to Swiss Chard with lots of Healthy Swiss Chard Recipes, and if you're growing chard this can give you plenty of options!
PIN Healthy Swiss Chard Recipes to try some later!
Have you grown or eaten Swiss Chard, the leafy green that also just called Chard? Lately I've been surprised to find that some people aren't well acquainted with this hearty and tasty type of garden greens, so I thought I'd share some information about growing chard and some of my favorite Healthy Swiss Chard Recipes.
If you've ever found yourself thinking about what to make with Swiss Chard, this post has you covered with lots of delicious chard recipes! And I'm also including some delicious-looking recipes from my blogging friends, enjoy!
What is Swiss Chard?
Swiss chard (also called chard, silverbeet, and perpetual spinach) is an easy-to-grow type of greens that are highly nutritious. Both the stems and leaves are good to eat. Small, tender leaves make a nice addition to salads or are good for making chard pesto, while larger leaves should be cut away from the ribs so stems and leaves can be cooked separately.
Is Swiss Chard a strongly-flavored type of greens?
Chard has a pleasant flavor that's a little stronger than spinach, but not as strong as kale or mustard greens. The texture is softer than kale but firmer than spinach, making it versatile to use in recipes.
Is Swiss Chard high in carbs?
Swiss Chard is low in calories and also quite high in fiber, which makes it low in net carbs! And it's loaded with nutrients.
Tips for Growing Swiss Chard: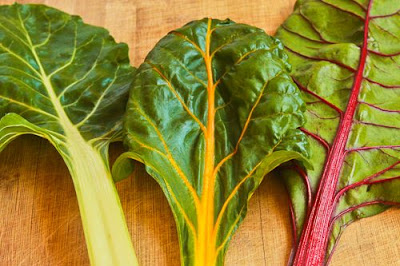 Chard is easy to grow and very attractive in the garden. I especially like this gorgeous rainbow chard that can produce three colors from one package of seeds. And I love the way you can trim off leaves and the plant will continue producing new ones, even in the hot Utah summers.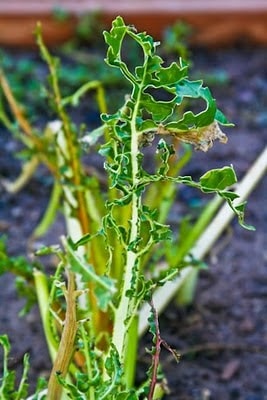 Chard is easy to grow from seed, and I never had problems with my chard until the year when a flock of quail discovered it and started to eat the leaves until only the stalks remained, like you see in the photo above. A visit to the garden center taught me to use garden netting to save the Swiss chard from the birds, and all has been well ever since.
Favorite Low-Carb Swiss Chard Recipes: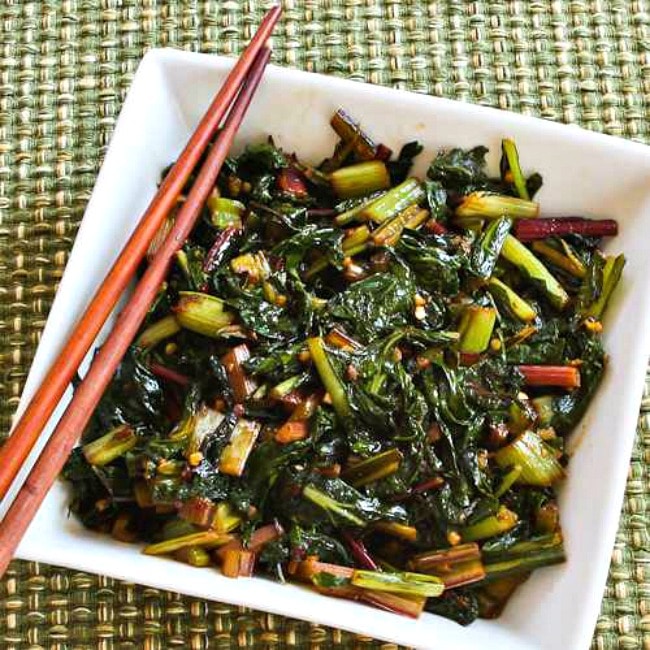 I loved this Spicy Stir-Fried Swiss Chard, which my nephew Jake and I completely devoured the day we made it.
Another Swiss Chard favorite is this Swiss Chard and Goat Cheese Custard Bake. This is a repeater at my house!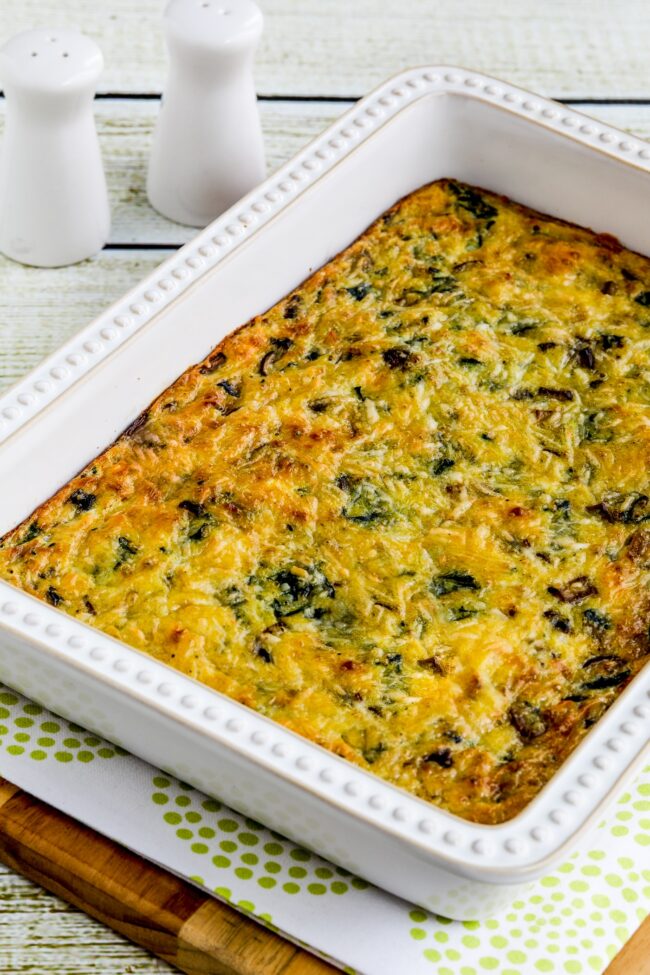 Swiss Chard Casserole is a great dish for breakfast, lunch or dinner that's tasty and easy to make. And this is also fun to make in a mini-loaf pan, see photos in the recipe for that variation!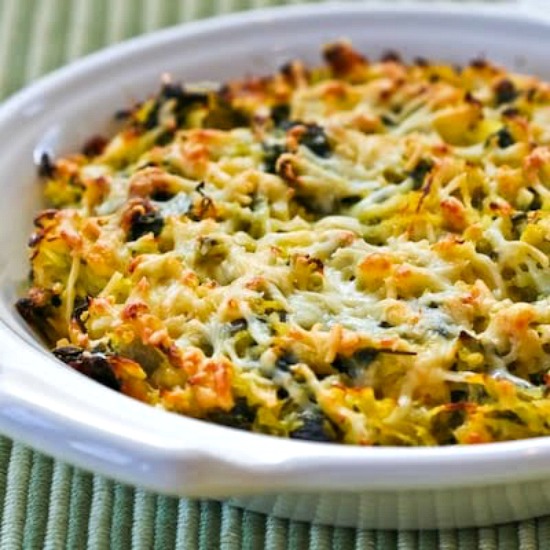 This Spaghetti Squash and Chard Gratin is a dish I've made several times since it appeared on the blog.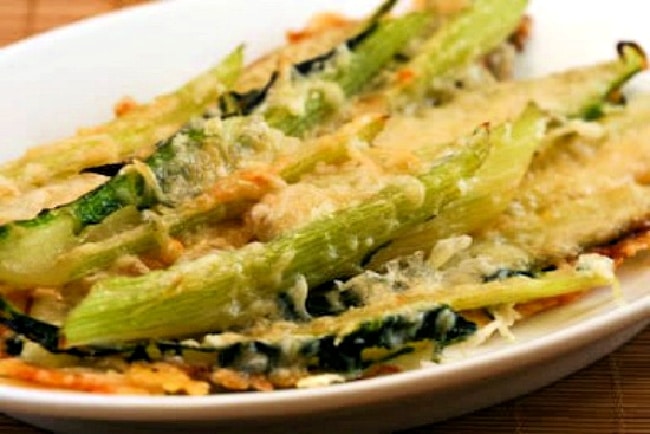 Lots of chard recipes only use the leaves, so it's fun to have a recipe that uses up the stems and I love this Baked Swiss Chard Stems with Parmesan. This could really use a new photo, but don't let that stop you from making it!
Swiss Chard, Mozzarella, and Feta Egg Bake has just enough eggs to hold the other ingredients together. This is a tasty and healthy breakfast.
And one of the most creative ways I've used Swiss chard is in this Garlic Scape Pesto with Chard that I made when a friend gave me some garlic scapes.
Higher-Carb Ideas with Swiss Chard: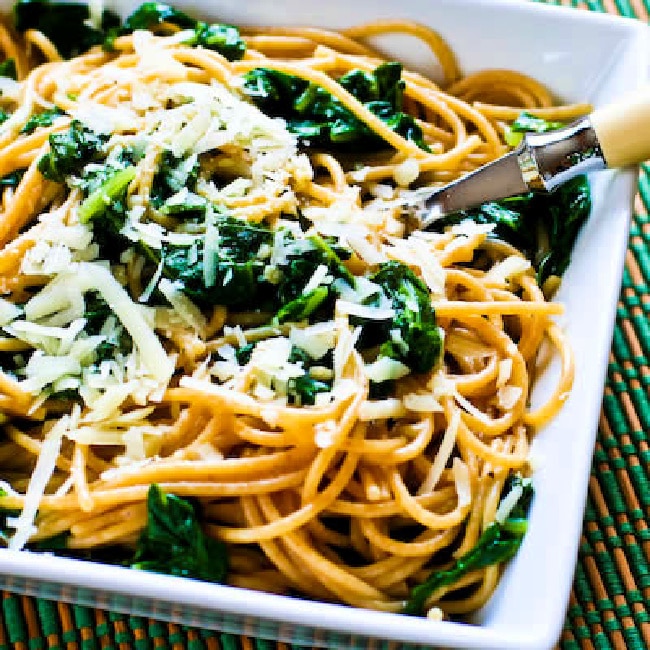 Spaghetti with Garlic, Chard, and Pecorino-Romano Cheese is something I made many times when I had a lot of garden Chard.
A very delicious soup featuring Swiss Chard is this Sausage and Bean Soup with Chard. I love spicy Italian Sausage in this, but use the sausage you prefer.
Slow Cooker Spicy Vegetarian Pinto Bean and Chard Burritos are another delicious way to get greens into your diet.
More Swiss Chard Recipes from Around the Web:
We are a participant in the Amazon Services LLC Associates Program, an affiliate advertising program designed to provide a means for us to earn fees by linking to Amazon.com and affiliated sites. As an Amazon Associate, I earn from qualifying purchases.