Curry Roasted Cauliflower
Curry Roasted Cauliflower is an easy low-carb, gluten-free, and vegan side dish with curry, lemon, and cumin for the perfect blend of flavors.
PIN this tasty cauliflower so you can make it later!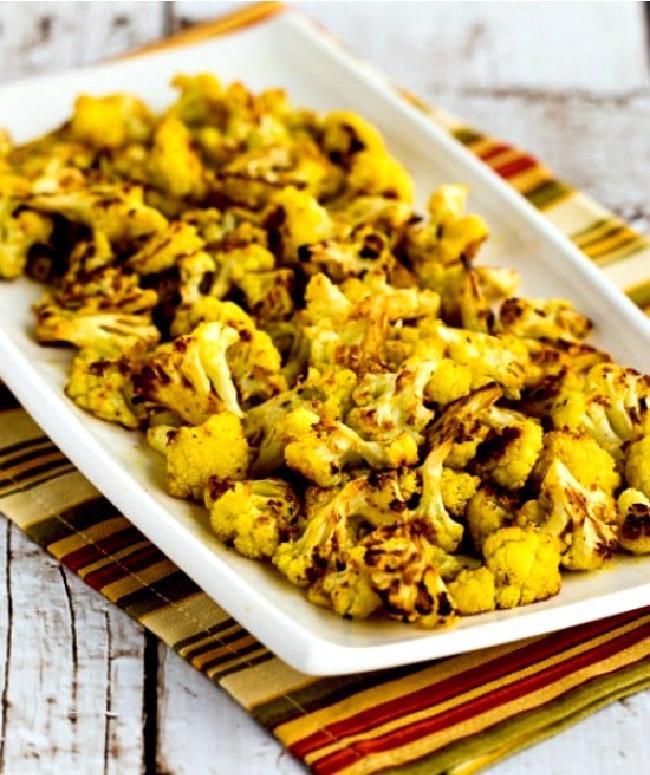 The weather is heating up in the northern hemisphere, but I think we have at least six weeks left where you wouldn't mind turning on the oven, which I'm hoping will give you plenty of chances to try this amazing Curry Roasted Cauliflower. The flavor is kicked up with curry powder, cumin, and lemon, and this is truly a wow!
We loved the complex combination of flavors in this simple recipe! I might even go so far as to say that for people who like curry flavors, this is a perfect way to cook cauliflower as a side dish; hope you enjoy!
What ingredients do you need for this recipe?
What Curry Powder should you use?
I used slightly-spicy Madras Curry Powder for this recipe, but any curry powder you enjoy the flavor of will work fine here.
Want more tasty roasted cauliflower?
Check out Low-Carb and Keto Roasted Cauliflower Recipes for more healthy cauliflower recipes like this one.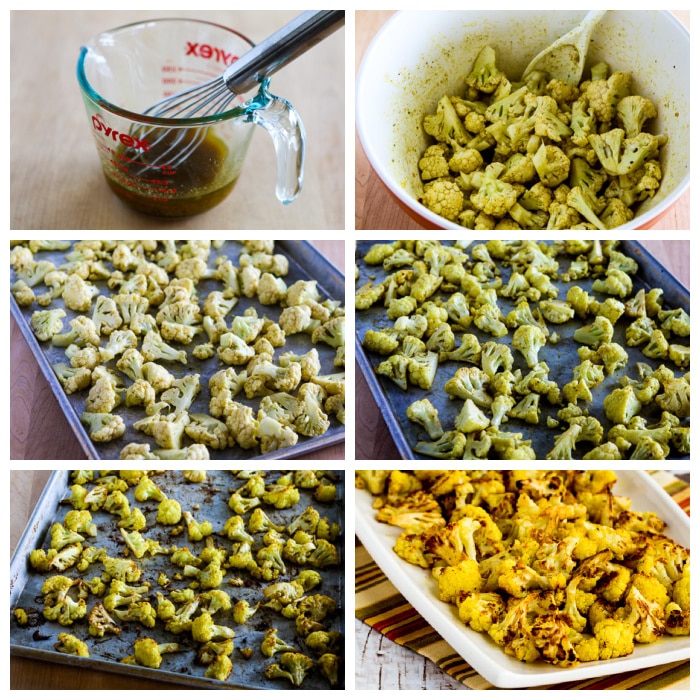 How to make Curry Roasted Cauliflower :
(Scroll down for complete recipe with nutritional information.)
Preheat the oven while you whisk together the oil, lemon juice, curry powder (affiliate link), ground cumin (affiliate link) and Spike Seasoning (affiliate link) and cut up the cauliflower into bite sized pieces.
Toss cauliflower with the oil mixture until all the pieces have turned slightly yellow from the curry powder.
Spread cauliflower out in a single layer on the baking sheet and roast about 15 minutes.
Then use a large turner to turn cauliflower over to the other side.
Continue to cook for 15-20 minutes more, or until the cauliflower is cooked through and nicely browned.
Serve hot and wait for compliments.
More Cauliflower Love:
Curried Sauteed Cauliflower
Cauliflower Gratin
Cheesy Baked Cauliflower Tots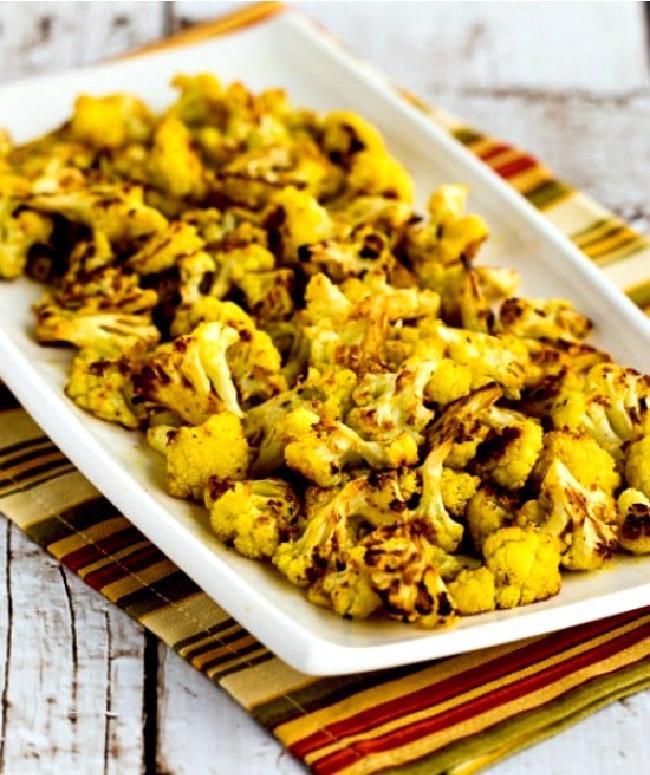 Yield: 4 servings
Curry Roasted Cauliflower
Prep Time 20 minutes
Cook Time 35 minutes
Total Time 55 minutes
Curry Roasted Cauliflower  is an easy low-carb side dish with the perfect blend of complex flavors.
Ingredients
1 large head cauliflower, cut into bite-sized pieces (see notes)
3 T extra virgin olive oil
1 T fresh-squeezed lemon juice
1 tsp. curry powder (see notes)
1/4 tsp. ground cumin
1/2 tsp. Spike Seasoning (optional, but good)
salt and fresh ground pepper to taste
lemon pieces, to squeeze on at the table (optional)
Instructions
Preheat oven to 425 F.
Cut away core from cauliflower and cut into small florets.
Place cauliflower in large plastic bowl. (You can also use a 2 pound bag of cut up cauliflower.)
Whisk together olive oil, lemon juice, curry powder, cumin, and Spike Seasoning (affiliate link).
Pour over cauliflower, and using a large spoon, stir cauliflower as long as it takes for it to be completely coated with oil/lemon/spice mixture, at least a minute or two.
Spray metal baking sheet with olive oil or non-stick spray and arrange the cauliflower in a single layer. (To get the best browning, make sure each cauliflower piece has a flat side down on the baking sheet.)
Roast about 15 minutes or until cauliflower is starting to get a little tender and browned on one side, then use a large turner to turn cauliflower pieces over.
Cook about 20 minutes more, or until cauliflower is tender and nicely browned. (I originally made this in my toaster-convection oven which only took about 25 minutes to get the cauliflower cooked through and browned but in the big oven we cooked it 35 minutes.)
Serve hot, seasoned with salt and freshly ground black pepper.
Notes
One large head will be about 2 pounds cut-up cauliflower. I used Madras Curry Powder (affiliate link), but use any curry powder blend that you enjoy. This is great with fresh lemon pieces to squeeze on more lemon at the table if desired.
Recipe inspired by a recipe from a site that's no longer online and the curry powder I got in the mail from a blogging friend.
Nutrition Information:
Yield:
4
Serving Size:
1
Amount Per Serving:
Calories: 149
Total Fat: 11g
Saturated Fat: 2g
Unsaturated Fat: 9g
Cholesterol: 0mg
Sodium: 368mg
Carbohydrates: 12g
Fiber: 6g
Sugar: 5g
Protein: 4g
Nutrition information is automatically calculated by the Recipe Plug-In I am using. I am not a nutritionist and cannot guarantee 100% accuracy, since many variables affect those calculations.
Low-Carb Diet / Low-Glycemic Diet / South Beach Diet Suggestions:
This Curry Roasted Cauliflower is perfect for all low-carb and low-glycemic eating plans, and perfect for any phase of the original South Beach Diet.
Find More Recipes Like This One:
Use Side Dishes to find more recipes like this one. Use the Diet Type Index to find recipes suitable for a specific eating plan. You might also like to Follow Kalyn's Kitchen on Pinterest to see all the good recipes I'm sharing there.
Historical Notes for this Recipe:
I first made this recipe way back in 2007 (!) when a blogging friend sent me some of her homemade curry powder blend. It was updated with better photos in 2016 and last updated with more information in 2021.
We are a participant in the Amazon Services LLC Associates Program, an affiliate advertising program designed to provide a means for us to earn fees by linking to Amazon.com and affiliated sites. As an Amazon Associate, I earn from qualifying purchases.