Stir-Fried Radish Greens and Swiss Chard
Stir-Fried Radish Greens and Swiss Chard are a spicy vegetable side dish combination made with the radish greens that are often thrown away. The flavor of the radish greens is a bit assertive, so I loved the idea of cooking them combined with Swiss Chard, but you can make this with all radish greens or all Swiss Chard, whichever you prefer!
PIN Stir-Fried Radish Greens to try it later!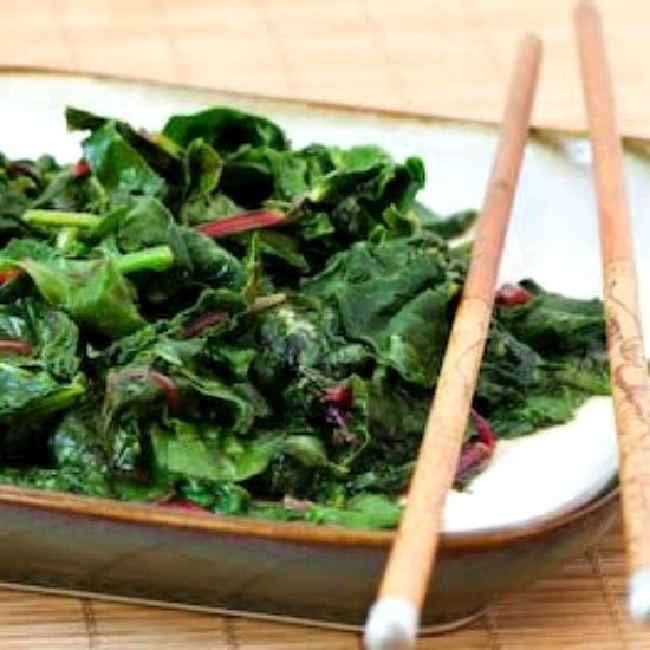 You may be skeptical about a recipe for Stir-Fried Radish Greens and Swiss Chard. But radishes are becoming a trendy vegetable, and I was intrigued by the idea of stir-frying the radish greens that are normally thrown away when you prepare radishes!
And I found that the strong flavor of the radish greens was quite pleasant after they were cooked with some fresh Swiss Chard, which is a vegetable I always think deserves more attention. I actually used a combination of radish greens and chard from my garden when I made it, and both were quite tasty in this stir-fry side dish with Asian flavors.
What Ingredients do you need?
Information About Radishes and Radish Greens:
There are many types of radishes, and Wikipedia reports that radishes are grown throughout the world. And of course greens like Kale, Swiss Chard, spinach, collard greens, and mustard greens are considered to be some of the world's healthiest foods, and I found out that radish greens are also highly nutritious.
Why did I cook the radish greens?
I was intrigued when I discovered the idea of cooked radishes. I'm sure one of those radish cooking experiments primed me for the idea of cooking radish greens, and I had to try it. I found the flavor of the radish greens to be slightly peppery and bitter but also mild when they were cooked and I found other cooks have also used them as a green to add to pasta, in radish greens pesto, and in soup, especially bean soups with sausage.
Will you enjoy the flavor of radish greens?
Think about whether you enjoy bitter flavors like arugula and Kalamata olives to help you decide whether to make this with a combination of radish greens and Swiss Chard or whether you'd prefer just Swiss Chard. I really enjoyed the radish greens, but I am a fan of those bitter flavors.
How can you make radish greens less bitter?
A nice commenter named George left a comment on this recipe informing me that if you soak the radish greens in water with lemon juice and one teaspoon of baking soda, that will cut the bitterness. I haven't heard that but it sounds like an interesting experiment.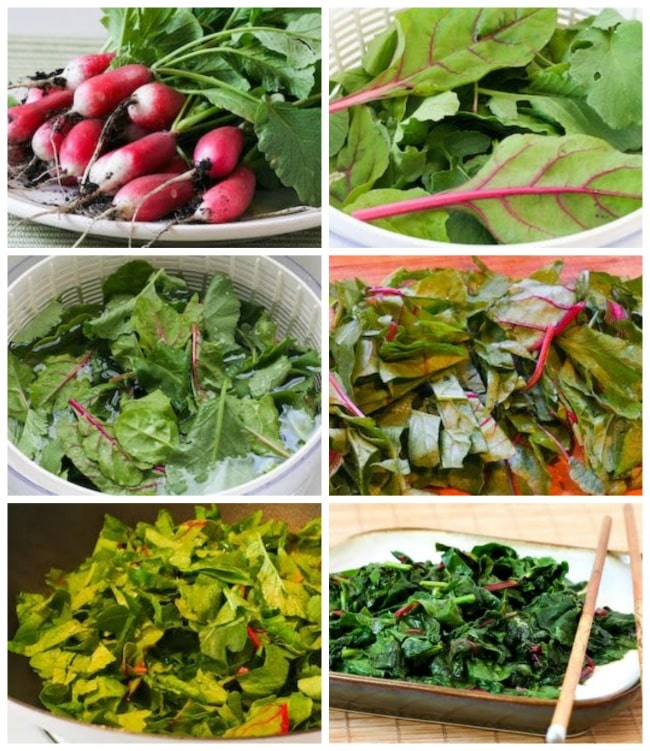 How to Make Stir-Fried Radish Greens and Swiss Chard:
(Scroll down for complete printable recipe.)
The first photo shows the lovely French Breakfast radishes from my garden that I pulled and suddenly had a flash of inspiration about cooking the greens. When I made the recipe the second time, I realized if you have a garden, you can cut off radish greens as they grow, keeping the radishes in the ground until you want to use them.
I also snipped off some of my larger chard leaves, which were still pretty small. I used about half and half radish and chard leaves, but you could use combine them any way you liked, or use all chard if you don't have radish leaves.
I picked the radish greens and chard during the heat of the day, so I actually soaked them in ice cold water for about 30 minutes before I chopped them up to cook them. Hooray for the salad spinner (affiliate link) for this type of washing of greens.
Working in several bunches, slice the greens about 1/2 inch thick. I wasn't too compulsive about it, and I discovered big chard leaves are definitely easier to slice into nice ribbons.
The next photo is my attempt of a photo the greens wilting in the hot wok, and since this dish only cooks for about 90 seconds, I think you're going to have to let me get away with this photo.
When greens are almost all wilted, add sauce ingredients, stir, and cook 30 seconds more. Serve hot.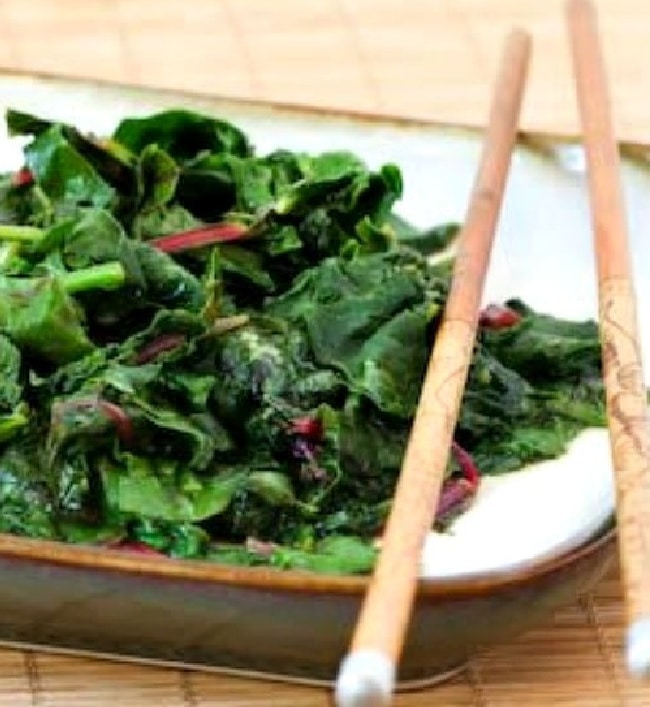 Make It a Low-Carb Meal
This would be delicious with something like Korean Salmon with Dipping Sauce, Spicy Air Fryer Fish with Remoulade Sauce, or Grilled Shrimp Skewers.
More Recipes with Radishes or Radish Greens:
Asparagus and Radish Salad with Feta ~ Kalyn's Kitchen
Radish Penne ~ Cooking with Amy
Roasted Radishes ~ Kalyn's Kitchen
Radish Greens Pesto ~ From a Chef's Kitchen
Sauteed Radishes with Vinegar and Herbs ~ Kalyn's Kitchen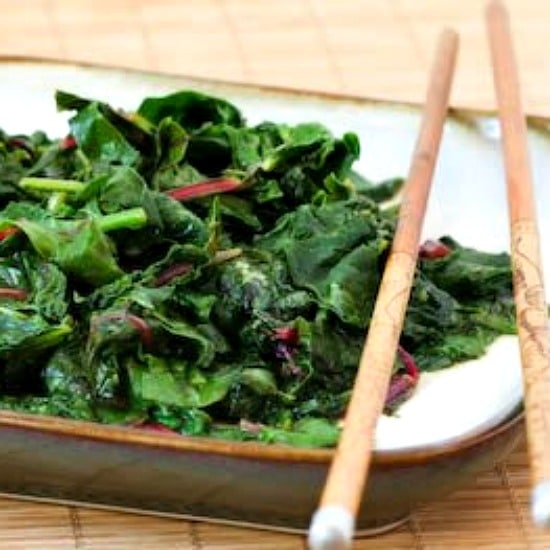 Yield: 2 servings
Stir-Fried Radish Greens and Swiss Chard
Prep Time 15 minutes
Cook Time 3 minutes
Total Time 18 minutes
Stir-Fried Radish Greens and Swiss Chard is a spicy vegetable stir-fry you can make with a combination of greens, or use each type of greens separately if you prefer! This is great to make with radish greens picked from the garden so I wrote the recipe as only two servings, but it can easily be doubled.
Ingredients
Ingredients
12 ounces radish greens or Swiss Chard, washed and cut into 1/2 inch slices (see notes)
2 tsp. peanut oil
2 large garlic cloves
Sauce Ingredients
1 T soy sauce (see notes)
1 tsp. rice vinegar (see notes)
1 tsp.sweetener of your choice
1/4 tsp. Sriracha sauce or other hot sauce (to taste)
Instructions
Wash and dry radish greens and/or swiss chard. (I used a salad spinner.)
If desired, soak greens for about 30 minutes in very cold water. (This makes sure they're crisp for the quick stir-frying.)
Working in batches, cut greens crosswise into 1/2 inch slices.
Mix together sauce ingredients and set aside.
Preheat the wok or large, heavy frying pan until it feels very hot when you hold your hand there, then add the oil.
When oil looks shimmery, add the garlic cloves (for seasoning the oil) and cook about 30 seconds, making sure garlic doesn't start to brown. Remove garlic and discard.
Add chopped radish greens and/or swiss chard all at once and immediately begin to stir-fry, turning greens over and over just until they are almost all wilted. (For me this was only one minute, but I have a great gas stove with a burner with really high heat.)
When greens are almost all wilted, add sauce ingredients, stir, and cook 30 seconds more.
Serve hot.
Notes
Use any combination of radish greens or Swiss Chard you prefer, or use each type of greens individually.
Use Gluten-Free Soy Sauce (affiliate link) if needed. Don't use seasoned rice vinegar which contains sugar.
Recipe created by Kalyn with some chard-cooking inspiration from Vegetables Every Day.
Nutrition Information:
Yield:
2
Serving Size:
1
Amount Per Serving:
Calories: 88
Total Fat: 5g
Saturated Fat: 1g
Unsaturated Fat: 4g
Cholesterol: 0mg
Sodium: 861mg
Carbohydrates: 5.4g
Fiber: 4g
Sugar: 1g
Protein: 5g
Nutrition information is automatically calculated by the Recipe Plug-In I am using. I am not a nutritionist and cannot guarantee 100% accuracy, since many variables affect those calculations.
Low-Carb Diet / Low-Glycemic Diet / South Beach Diet Suggestions:
Stir-Fried Radish Greens and Swiss Chard are a perfect side dish low-carb or Keto diets or for any phase of the original South Beach Diet.
Find More Recipes Like This One:
Use Side Dish Recipes or Stir-Fry Recipes to find more recipes like this one. Use the Diet Type Index to find recipes suitable for a specific eating plan. You might also like to follow Kalyn's Kitchen on Pinterest, on Facebook, or on Instagram to see all the good recipes I'm sharing there.
We are a participant in the Amazon Services LLC Associates Program, an affiliate advertising program designed to provide a means for us to earn fees by linking to Amazon.com and affiliated sites. As an Amazon Associate, I earn from qualifying purchases.