Roasted Radishes
Radishes are surprisingly sweet when they're cooked and these Roasted Radishes are delicious, with soy sauce and sesame seeds adding extra layers of flavor. And these are so great for anyone who's watching carbs.
PIN Roasted Radishes to try them later!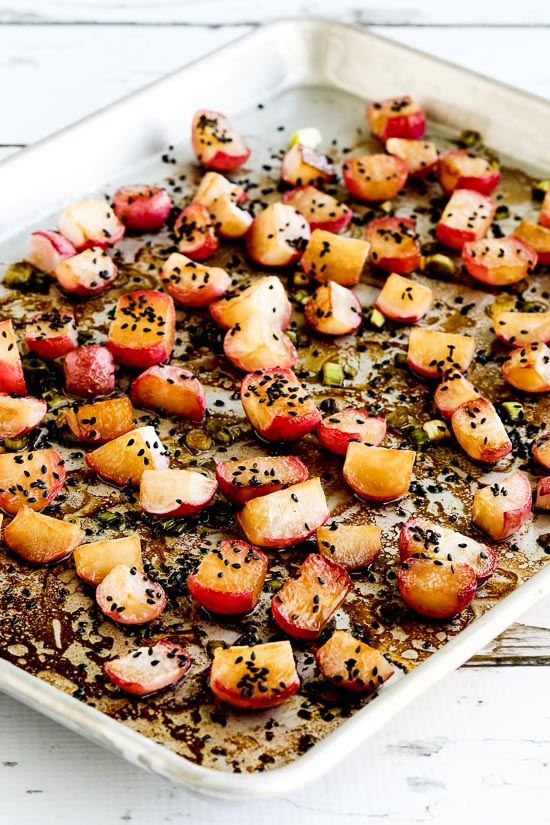 I think radishes are so fun for a season-spanning dish! Back in the days when I had a huge garden, I always used to plant them just for the fun of watching how quickly the radishes came up from seeds. Now I don't have room for radishes in my new garden, but I am happy to report that I did plant my garden over the weekend (with two cute helpers), and I'll share a post soon about what I'm growing this year.
It was probably the abundance of radishes when I planted them every year that enticed me to try this recipe for Roasted Radishes flavored with soy sauce and sesame seeds. And cooked radishes have become rather trendy since then, maybe because radishes have been discovered as a low-carb vegetable option.
Cooked radishes are much milder and sweeter than the spicy flavor they have when they're raw, and if I had to describe what they taste like I'd say similar to turnips, but slightly different. I love raw radishes, but I also love this recipe for roasted radishes and if you're looking for a side dish that will be a conversation-starter, I promise this will be something fun and unusual to serve your friends or family!
What ingredients do you need for this recipe?
radishes, washed, trimmed and cut into fourths or halves
Peanut Oil (affiliate link)
soy sauce or Gluten-Free Soy Sauce (affiliate link)
toasted sesame oil (probably optional, but recommended)
green onions
Black Sesame Seeds (affiliate link) or sesame seeds, optional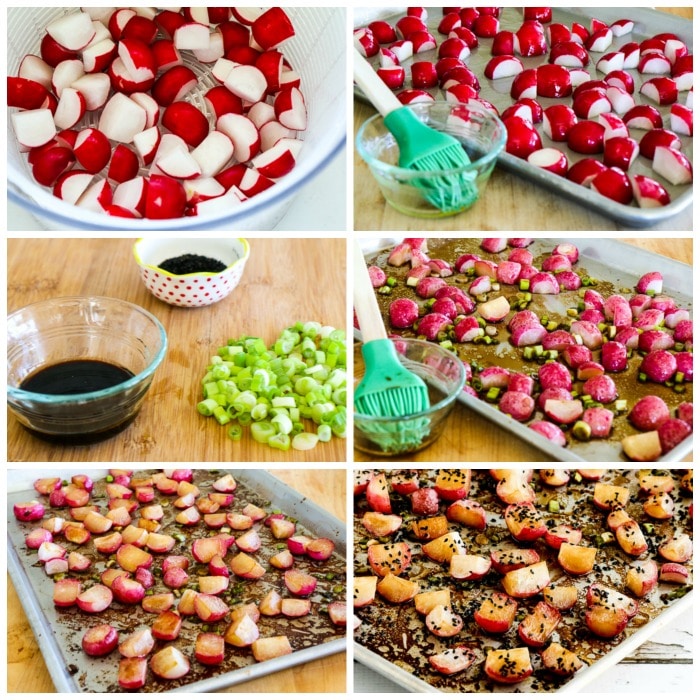 How to make this recipe:
(Scroll down for complete recipe with nutritional information.)
Wash radishes, trim ends, and cut into half or fourths (to get same-size pieces.)
Put radishes on baking sheet and brush with peanut oil (or other oil if you can't have peanuts.)
While radishes roast, prepare the sliced green onion, soy/sesame glaze, and sesame seeds. (I used black sesame seeds, but if you use regular white ones I'd toast them for a minute or so in a hot dry pan.)
The color of the radishes will fade a bit as they cook. After about 20 minutes remove the radishes from the oven and brush with the soy/sesame mixture. Sprinkle with sliced green onions.
Roast 5-7 minutes more.
Sprinkle with sesame seeds and serve hot.
Make it a Meal
Roasted Radishes would be a fun side dish for something grilled like Grilled Chicken Kabobs with Asian Marinade or World's Best Pork Chops for a low-carb meal.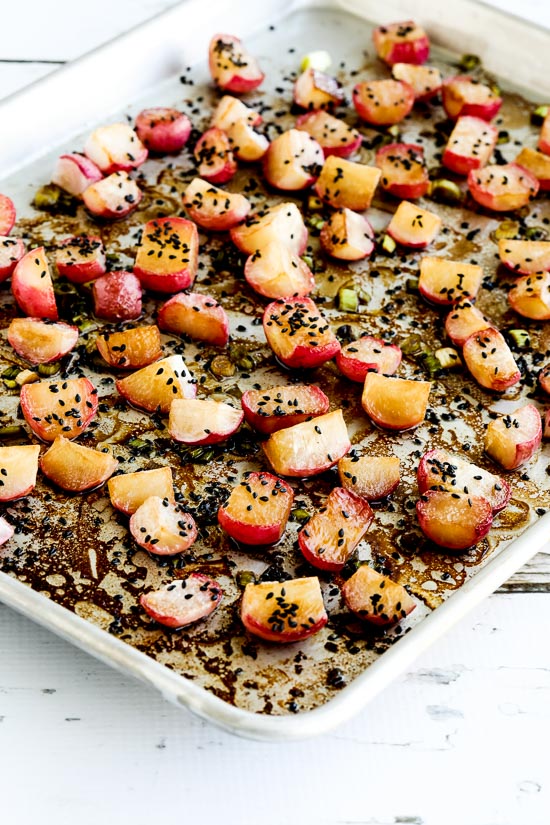 More Recipes with Radishes:
Crunchy Low-Carb Chopped Salad
Puerto Rico Spicy Cabbage Salad
Sauteed Radishes with Vinegar and Herbs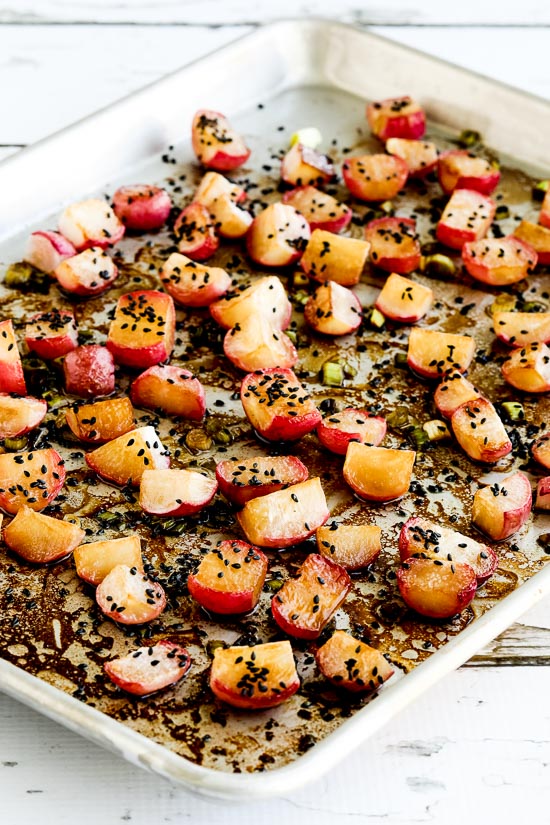 Yield: 4 servings
Roasted Radishes
Prep Time 10 minutes
Cook Time 25 minutes
Additional Time 12 minutes
Total Time 47 minutes
Radishes are surprising sweet once they're cooked and these Roasted Radishes have a soy-sesame glaze and sesame seeds adding extra flavor.
Ingredients
25 medium radishes, washed, trimmed and cut into fourths or halves (same-size pieces)
1 1/2 T roasted peanut oil
1 1/2 T soy sauce (see notes)
1 tsp. toasted sesame oil (probably optional, but recommended)
2 green onions, sliced
2 tsp. black sesame seeds (see notes)
Instructions
Preheat oven to 425 F.
Wash radishes, trim ends, and cut into halves or fourths to make same size pieces.
Spray a large baking sheet with non-stick spray, put radishes on the baking sheet and brush all sides with the peanut oil, then arrange radishes cut side down for best browning.
Roast the radishes about 20 minutes, stirring one or two times.
While radishes cook, slice the green onions, and measure the sesame seeds (and toast if needed).
If you're using the toasted sesame oil (affiliate link), mix with the soy sauce in the same bowl you used for the peanut oil.
When radishes are tender and starting to brown, remove from oven, brush with soy sauce or soy-sesame oil mixture, and sprinkle with green onion slices.
Put back in oven and roast about 5 minutes more, or slightly longer.
Sprinkle cooked radishes with black sesame seeds and serve hot.
Nutrition Information:
Yield:
4
Serving Size:
1
Amount Per Serving:
Calories: 57
Total Fat: 5g
Saturated Fat: 1g
Trans Fat: 0g
Unsaturated Fat: 4g
Cholesterol: 0mg
Sodium: 342mg
Carbohydrates: 2g
Fiber: 1g
Sugar: 1g
Protein: 1g
Nutrition information is automatically calculated by the Recipe Plug-In I am using. I am not a nutritionist and cannot guarantee 100% accuracy, since many variables affect those calculations.
Low-Carb Diet / Low-Glycemic Diet / South Beach Diet Suggestions:
Roasted Radishes are a perfect side dish for any other low-carb or low-glycemic diet plan. They're also great for any phase of the original South Beach Diet.
Find More Recipes Like This One:
Use Side Dishes to find more recipes like this one. Use the Diet Type index pages to find more recipes suitable for a specific eating plan. You can also Follow Kalyn's Kitchen on Pinterest to see all the good recipes I'm sharing there.
Historical Notes for this Recipe:
This recipe was first posted in 2007. It was updated with much better photos in 2017 and last updated in 2021.
We are a participant in the Amazon Services LLC Associates Program, an affiliate advertising program designed to provide a means for us to earn fees by linking to Amazon.com and affiliated sites. As an Amazon Associate, I earn from qualifying purchases.