Spicy Carrot Salad
Spicy Carrot Salad has mint, cilantro, green onions, lime juice, and Green Tabasco Sauce, and this is an amazing salad that's loaded with flavor! And if you limit the serving size, this is surprisingly not that high in net carbs.
PIN this Spicy Carrot Salad to try it later!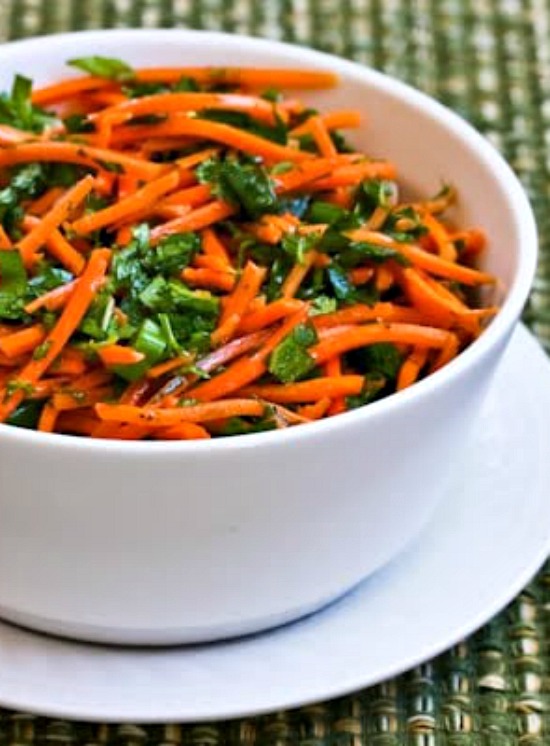 This Spicy Carrot Salad shows how my definition of salad has changed a lot in the time I've been focused on carb-conscious cooking and sharing the recipes on this blog. Although I still love classics like Perfect Low-Carb Taco Salad or Greek Salad, I've greatly expanded my mental list of salad possibilities. A few years ago I tried a tasty carrot salad at a party and that opened my mind to the idea of carrots as a main ingredient in salad.
When I spotted this shredded carrot salad from Joanne Weir in Fine Cooking Magazine, it sounded like another interesting salad combination with carrots. I ramped it up, adding mint, and green onions, using more herbs, and using green Tabasco sauce in the dressing to get the Jalapeno flavor throughout the salad. I loved this spicy salad with carrots, and when my brother Rand was visiting Utah recently he also pronounced it a keeper.
What ingredients do you need for this salad?
shredded carrots
finely chopped mint
finely chopped cilantro
sliced green onions
fresh-squeezed lime juice, I used my fresh-frozen lime juice
Green Tabasco Sauce (affiliate link) or other Jalapeno hot sauce
extra-virgin Olive Oil (affiliate link)
salt and fresh-ground black pepper to taste
What if you don't like mint or cilantro?
If you're not a fan of mint or cilantro, you can definitely make the salad with only one type of fresh herb. Or skip the herbs and use about twice as much sliced green onion if that sounds better to you.
Want more recipes that use fresh mint?
If you're growing fresh mint and want more ideas for using it, check out my post about Cooking with Fresh Mint!
Is this Spicy Carrot Salad high in carbs?
Although carrots are lower in carbs than most root vegetables, they do have more carbs than many vegetables used to make salad. But they do have some fiber, and a small serving of this salad is about 6 net carbs.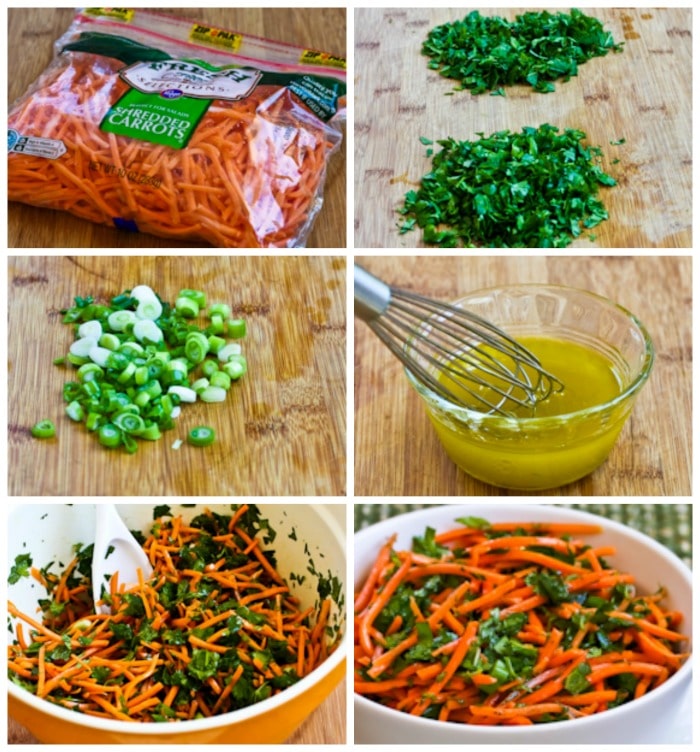 How to make the Spicy Carrot Salad:
(Scroll down for complete recipe with nutritional information.)
I used shredded carrots from a bag, which were a bit thicker than carrots you shred yourself and give a good crunch to the salad. Naturally, you can buy whole carrots and grate them yourself if you prefer.
I used a generous amount of chopped cilantro and chopped mint in the salad, but I think you could use all mint or all cilantro as well.
Green onions are one of my favorite ingredients, and I thought they just belonged in this salad. Slice them finely so you have small pieces.
Whisk together the olive oil, lime juice, and Green Tabasco Sauce (affiliate link) to make a spicy dressing.
Combine the shredded carrots, chopped mint, chopped cilantro and sliced green onion. Then add the dressing and stir so all ingredients are coated with the spicy dressing.
Season to taste with salt and fresh-ground black pepper and serve.
Make it a Meal:
Carrots are relatively high in natural sugar, so I'd pair this with a main dish that's high in protein and low in carbs like Grilled Cod, Sauteed Scallops with Garlic, Chicken Cutlets with Mustard Sauce, Baked Cilantro Lime Chicken, or Spicy Baked Shrimp with Garlic.
More Recipe Ideas with Carrots:
Moroccan Cabbage Slaw with Carrots and Mint
Air Fryer Carrots with Moroccan Spice Mix
Yield: 6 servings
Spicy Carrot Salad
Prep Time 20 minutes
Total Time 20 minutes
This Spicy Carrot Salad is an amazing salad that's loaded with interesting flavors!
Ingredients
4 cups shredded carrots
1/2 cup (or more) finely chopped mint
1/2 cup (or more) finely chopped cilantro
1/4 cup thinly sliced green onions
2 T fresh-squeezed lime juice
1/2 tsp. green Tabasco sauce (see notes)
3 T extra-virgin olive oil
salt and fresh-ground black pepper to taste
Instructions
If not using pre-shredded carrots, peel carrots and grate to make 4 cups grated carrots.
Wash and dry mint leaves and cilantro, then finely chop.
Thinly slice green onions.
Mix together lime juice and Green Tabasco Sauce (affiliate link), then whisk in olive oil.
In a medium salad bowl, mix shredded carrots, chopped mint, chopped cilantro, and sliced green onion.
Add dressing and stir until salad ingredients are well-coated with dressing.
Season to taste with salt and fresh-ground black pepper and serve.
Notes
This kept well in the fridge overnight. Mine was gone by the second day, but I'm guessing it would keep for a few days.
If you don't have Green Tabasco Sauce (affiliate link) use any Jalapeno Sauce or a bit of chopped fresh jalapeno.
This recipe adapted from Shredded Carrots with Jalapeno, Lime, and Cilantro by Joanne Weir in Fine Cooking July 2009.)
Nutrition Information:
Yield:
6
Serving Size:
1
Amount Per Serving:
Calories: 94
Total Fat: 7g
Saturated Fat: 1g
Trans Fat: 0g
Unsaturated Fat: 6g
Cholesterol: 0mg
Sodium: 159mg
Carbohydrates: 8g
Fiber: 2g
Sugar: 4g
Protein: 1g
Nutrition information is automatically calculated by the Recipe Plug-In I am using. I am not a nutritionist and cannot guarantee 100% accuracy, since many variables affect those calculations.
Low-Carb Diet / Low-Glycemic Diet / South Beach Diet Suggestions:
Even though carrots are thought of as a high-carb vegetable, when I calculated the nutritional information the net carbs were much lower than I had imagined for a small side dish serving of this salad, so check it out and see what you think. This salad is limited to phase 2 or 3 for the original South Beach Diet.
Find More Recipes Like This One:
Use Salad Recipes to find more recipes like this one.Use the Diet Type Index to find recipes suitable for a specific eating plan. You might also like to follow Kalyn's Kitchen on Pinterest, on Facebook, on Instagram, or on YouTube to see all the good recipes I'm sharing there.
Historical Notes for this Recipe:
This recipe was first posted in 2010. It was last updated with more information in 2022.
We are a participant in the Amazon Services LLC Associates Program, an affiliate advertising program designed to provide a means for us to earn fees by linking to Amazon.com and affiliated sites. As an Amazon Associate, I earn from qualifying purchases.