Baked Cilantro Lime Chicken
Baked Cilantro Lime Chicken marinates all day; then bake the chicken while you make a side dish for a delicious low-carb dinner!
PIN Baked Cilantro Lime Chicken to try it later!
For this week's Friday Favorites pick I'm reminding you about this Baked Cilantro Lime Chicken that's loaded with flavor and easy to make. I first posted this recipe before you could buy roast chicken in every supermarket, and who doesn't pick up a chicken at Costco now and then? But even though it's a bit more work than just buying one, when I make chicken in the oven at home I love the smell filling my house, and this is a pretty effortless idea for a chicken dinner.
The only part that's a bit fussy in the cilantro lime chicken recipe is the step of rinsing or wiping off the dried cilantro before you cook the chicken, and that's definitely optional. (I like the flavor the dried cilantro adds to the chicken while it marinates but don't love the look of the finished chicken with those bits of cilantro. Or skip the cilantro completely if you're not a cilantro fan.)
I also like to tie up my chicken with kitchen string, but that is 100% optional as well! If you haven't cooked roast chicken at home, give this a try and see what you think.
What ingredients do you need?
What if you're not a cilantro fan?
Definitely you can omit the cilantro in the marinade for this Baked Cilantro Lime Chicken if you prefer; the chicken infused with the flavors from lime juice, garlic powder, and onion powder will still be delicious!
Can you cook this chicken in the Air Fryer?
I haven't tried cooking a whole chicken in the Air Fryer, but follow the instructions in that recipe if you want to try it. The cooking time is not that much shorter though, so you may want to just use the oven and let the smells fill up your house!
More whole roasted chicken to try:
Check out my very popular recipe for Greek Lemon Chicken for another roasted chicken variation that's delicious and easy to make!
Want more ideas for baked chicken?
Chicken is a favorite dinner ingredient for most people and if you'd like more ideas for low-carb chicken dinners take a look at my huge collection of Low-Carb and Keto Baked Chicken Recipes.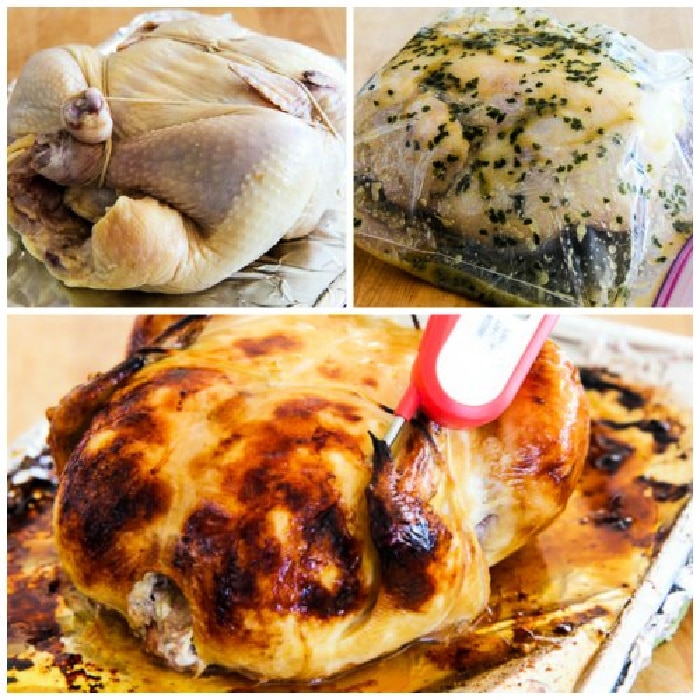 How to Make Baked Cilantro Lime Chicken:
(Scroll down for complete recipe with nutritional information.)
Tie the chicken with string or not, your choice.
Mix together marinade ingredients and put the chicken and marinade into a Ziploc bag and let chicken marinate all day in the refrigerator.
When it's time to cook, preheat the oven, rinse or wipe the chicken to remove the cilantro if you wish, and let chicken come to room temperature.
Then just roast about 15 minutes per pound. Use a meat thermometer (affiliate link) if you have one to be sure the chicken is at least 165F/74C.
Let chicken stand about 10 minutes and then cut and serve.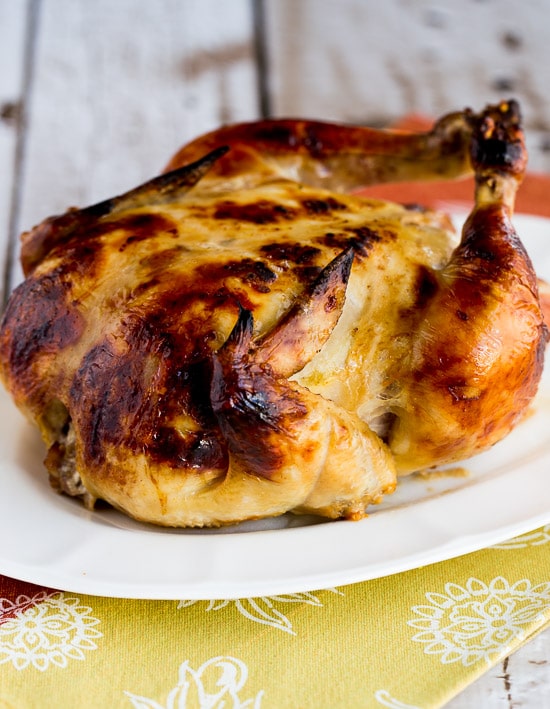 Make it a Low-Carb Meal:
If you want a vegetable that cooks at the same temperature to share the oven with this baked chicken recipe, how about Roasted Broccoli with Garlic, Roasted Cabbage with Lemon, or Roasted Green Beans with Mushrooms, Balsamic, and Parmesan for a low-carb meal!
More Easy Chicken Dinners:
Roasted Lemon Chicken and Green Beans Sheet Pan Meal
Air Fryer Marinated Chicken Breasts
Weekend Food Prep:
This cilantro lime chicken recipe has been added to a category called Weekend Food Prep where you'll find recipes you can prep or cook on the weekend and eat during the week!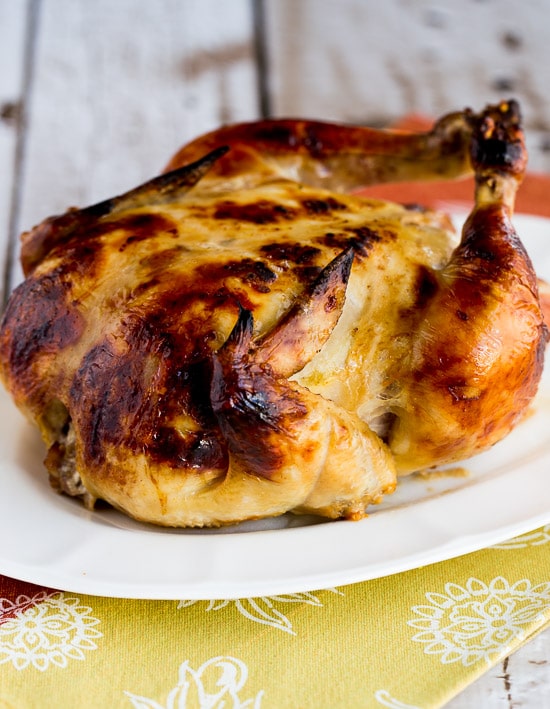 Yield: 6 servings
Baked Cilantro Lime Chicken
Prep Time 5 minutes
Cook Time 1 hour 15 minutes
Total Time 1 hour 20 minutes
This Baked Cilantro Lime Chicken marinates all day; then just roast the chicken while you make the rest of the meal.
Ingredients
1 whole chicken, about 5 pounds
Marinade Ingredients:
1/2 cup fresh lime juice (see notes)
1/4 cup olive oil
2 tsp. garlic powder
2 tsp. onion powder
2 T dried cilantro
2 tsp. Green Tabasco Sauce (or your favorite green hot sauce, optional)
Instructions
Remove giblets from inside chicken and discard. Rinse chicken inside and out with warm water. Tie chicken with kitchen string if desired.
Mix marinade ingredients. Put chicken in large Ziploc bag and pour marinade over chicken.
Marinate 6-8 hours in refrigerator, or a little longer is okay.
When you're ready to cook, preheat oven to 450. Remove chicken from marinade and rinse with warm water. (Optional, but I like to rinse off the cilantro so it doesn't burn.)
Let chicken come to room temperature. (If you cover the roasting pan with foil it's easier to clean.)
Roast the chicken 15 minutes per pound. If you have a meat thermometer (affiliate link) you can use it to tell when the chicken has reached a temperature of 165F/74C, which is the recommended minimum temperature for roasted or grilled chicken.
Let stand 10 minutes, then serve.
Nutrition Information:
Yield:
6
Serving Size:
1
Amount Per Serving:
Calories: 329
Total Fat: 23g
Saturated Fat: 5g
Trans Fat: 0g
Unsaturated Fat: 16g
Cholesterol: 88mg
Sodium: 126mg
Carbohydrates: 3g
Fiber: 0g
Sugar: 0g
Protein: 28g
Nutrition information is automatically calculated by the Recipe Plug-In I am using. I am not a nutritionist and cannot guarantee 100% accuracy, since many variables affect those calculations.
Low-Carb Diet / Low-Glycemic Diet / South Beach Diet Suggestions:
Baked Cilantro Lime Chicken is a perfect main dish for low-carb diet plans or for any phase of the original South Beach Diet. The guideline on meat for the South Beach Diet recommend meat with less than 10% fat, so give the fattier parts to other family members and eat the white meat if you're a South Beach dieter.
Find More Recipes Like This One:
Use Chicken Recipes to find more recipes like this one. Use the Diet Type Index to find recipes suitable for a specific eating plan. You might also like to follow Kalyn's Kitchen on Pinterest, on Facebook, on Instagram, or on YouTube to see all the good recipes I'm sharing there.
We are a participant in the Amazon Services LLC Associates Program, an affiliate advertising program designed to provide a means for us to earn fees by linking to Amazon.com and affiliated sites. As an Amazon Associate, I earn from qualifying purchases.