Spicy Mexican Slaw with Lime and Cilantro (Video)
Spicy Mexican Slaw with Lime and Cilantro is a perfect low-carb side dish, and this Mexican coleslaw is a salad I make over and over. See the option for making this a main dish salad if you really like this flavor combination!
PIN this Spicy Mexican Slaw recipe to try it later!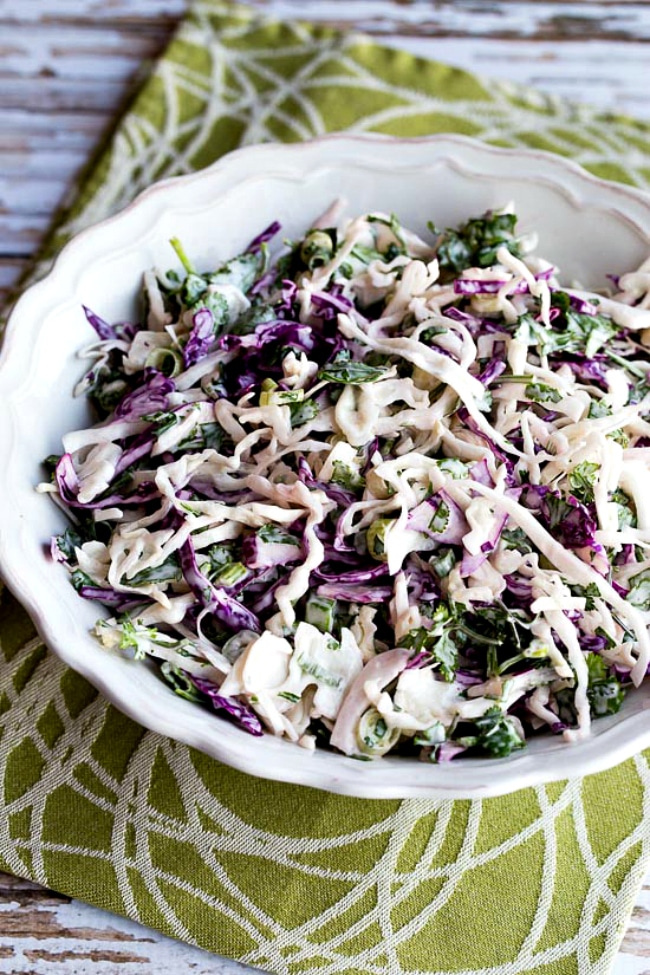 Cinco de Mayo is coming up, and if you're making any kind of Mexican dinner to celebrate I want to remind you about this Spicy Mexican Slaw with Lime and Cilantro that's a perfect salad to serve with Mexican food. I'm not sure I could ever pick my number one favorite salad recipe, but delicious Mexican coleslaw is a salad I've been crazy over for years.
This recipe has so many of my favorite ingredients that when I first tried the salad I knew after one bite that I'd be making it over and over again. Since then this has become a regular offering for family parties and wedding showers, And in my family we have one bowl with cilantro and another bowl with lots of thinly sliced green onion replacing the cilantro for the ones with the anti-cilantro tastebuds.
And everyone in my family loves this Mexican slaw whether they prefer it with or without cilantro! If you like cabbage salads at all, I urge you to try this one; I bet you'll love it just as much as I do.
What ingredients do you need for this recipe?
(This is only a list of ingredients; please scroll down for complete printable recipe. Or if you use the JUMP TO RECIPE link at the top of the page, it will take you directly to the complete recipe.)
What gives this coleslaw recipe the Mexican flavors?
This addition of lime juice to the mayo-based dressing, chopped cilantro in the salad, and the use of Green Tabasco Sauce gives this salad plenty of Mexican flavors!
What if you don't like Cilantro in your Mexican Coleslaw?
If you're not someone whose tastebuds appreciate the pungent flavor of cilantro (there is a genetic component to whether or not people like it) just replace the cilantro with plenty of thinly-sliced green onion in your Mexican Slaw.
How can you make this Mexican coleslaw into a main-dish salad?
If you want to make this Spicy Mexican Slaw into main dish salad, I would cut up 3-4 cups rotisserie chicken and marinate it in the dressing while you make the rest of the salad. Then toss the chicken into the finished salad for a perfect main dish. I wouldn't mind some chopped avocado added as well if you're an avocado fan.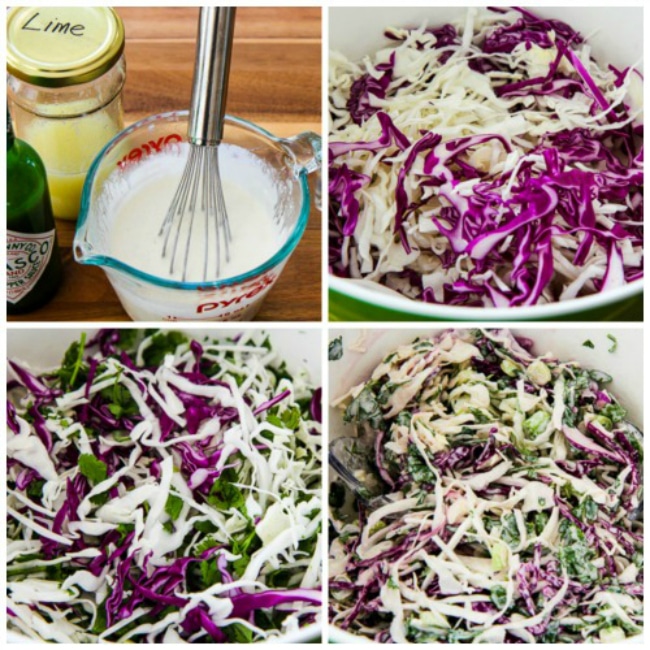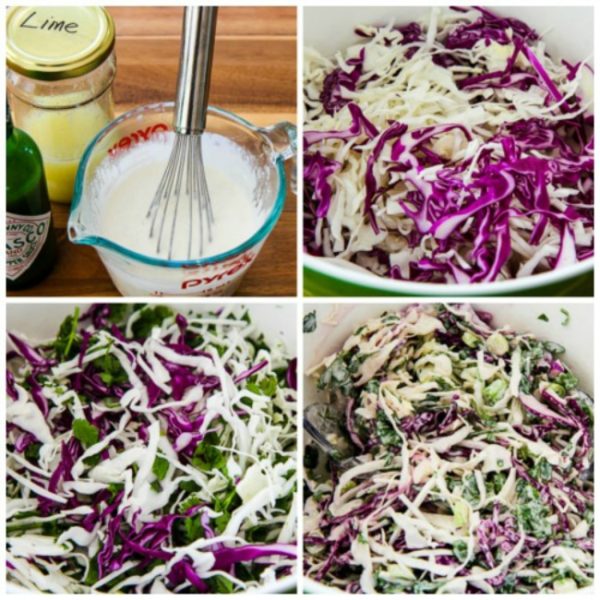 How to make Spicy Mexican Slaw with Lime and Cilantro:
(This is only a summary of the steps for the recipe; please scroll down for complete printable recipe. Or if you use the JUMP TO RECIPE link at the top of the page, it will take you directly to the complete recipe.)
Whisk together the mayo, lime juice, and hot sauce to make the dressing. (Start with smaller amounts of lime juice and hot sauce and taste it until it seems perfect to you.)
Thinly slice the green and red cabbage. (This is easiest and will give best results with a mandoline slicer (affiliate link).
Chop green onions and cilantro and mix with the cabbage, then stir in just enough dressing to moisten the slaw.
Season with salt or Vege-Sal to taste, and devour!
This is best freshly made, but I've eaten leftovers for breakfast many times after they'd been in the fridge overnight, not minding at all that the red cabbage turns the salad pink when it sits. And I wouldn't mind a bit having this in the fridge for a quick lunch!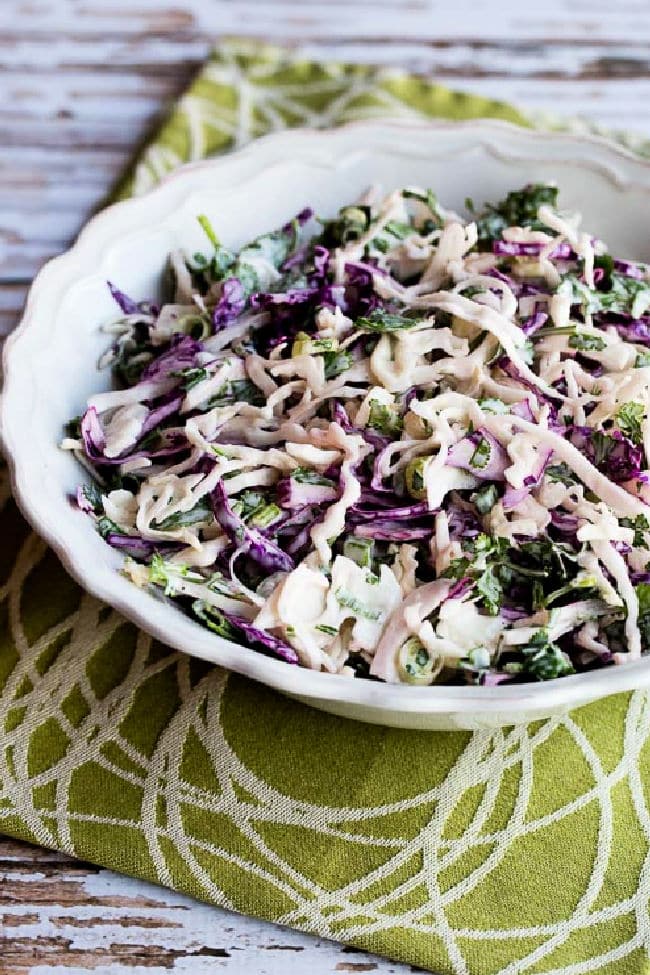 I'm Crazy Over Cabbage Salad:
Weekend Food Prep:
This recipe has been added to a category called Weekend Food Prep to help you find recipes you can prep or cook on the weekend and eat during the week! If you want to make this for Weekend Food Prep, I would store the leftover cabbage and dressing separately and add dressing to each serving right before you eat it.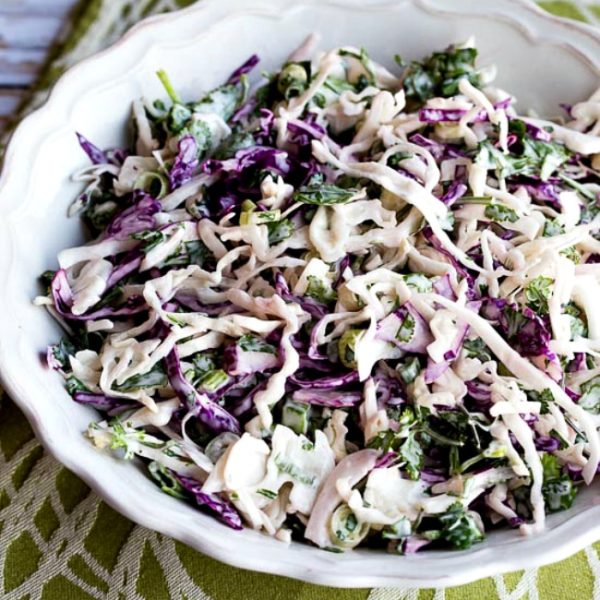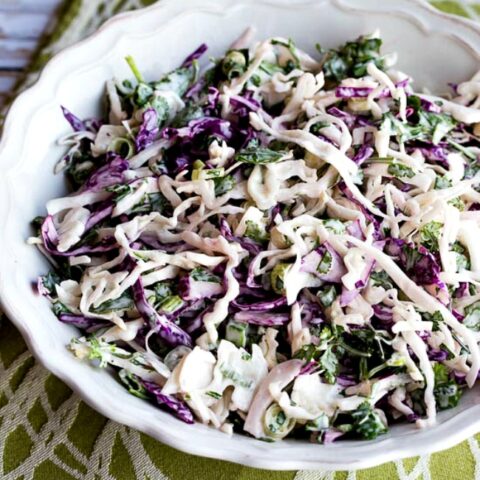 Yield: 6 servings
Spicy Mexican Slaw with Lime and Cilantro
Prep Time 20 minutes
Total Time 20 minutes
This Low-Carb Spicy Mexican Slaw is a salad that I make all the time, and I think this Mexican coleslaw recipe this is a perfect side dish.
Ingredients
Salad Ingredients
4 cups thinly sliced green cabbage
2 cups thinly sliced red cabbage (You can use all green or all red cabbage.)
2 green onions, thinly sliced, or more
1/2 cup chopped cilantro, or more (If you're not a cilantro fan just use more green onion.)
Dressing Ingredients
4 T mayo (or a little more if you like your salad with lots of dressing)
3 T fresh lime juice; more or less to taste (see notes)
1/2 teaspoon hot sauce, or to taste (See notes.)
salt to taste (I used Vege-Sal which I greatly prefer over regular salt for this salad.)
Instructions
In small bowl or measuring cup, whisk together, mayo, lime juice, and hot sauce. (Start with less than the full amount of lime juice and hot sauce and keep adding until you have the desired blend of sour/hot flavor.)
Thinly slice cabbage, using a mandoline slicer if you have one.
Slice green onions.
Wash, dry and chop cilantro. (I use a mini salad spinner to wash herbs and spin them dry.)
Combine cabbage, green onions and cilantro in large salad bowl.
Use a wooden spoon to mix dressing into cabbage mixture.
Season to taste with salt or Vege-Sal (affiliate link) and serve immediately, or chill for a few hours.
This salad will keep well overnight in the refrigerator, but the lime juice will cause the red cabbage to bleed color and turn the salad slightly pink. If you're making extra you might want to use all green cabbage, although I didn't mind the pink color at all when I ate the leftovers!
Another good strategy if you're not cooking for many people is to chop the cabbage and green onion and mix the dressing for the full amount and store in the fridge, then chop cilantro and stir salad together in smaller amounts as you're going to eat it.
Notes
If you're not crazy about sour and hot flavors, start with a smaller amount of lime and hot sauce and add more to the dressing until it tastes good to you. I like this best with Green Tabasco Sauce (affiliate link), but I've made it with Sriracha Sauce (affiliate link) many times. Any hot sauce will work, but hot sauce that's orange will turn the cabbage pink if it's refrigerated overnight.
Recipe adapted slightly from Fine Cooking Annual 2008.
Nutrition Information:
Yield:
6
Serving Size:
1
Amount Per Serving:
Calories: 104
Total Fat: 7g
Saturated Fat: 1g
Unsaturated Fat: 6g
Cholesterol: 4mg
Sodium: 189mg
Carbohydrates: 10g
Fiber: 3g
Sugar: 5g
Protein: 2g
Nutrition information is automatically calculated by the Recipe Plug-In I am using. I am not a nutritionist and cannot guarantee 100% accuracy, since many variables affect those calculations.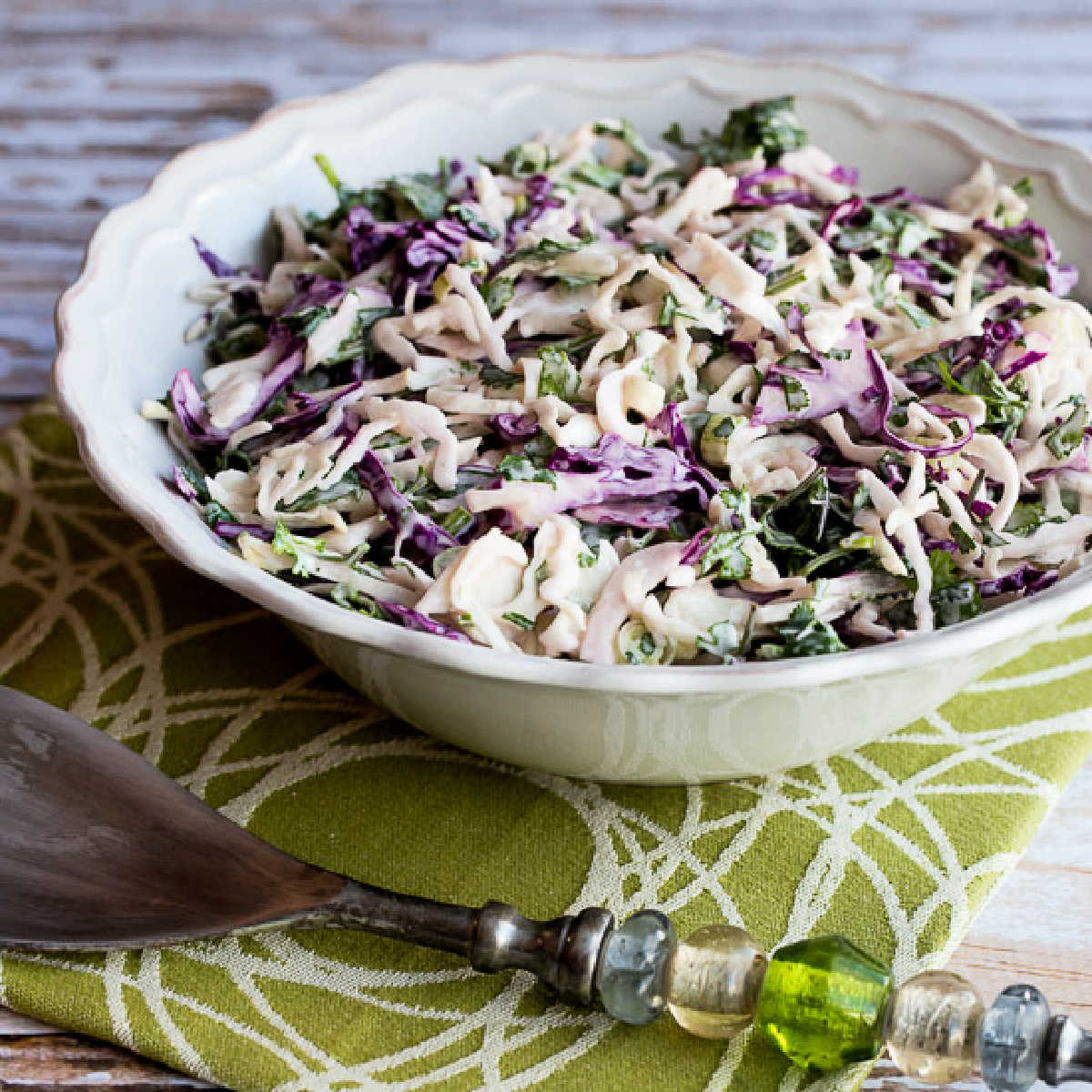 Low-Carb Diet / Low-Glycemic Diet / South Beach Diet Suggestions:
Spicy Mexican Slaw with Lime and Cilantro is a perfect side dish for most low-carb eating plans, including any phase of the original South Beach Diet, and it's also gluten-free, meatless, and vegetarian. South Beach would prefer low-fat mayo; other low-carb diets would prefer full-fat, so take your choice on that.
Find More Recipes Like This One:
Use Salad Recipes to find more low-carb salad recipes like this one. Use the Diet Type Index to find recipes suitable for a specific eating plan. You might also like to follow Kalyn's Kitchen on Pinterest, on Facebook, on Instagram, on TikTok, or on YouTube to see all the good recipes I'm sharing there.
Historical Notes for this Recipe:
This Mexican coleslaw salad was first posted in 2008. The photos were later updated, and the salad was updated with more information and the option to make it a main-dish salad in 2021. It was last updated with more information in 2023.
We are a participant in the Amazon Services LLC Associates Program, an affiliate advertising program designed to provide a means for us to earn fees by linking to Amazon.com and affiliated sites. As an Amazon Associate, I earn from qualifying purchases.