Southwest Chicken Salad
This low-carb Southwest Chicken Salad can use leftover chicken, and this salad is loaded with flavor from the tasty Chipotle Ranch Dressing!
PIN the Southwest Chicken Salad to try it later!
Today I am reminding you about this tasty Southwest Chicken Salad! Until recently this chicken salad recipe had been hanging out back in the archives on Kalyn's Kitchen with a couple of photos that wouldn't have enticed anyone to make it! And when I noticed the recipe and made it again to take some better photos, I remembered how much I love the Chipotle-Ranch Dressing that adds so much flavor to this recipe!
I know sometimes salads can seem a little ho-hum, but I promise that this Southwest Chicken Salad is loaded with great flavors. It's definitely a sum-is-greater-than-the-parts kind of salad, and I use a few tricks to bump up the flavor in ways that I think you'll enjoy. This is a perfect salad to make with leftover Baked Cilantro Lime Chicken, or use one of those packs of rotisserie chicken they sell at Costco for the chicken. I love everything about this recipe; hope you will try it!
What ingredients do you need for this recipe?
Ranch Dressing
salsa; I used Pace Picante Sauce (affiliate link)
ground Chipotle chile pepper (affiliate link)
diced cooked chicken
Romaine lettuce
sweet mini-peppers
chopped cilantro (optional)
sliced olives (optional, but good)
grated cheese
What makes this Southwest Chicken Salad so flavorful?
This chicken salad recipe is loaded with Southwestern flavor from the Pace Picante Sauce (affiliate link) and ground Chipotle chile pepper (affiliate link) that's mixed with Ranch Dressing to make the flavorful Chipotle Ranch Dressing. Then the chicken is marinated in the dressing for a few minutes while you prep the other salad ingredients. And the addition of sweet mini-peppers, chopped cilantro, sliced olives, and grated cheese adds even more flavor to this tasty salad.
What if you don't enjoy the flavor of cilantro?
If you're not a cilantro fan just substitute thinly-sliced green onion for the cilantro in this salad.
How to prep Southwest Chicken Salad for taking to work:
If you're wanting a salad to take to work, I'd prep all the ingredients before hand. In the morning mix the dressing with the chicken and store in a snap-top container. Put the lettuce, peppers, cilantro, cheese, and olives in another container with a snap-top lid and mix the salad together right before you eat it.
More Low-Carb Chicken Salads:
Check out Low-Carb and Keto Chicken Salads for more tasty salads that use cooked chicken. And all these chicken salad ideas are a perfect way to use leftover rotisserie chicken.
Tips for making Southwest Chicken Salad:
(Scroll down for complete recipe including nutritional information.)
First make the Chipotle Ranch Dressing. I confess, I use a packet you mix with buttermilk and mayo for the Ranch, but you can make your own Homemade Buttermilk Ranch Dressing or Buttermilk Dressing to use as the base if you prefer.
I like to buzz the salsa in the food processor for a smoother dressing, but you can also just stir it together with the ranch dressing and Ground Chipotle Chile Pepper (affiliate link) if you prefer. Make the dressing ahead and chill a while if you can.
When you're ready to make the salad, cut up or shred the chicken and toss with a few tablespoons of Chipotle Ranch Dressing while you prep the other ingredients.
Wash salad greens and spin dry in a salad spinner (affiliate link), slice sweet mini-peppers or red bell pepper, slice olives, chop cilantro (if using) and get some grated cheese ready.
Combine lettuce, peppers, and cilantro with the chicken that's tossed with dressing.
Add a little more dressing if desired, then add the olives and grated cheese and gently toss again.
That's all there is to it! Serve Southwest Chicken Salad with Chipotle Ranch Dressing right away!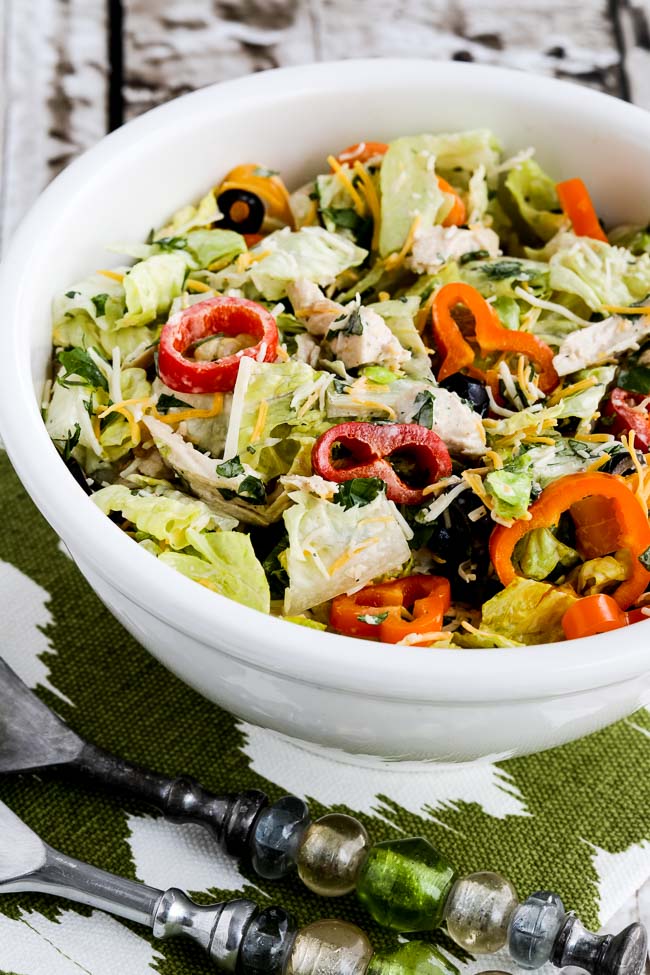 More Low-Carb Salads with Chicken:
Chicken and Avocado Salad with Lime and Cilantro
Chicken Salad with Green Olives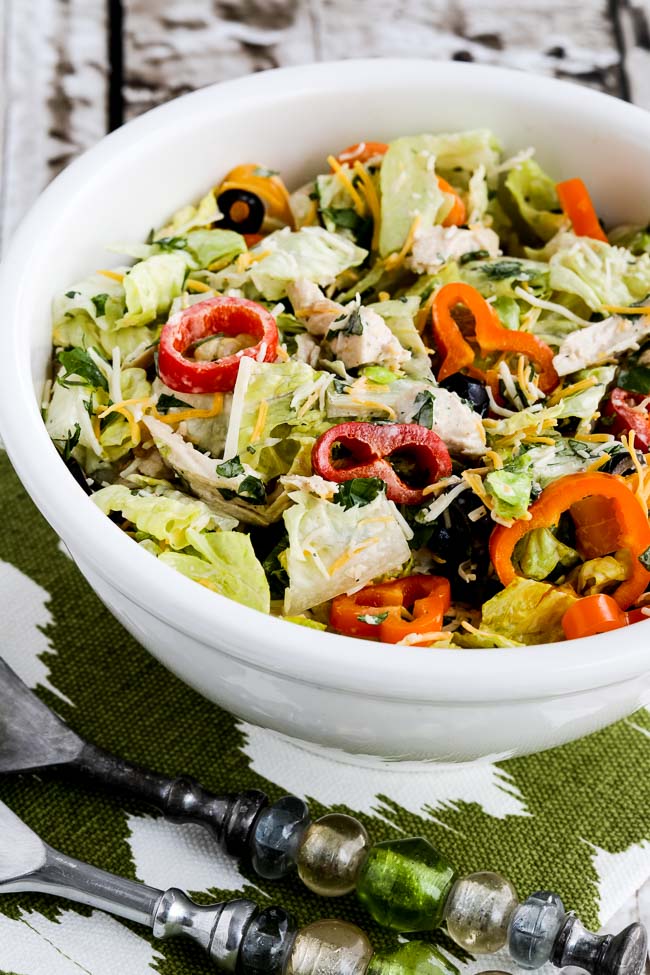 Yield: 2 servings
Southwest Chicken Salad
Prep Time 25 minutes
Total Time 25 minutes
Southwest Chicken Salad gets extra flavor from the Chipotle Ranch dressing that the chicken marinates in while you prep other ingredients, and this tasty salad is low in carbs.
Ingredients
Dressing Ingredients (Makes about 2.5 cups dressing):
2 cups Ranch Dressing
1/2 cup salsa (I used Pace Picante Sauce Mild, see notes)
1/2 tsp. Ground Chipotle Chile Pepper (see notes)
Salad Ingredients:
2 cups diced cooked chicken
1/4 cup Chipotle Ranch Dressing (or more, to taste)
4 cups chopped Romaine lettuce
6 sweet mini-peppers, seeds cut out and sliced (see notes)
1/4 cup chopped cilantro (see notes)
2 oz. sliced olives (optional, but good)
1/2 cup grated cheese (see notes)
Instructions
Put salsa in food processor (affiliate link) and puree about one minute with steel blade. (Could also use a blender or immersion blender.) Add Ranch Dressing and ground Chipotle and process 30 seconds more, or until well combined. (You can also just stir the dressing together if you don't mind it a little chunky.)
Chill dressing 1-2 hours if possible.
Mix diced chicken with desired amount of salad dressing and set aside to marinate while you prep other ingredients.
Coarsely chop the lettuce and spin dry with salad spinner (affiliate link) or dry with paper towels.
Combine lettuce, red pepper and cilantro in large mixing bowl.
Stir in chicken with dressing and mix lightly, until dressing is distributed throughout salad.
Add the grated cheese and olives and stir gently a few more times, then serve.
Notes
You can buy Pace Picante Sauce and Ground Chipotle Chile Pepper at Amazon.com if you can't find them. (Affiliate links)
I love sweet mini-peppers for this salad, but regular red or yellow bell peppers will also be good. Use thinly-sliced green onion if you're not a cilantro fan; use more or less cilantro to taste. I used Four-Cheese Mexican Blend from Costco.
Nutritional information is calculated using a packet mix with buttermilk and mayo for the dressing. Bottled Ranch may be higher in carbs.
Low-Carb Southwest Chicken Salad with Chipotle Ranch Dressing was created by Kalyn, inspired by a long-ago Rubio's salad that's no longer on the menu there.
Nutrition Information:
Yield:
2
Serving Size:
1
Amount Per Serving:
Calories: 616
Total Fat: 44g
Saturated Fat: 13g
Unsaturated Fat: 27g
Cholesterol: 163mg
Sodium: 772mg
Carbohydrates: 13g
Fiber: 4.8g
Sugar: 6.2g
Protein: 42g
Nutrition information is automatically calculated by the Recipe Plug-In I am using. I am not a nutritionist and cannot guarantee 100% accuracy, since many variables affect those calculations.
Low-Carb Diet / Low-Glycemic Diet / South Beach Diet Suggestions:
Southwest Chicken Salad is a good main-dish salad for any low-glycemic or low-carb diet, including Keto. If you use reduced-fat cheese and reduced-fat this salad is suitable for any phase of the original South Beach Diet.
Find More Recipes Like This One:
Use Salad Recipes to find more recipes like this one. Use the Diet Type Index to find recipes suitable for a specific eating plan. You might also like to follow Kalyn's Kitchen on Pinterest, on Facebook, on Instagram, or on YouTube to see all the good recipes I'm sharing there.
We are a participant in the Amazon Services LLC Associates Program, an affiliate advertising program designed to provide a means for us to earn fees by linking to Amazon.com and affiliated sites. As an Amazon Associate, I earn from qualifying purchases.