Low-Carb and Keto Chicken Salads
Here are 24 Low-Carb and Keto Chicken Salads that can help you keep your kitchen cool, especially if you use leftover chicken! And Keto chicken salad is a perfect dinner when the weather gets too warm!
PIN the Keto Chicken Salads to try some later!
Today I'm sharing Low-Carb and Keto Chicken Salads, and this collection of cold chicken salad recipes has some that are definitely favorites at my house. And there are more than 24 delicious low-carb chicken salad ideas here to help when it's just too hot outside to want anything but cold food, so be sure to scroll down past the photos to see all your chicken salad options!
Leftover rotisserie chicken is an ingredient that often inspires me to create new salads and now I love to buy the already cooked and cut up rotisserie breast that comes in a package at Costco, which makes this kind of salad even easier. So if you use a product like that all these chicken salad recipes are going to be extra easy to get on the table.
And all of these salads are easy enough you can make them on a hot summer day when you don't really want to cook! I've updated the post with some amazing Keto chicken salads I've made recently; hope you enjoy trying at least a few of the tasty salads! And try to stay cool!
Tips for Tasty Keto Chicken Salad:
If you shop at Costco, look for their already cooked-and cut-up packages of rotisserie chicken to make chicken salad prep even easier!
If you have time, marinating the cut-up chicken in dressing for 20-30 minutes before you stir the salad together will add flavor to chicken salads.
Most every type of chicken salad can keep in the fridge for a few days, but for best flavor I like to have a little extra dressing to stir in to refresh the flavors when I'm eating the leftovers.
How do you get the complete recipe?
Just click or tape the recipe name to find the complete recipes for all these low-carb chicken salad recipes on the blog!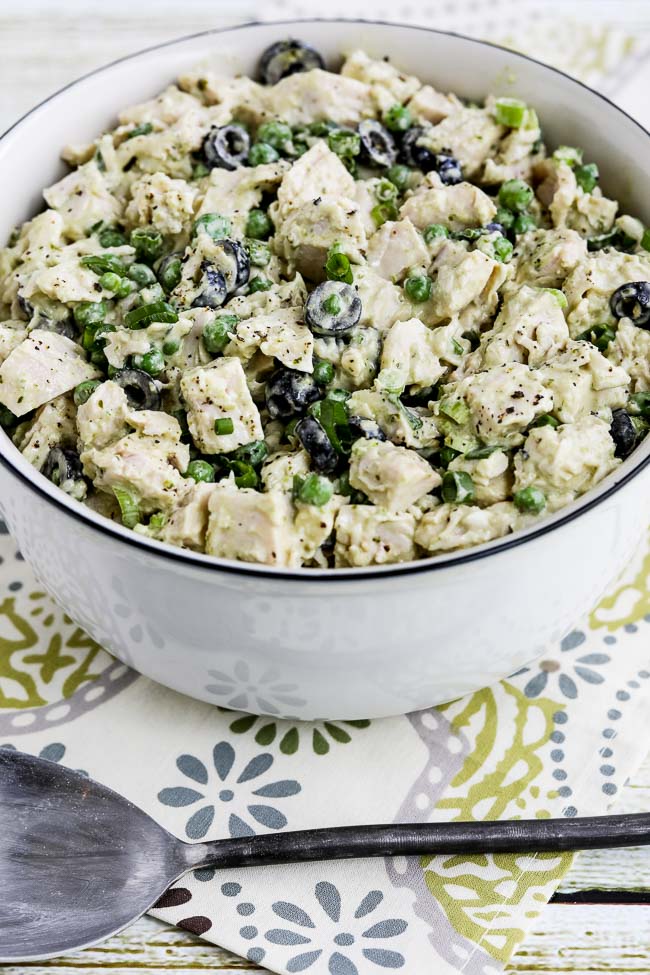 Chicken Pesto Salad is so tasty that after I made it for the blog, I made again it right away just to have in the fridge for myself!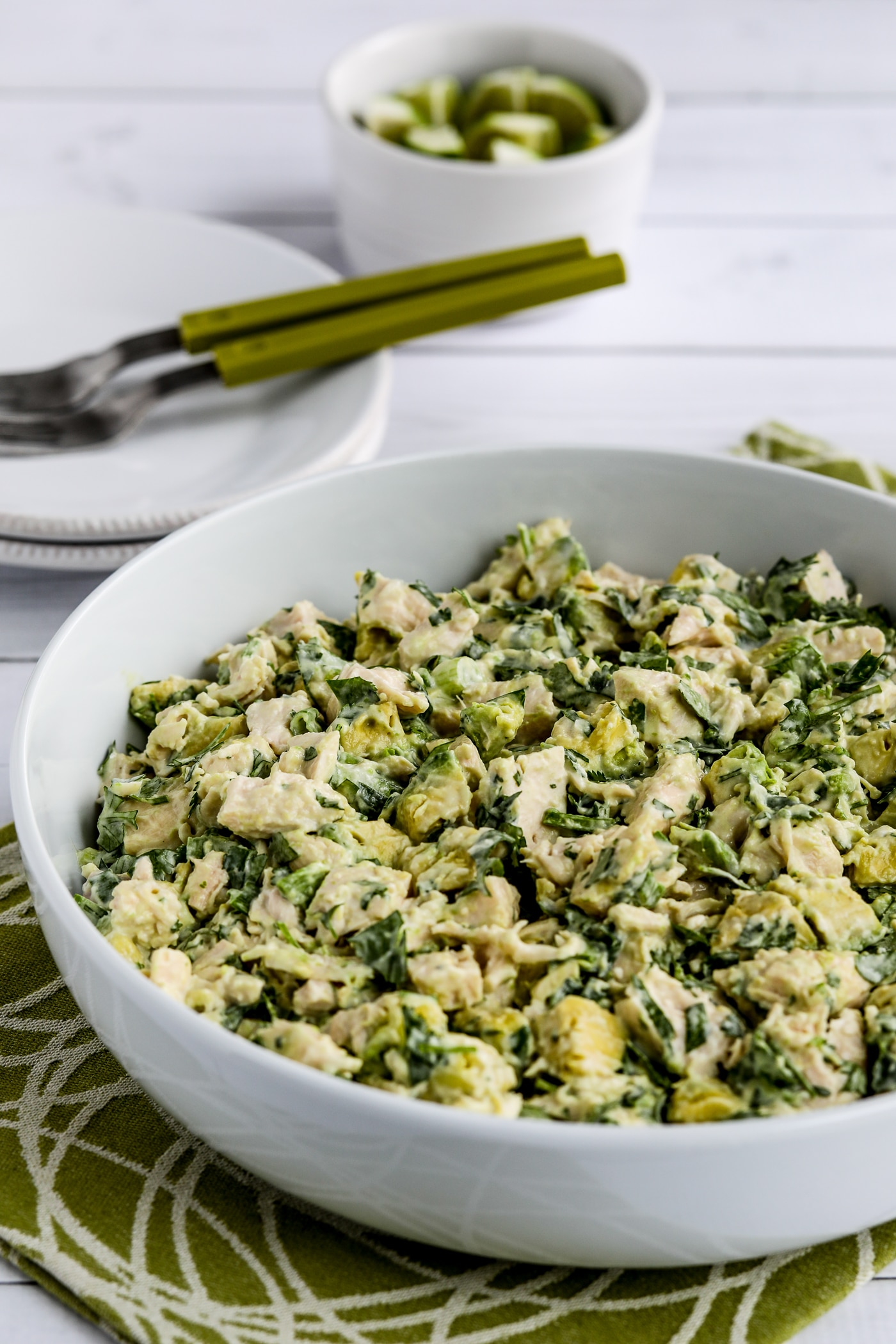 Chicken and Avocado Salad with Lime and Cilantro is a salad recipe that's been hugely popular on the blog. If you're not a cilantro fan, substitute thinly sliced green onion and this will still be delicious.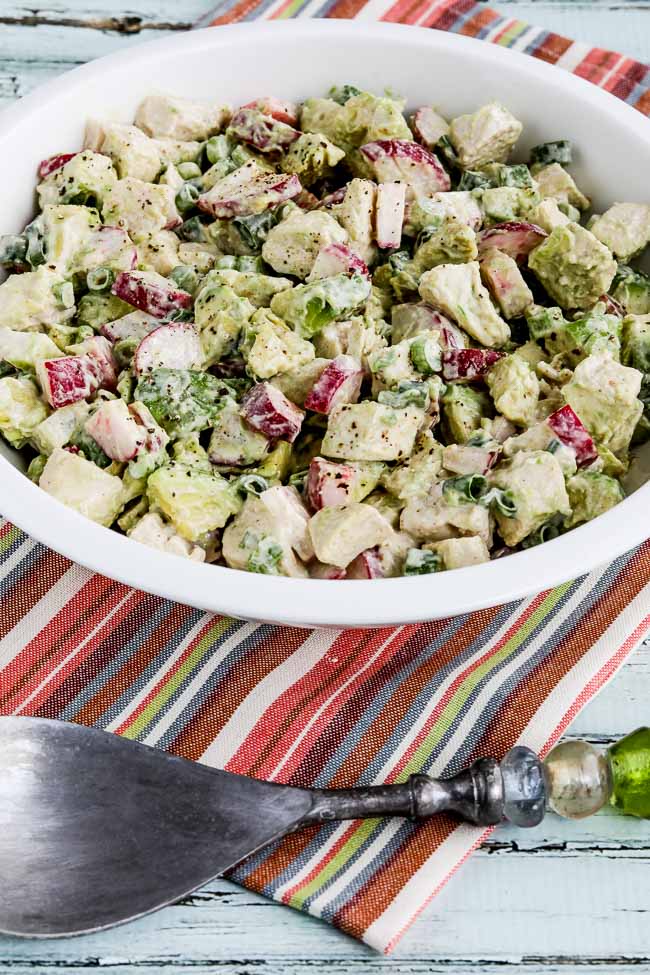 When I decided to re-visit an old salad recipe that had black beans, this Chicken Salad with Avocado, Radishes, and Lime was the happy result. (There's also a link to the version with black beans if you like the sound of that.)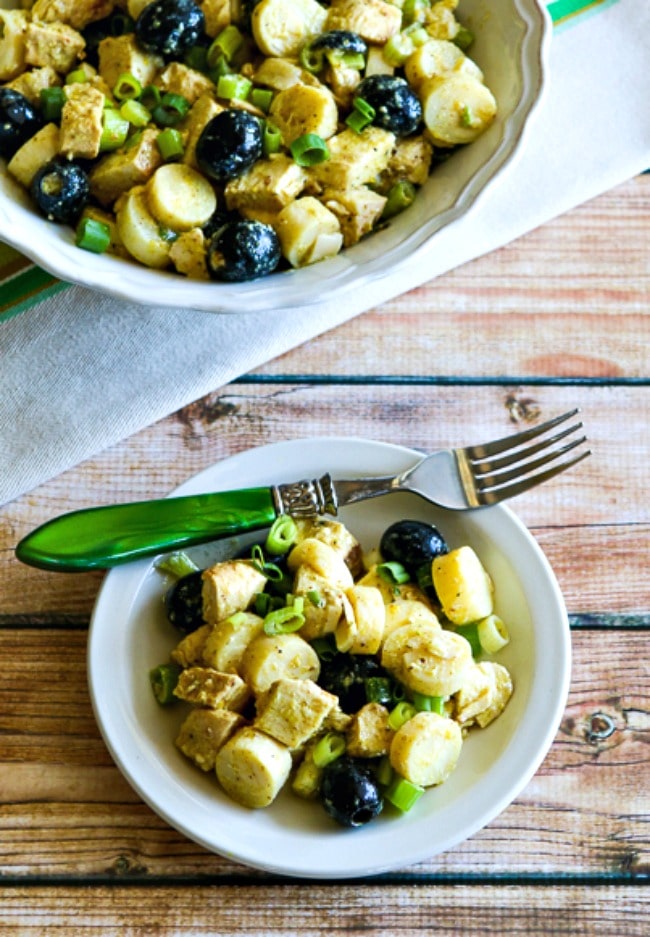 Chicken Salad with Hearts of Palm uses hearts of palm, which are definitely one of my favorite summer ingredients!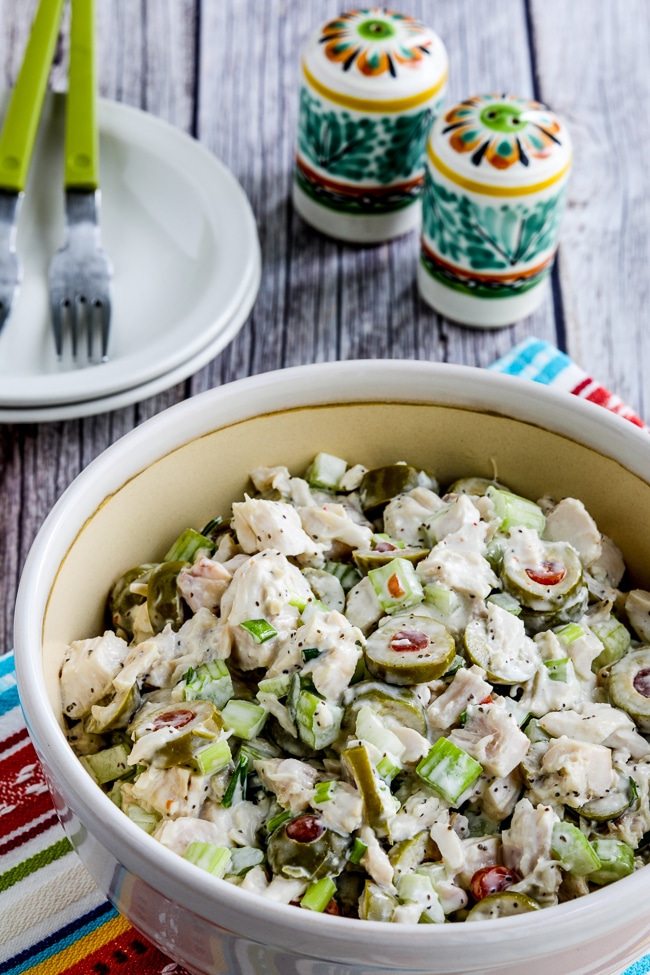 Green olive fans are going to swoon over this tasty Chicken Salad with Green Olives!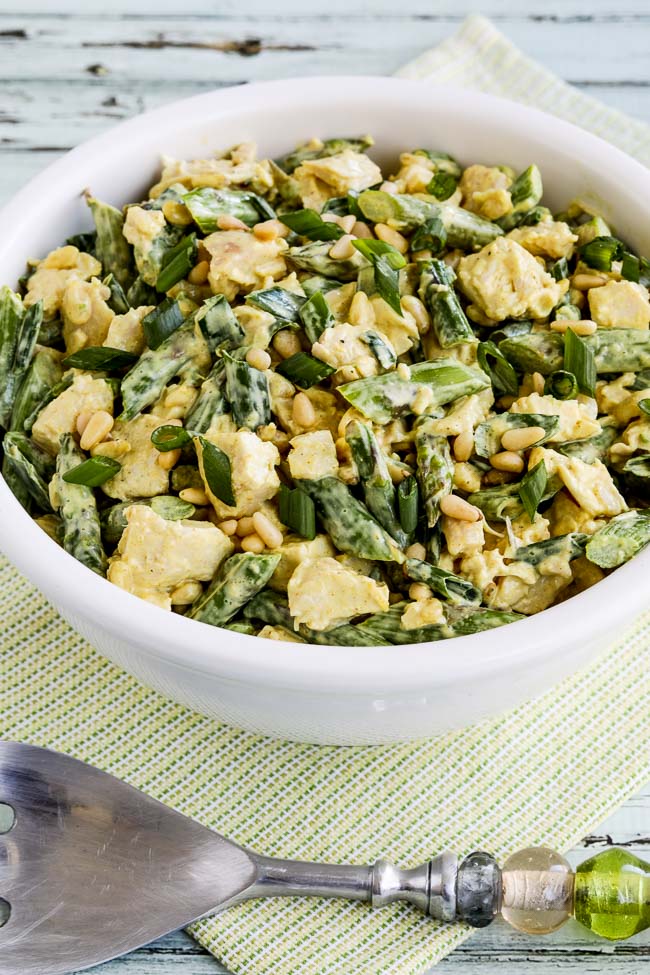 When we made this Curried Chicken Salad we went absolutely crazy over this recipe, and if you like asparagus and curry you're also going to love this salad! (And who doesn't love pine nuts?)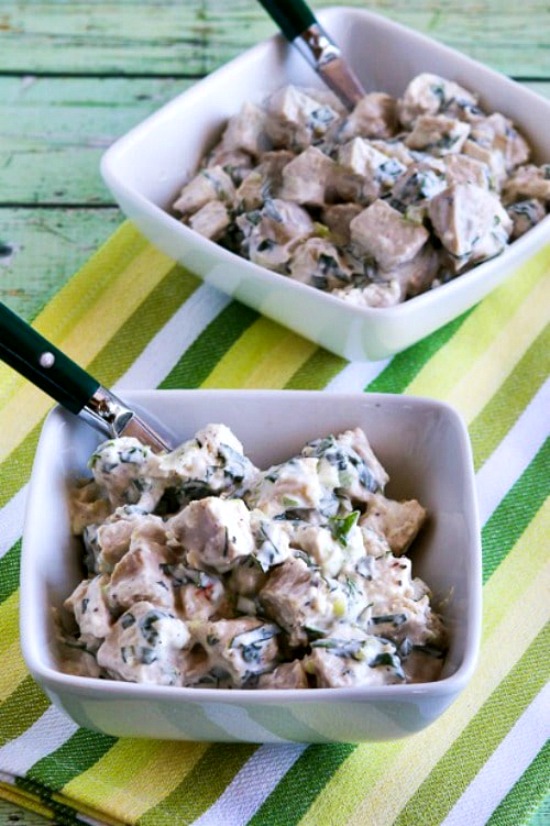 Nothing says summer to me like fresh basil, and I absolutely love the flavors in this Chicken Salad with Basil.
I'm crazy about the flavor of fresh tarragon, and this Tarragon Chicken Salad is absolutely a wow!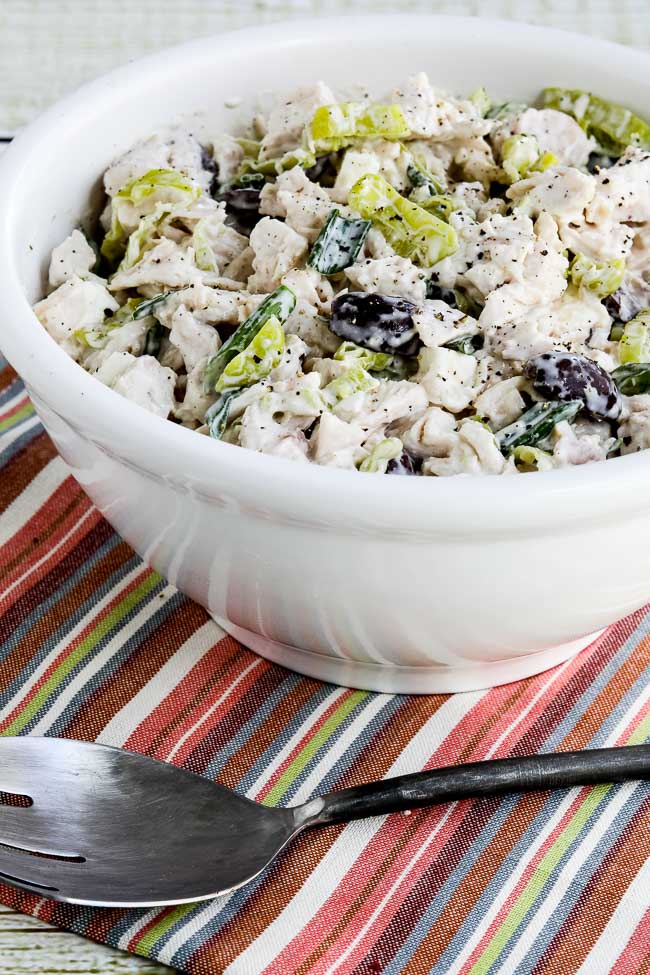 I absolutely love spicy Greek Peperoncini, and they add such a nice zing to this Greek Peperoncini Chicken Salad.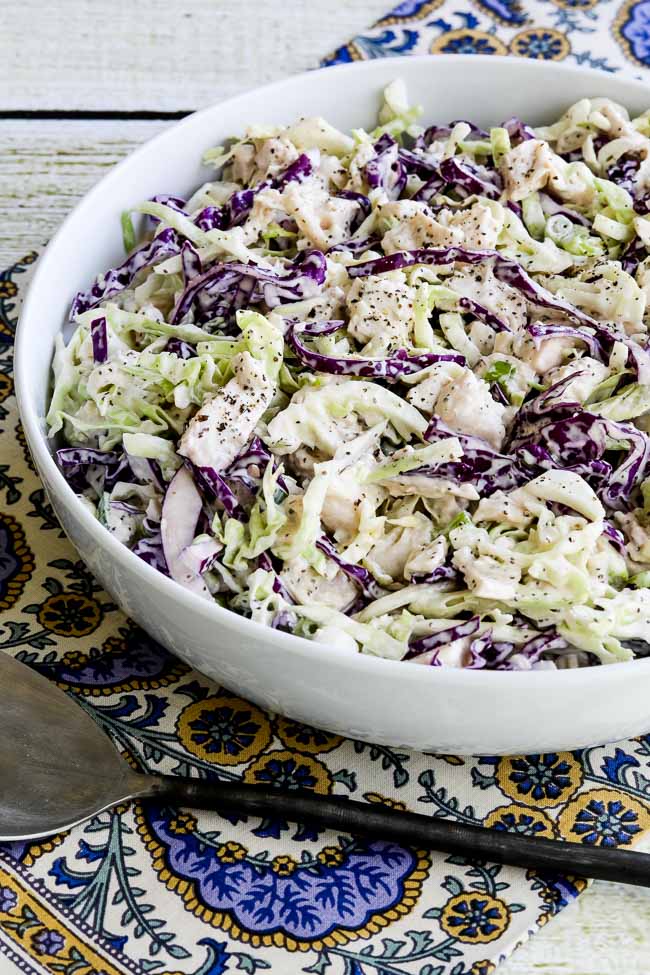 My love for cabbage salads is pretty obvious, and I love this Chicken Cabbage Salad with Mustard when I have leftover chicken and cabbage in the fridge.
More Low-Carb and Keto Chicken Salads:
Chicken Salad with Indian Spices
Chopped Salad with Chicken, Peppers, Olives, and Feta
Sandee's Asian Chicken Cabbage Salad
Red Cabbage and Chicken Asian Salad
Vietnamese Chicken Salad with Cabbage
Zucchini Noodle Salad with Pesto and Chicken
Baby Arugula Salad with Chicken, Mozzarella, and Tomatoes
We are a participant in the Amazon Services LLC Associates Program, an affiliate advertising program designed to provide a means for us to earn fees by linking to Amazon.com and affiliated sites. As an Amazon Associate, I earn from qualifying purchases.