Kalyn's Kitchen Picks: Spike Seasoning
Spike Seasoning is a product I've enjoyed for years, and this amazing blend of herbs and spices adds an extra bit of flavor to so many dishes!
PIN this info about Spike to find it later!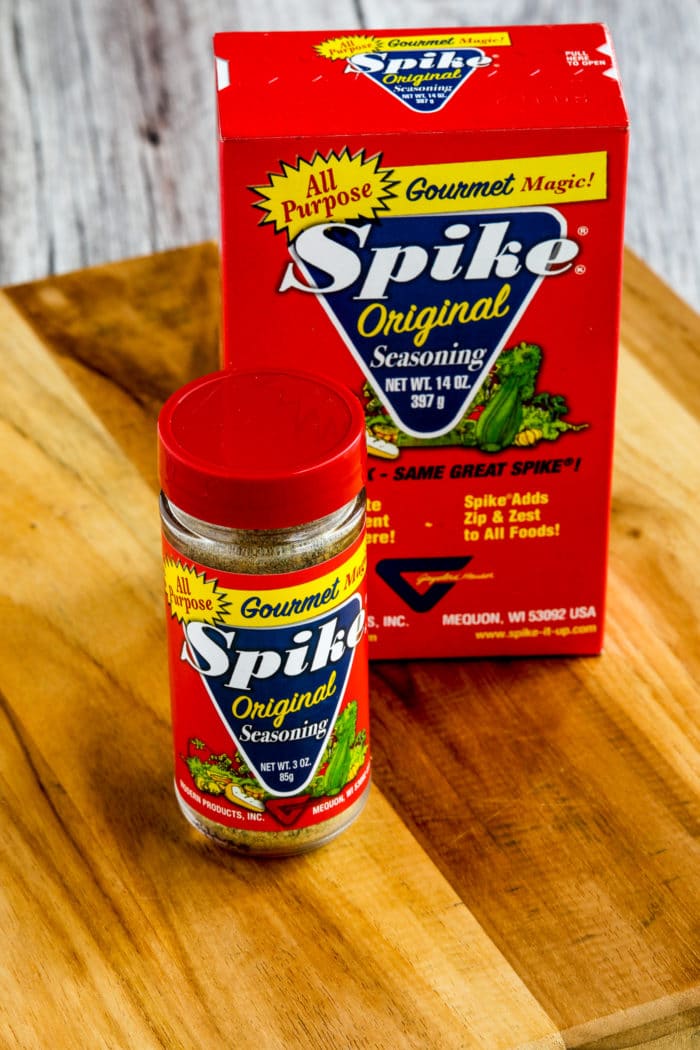 Out of all the products I've spotlighted for Kalyn's Kitchen Picks I'm guessing the one I use most often is Spike Seasoning. This amazing blend of spices is something I discovered many (many!) years ago and now I use it in almost every dish I make that has savory flavors. And every year when the calendar switches over to the new year my blog gets a lot of readers who are new to the site, so I am reminding everyone about this favorite seasoning blend that I use so often!
Truly my love for Spike has never wavered through all the years I've been using it. And Spike has been sold for more than 50 years, so I think it's safe to say I'm not the only one who enjoys the flavor boost it adds to recipes!
What is Spike Seasoning?
Spike is a blend of dried herbs and spices that was originally created by Gayelord Hauser and is made by Modern Products. I used to buy it in my regular grocery store, but now I can't find it there and I buy Spike Seasoning at Amazon.com. (affiliate link) In stores that carry it, it will often be found in the nutrition or health foods section.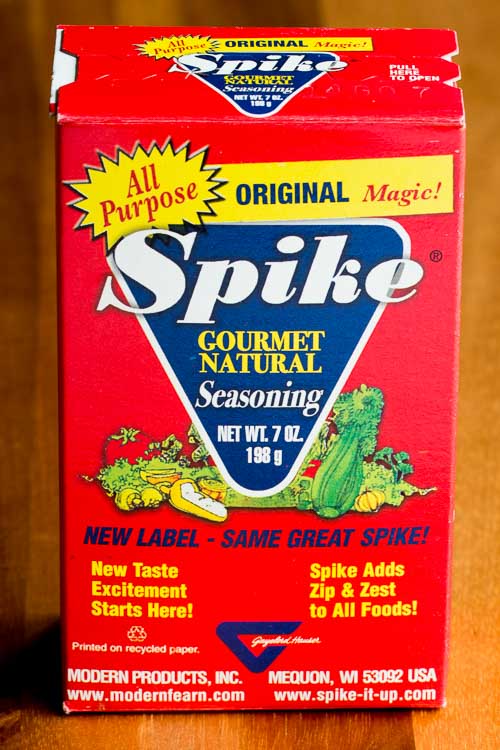 What Ingredients are in Spike Seasoning?
Here's a list of the 39 ingredients that are in Spike: Salt and sea salt, de-fatted nutri-soy granules, granular toasted onion, nutritional yeast, granular garlic, celery root granules, ground dill, horseradish granules, mustard powder, lemon peel, orange powder, parsley flakes, red bell peppers, green bell peppers, white pepper, rose hips powder, summer savory, mushroom powder, safflower, parsley powder, white onion powder, spinach powder, tomato powder, sweet Hungarian paprika, ground celery seed, cayenne pepper, ground turmeric, ground cumin, ground ginger, ground coriander, ground fenugreek, ground cloves, cinnamon powder, plus a delightful herbal bouquet of the best Greek oregano, French tarragon, French sweet basil, French marjoram, French rosemary and Spanish Thyme.
Does Spike Seasoning contain salt?
Spike comes with or without salt. I buy the original version that has salt, but if you're watching your sodium intake I would chose the Salt-Free Spike. (affiliate link)
Is Spike Gluten-Free?
According to their website, Spike is gluten-free. Through the years I have heard from a couple of people with other food allergies who were sensitive to it, so if you are sensitive to certain things I would check the list of ingredients.
What types of recipes are good with Spike Seasoning?
I love the flavor Spike adds to egg dishes, salads, stews and soups, marinades, roasted vegetables, and casseroles. I think it adds a little extra something to any savory dish where you want a complex blend of flavors.
More about Spike Seasoning:
Lydia from The Perfect Pantry also wrote an informative post about Spike Seasoning.
See Kalyn's Recipes that use Spike Seasoning:
I've used this favorite seasoning blend for so many years now that I could never list all my recipes using it. But if you enter Spike Seasoning into the search bar on the blog you can see the variety of dishes where I use it to add a bit of extra flavor.
More about Kalyn's Kitchen Picks
I purchased this product myself and this company has no idea whatsoever that I'm writing about it. All items featured as Kalyn's Kitchen Picks are things I happily buy over and over, and so that readers will know that my opinions are completely unbiased, I don't accept review products from the many companies who offer to send them to me. You can see the complete list of products I've chosen to feature at Kalyn's Kitchen Picks.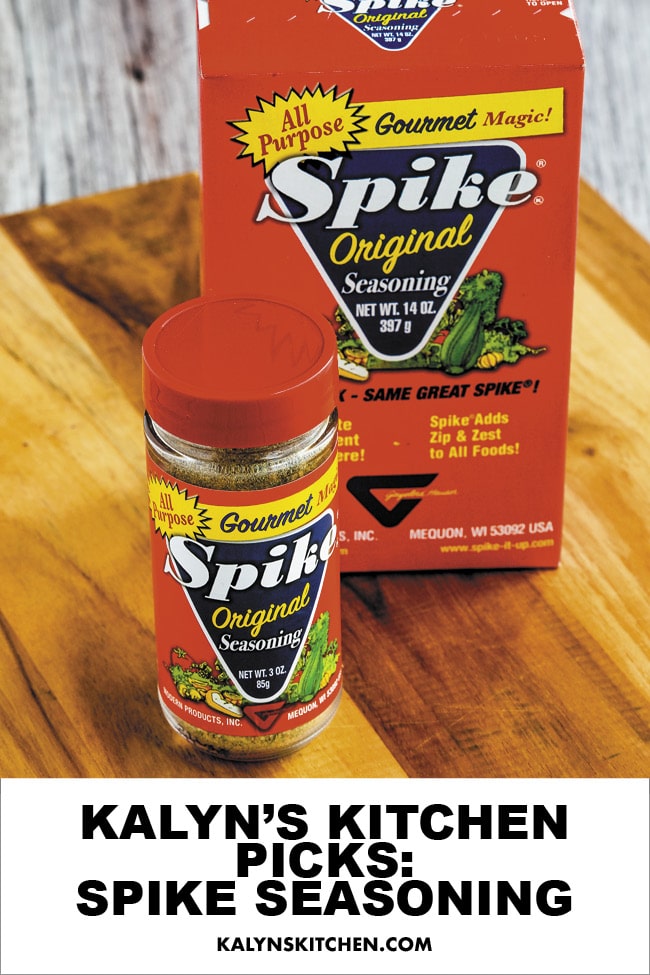 We are a participant in the Amazon Services LLC Associates Program, an affiliate advertising program designed to provide a means for us to earn fees by linking to Amazon.com and affiliated sites. As an Amazon Associate, I earn from qualifying purchases.