Chicken Thighs with Mushrooms
These roasted Chicken Thighs with Mushrooms also have onions and rosemary adding flavor for a tasty low-carb dinner that's easy to make!
PIN Chicken Thighs with Mushrooms to try it later!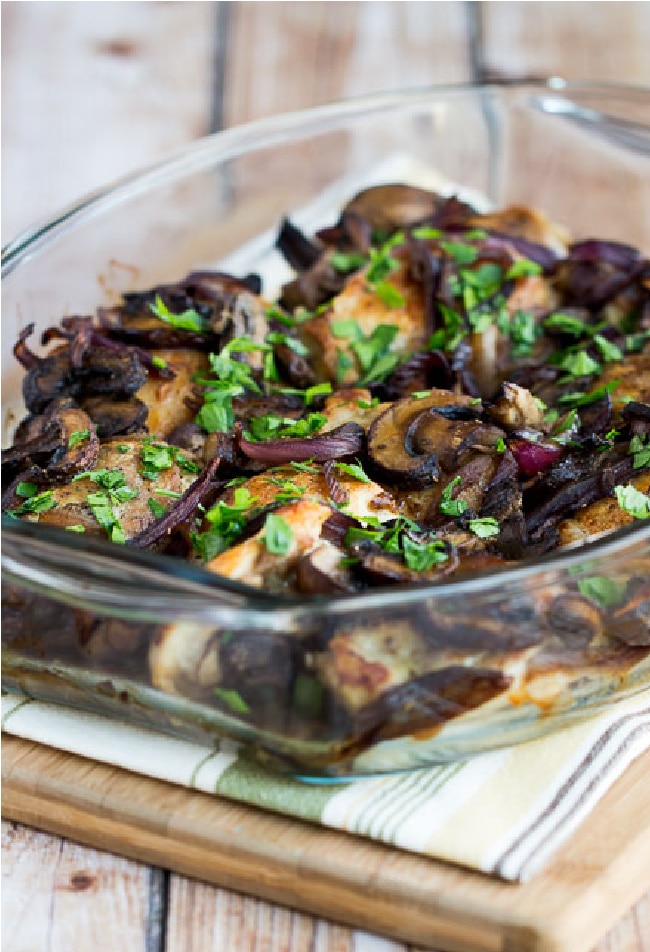 I'm quite excited about this easy recipe for Chicken Thighs with mushrooms! I don't claim to be an expert about low-carb eating, but one thing I do know is that having a collection of really delicious low-carb dinners that are not to hard to make can really help. That's why I'm always so happy when I make something that seems like it's do-able for a week-night dinner, and I love all things roasted chicken.
I've made roasted chicken sheet pan meals, whole roasted chicken, and chicken that's stuffed and roasted, and these roastedChicken Thighs with Mushrooms are another take on roasted chicken that's so delicious you'll probably make it over and over. The only hard thing about this recipe is trimming the chicken thighs, and if you use my trick of trimming with kitchen shears (affiliate link)that makes it quicker and much easier!
This recipe produces moist and flavorful low-carb chicken thighs, with just a hint of rosemary and onion in the chicken. We used ground rosemary, but if you have fresh rosemary by all means use that. We also increased the amount of mushrooms, and you might increase the red onion too because those roasted red onions were delicious, but remember that onions do have some carbs.
What ingredients do you need?
chicken thighs with bone in
salt/pepper to season chicken
olive oil
red onion
mushrooms (buy sliced mushrooms if you want to save time)
dried ground rosemary (affiliate link), or minced fresh rosemary
fresh chopped parsley(optional)
Can you use boneless chicken thighs for this recipe?
You can definitely make this with boneless chicken thighs if you prefer.
What if you're not a fan of rosemary?
If you're not a fan of the somewhat assertive flavor of rosemary I would use Ground Thyme (affiliate link) or Szeged Chicken Rub (affiliate link) to season the chicken.
What kind of mushrooms did we use?
We used brown Cremini mushrooms for this recipe of chicken thighs roasted with mushrooms, but any sliced mushrooms you prefer will be fine.
Want more low-carb chicken baked chicken recipes?
Check out Low-Carb and Keto Baked Chicken Recipes for more tasty ideas for chicken cooked in the oven!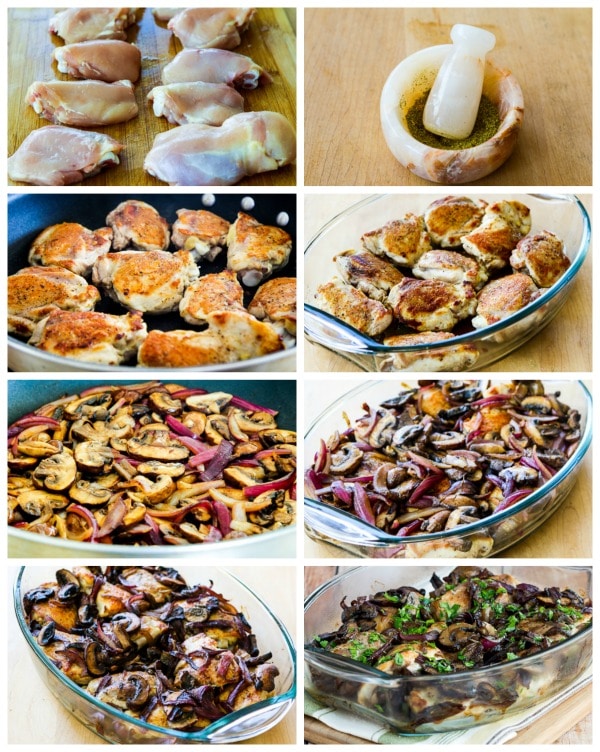 How to make Chicken Thighs with Mushrooms:
(Scroll down for complete printable recipe with nutritional information.)
Trim the chicken thighs, removing the skin and trimming away most of the fat, or leave a little fat and skin if you prefer. (I do that with kitchen shears (affiliate link), which is much easier than using a knife.)
Grind up the rosemary in a mortar and pestle (affiliate link) if you're using dried rosemary.
Heat the oil in a large frying pan and brown the chicken well, then place in a casserole dish.
Saute the onions for a couple of minutes, then add the mushrooms and saute them about 5 minutes more, or until the liquid has all evaporated.
Mix in the ground rosemary (affiliate link) or finely minced fresh rosemary and layer the vegetables over the chicken.
Roast at 350F/180C for 35-45 minutes, or until chicken and vegetables are done and your house smells like rosemary!
Serve hot, with fresh parsley sprinkled over if desired.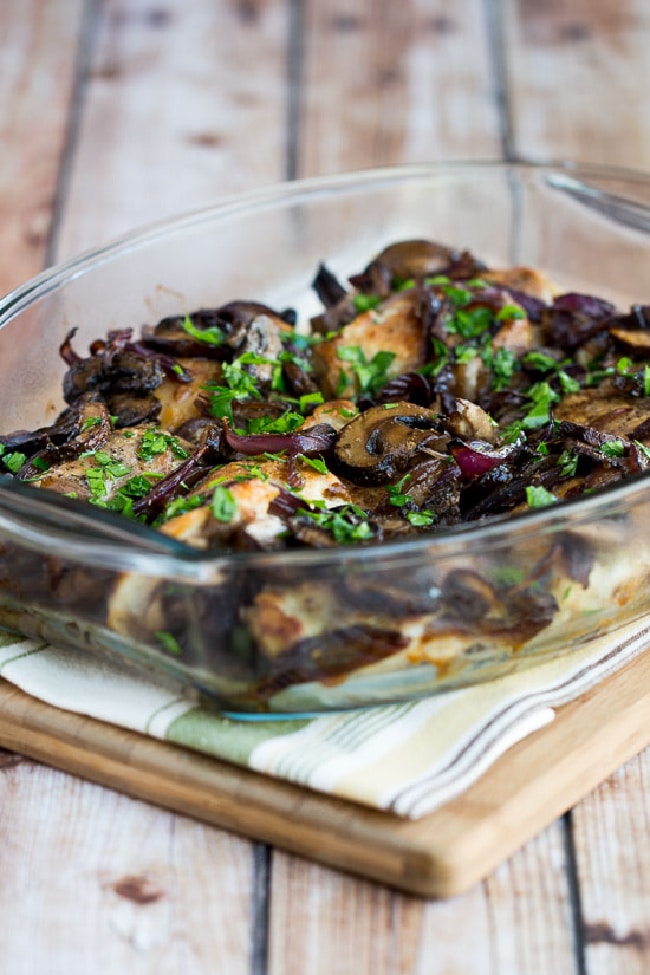 Make it a Low-Carb Meal:
This would taste great with Air Fryer Turnip Fries, Garlicky Green Beans Stir Fry, Pureed Cauliflower with Garlic, Parmesan, and Goat Cheese, The Best Easy Cauliflower Rice, or Twice Baked Cauliflower!
More Tasty Chicken for Dinner:
Baked Buffalo Chicken with Melted Blue Cheese
Chicken Cutlets with Mustard Sauce
Baked Parmesan Crusted Chicken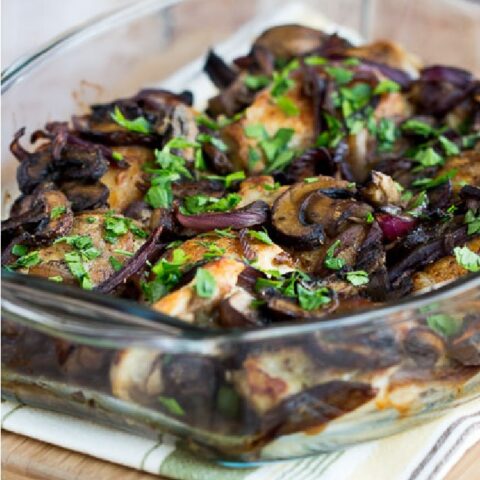 Yield: 4 servings
Chicken Thighs with Mushrooms
Prep Time 30 minutes
Cook Time 45 minutes
Total Time 1 hour 15 minutes
These roasted Chicken Thighs with Mushrooms have added flavor from onions and rosemary and this chicken dish is a tasty low-carb and Keto dinner option that's easy enough to make on a week night!
Ingredients
8 - 10 chicken thighs with bone in (see notes)
salt/pepper to season chicken
2-3 tsp. olive oil (more or less, depending on your pan)
1 red onion, cut into slivers (next time I would use more onion)
8 oz. sliced mushrooms (buy sliced mushrooms if you want to save time)
1 tsp. ground rosemary (see notes)
fresh chopped parsley for garnish (optional)
Instructions
Preheat oven to 350F/180C.
Trim chicken thighs, removing the skin and as much of the fat as you prefer, including the pocket of hidden fat on the back side of each thigh. (I do that with kitchen shears (affiliate link), which is much easier than using a knife.) Season thighs well on both sides with salt and pepper. I used Vege-Sal (affiliate link).
Heat large frying pan over medium-high heat, add a little olive oil, and brown chicken very well on both sides. Don't rush this step, I browned my chicken for about 10 minutes
Remove chicken from frying pan and place in glass casserole dish.
Pour out most of the fat from the pan if it seems like a lot, then put onions in and cook 2 minutes. Add mushrooms and cook about 5 minutes more or until the liquid is evaporated. Mix in ground rosemary or minced fresh rosemary.
Put partly-cooked mushrooms and onions over chicken pieces.
Roast 35-45 minutes, until chicken and veggies are done and your house is smelling delightfully of rosemary.
Serve hot, with any juice from the dish spooned over the chicken.
Notes
Buy skinless chicken, or remove the skin yourself. Or you can leave on some skin if you prefer.
If you don't have ground rosemary, use finely minced fresh rosemary or grind some dried rosemary in a mortar and pestle.
This chicken was adapted from a recipe in Eat This Book by Tyler Florence. I got this book as a prize from a blog that no longer exists, and I miss Lisa who was the blogging friend who gave me the book!
Nutrition Information:
Yield:
4
Serving Size:
1
Amount Per Serving:
Calories: 833
Total Fat: 55g
Saturated Fat: 15g
Unsaturated Fat: 39g
Cholesterol: 436mg
Sodium: 729mg
Carbohydrates: 7g
Fiber: 2g
Sugar: 2g
Protein: 83g
Nutrition information is automatically calculated by the Recipe Plug-In I am using. I am not a nutritionist and cannot guarantee 100% accuracy, since many variables affect those calculations.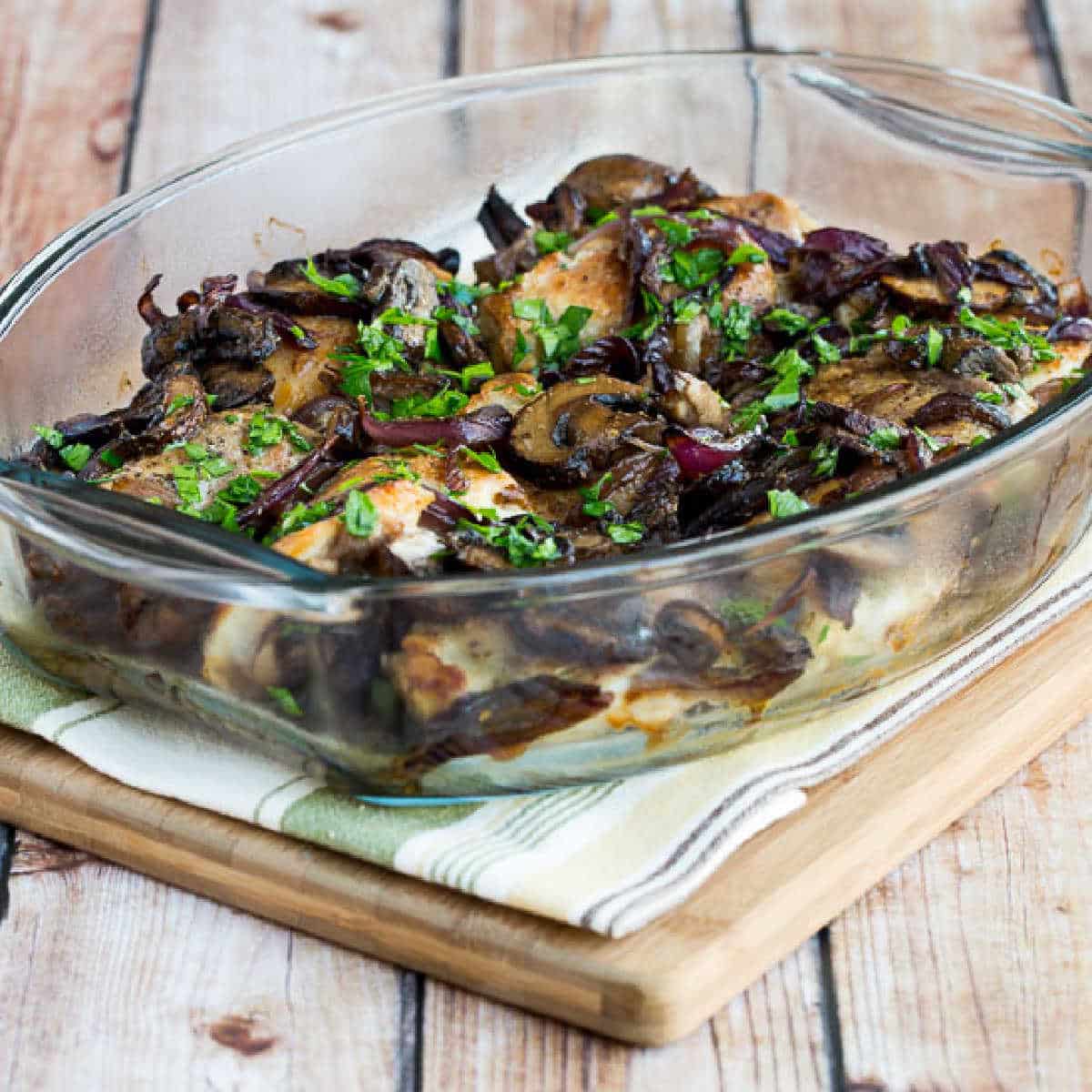 Low-Carb Diet / Low-Glycemic Diet / South Beach Diet& Suggestions:
These roasted Chicken Thighs with Mushrooms are great for any Keto, low-carb, or low-glycemic eating plan, some of which might prefer to keep the chicken skin. Chicken thighs have always been a limited food for the original South Beach Diet because of the saturated fat, but I trim the thighs well with my kitchen shears, and truthfully I'm not as worried about saturated fat any more; you decide whether you think this is okay for South Beach.
Find More Recipes Like This One:
Use Oven Dinners to find more recipes like this one. Use the Diet Type Index to find recipes suitable for a specific eating plan. You might also like to follow Kalyn's Kitchen on Pinterest, on Facebook, on Instagram, on TikTok, or on YouTube to see all the good recipes I'm sharing there.
Historical Notes for this Recipe:
This recipe was first posted in 2006! The photos were updated in 2015 and the recipe was last updated with more information in 2022.
We are a participant in the Amazon Services LLC Associates Program, an affiliate advertising program designed to provide a means for us to earn fees by linking to Amazon.com and affiliated sites. As an Amazon Associate, I earn from qualifying purchases.