Garlicky Green Beans Stir Fry
This Garlicky Green Beans Stir Fry is a great way to cook fresh green beans and you'll make this over and over once you try it! See tips for making this recipe slightly lower in carbs if you prefer.
PIN this tasty Green Beans Stir Fry to try it later!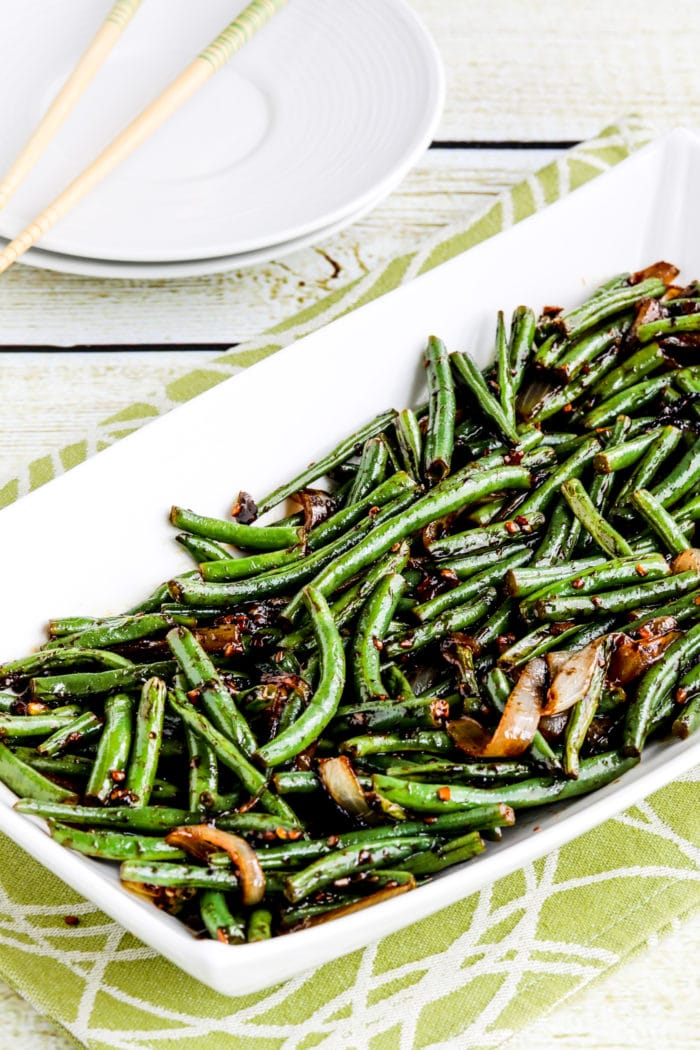 You've probably had stir-fried green beans at your favorite Chinese restaurant, right? And this Garlicky Green Beans Stir Fry has to be one of the easiest recipes ever for this type of dish, only six ingredients, plus a bit of water!
Green Beans used to be one of those vegetables I didn't know what to do with, but all my thoughts about green beans changed after I grew beans in my garden and made fresh green beans into this stir fry. Seriously, I could eat beans every day if they were cooked like this.
Now I buy those lovely green beans at Costco regularly and have a whole section of Green Bean Recipes on the blog! But even with all those tasty options for cooking green beans, this recipe for a tasty green beans stir fry is one I make over and over. And for this dish I used those five principles I learned in a Chinese cooking class many years ago!
Principles of Chinese Cooking:
Preheat the wok (before you put the oil in.)
Season the oil (with whole pieces of garlic and sometimes ginger root, which you often remove when you add the food to be cooked.)
Symmetry of cut (all pieces must be cut the same size and shape.)
Have all ingredients cut and sauces mixed before you cook.
Use very high heat and cook fast.
What ingredients do you need for this recipe?
(This is only a list of ingredients; please scroll down for complete printable recipe. Or if you use the JUMP TO RECIPE link at the top of the page, it will take you directly to the complete recipe.)
How can you make this Green Beans Stir Fry lower in carbs?
This recipe is pretty low in net carbs, but if you want a version that's even lower in carbs, just replace one tablespoon of the Oyster Sauce with soy sauce.
How to make Garlicky Green Beans Stir Fry:
(This is only a summary of the steps for the recipe; please scroll down for complete printable recipe. Or if you use the JUMP TO RECIPE link at the top of the page, it will take you directly to the complete recipe.)
I trimmed both ends of the beans and cut the beans into pieces about 2 inches long.
Cut onion into slivers and chop the garlic (or use minced garlic from a jar, no problem.)
Start by heating the wok or pan over very high heat for 1-2 minutes, then add oil and heat about 30 seconds more. (The oil should look slightly shimmery at this point but you can't tell in the photo.)
Then add onions and garlic and stir fry for about 30 seconds. (In this recipe the garlic is kept in the dish, which is a slight variation from the Chinese cooking principles where garlic just seasons the oil.)
Then add the beans and a bit of salt and cook for about 2 minutes, stirring several times.
Next add a tablespoon of water, cover and let the beans steam for about 5 minutes. (I peeked once to see if it needed more water, and added about a tablespoon more.)
Stir in the oyster sauce or Gluten-Free Oyster Sauce (affiliate link) and stir-fry about 2 minutes more, until all the beans are well-coated with sauce.
The beans should still have a slight crunch when they're done. Serve hot and enjoy!
More Vegetable Stir-Fry Dishes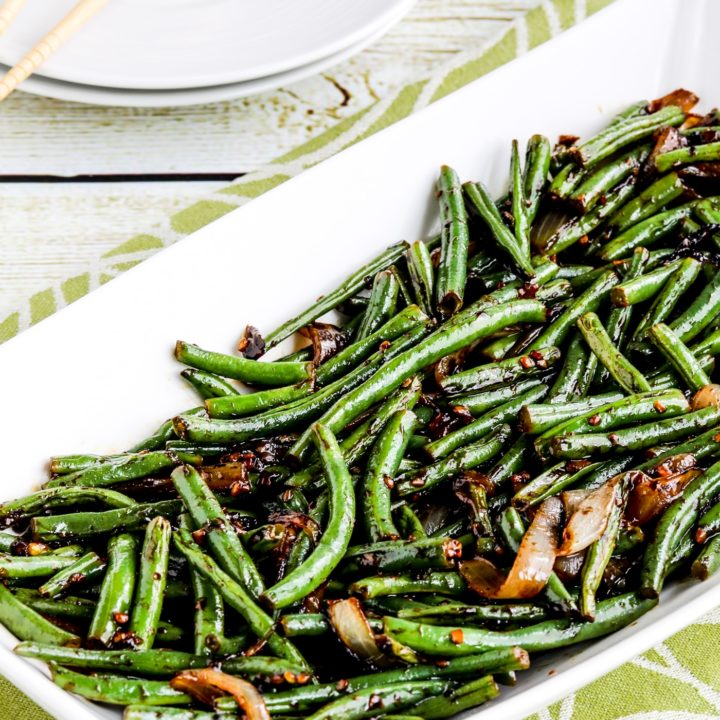 Yield: 4 servings
Garlicky Green Beans Stir Fry
Prep Time 15 minutes
Cook Time 10 minutes
Total Time 25 minutes
This recipe for Garlicky Green Beans Stir Fry is  a perfect choice for cooking fresh green beans, and I've also made it many times with those lovely thin green beans from Costco!
Ingredients
1 lb. fresh green beans
2 T peanut oil
2 T minced garlic
1/2 small yellow onion, cut in half top-to-bottom and then into slivers the same size as the beans
1/4 tsp. salt
2 T water (plus a bit more if you check and the pan seems dry)
2 T oyster sauce or gluten-free oyster sauce (see notes)
Instructions
Trim both ends of green beans. (I do this by taking a handful of beans, standing them up in my hand, loosely enough that they fall down to the cutting board and ends line up, trim that end, the turn over and line up the other side and trim.)
Cut green beans into 2 inch lengths. If you're using garden beans, wash beans and spin dry in salad spinner (affiliate link) or wash and dry with paper towels. (Purchased beans probably won't need washing.)
Heat the wok or a heavy frying pan over high heat for 1-2 minutes, until it's too hot to hold your hand over it.
Add the oil and heat about 30 seconds more, then add the garlic and onion slivers and cook for 30 seconds, stirring the whole time.
Add beans and salt and cook about 2 minutes, stirring several times.
Then add water, cover wok, and let beans steam for 5 minutes. (I checked once to see if the pan seemed dry and added about 1 tablespoon more water.)
Uncover the pan and add oyster sauce, then cook 2 minutes more, stirring so all the beans are uniformly covered with the sauce.
Beans should still be slightly crisp when they're done. Serve hot.
This can be kept in the refrigerator for a day or two and reheated in the microwave, but you probably won't have any left over.
Nutrition Information:
Yield:
4
Serving Size:
1
Amount Per Serving:
Calories: 109
Total Fat: 7.1g
Saturated Fat: 1.2g
Unsaturated Fat: 5.4g
Cholesterol: 0mg
Sodium: 399mg
Carbohydrates: 11g
Fiber: 3.3g
Sugar: 4.1g
Protein: 2.6g
Nutrition information is automatically calculated by the Recipe Plug-In I am using. I am not a nutritionist and cannot guarantee 100% accuracy, since many variables affect those calculations.
Low-Carb Diet / Low-Glycemic Diet / South Beach Diet Suggestions:
I didn't find a low-carb oyster sauce, but since everything else is relatively low in net carbs this is still suitable for most low-carb diet plans and for Phase two or three of the original South Beach Diet. If your store has several brands of Oyster Sauce, choose the one with the lowest amount of sugar. For strict low-carb or Keto or South Beach Phase one, I would replace one tablespoon of the Oyster Sauce with soy sauce to cut down the carbs.
Find More Recipes Like This One:
Use Stir Fries to find more recipes like this one. Use the Diet Type Index to find recipes suitable for a specific eating plan. You might also like to follow Kalyn's Kitchen on Pinterest, on Facebook, on Instagram, on TikTok, or on YouTube to see all the good recipes I'm sharing there.
Historical Notes for this Recipe:
This recipe was first posted in 2009, and I have made it many times since then. The photos were updated and the recipe was updated with more information in 2021. The recipe was last updated with more information in 2023.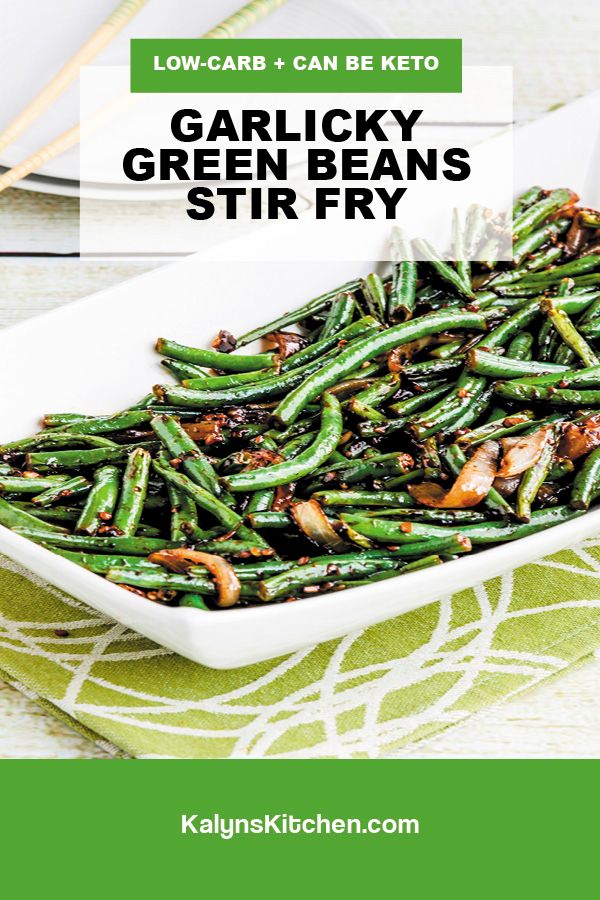 We are a participant in the Amazon Services LLC Associates Program, an affiliate advertising program designed to provide a means for us to earn fees by linking to Amazon.com and affiliated sites. As an Amazon Associate, I earn from qualifying purchases.