Keto Brussels Sprouts Recipes
I'm going to be recommending low-carb Thanksgiving recipes for the next few weeks, and today it's Keto Brussels Sprouts Recipes! And this round-up has 20 different ideas for Keto Brussels Sprouts that would be great for a special meal, so don't make them just for Thanksgiving!
PIN Keto Brussels Sprouts Recipes to try some later!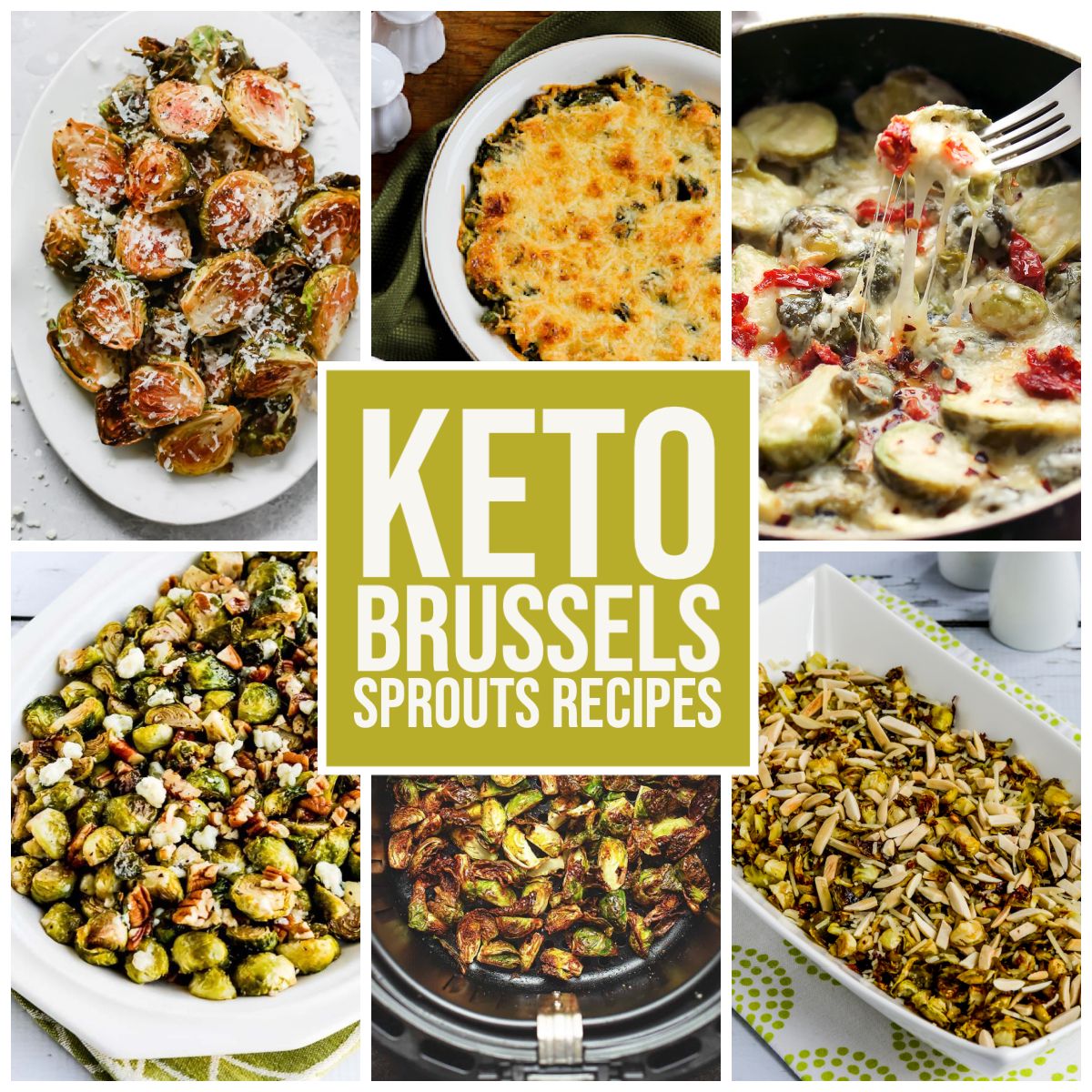 This year it feels like big Thanksgiving dinners are happening again. And if you asked me what dishes are a Thanksgiving "must-have" side dish, I would say Brussels Sprouts every time.
My family has a few Brussels sprouts avoiders, but any one of these Keto Brussels Sprouts Recipes would be a hit with the family members who do enjoy Brussels sprouts. And I promise, Brussels Sprouts can be delicious when they're prepared well.
I'm partial to roasted Brussels Sprouts, but other high-heat methods can also produce good results. And of course there is cheese. The combination of Brussels Sprouts + cheese is pretty epic, which is why cheese is included in so many of these Keto Brussels Sprouts recipes.
Want more ideas using Keto Brussels Sprouts?
If you're a Brussels Sprouts fan like I am, I hope you check out all the ideas here for Keto Brussels Sprouts as a side dish! You can use Brussels Sprouts to see all the Brussels Sprouts recipes on the blog!
How do you get the complete recipe?
Just click any recipe title to see the full recipe on the original blog. All photos are copyrighted by the blog that originally published the recipe.
More Low-Carb Thanksgiving Ideas: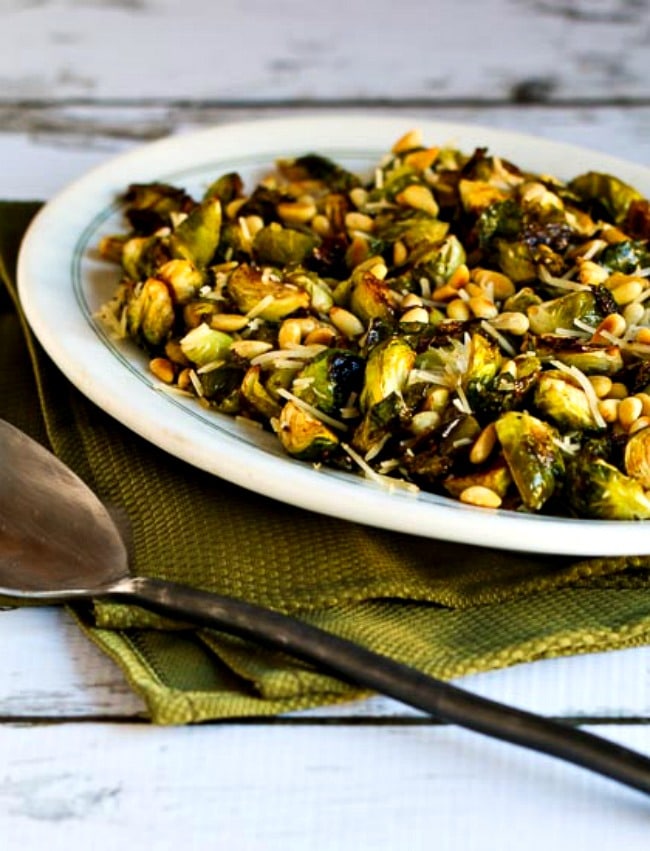 Roasted Brussels Sprouts with Balsamic, Parmesan, and Pine Nuts was the very first Brussels Sprouts recipe to ever appear on Kalyn's Kitchen (back in 2007!) and thousands and thousands of people have made this for Thanksgiving. It's even converted a few Brussels Sprouts avoiders to fans.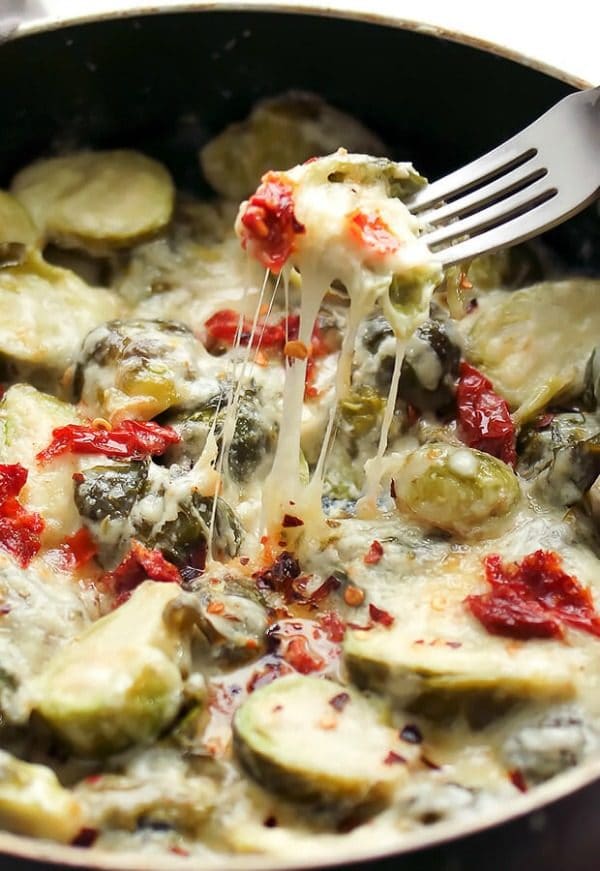 Who else is swooning over these One-Pan Pepper Jack Brussels Sprouts from Ruled Me? You can never go wrong with Brussels Sprouts + cheese!
One recipe that's just SO good is these Shredded Roasted Brussels Sprouts from Kalyn's Kitchen. This recipe recently got new photos, and we devoured it after we finished snapping the pictures!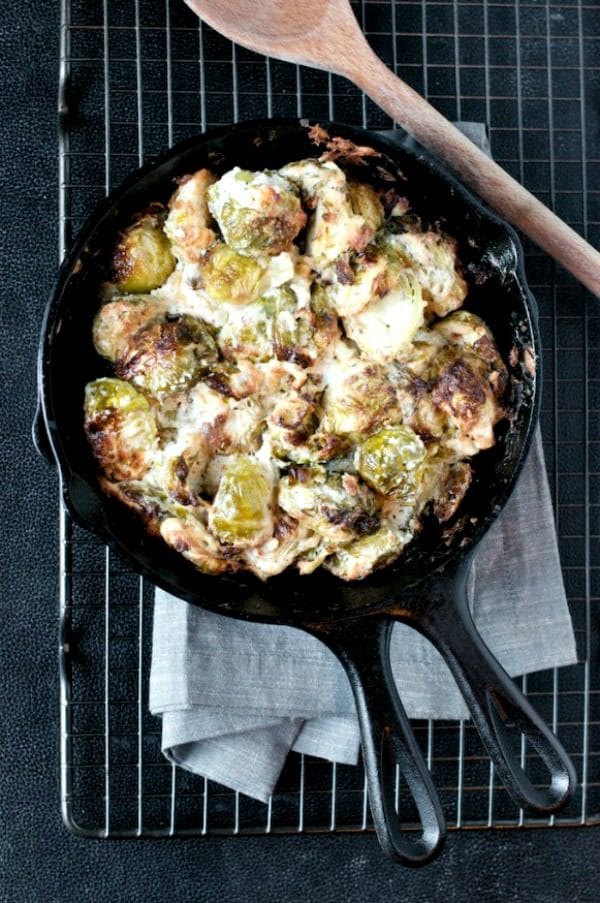 There's going to be a recurring theme here of Brussels Sprouts + cheese, starting with these Baked Brussels Sprouts with Parmesan Cheese from White on Rice Couple. And yum!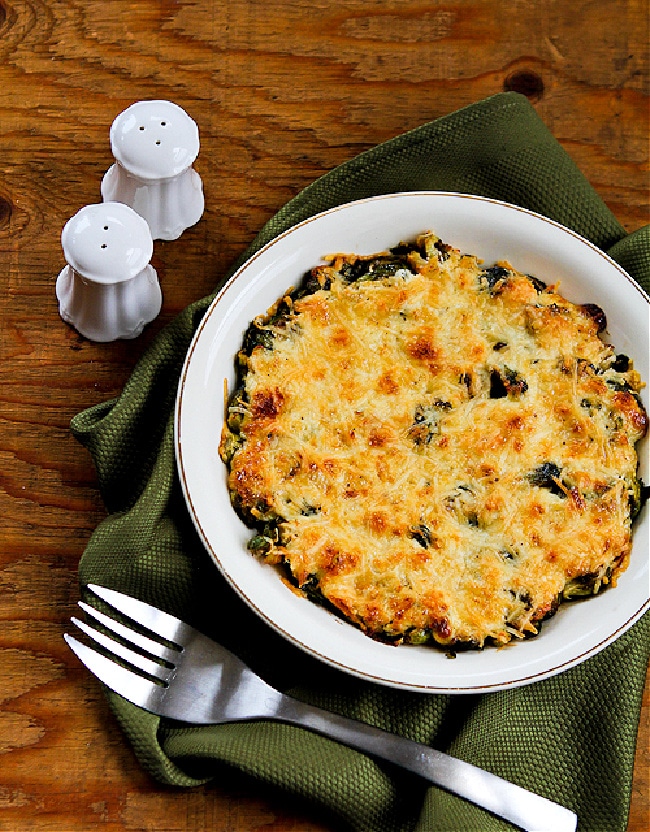 Please don't make me do it, but if I ever had to pick just one Brussels Sprouts recipe it would have to be this Easy Brussels Sprouts Gratin from Kalyn's Kitchen. The recipe uses Swiss and Parmesan cheese for a double dose of cheesiness, and if you like Brussels Sprouts, this is a MUST-TRY!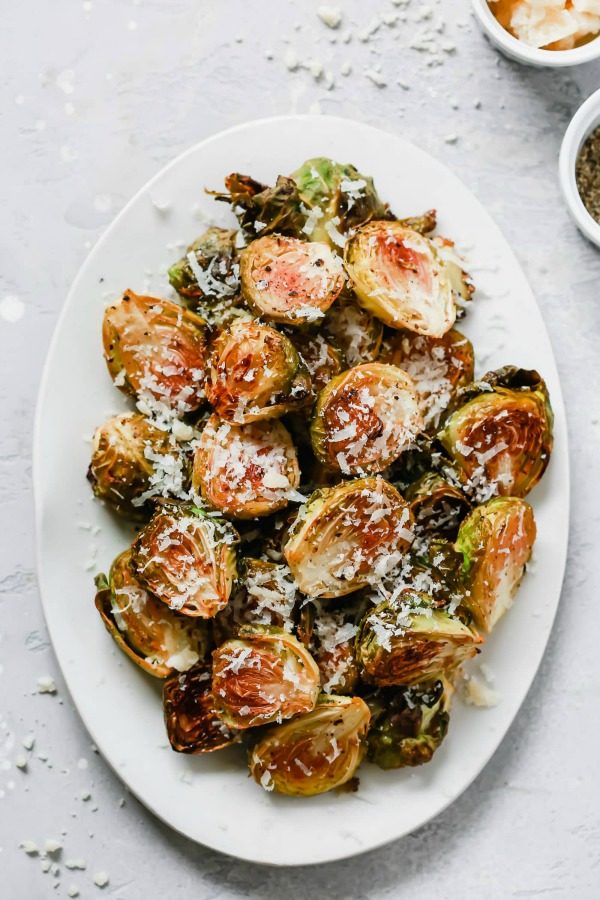 Don't you think these Garlic Parmesan Roasted Brussels Sprouts from Primavera Kitchen sound amazing, and Olivia says this recipe is also super easy!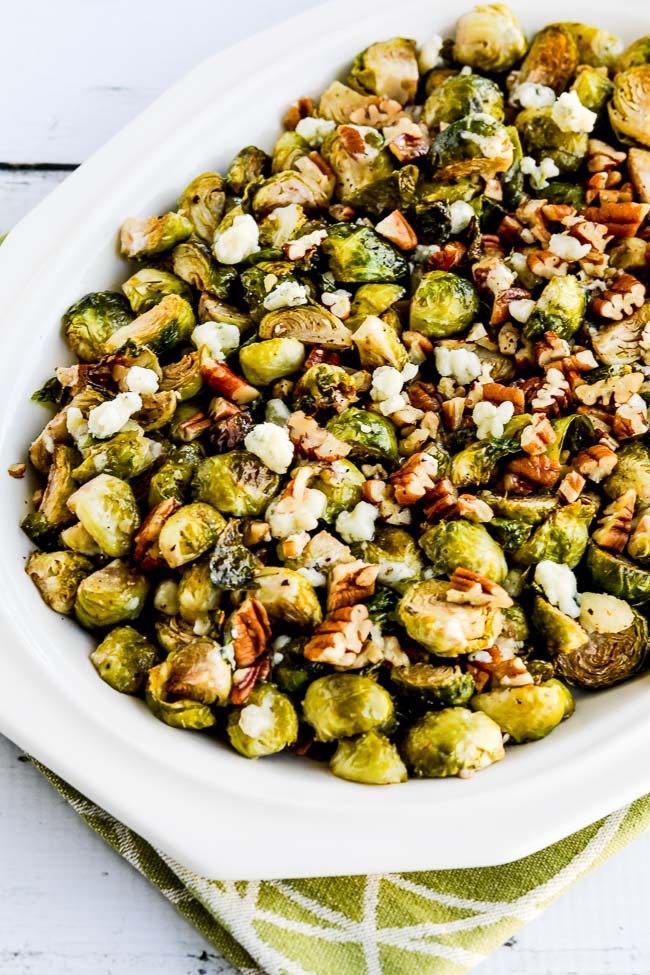 I mentioned my fondness for roasted Brussels Sprouts, and these Roasted Brussels Sprouts with Pecans and Gorgonzola from Kalyn's Kitchen have been a hit with the family members who are Brussels Sprouts fans!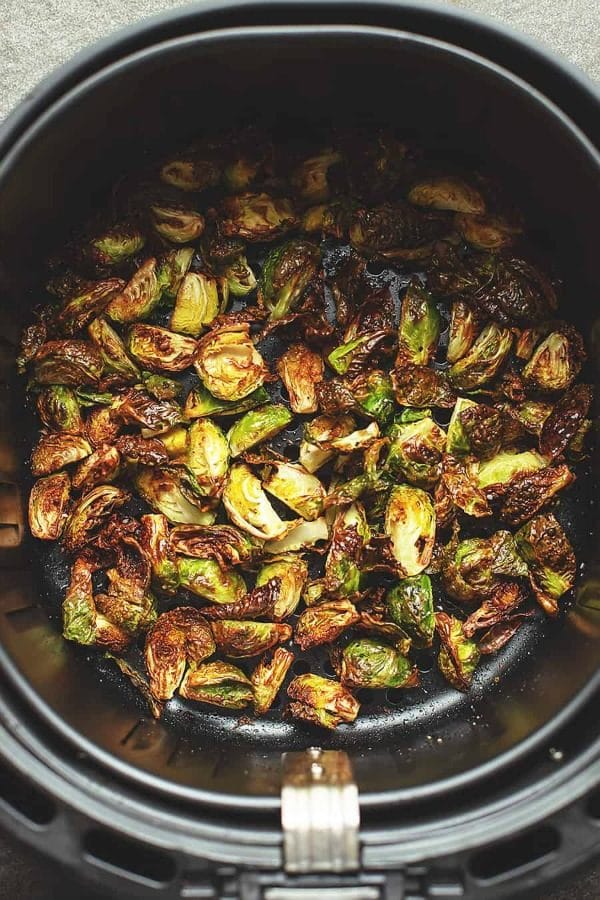 I'm slowly becoming a convert to the Air Fryer since I got this Cuisinart Convection Air Fryer Toaster Oven (affiliate link), and these Air Fryer Brussels Sprouts from Low Carb with Jennifer just went on my must-try list!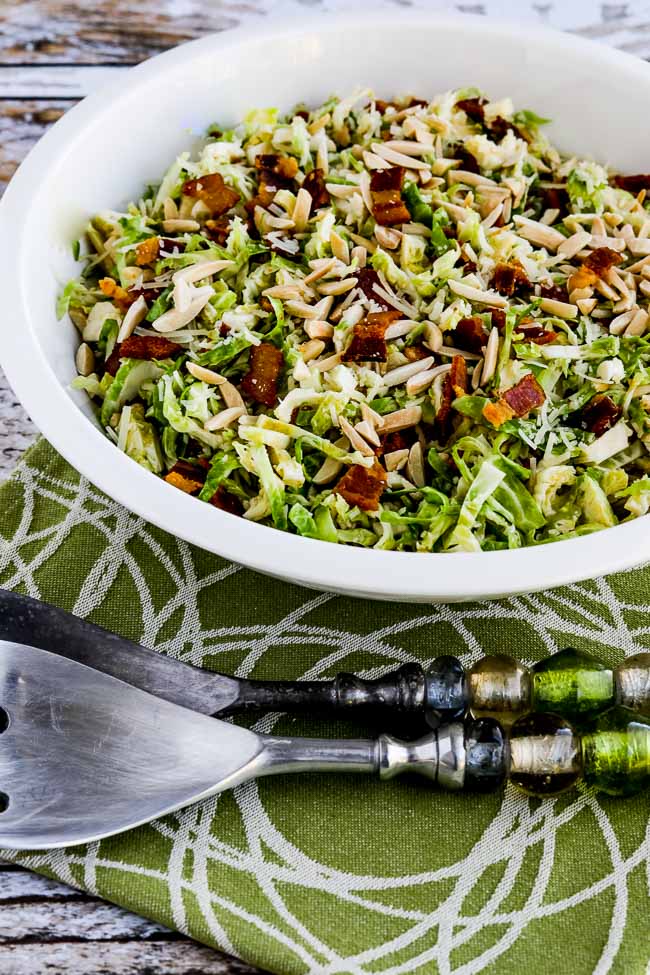 Even a few of the Brussels Sprouts avoiders in my family like this Brussels Sprouts Salad with Bacon, Almonds, and Parmesan from Kalyn's Kitchen. You can toss in a few dried cranberries as well if you're making it for a Thanksgiving salad and don't mind the extra carbs.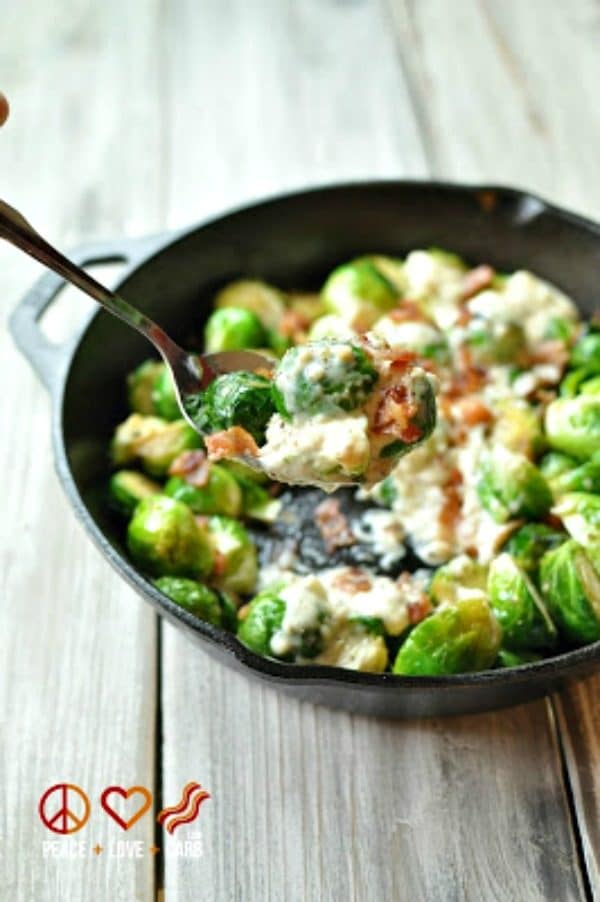 I'd say "Yes, please" to these Skillet Roasted Bacon Brussels Sprouts with Garlic Parmesan Cream Sauce from Peace Love and Low Carb. And yes, that's a lot of indulgent ingredients in the same recipe, but remember these are holiday dishes!
More Drool-Worthy Keto Brussels Sprouts:
We are a participant in the Amazon Services LLC Associates Program, an affiliate advertising program designed to provide a means for us to earn fees by linking to Amazon.com and affiliated sites. As an Amazon Associate, I earn from qualifying purchases.