Wild Rice Stuffing with Sausage and Mushrooms
Wild Rice Stuffing with Sausage and Mushrooms is a gluten-free stuffing idea for Thanksgiving, or just serve it as a tasty side dish. And wild rice is lower in carbs than you might think, so this wild rice sausage stuffing idea is surprisingly low in net carbs!
PIN Wild Rice Stuffing with Sausage and Mushrooms to try it later.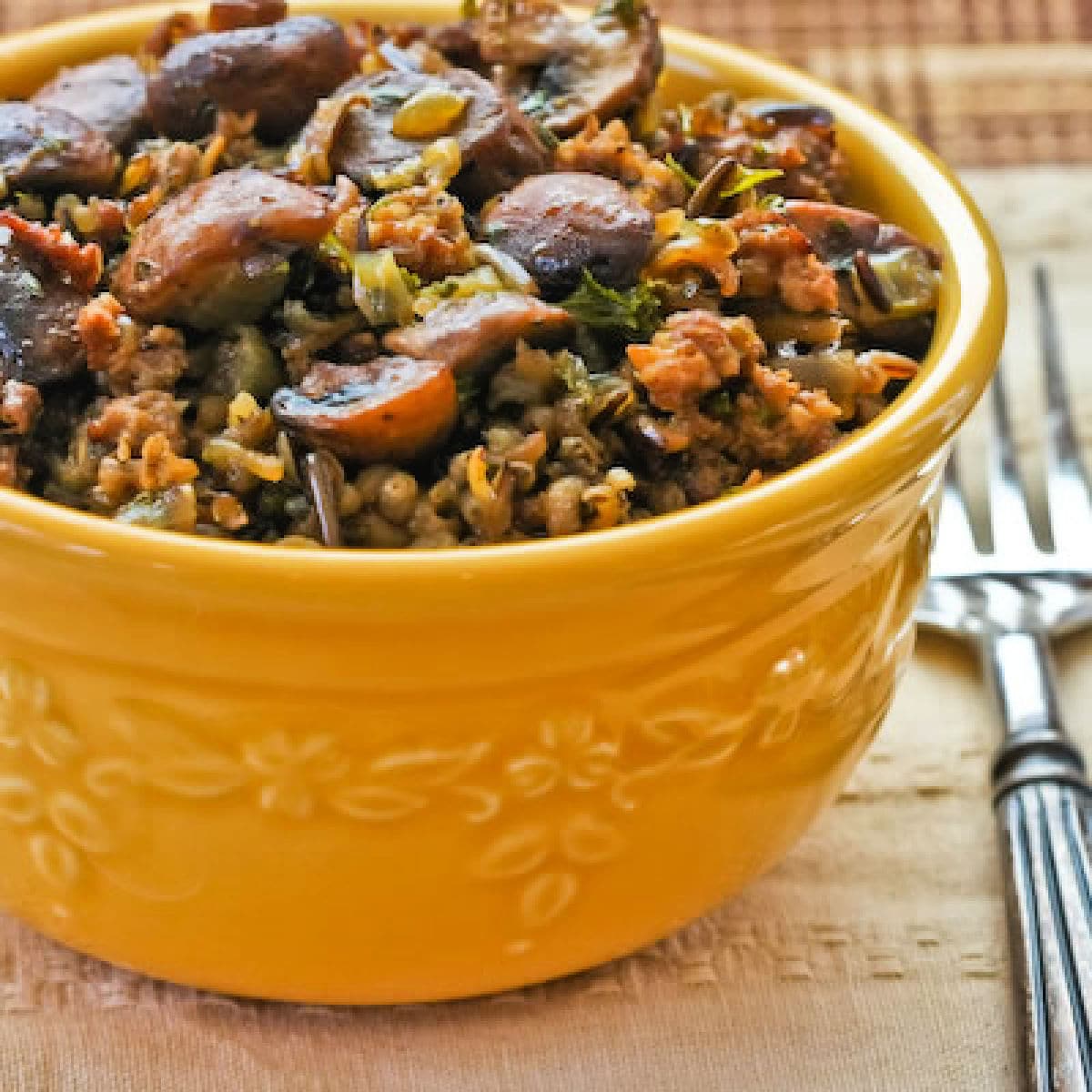 This Wild Rice Stuffing with Sausage and Mushrooms uses wild rice as the main ingredient, with sausage, mushrooms, and fresh or dried thyme adding so much flavor. And I'm reminding you about this favorite recipe for Friday Favorites because this is such a tasty idea for a gluten-free stuffing for Thanksgiving.
And this recipe is great as a stuffing or side dish, but when I took these photos I enjoyed just eating a bowl of it for a quick lunch. I'm such a fan of wild rice, and I'm hoping this recipe can get you interested in trying it if you've never cooked with this interesting ingredient.
Even though it has rice in the name, wild rice is relatively low in carbs! You may have seen products where the distinctive long pieces of wild rice are mixed with regular rice and that type of mix isn't low in carbs, but wild rice is so delicious used as a low-carb ingredient by itself.
What ingredients do you need for this recipe?
(This is only a list of ingredients; please scroll down for complete printable recipe. Or if you use the JUMP TO RECIPE link at the top of the page, it will take you directly to the complete recipe.)
Wild Rice (affiliate link)
canned chicken broth (affiliate link) or turkey stock
butter
pork sausage
onion
fresh thyme
brown mushrooms
fresh parsley
black pepper
What is Wild Rice?
Wild Rice is a species of grass that's grown in North America and China, and it's actually a seed that's cooked like rice and used in recipes the same way as rice. It's chewy and flavorful and high in protein, low in carbs, and gluten-free which makes is a tasty ingredient to add to soups, salads, or to use in side dishes like this recipe.
What sausage did I use for the Wild Rice Stuffing?
I used ground pork sausage for this recipe, but use turkey sausage if you prefer.
What mushrooms did I use for the Wild Rice Stuffing?
I used brown Cremini mushrooms for this recipe, but regular white mushrooms would also be fine.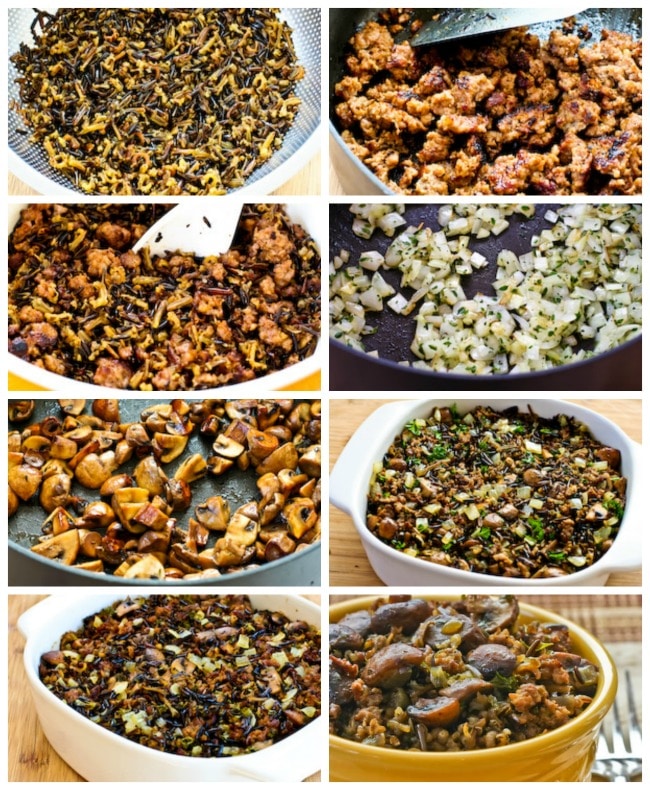 How to Make Wild Rice Stuffing with Sausage and Mushrooms:
(Scroll down for complete recipe with nutritional information.)
Wild Rice (affiliate link) isn't a quick cooking food, and if the rice you use has been sitting on the shelf for a while it may take even longer to cook. You need to simmer it in stock until some of the rice grains start to split apart and it's soft but slightly chewy.
When the rice is nearly done, start to brown the sausage. I used Jimmy Dean Pork Sausage, but this would be great with turkey sausage as well.
Mix the cooked wild rice and browned sausage in a bowl, then saute the onions and then the mushrooms.
Cooking the onions with plenty of chopped fresh thyme adds a lot of flavor to this dish, but I think you could use Dried Thyme (affiliate link) here with good results.
I used brown mushrooms, but you can use regular white mushrooms if that's what your store carries. Whichever type you use, be sure the mushrooms are well browned when you cook them.
Mix the cooked onions and mushrooms into the wild rice/sausage mixture, then add 1/2 cup stock and some chopped parsley, put it in a casserole dish and cover with the lid or foil.
Bake 30 minutes, or until it's piping hot and most of the stock has been absorbed. Serve hot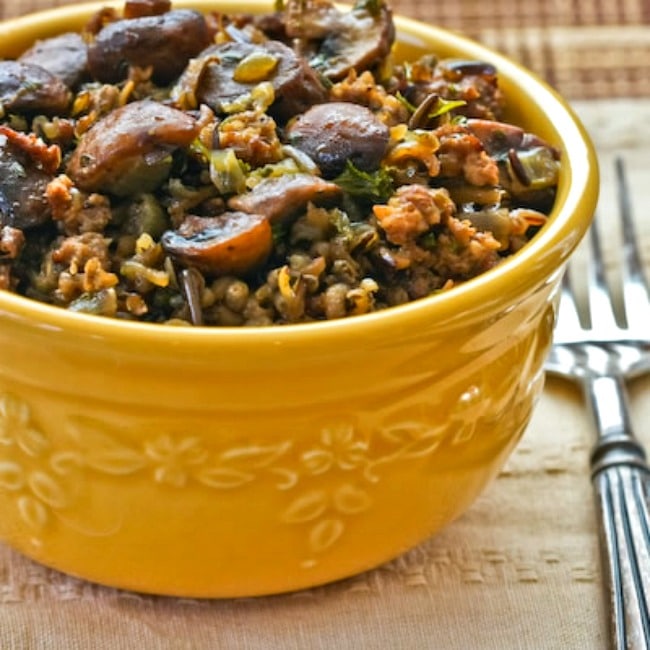 More Tasty Recipes with Wild Rice: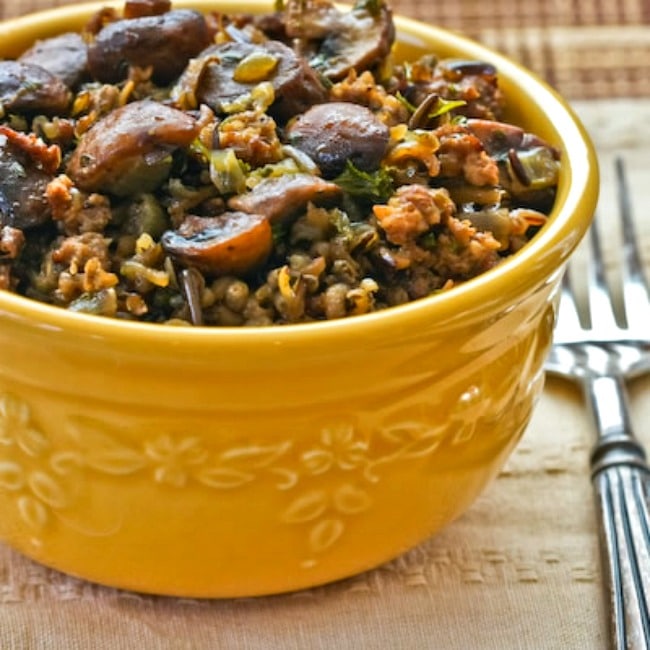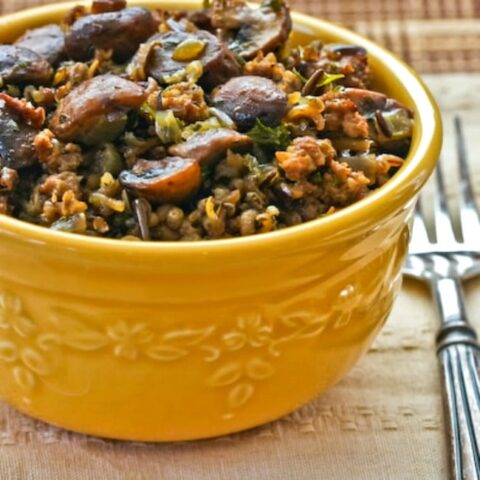 Yield: 6 servings
Wild Rice Stuffing with Sausage and Mushrooms
Prep Time 1 hour 32 minutes
Cook Time 30 minutes
Total Time 2 hours 2 minutes
Wild Rice Stuffing with Sausage and Mushrooms could be a gluten-free stuffing idea for Thanksgiving, or just serve it as a side dish any time of year.
Ingredients
2/3 uncooked cup wild rice, rinsed and drained
3 cups plus 1/2 cup chicken or turkey stock, homemade or canned
2 T butter (see notes)
one 12 oz. pkg. ground pork sausage (see notes)
1 small onion, finely chopped
1 T finely chopped fresh thyme leaves (see notes)
12 oz brown mushrooms, stems removed and coarsely chopped
3 T finely chopped fresh parsley
fresh ground black pepper to taste
Instructions
In saucepan combine wild rice and 3 cups stock. (Original recipe added salt, but I didn't think it needed it.)
Bring to a gentle simmer, cover, and cook until rice is tender, about 60 minutes. or longer if the rice has been stored for a while. (I cooked the wild rice at the lowest possible simmer, in a pan with a very tight fitting lid. You will probably need to check after a few minutes, and possibly add some water during the cooking time, depending on how old the wild rice is, how tight the lid is on your pan, and how low your stove burner goes.)
Rice should be tender to the bite with some grains starting to break apart when it's done.
Dump rice into colander and let it drain well. Begin preheating oven to 350F/175C.
In medium sized frying pan, cook sausage over medium-high heat until it is lightly browned. I use a potato masher (affiliate link) to break the sausage into small pieces as it cooks.
Drain off any excess fat and add sausage to the cooked rice. Put drained rice and sausage into a mixing bowl.
Wipe out pan with a paper towel if there is a lot of fat, then heat 1 T butter, add onions and cook on low until starting to turn golden, about 10 minutes. Add the chopped thyme and cook 2 minutes more. Add thyme/onion mixture to the rice.
Add 1 T more butter to frying pan as needed, add chopped mushrooms and saute until lightly browned and all liquid has evaporated, about 10 minutes. Add mushrooms to the wild rice mixture.
Add the chopped parsley and 1/2 cup stock and season with black pepper to taste. Transfer mixture to glass or crockery casserole dish with a lid.
Bake until heated through, about 30 minutes. Serve hot.
Notes
Use butter or olive oil, whichever you prefer. Use lower-fat turkey sausage if you prefer. If you don't have fresh thyme use 1-2 tsp. dried thyme.
Recipe adapted from Thanksgiving Wild Rice at the Food Network.
Nutrition Information:
Yield:
6
Serving Size:
1
Amount Per Serving:
Calories: 301
Total Fat: 22g
Saturated Fat: 8g
Trans Fat: 0g
Unsaturated Fat: 12g
Cholesterol: 71mg
Sodium: 561mg
Carbohydrates: 11g
Fiber: 2g
Sugar: 3g
Protein: 17g
Nutrition information is automatically calculated by the Recipe Plug-In I am using. I am not a nutritionist and cannot guarantee 100% accuracy, since many variables affect those calculations.
Low-Carb Diet / Low-Glycemic Diet / South Beach DietSuggestions:
Wild rice is actually a grass seed and not really rice, and it's higher in protein, more nutritious, high in fiber, and lower on the glycemic index than rice. That makes this Wild Rice Stuffing with Sausage and Mushrooms a good choice for the original South Beach Diet Phase 2, and other low-glycemic eating plans. Wild Rice is also relatively low in carbs, and if you use portion control this dish can work for low-carb diet plans.
Find More Recipes Like This One:
Use Side Dishes to find more recipes like this one. Use the Diet Type Index to find more recipes suitable for a specific eating plan. You might also like to follow Kalyn's Kitchen on Pinterest, on Facebook, on Instagram, on TikTok, or on YouTube to see all the good recipes I'm sharing there.
Historical Notes for this Recipe:
Wild Rice Stuffing with Sausage and Mushrooms was first posted in 2009! It was updated with better photos in 2013 and last updated with more information in 2023.
We are a participant in the Amazon Services LLC Associates Program, an affiliate advertising program designed to provide a means for us to earn fees by linking to Amazon.com and affiliated sites. As an Amazon Associate, I earn from qualifying purchases.