Grilled Asparagus with Parmesan
Grilled Asparagus with Parmesan is perfect for grilling season, and asparagus fans will love this easy way to cook asparagus on the grill. And you can cook the grilled asparagus on a stove-top grill pan if that's what works at your house.
PIN Grilled Asparagus with Parmesan to try it later!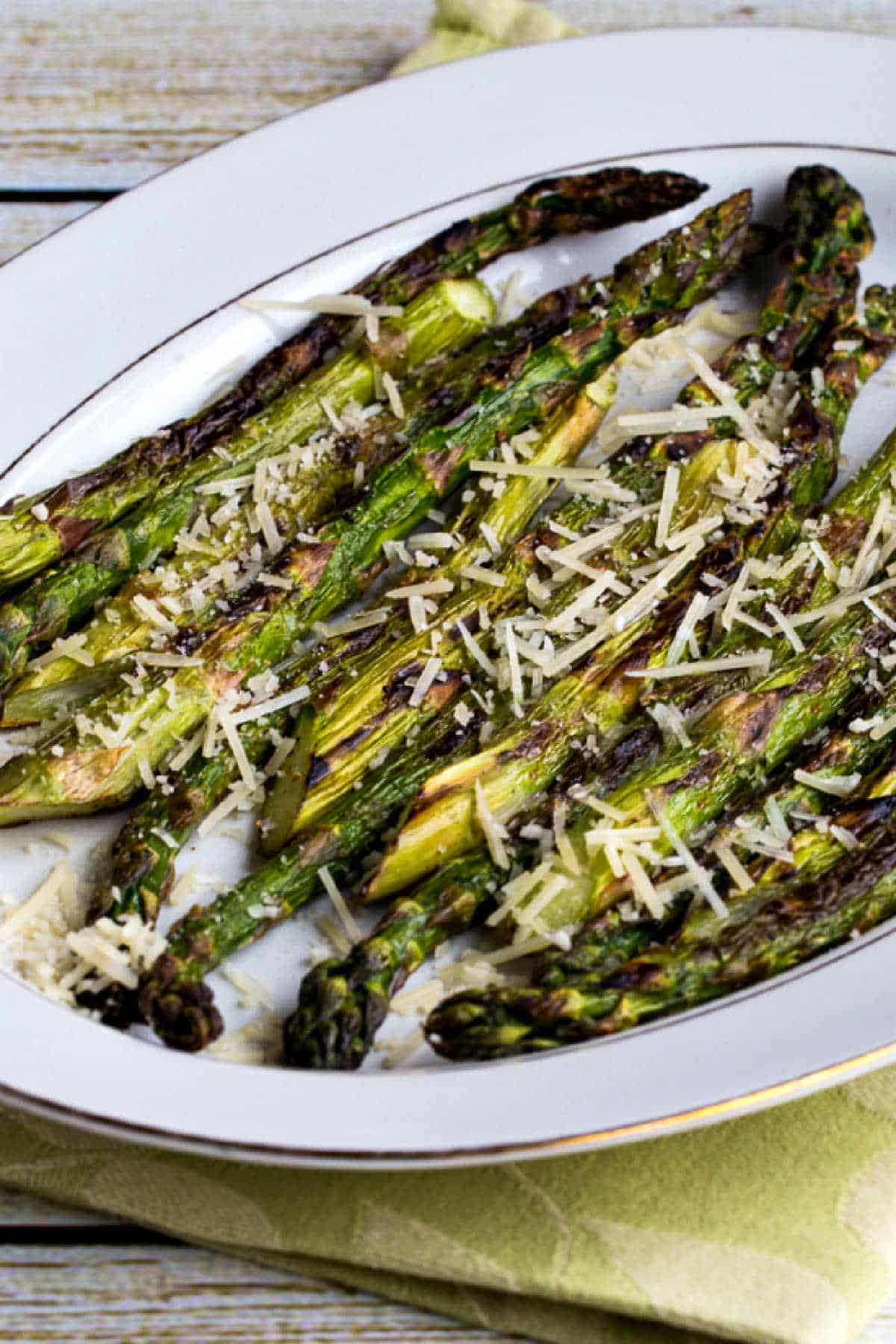 Warm weather is coming, and I always get so excited about grilling season so I can make tasty dishes like this Grilled Asparagus with Parmesan. So for everyone who likes asparagus, I want to remind you about this ultra-easy way to cook it that's always a hit!
Asparagus takes only about 10 minutes to get perfectly cooked on the grill, or maybe a little less if you like your asparagus still slightly crisp. The grill adds amazing charred flavor to the grilled asparagus, and the coarsely-grated Parmesan bumps up the flavor even more.
And this is the perfect grilled vegetable to make for guests because it seems a bit fancy but is actually ridiculously easy to make. And if you use freshly-grated or shaved Parmesan Cheese, that will only improve the flavor for this grilled asparagus recipe!
What ingredients do you need for this recipe?
asparagus
extra-virgin olive oil
salt/pepper to taste
freshly grated parmesan cheese
How to choose Asparagus for this recipe:
Thicker spears of asparagus are best for making grilled asparagus. Look for asparagus that's firm with no signs of wilting and that has tips that are tightly closed. Here are tips on How to Choose Asparagus if you'd like to know more.
How to prep the Asparagus for Grilled Asparagus:
To prepare asparagus for grilling, first trim the asparagus. Pick one piece of asparagus, hold it by both ends, and snap off the end to see where the woody part of the stalk starts. Trim asparagus pieces to that length. (I like to trim ends on the diagonal, but your choice on that.)
You want the asparagus to be lightly coated with olive oil and seasoned with salt and pepper when you put it on the grill. You can do that by putting the asparagus spears in a plastic bag or plastic container, drizzling with a little oil, seasoning with salt and fresh-ground black pepper, and then mixing the asparagus around until it's lightly coated with oil.
What equipment do You need to make the recipe?
Having a BBQ Grilling Pan (affiliate link) is extremely helpful for making grilled asparagus. I prefer a rectangle-shaped grill pan so I can keep the asparagus pieces whole, but if your grill pan is square just cut the asparagus spears in half. There are many good grill pans, but I prefer one without a long handle so I can cook with the grill lid either open or closed.
I have several sizes of grill pans and can't imagine grilling without one. But if you don't have a grill pan and don't want to buy one, you can still make grilled asparagus. Just lay the asparagus spears perpendicular to the grill grates, and of course be extra careful that the asparagus doesn't fall through the grill when you're turning it!
What if you don't have an outdoor grill?
If you don't have an outdoor grill or it's not quite grilling weather, you can cook Grilled Asparagus with Parmesan on a Stovetop Grill Pan (affiliate link).
Are you an asparagus fan?
There have been a lot of Asparagus Recipes showing up here the last few months! Of course I know that some of you are just not fans of asparagus, so check out my other ideas for Low-Carb and Keto Grilled Vegetables if asparagus is just not for you.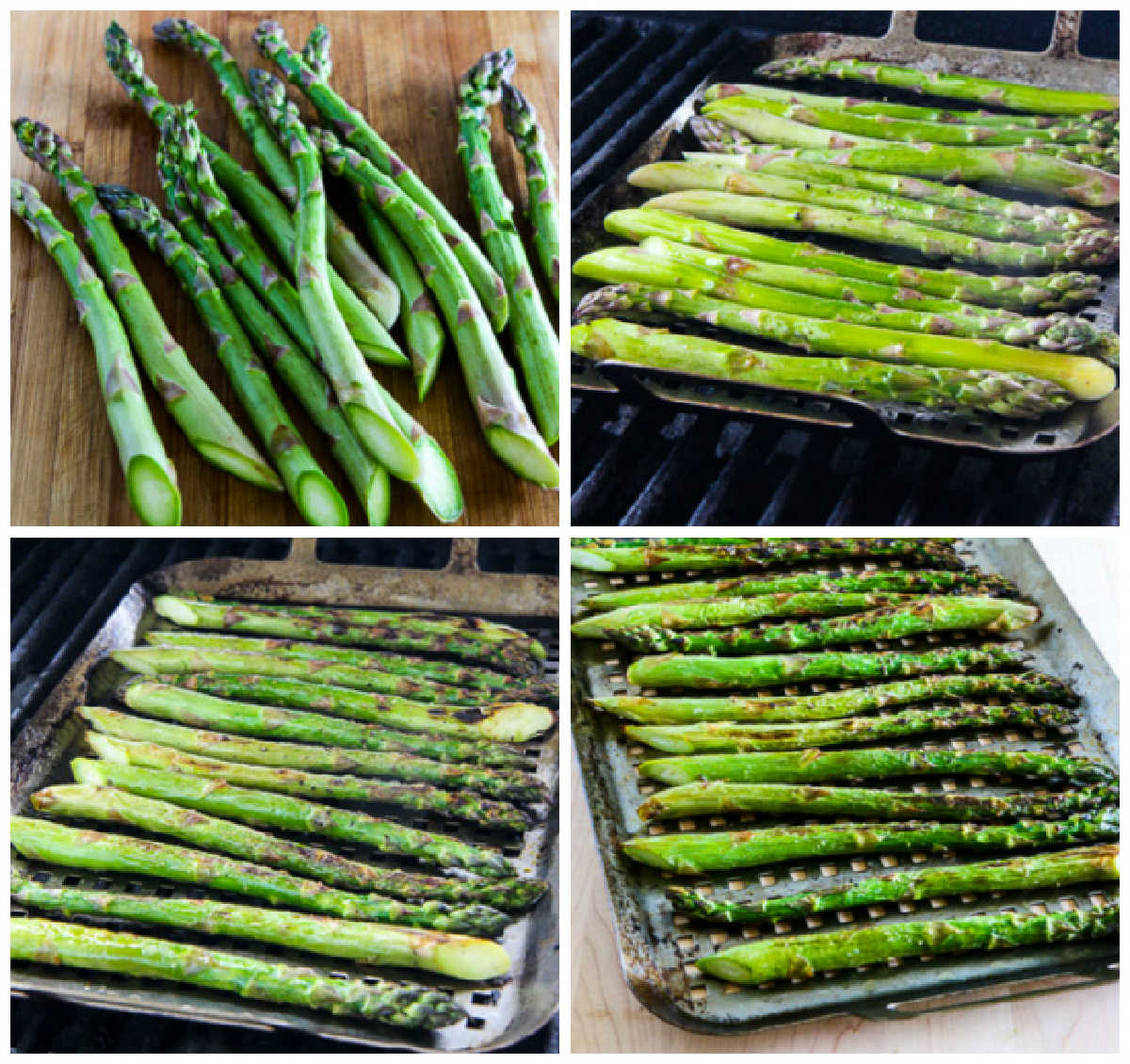 Steps for making Grilled Asparagus with Parmesan:
Choose larger spears of asparagus, which are perfect for grilling.
If you're using a BBQ Grilling Pan (affiliate link), place it on the grill while you preheat your grill to medium high.
Hold a piece of asparagus in your hands and snap off the end to see where the woody part starts; then trim asparagus pieces to that length.
Put asparagus in a Ziploc bag or plastic container, drizzle with oil, season with salt and pepper, and then brush or mix the asparagus around to be sure all the pieces are coated with oil
Lay asparagus on the grill pan or perpendicular to the grill grates if you're not using a grill pan.
Turn the asparagus every 2 minutes or so, until the asparagus is starting to char a bit and pieces are cooked through. I cooked the asparagus in these photos about 10 minutes, but if you like your asparagus slightly crisp you might need less time.
Sprinkle asparagus with coarsely grated Parmesan cheese and serve hot.
Grilled Asparagus with Parmesan is one of my favorite side dishes to make for guests when it's grilling season; enjoy!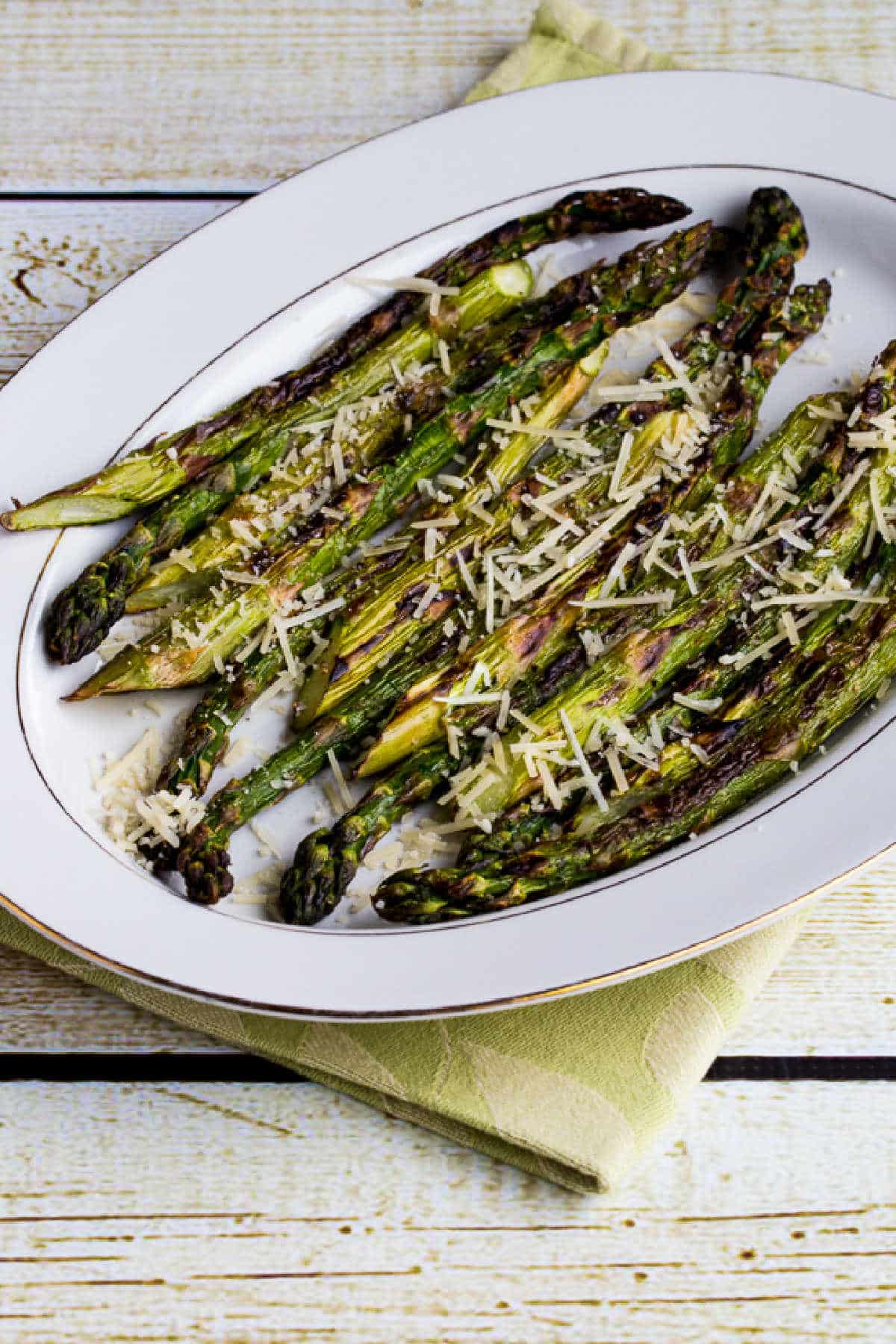 Make it a Low-Carb Meal:
Grilled Asparagus would be delicious with Garlic, Lemon, and Herb Grilled Chicken Breasts, Low-Carb Marinated Beef Kabobs, Very Greek Grilled Chicken, Grilled Chicken Kabobs with Asian Marinade, or Grain-Free Breaded Pork Chops for a low-carb dinner!
More Low-Carb Grilled and Roasted Veggies:
Grilled Mushrooms ~ Kalyn's Kitchen
Grilled Fajita Vegetable Skewers ~ A Spicy Perspective
Easy Grilled Vegetables ~ Kalyn's Kitchen
Oven-Fried Garlic Parmesan Green Beans ~ Sugar Free Mom
Easy Grilled Greek Zucchini ~ Kalyn's Kitchen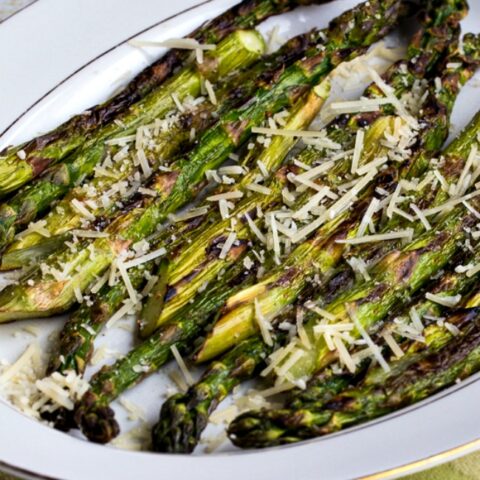 Yield: Makes 4 servings
Grilled Asparagus with Parmesan
Prep Time 10 minutes
Cook Time 10 minutes
Total Time 20 minutes
I think Grilled Asparagus with Parmesan is a perfect vegetable side dish for any summer dinner.
Ingredients
1 pound asparagus
1 T extra-virgin olive oil (or more, enough to coat all the asparagus with oil)
salt/pepper to taste
about 1/2 cup freshly grated parmesan cheese (more or less to taste)
Instructions
Preheat charcoal or gas grill to medium high heat. (You can only hold your hand over it for a few seconds at that temperature.)
Place grill-pan for vegetables (affiliate link) on top of grill and heat it while you prepare asparagus. (Depending on the pan, you may want to spray it with oil or non-stick spray.) You can also grill the asparagus directly on the grill if you choose larger spears and place them perpendicular to the grill grates, or cook this on a Stovetop Grill Pan (affiliate link) if it's too cold to grill outside.
Break one piece of asparagus to see where the tough part of the stem starts, then trim ends of asparagus all to that length.
Put trimmed asparagus pieces in a plastic bag (or use a pan) drizzle with olive oil, sprinkle with a little salt and pepper, then mix asparagus around in the bag or pan until it's well coated with olive oil.
Lay asparagus pieces on the grill pan and grill, turning every 2 minutes, until asparagus is getting nicely browned and is done to your liking. Cooking time will vary depending on your grill, but I cook it about 10 minutes for the charred asparagus I prefer.
Serve asparagus hot with freshly grated parmesan sprinkled over.
Notes
Recipe created by Kalyn and inspired by a long-time love for asparagus and cooking vegetables on the grill.
Nutrition Information:
Yield:
4
Serving Size:
1
Amount Per Serving:
Calories: 109
Total Fat: 7g
Saturated Fat: 2g
Trans Fat: 0g
Unsaturated Fat: 4g
Cholesterol: 11mg
Sodium: 387mg
Carbohydrates: 7g
Fiber: 2g
Sugar: 1g
Protein: 6g
Nutrition information is automatically calculated by the Recipe Plug-In I am using. I am not a nutritionist and cannot guarantee 100% accuracy, since many variables affect those calculations.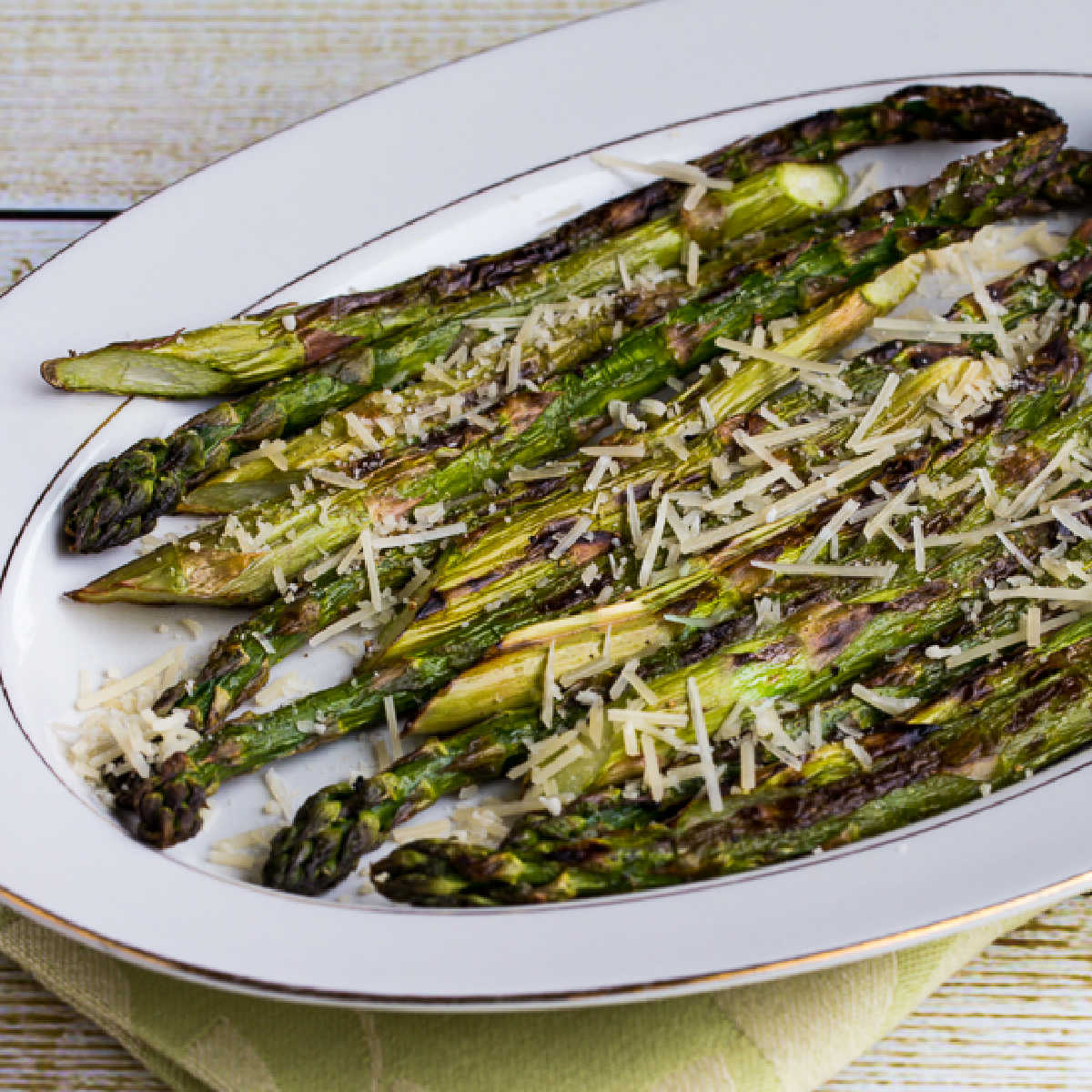 Low-Carb Diet / Low-Glycemic Diet / South Beach Diet Suggestions:
Grilled Asparagus with Parmesan is a perfect vegetable for any type of low-carb or Keto eating plan, including all phases of the original South Beach Diet.
Find More Recipes Like This One:
Use Asparagus Recipes or Side Dishes to find more recipes like this one.Use the Diet Type Index to find recipes suitable for a specific eating plan. You might also like to follow Kalyn's Kitchen on Pinterest, on Facebook, on Instagram, or on YouTube to see all the good recipes I'm sharing there.
Historical Notes for this Recipe:
This recipe was first posted in 2007 and I've probably made it every year since then! It was last updated in 2022.
We are a participant in the Amazon Services LLC Associates Program, an affiliate advertising program designed to provide a means for us to earn fees by linking to Amazon.com and affiliated sites. As an Amazon Associate, I earn from qualifying purchases.