Kalyn's Kitchen Picks: Sugar-Free Ketchup
I don't use a lot of ketchup compared to many people, but when I do have it I want it to be Sugar-Free Ketchup! And this is the brand of sugar-free ketchup I've used for a long time, so today I'm recommending it as one of my Kalyn's Kitchen Picks!
PIN this post about Sugar-Free Ketchup to find it later.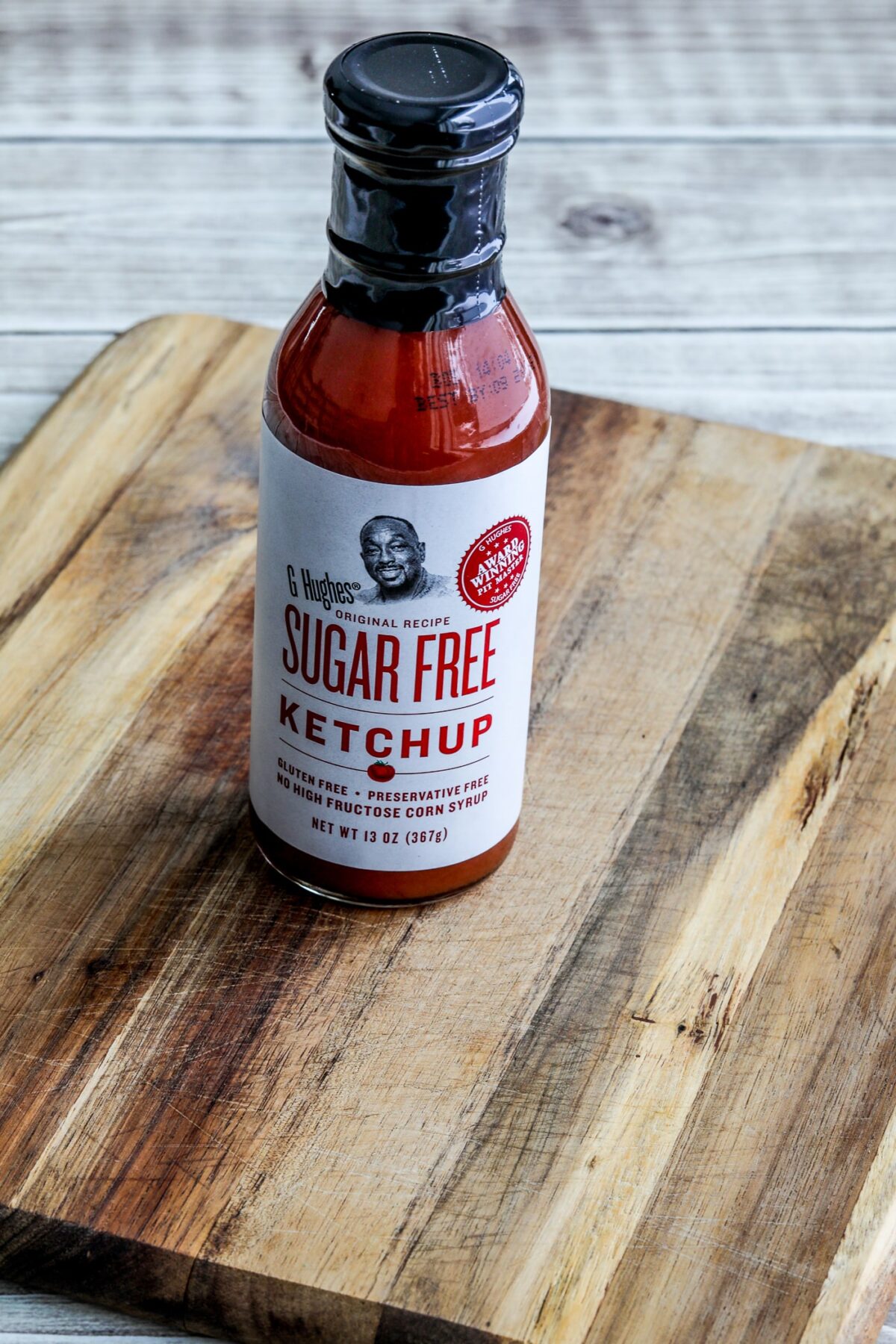 My brother-in-law Kelly loves ketchup, and he eats it on just about everything! I'm not a big ketchup eater, but I do like to have some when I have scrambled eggs or fried eggs and of course sometimes I use ketchup for flavoring it in a recipe. And when I'm eating ketchup I don't want the kind that's loaded with sugar.
I used to buy a famous name brand of reduced-sugar ketchup that was lower in sugar than most ketchup on the market. But for several years now I've been buying this G. Hughes Sugar-Free Ketchup (affiliate link).
I love that it has only one gram of sugar per tablespoon, which is about 75% less sugar that most ketchup on the market. And I think the flavor is great, and I've enjoyed it in everything I use ketchup for!
Why use Sugar-Free Ketchup?
It's true that ketchup is probably a condiment most people don't eat in huge amounts. But switching out ketchup with added sugar for sugar-free ketchup is such an easy change to make if you're trying to avoid carbs and sugars! Did you know that a 20 oz. jar of traditional ketchup contains about 2/3 cup of sugar?
Recipes where I've used Sugar-Free Ketchup:

More About Kalyn's Kitchen Picks:
I purchased this product myself and this company has no idea whatsoever that I'm writing about it. All items featured as Kalyn's Kitchen Picks are things I happily buy over and over, and so that readers will know that my opinions are completely unbiased, I don't accept review products from the many companies who offer to send them to me. You can see the complete list of products I've chosen to feature at Kalyn's Kitchen Picks.
We are a participant in the Amazon Services LLC Associates Program, an affiliate advertising program designed to provide a means for us to earn fees by linking to Amazon.com and affiliated sites. As an Amazon Associate, I earn from qualifying purchases.