Favorite Salads with Dried Beans

Lots of people keep beans in the pantry, and here are 24 Favorite Salads with Dried Beans that are perfect for picnics or lunches!
PIN Favorite Salads with Dried Beans to try some later!
Most people who like dried beans love salads with dried beans, and here are some Favorite Salads with Dried Beans that are all just so tasty! And you can cook beans in the slow cooker or Instant Pot (or on the stove) or make it easy and just use rinsed and drained canned beans in these recipes.
My love affair with dried beans started when I was following the original South Beach Diet where beans were considered a "good carb" and South Beach encouraged you to eat them daily. Now that I'm following a more carb-conscious eating plan, beans are definitely a carb-splurge for me, but you'll see that most of my bean salads combine the beans with protein or low-carb vegetables to keep the carbs lower.
I had a hard time narrowing down my list of favorites, so be sure to look at all the options to find a salad you might want to try! Or use Salad Recipes for more salad ideas if you don't want to splurge on carbs for beans.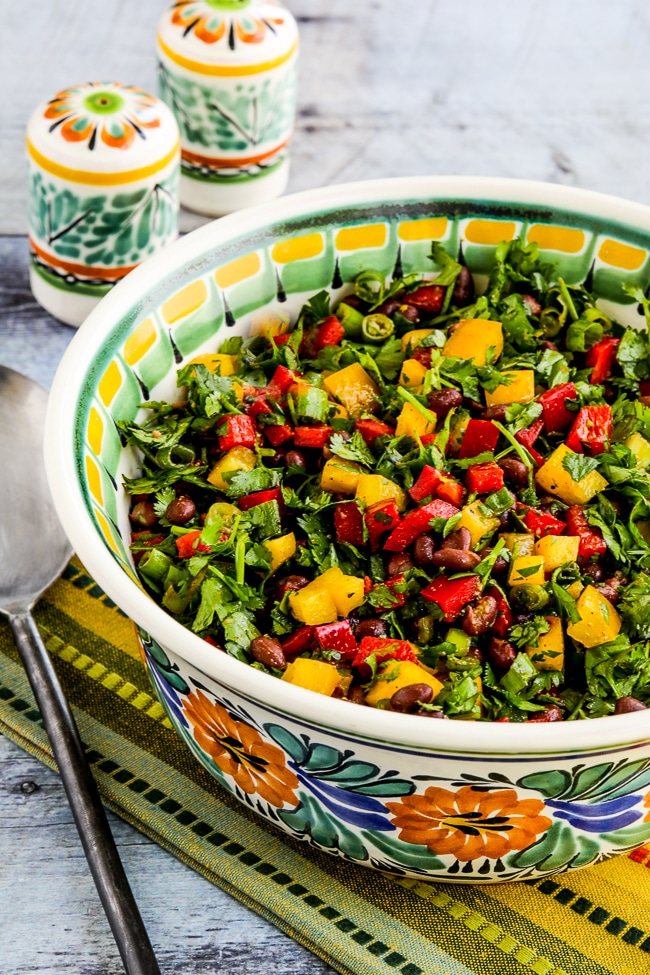 This Black Bean and Pepper Salad was updated with new photos, and I switched out the recipe a bit to use lots of colorful peppers and fewer beans to make this a more carb-conscious salad.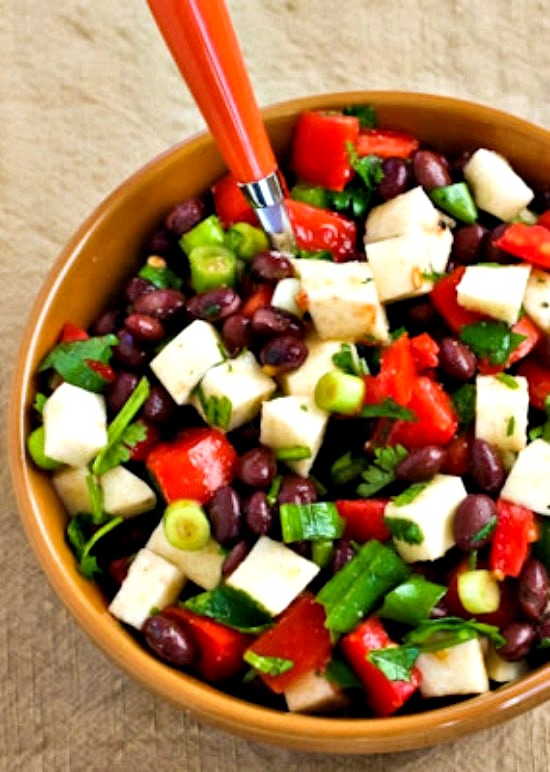 If you like Mexican flavors and salads with crunch, you can't go wrong with this Black Bean Salad with Jicama. And if you haven't cooked with jicama, it's a low-carb treat!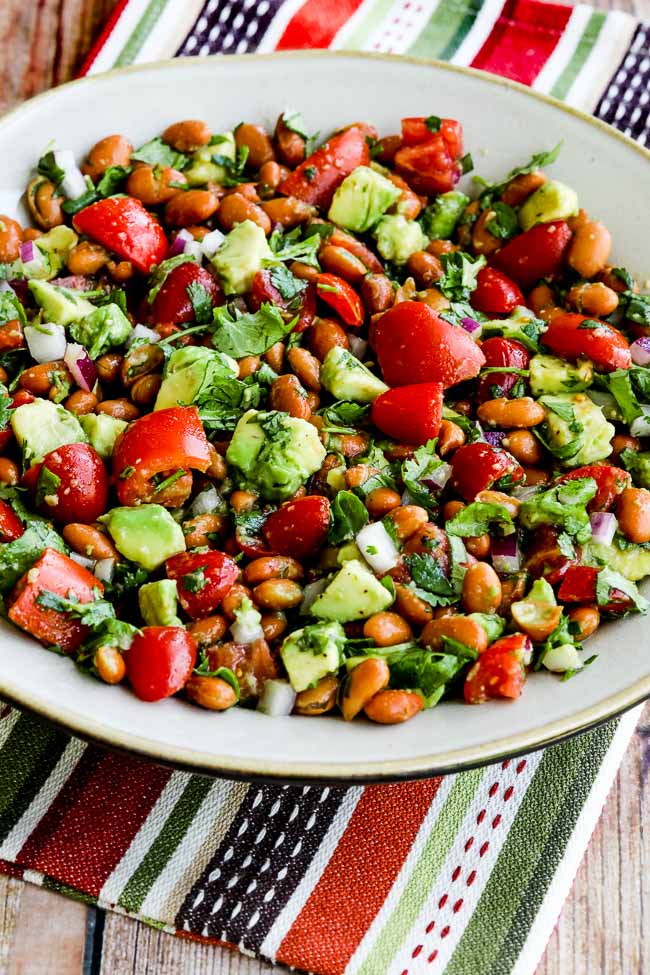 Pinto Bean Salad with Avocado and Tomatoes has so many of my favorite flavors and this salad is really popular on the blog!
This Butter Bean Salad is loaded with flavor from sun-dried tomatoes, Kalamata olives, Feta, and basil vinaigrette! If you like this type of large white bean you'll love the flavors in this salad.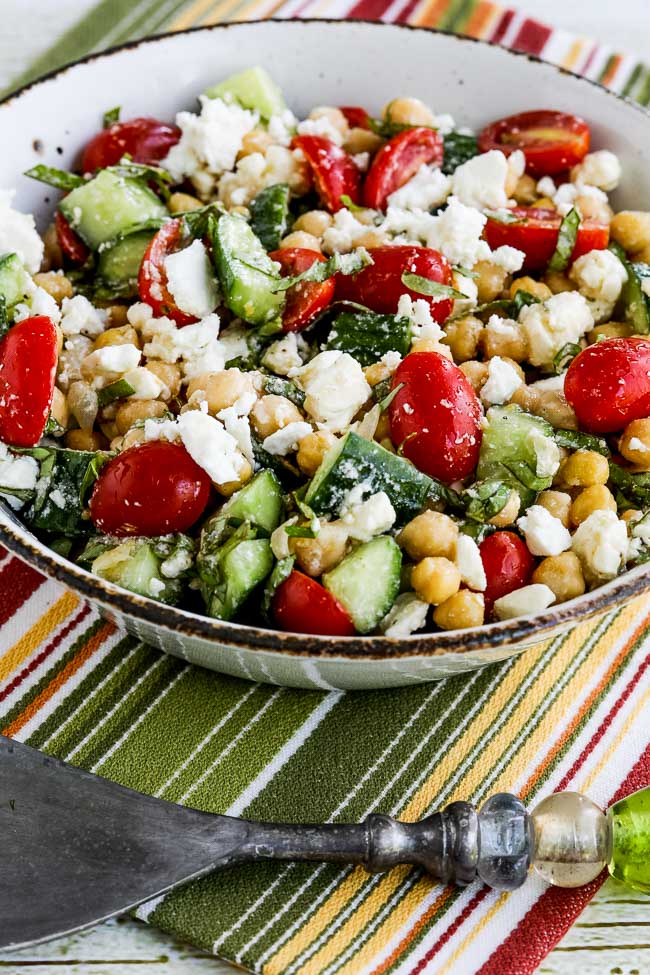 What makes this Cucumber, Tomato, and Garbanzo Bean Salad such a winner is marinating the garbanzo beans and using plenty of fresh herbs!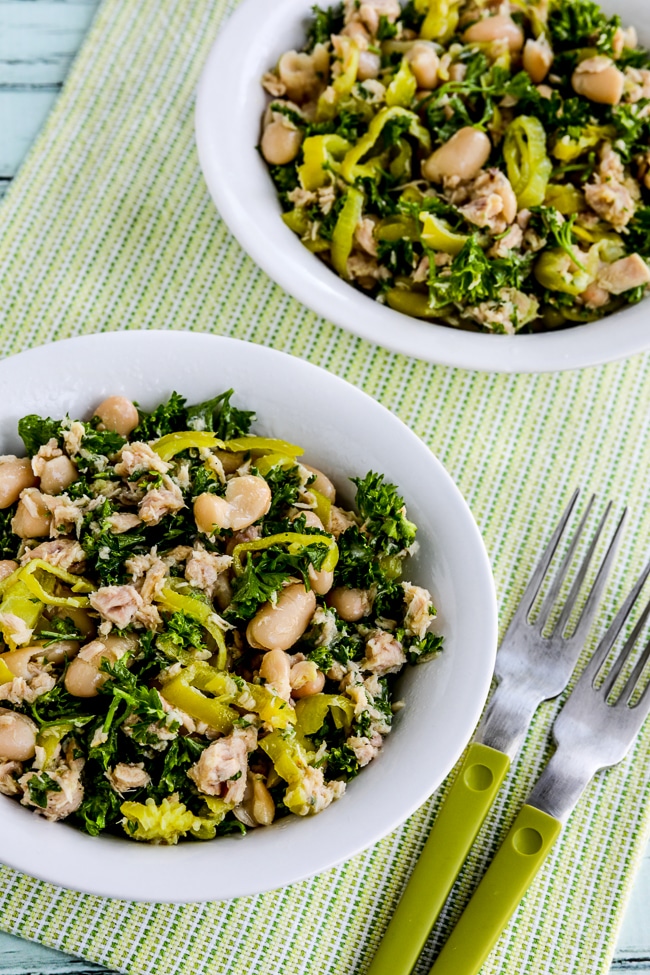 When I became totally infatuated with spicy Peperoncini peppers, I made this Cannellini Bean and Tuna Salad with Peperoncini, and this is another salad with a generous amount of parsley to add flavor!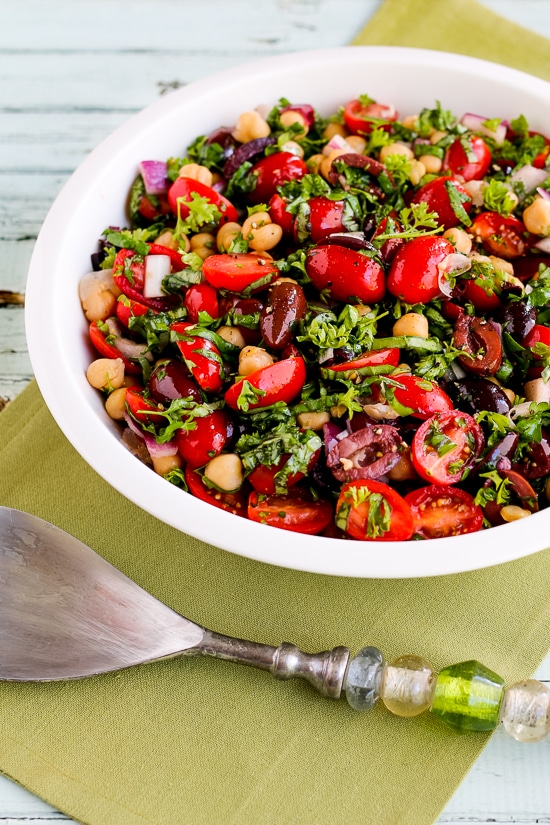 In this Chickpea Salad with Tomatoes, Olives, and Herbs I'm using less beans and more tomatoes, olives, and herbs for a more carb-conscious version.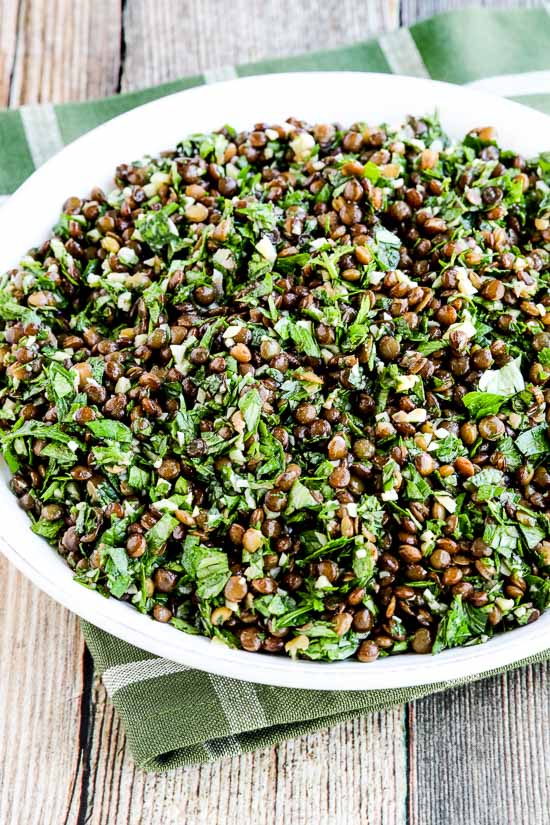 Lebanese Lentil Salad has been a huge hit on the blog, and this herb-filled salad is loaded with flavor. I know that lentils are legumes and not beans, but I had to include this one!
This beloved Tuna and White Bean Salad is a salad I've made many times, and I've convinced a few tuna skeptics with this salad, which uses tuna packed in olive oil and adds lots of parsley for extra flavor.
If you're lucky enough to have access to fresh mint, this Cucumber Avocado Salad with Chickpeas and Feta is absolutely a wow!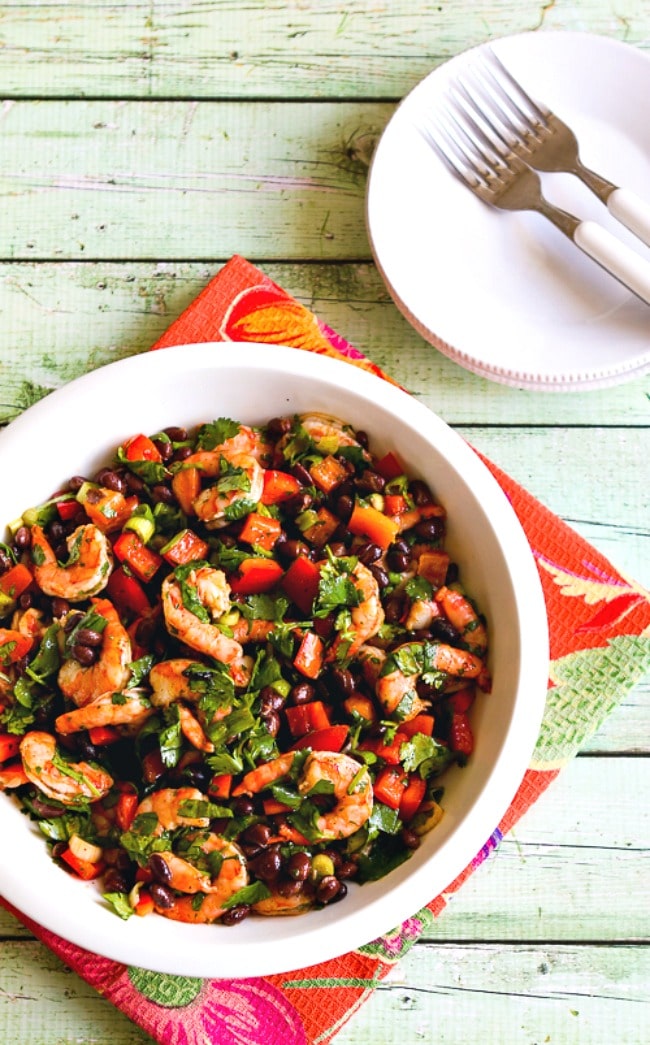 Shrimp and Black Bean Salad has great flavors that are enhanced with cilantro, cumin, and lime!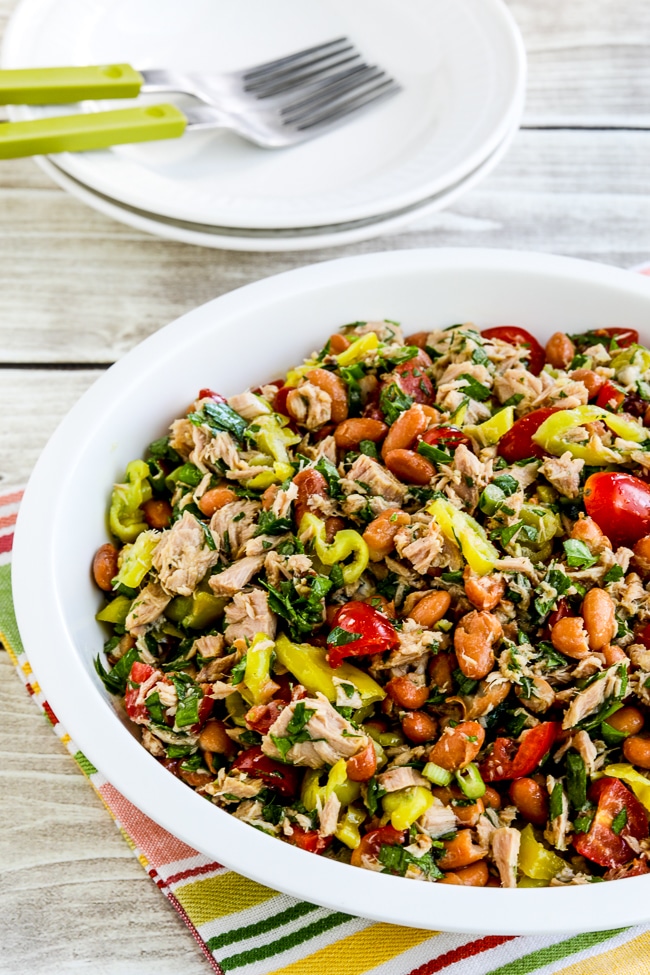 This tasty Pinto Bean Salad with Tuna, Tomatoes, and Peperoncini has lots of tuna and just a few beans, and this is perfect for a quick salad for lunch! Or check the link for a no-bean version of the salad, whichever you prefer.
More Salad Recipes with Dried Beans:
Chickpea Salad with Red Pepper, Mint, and Sumac
Chickpea Edamame Salad
Chickpea Tuna Salad
Chicken and Black Bean Salad
Cannellini Beans Salad with Mint
Southwestern Quinoa Salad (with black beans)
Orzo Salad with Chickpeas and Kale
Southwestern Bean Salad with Black-Eyed Peas
Chickpea and Tomato Salad
Balela Middle Eastern Bean Salad
Curried Chickpea Salad
Black-Eyed Pea Salad
If you have a favorite bean salad for summer, let us know about it in the comments!
We are a participant in the Amazon Services LLC Associates Program, an affiliate advertising program designed to provide a means for us to earn fees by linking to Amazon.com and affiliated sites. As an Amazon Associate, I earn from qualifying purchases.