Butter Bean Salad
This interesting Butter Bean Salad is loaded with flavor from sun-dried tomatoes, Kalamata olives, Feta, and Basil Vinaigrette! This is perfect for parties, or take this salad to work for a meatless lunch.
PIN Butter Bean Salad to try it later!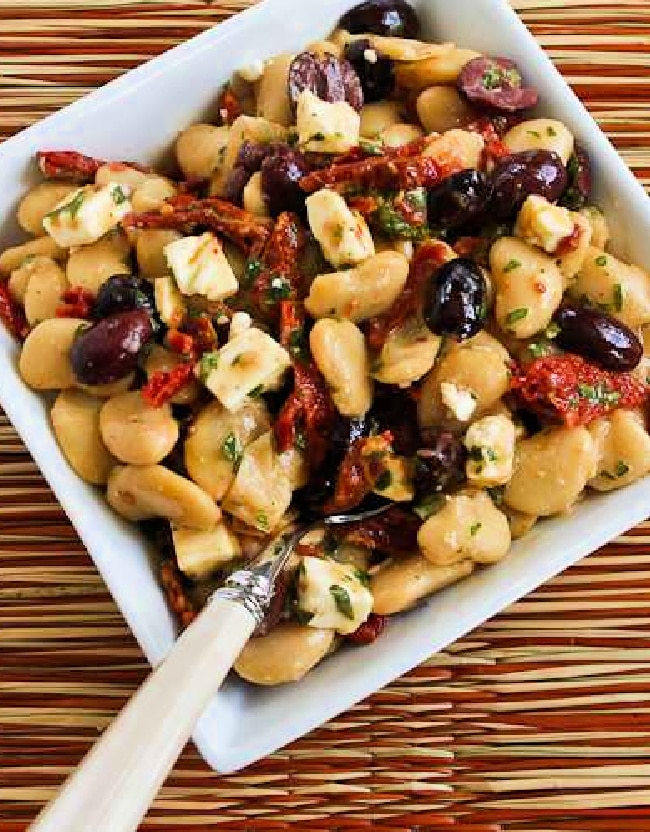 When it's September and garden tomatoes and basil are are still plentiful, something you'll always find in my fridge is Basil Vinaigrette. This combination of chopped basil and vinaigrette dressing is my favorite thing for drizzling over sliced tomatoes. The basil vinaigrette has endless uses, and this time a touch of it was the perfect flavor to add some pizazz to this Butter Bean Salad that also has sun-dried tomatoes, Kalamata olives, and Feta!
Whether you use it as a side salad with something cooked on the grill or pack it in a plastic container to take for lunch, this unique butter bean salad has all the flavors of summer (just in case you'd like to keep them around a bit longer!) And you can make the flavorful vinaigrette with frozen chopped basil if it's not fresh basil season any more.
What ingredients do you need for this recipe?
canned butter beans
sun-dried tomatoes in oil
Kalamata olives
Feta cheese
Basil Vinaigrette
additional chopped fresh basil (optional)
What are Butter Beans?
Butter Beans are large white beans with a creamy consistency. According to Food52: "In the Southern U.S. and in the U.K., these cream-colored beans are named after the dairy product with a similarly rich consistency: butter." But most of the world calls them lima beans.
What other kinds of beans can you use?
You can use any large white beans for this recipe, especially Cannellini beans.
What is Basil Vinaigrette?
There are probably endless recipes on the web for Basil Vinaigrette, and it's something I make every summer for drizzling on tomatoes, veggies, chicken, or fish. And of course it's also amazing as a dressing on salads of all kinds. The Basil Vinaigrette I make most is simply a combination of chopped fresh basil and a low-sugar vinaigrette dressing, and this will keep in the fridge for a couple of weeks.

How to make this Butter Bean Salad:
(Scroll down for complete recipe with nutritional information.)
First up is the Basil Vinaigrette. I usually make this with bottled vinaigrette, and one of my favorites is Le Parisien Vinaigrette which you probably can't get outside of Utah, but any type of homemade or bottled vinaigrette that has a good flavor will work.
Drain the canned butter beans into a colander and rinse with cold water, let them drain, then blot dry with paper towel.
When the beans are dried, mix in about half the basil vinaigrette and let the beans marinate in it while you prep the other ingredients.
I used sun-dried tomatoes from a jar, drained them to get rid of the oil, then chopped them just a little.
I measured out 1/2 cup of Kalamata olives and cut them in half.
I cut the Feta cheese into little cubes, which I thought would hold together in the salad.
Mix together the marinated beans, sun-dried tomatoes, and olives, and then blend in the rest of the dressing, or as much as you need to moisten all the ingredients.
Then gently mix in the feta cubes.
I added several tablespoons more chopped basil, because you can never have too much basil, can you? This is purely optional if you don't have a garden.
More Salad Recipes with Basil
Summer Tomato Salad with Goat Cheese
Tomato Salad with Hearts of Palm, Olives, and Feta
Tomato, Olive, and Fresh Mozzarella Salad
Grilled Sweet Potato Salad
Yield: 6 servings
Butter Bean Salad
Prep Time 20 minutes
Total Time 20 minutes
This Butter Bean Salad has sun-dried tomatoes, Kalamata olives, Feta, and basil vinaigrette, and this salad  is perfect for a summer party!
Ingredients
two 15 oz. cans butter beans (see notes)
1/2 cup sun-dried tomatoes in oil, drained and chopped
1/2 cup pitted Kalamata olives, cut in half
1/2 cup Feta cheese cubes (see notes)
1/3 cup Basil Vinaigrette
2  T additional chopped fresh basil (optional)
Instructions
Drain beans into a colander placed in the sink, rinse well with cold water (until no more foam appears) and then let drain a minute or two.
Then blot dry with paper towels and put the beans in a medium-sized salad bowl.
Add about half the Basil Vinaigrette and mix into beans, then let them marinate while you prep other ingredients.
Drain sun-dried tomatoes to remove the oil, then coarsely chop them. (The ones I had were julienne-sliced so I only chopped the ones that were quite large.)
Cut Kalamata olives in half.
Cut feta in cubes 1/2 inch square.
Mix together the marinated beans, sun-dried tomatoes, and Kalamata olives.
Add the rest of the dressing, or as much as you need to moisten the ingredients.
Then gently mix in the feta cubes and the additional chopped basil if using.
The salad can be served right away or marinated in the fridge for a few hours.
The salad will keep in the fridge for several days, but you might want to mix in a little extra dressing to refresh the flavors.
Notes
Use any type of canned white beans you prefer for this salad. I cut the Feta cheese into cubes about 1/2 inch square, but crumbled Feta will also work just fine.
This recipe created by Kalyn.
Nutrition Information:
Yield:
6
Serving Size:
1
Amount Per Serving:
Calories: 295
Total Fat: 12g
Saturated Fat: 4g
Trans Fat: 0g
Unsaturated Fat: 6g
Cholesterol: 19mg
Sodium: 267mg
Carbohydrates: 33g
Fiber: 11g
Sugar: 5g
Protein: 16g
Nutrition information is automatically calculated by the Recipe Plug-In I am using. I am not a nutritionist and cannot guarantee 100% accuracy, since many variables affect those calculations.
Low-Carb Diet / Low-Glycemic Diet / South Beach Diet Suggestions:
Every ingredient in this Butter Bean Salad would be approved for all phases of the original South Beach Diet although I might go a little easier on the sun-dried tomatoes if you're actively dieting. However, remember that even though dried beans are a low-glycemic ingredient, they're limited to 1/3 to 1/2 cup serving for Phase One. This salad would also work for other low-glycemic eating plans, but it's too high in carbs for a low-carb diet.
Find More Recipes Like This One:
Use Salad Recipes to find more recipes like this one.Use the Diet Type Index to find recipes suitable for a specific eating plan. You might also like to Follow Kalyn's Kitchen on Pinterest to see all the good recipes I'm sharing there.
Historical Notes for this Recipe:
This recipe was posted in 2011. It was last updated with more information in 2021.
We are a participant in the Amazon Services LLC Associates Program, an affiliate advertising program designed to provide a means for us to earn fees by linking to Amazon.com and affiliated sites. As an Amazon Associate, I earn from qualifying purchases.