Healthy Chili Recipes Your Family Will Love!
These Healthy Chili Recipes Your Family Will Love include chili recipes for every type of diet, including low-carb and gluten-free chili! And there are 12 different chili variations here, with chilis to make in the Instant Pot, in the slow cooker, or on the stove!
PIN the healthy chili recipes to make some Chili later!
Doesn't chili and cold weather just go together perfectly? And I'm sure people all over America make chili for football-watching food! But chili is such a perfect healthy food any time of year, and there are healthy chili recipes for pretty much any type of diet! So in no particular order, here are my Healthy Chili Recipes Your Family Will Love!
There are healthy chili recipes here that are Keto, low-carb, low-glycemic, gluten-free, dairy-free, South Beach Diet friendly, and even vegan, so pick the healthy chili recipe that fits your personal way of eating. Grab a recipe and make some chili!
What is Chili in American Cuisine?
Chili (or chili con carne) is spicy stew dish that usually contains meat, tomatoes, spicy chile powders of some kind, and sometimes beans. It's a classic American dish with special variations in many parts of the U.S. Chili is commonly believed to have originated in the state of Texas, where it usually doesn't contain beans and uses red chile powder.
Want Low-Carb or Bean-Free Chili Recipes?
If you'd like more ideas for no-bean or low-carb chilis, check out my round-up of Amazing Low-Carb and Keto Chili Recipes!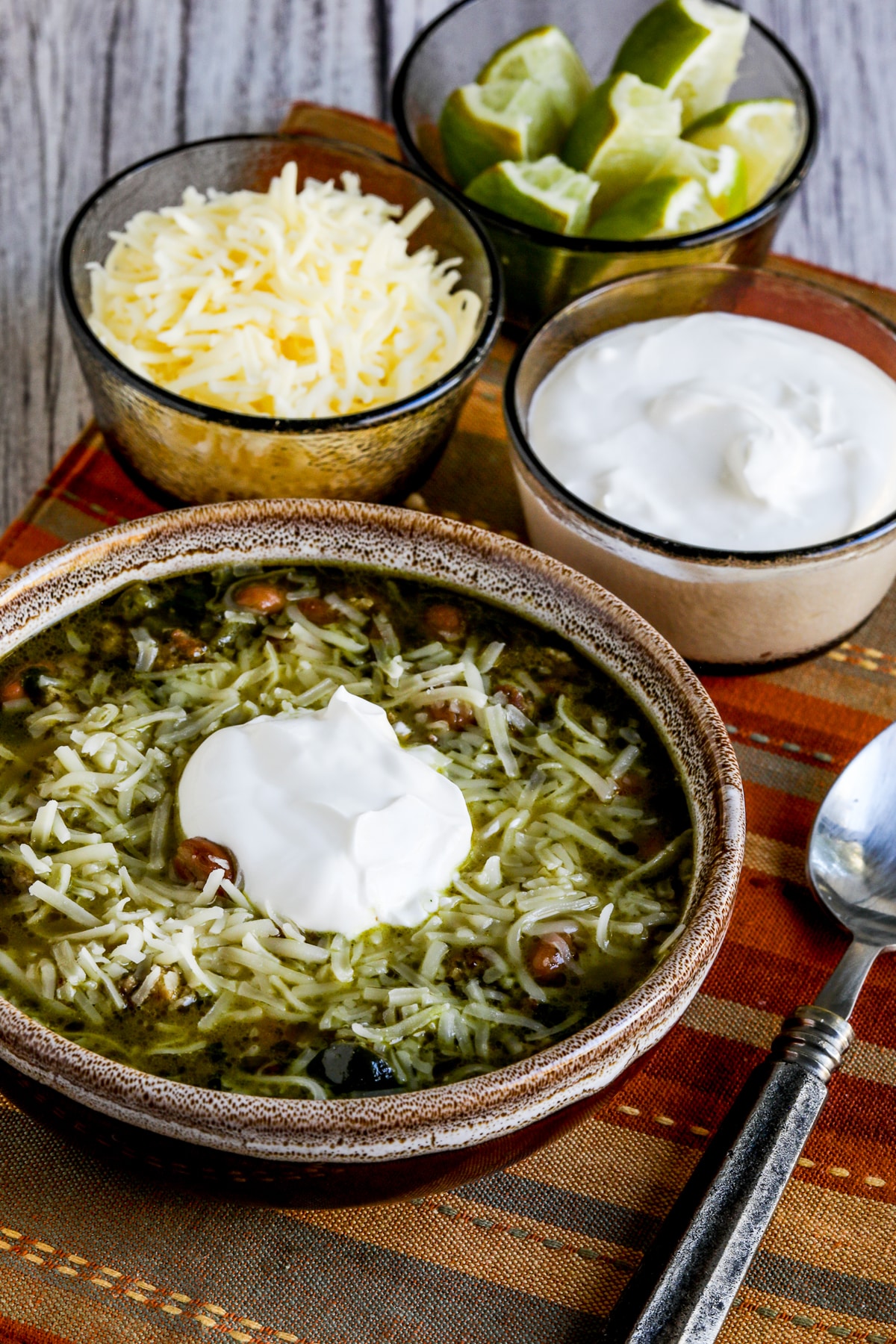 Turkey Pinto Bean Chili will be delicious with ground turkey, but use leftover turkey if you have some! And this recipe got a make-over so now it uses more turkey and less beans!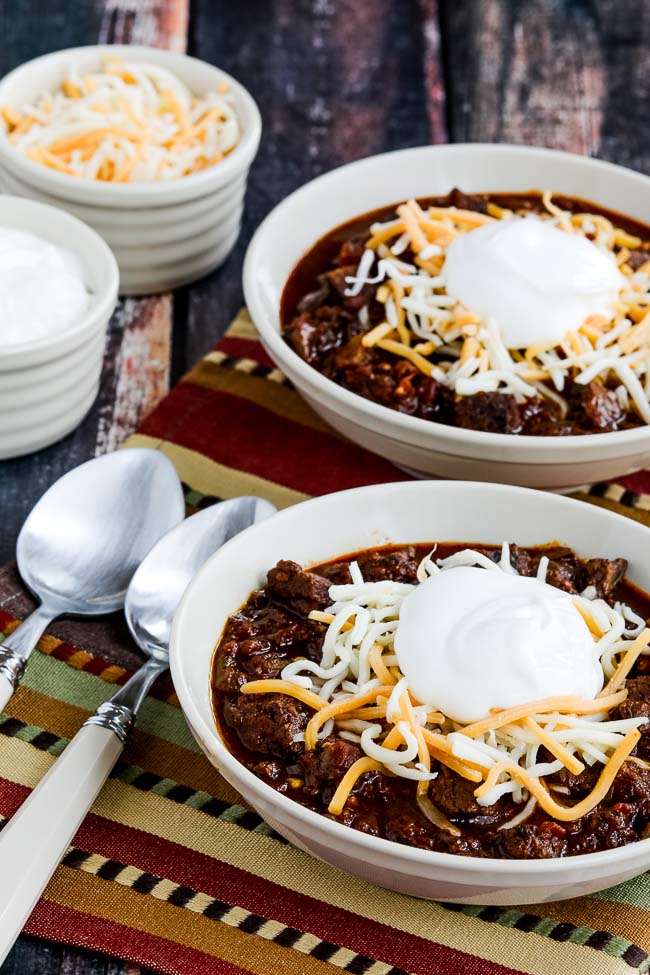 All-Beef Instant Pot Keto Chili is what Texans consider to be real chili with only beef and no beans, and this is a great option for low-carb chili.
Pumpkin Chili with Ground Beef has been hugely popular on the blog, and my nephew Matt won a chili-making contest with this recipe! You can make this tasty chili in the slow cooker or the Instant Pot.
One of my all-time favorite chili recipes is definitely this Black Bean and Beef Chili. It's the avocado salsa that makes this chili over-the-top good; please do not skip that.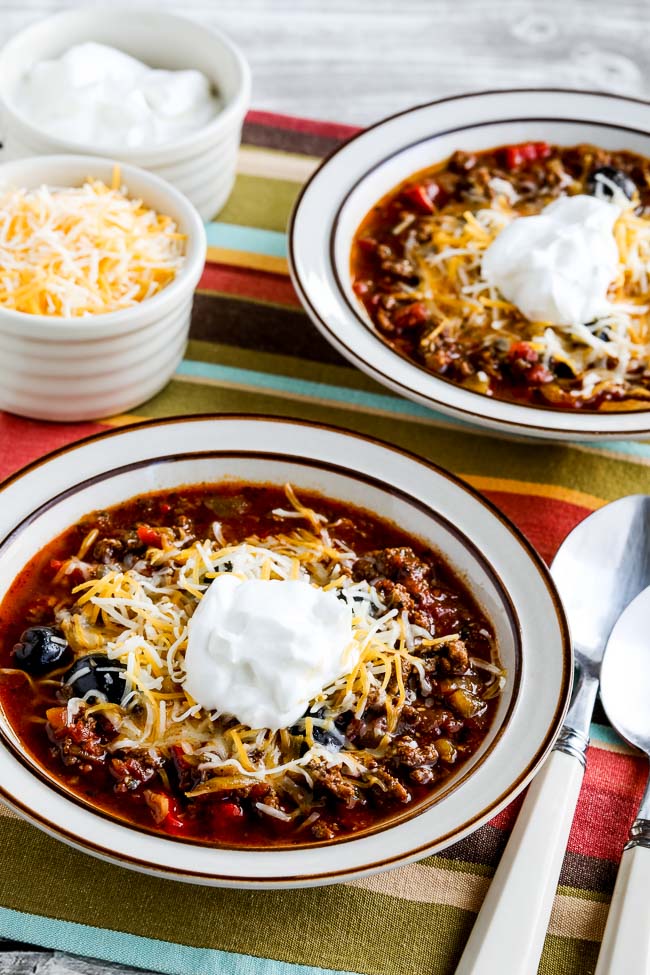 This Instant Pot Ground Beef Chili with Olives is a low-carb chili recipe that will be a huge hit with people who love olives! And that includes me!
If you'd like a pumpkin chili without beans, this Pumpkin Chili with Beef, Peppers, and Olives is also a winner for olive fans!
We swooned over this Turkey Sweet Potato Chili when we tested the recipe!
Beef Chili with Sausage, Mushrooms, and Olives is a low-carb version of a chili with red and black beans that I made for years for the Denny Family Super Bowl party. The new version is delicious without beans, or follow the link in the post and make the original recipe.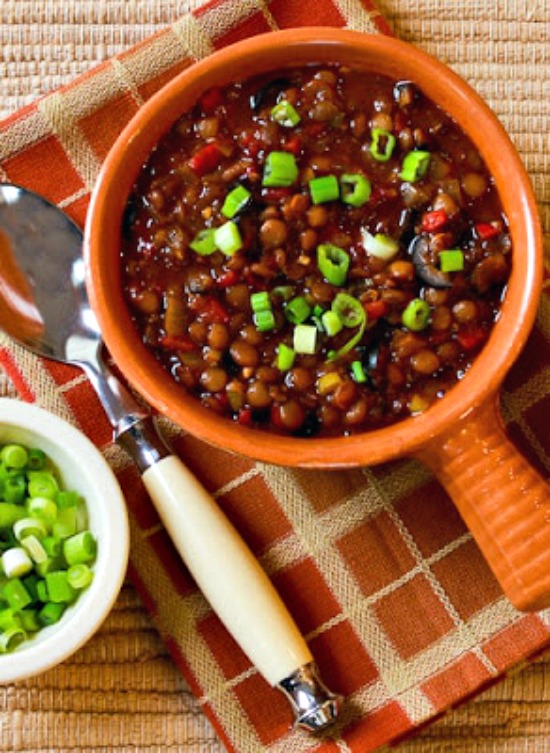 For those who'd like a meatless chili, this Vegan Lentil Chili that has roasted red peppers and black olives is really delicious!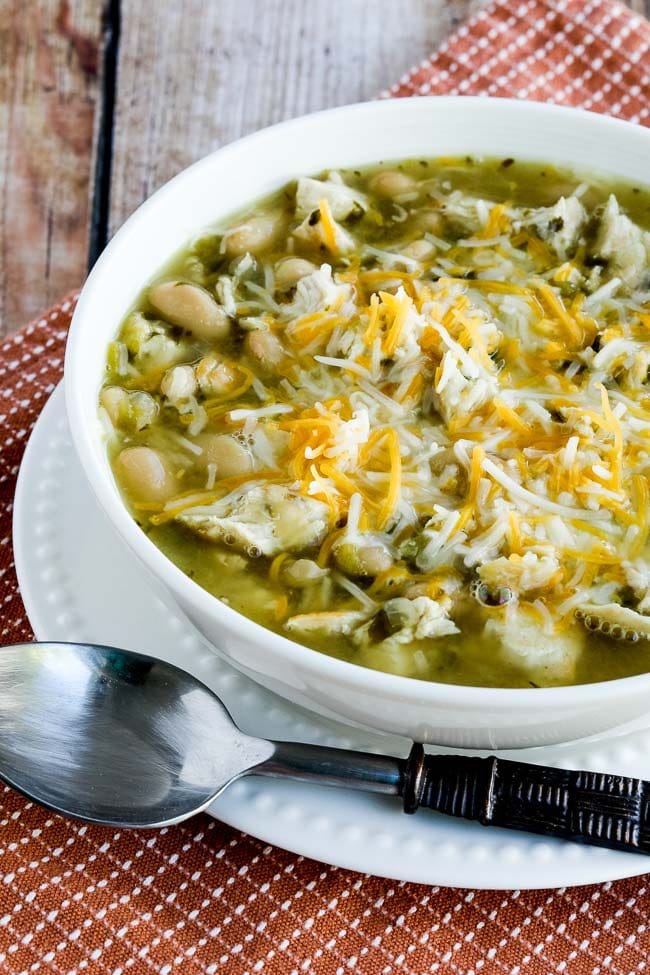 When she gave me the recipe, I never imagined that Amy's Amazing White Chicken Chili would become one of the most popular recipes on my blog since it's a chili with white beans, but this is a hit with everyone who tries it!
Slow Cooker Beef and Refried Bean Chili is another chili with the lime and chili flavor combo I like so much. This is thickened with refried beans for those who like an extra-thick chili.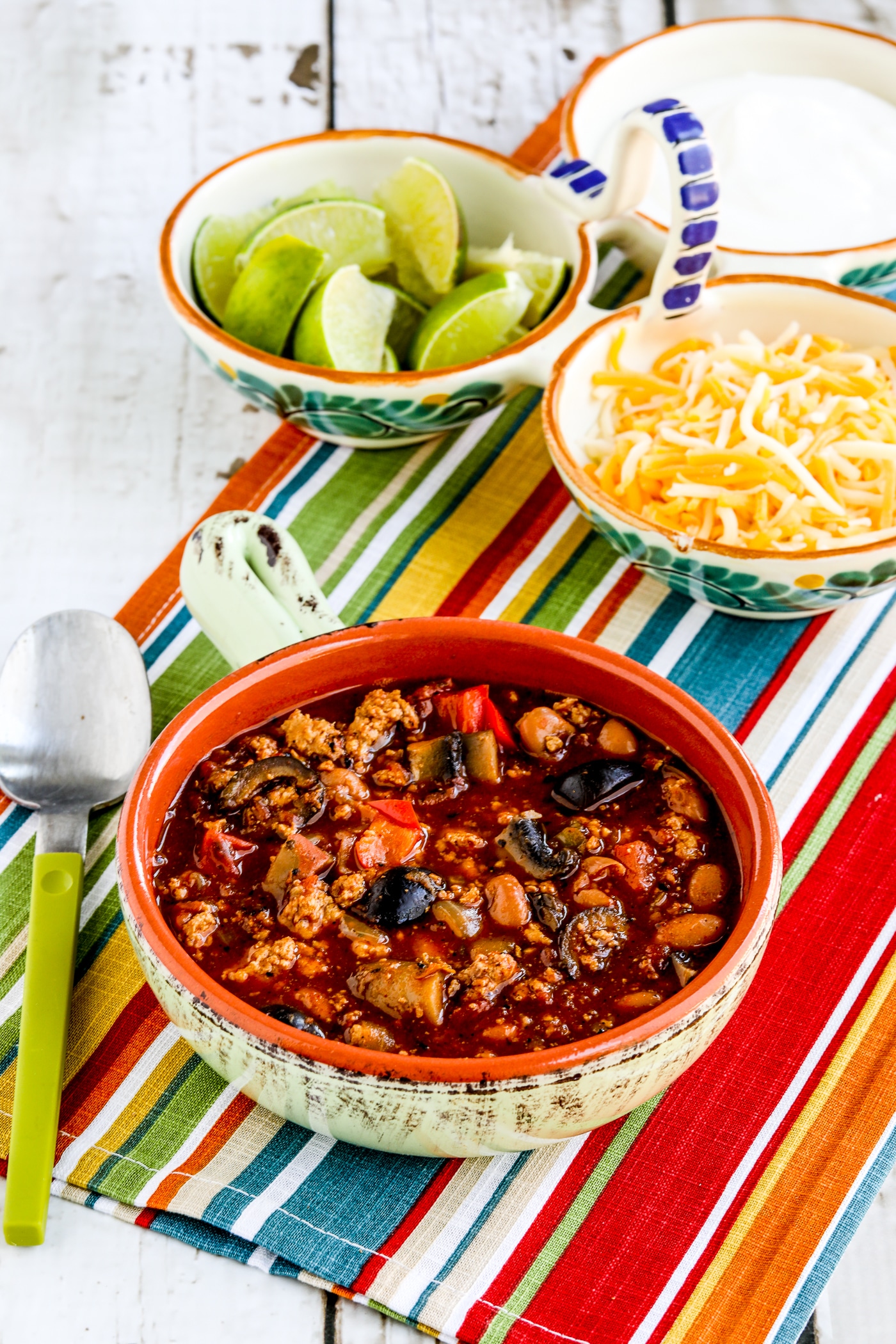 Turkey Chili with Mushrooms, Peppers, and Olives has a lot of low-carb ingredients to bring down the total carb count so this tasty chili is low in net carbs.
If you've got a favorite chili recipe, please share in the comments!
We are a participant in the Amazon Services LLC Associates Program, an affiliate advertising program designed to provide a means for us to earn fees by linking to Amazon.com and affiliated sites. As an Amazon Associate, I earn from qualifying purchases.