Amazing Low-Carb and Keto Chili Recipes
Here are Amazing Low-Carb and Keto Chili Recipes; these chili recipes are perfect for any occasion where you'd like chili without beans!
PIN AMAZING Low-Carb and Keto Chili Recipes!
Chili is the perfect food for game-day eats, and it's great for a family dinner too. And of course it's perfect for Weekend Food Prep, and I love to pull a container of chili out of the freezer and enjoy it for dinner on a cold night.
This recipe collection has 12 different ideas from around the web for Amazing Low-Carb and Keto Chili Recipes! In fact, there are enough different chili recipes here for you to try a new variation of low-carb chili every weekend for the rest of the winter. Every recipe here is just a bit different, but all are no-bean low-carb chili recipes that I think you're going to enjoy!
What kinds of low-carb chili is featured here?
Some of these low-carb chilis have ground beef of course. But there's also low-carb chili here with stewed chunks of beef, Chorizo, ground beef and pork, and chicken. And the low-carb chili recipes use flavor-boosting ingredients like peppers, olives, coffee, pumpkin, peperoncini, jalapenos, and red onion so that each one is loaded with flavor!
How do you get the complete recipe?
Just click any recipe title to see the complete recipe on the original blog. All photos are copyrighted to the site that posted the recipe.

This Instant Pot All-Beef Ancho and Anaheim Chili is probably my favorite chili recipe from Kalyn's Kitchen; I love the flavor of spicy ground Ancho chiles.

This Keto White Chicken Chili from All Day I Dream About Food can be made in the slow cooker or the Instant Pot, and this recipe is dairy-free if you don't top with cheese.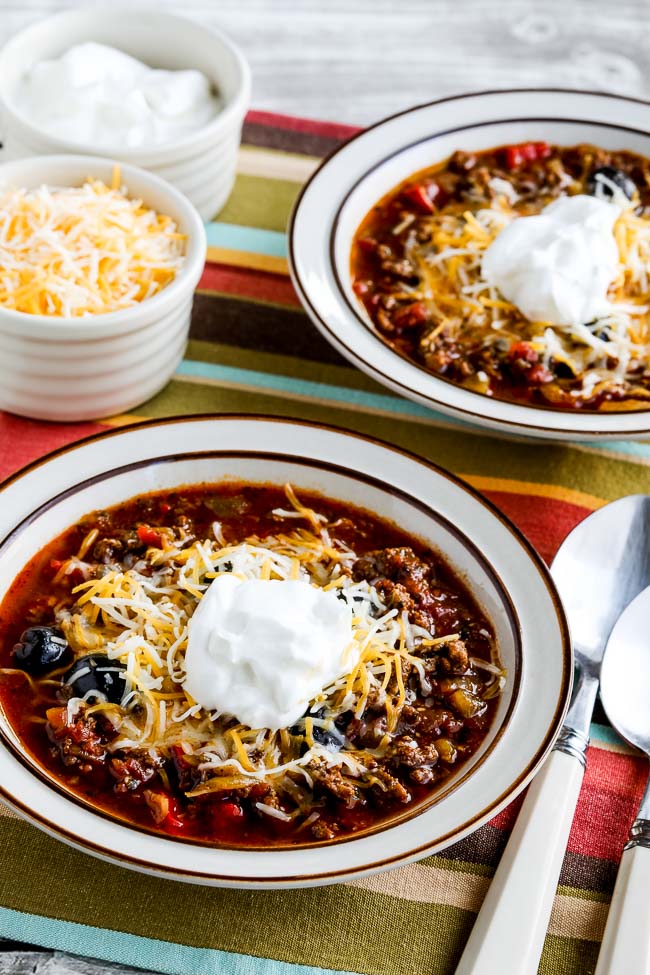 This Instant Pot Ground Beef Low-Carb Olive Lover's Chili is a delicious chili recipe from Kalyn's Kitchen for everyone who loves olives, and it's hearty and easy to make!

Don't you think Slow Cooker Low-Carb No-Bean Chili from Sugar-Free Mom looks good with her grain-free cornbread!

Beef Chili with Sausage, Mushrooms, and Olives is a delicious low-carb version of a red and black bean chili I used to make every year for my family Super Bowl party! Check out that post if you'd like to see the original recipe.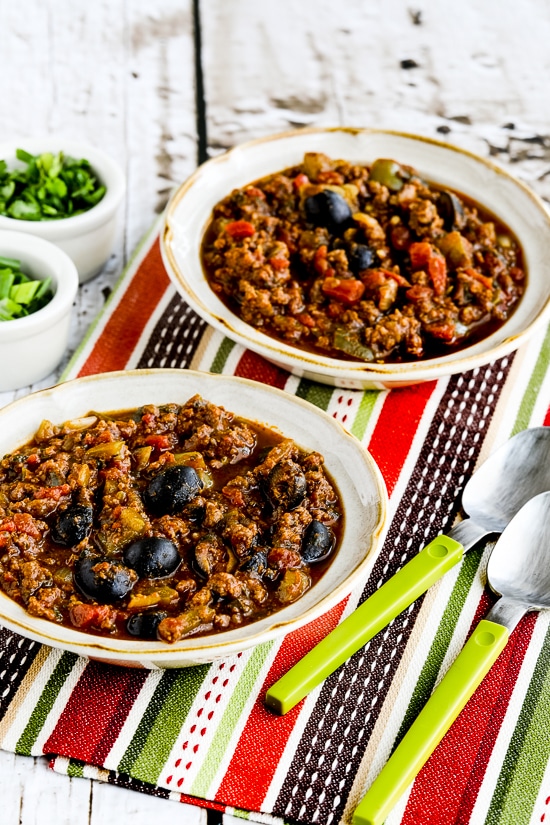 The small amount of pumpkin adds a lot of flavor (and not many carbs) to this Pumpkin Chili with Beef, Peppers, and Olives from Kalyn's Kitchen.
More Tasty Low-Carb or Keto Chili:
Want Even More Chili Recipe Ideas?
If you want low-carb chili made in the Instant Pot, check out The BEST Low-Carb and Keto Instant Pot Chili Recipes on Slow Cooker or Pressure Cooker! For anyone who prefers chili with beans, check out my round-up of Healthy Chili Recipes Your Family Will Love!
We are a participant in the Amazon Services LLC Associates Program, an affiliate advertising program designed to provide a means for us to earn fees by linking to Amazon.com and affiliated sites. As an Amazon Associate, I earn from qualifying purchases.