Spending a Week in Istanbul (Things I'm Thinking About)
Istanbul was beautiful and amazing in so many ways; here are a few of the highlights I recorded by iPhone.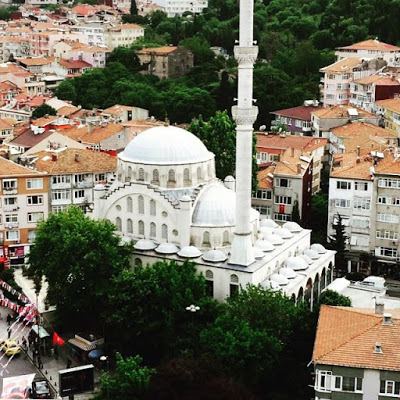 Most regular readers probably know that I recently spent two weeks traveling in Turkey and Kenya with my good friend (and fellow blogger) Donna, so for this week's post of Things I'm Thinking About I want to share some thoughts and photos from the trip. This week I'm sharing photos from Turkey and next week I'll show some of what I saw in Kenya.
I decided I didn't want to carry around a big camera, so these photos are taken with my iPhone 6+, which turned out to be quite good for a travel camera. Some of the photos were edited for Instagram, but some are just straight out of the camera. I did take a lot of photos, so I grouped them in collages to make the post a little shorter!
I really loved visiting both of these interesting countries and I hope you enjoy getting a little taste of each place! (And since I know some people are wondering, nothing about this trip was compensated or sponsored in any way; links in this post are for informational purposes only.)
We took a red-eye flight from Salt Lake to JFK and there we got on Turkish Airlines to fly to Istanbul. Turkish Airlines is pretty amazing, with so many amenities that U.S. airlines don't offer like food, (with a menu!), a warm cloth to wash your face and hands when you board, and a little packet with everything a traveler could possibly want like headphones, earplugs, a sleep mask, socks, and slippers! When we got to Istanbul the airport was packed, so we were glad the travel agent had someone waiting for us.
In Istanbul Donna and I stayed in a great location just across from the Grand Bazaar and in close walking distance to many of the historic spots. (Thanks to my friend Celina Shearer from Morris Murdock Travel who helped us with all the travel arrangements!) Our first day there we walked around noticing men everywhere moving merchandise with hand carts, lots of shops featuring Turkish Delight, the Turkish bagel-like round bread called Simit that's sold on the street, and cart vendors everywhere selling corn and chestnuts.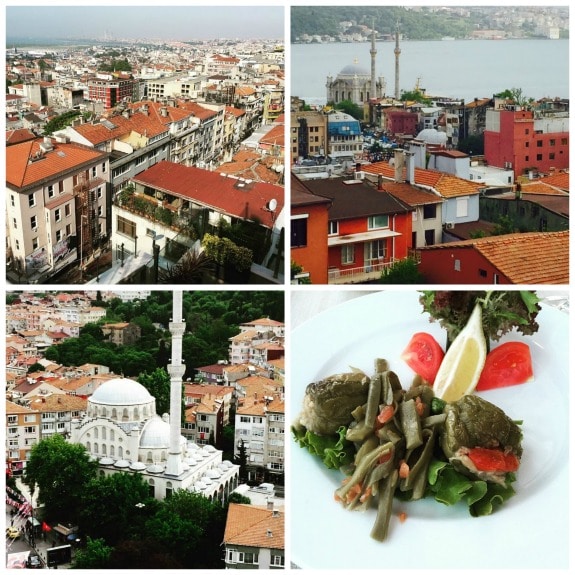 The views from the roof of our hotel were quite spectacular, and of course they had a nice restaurant on top of the hotel to make the most of it. We had dinner there that first night and the cold green beans and stuffed peppers with olive oil that we had for an appetizer was one of my favorite dishes in Turkey.;
On our next day I realized how nice it is to know other food bloggers in the country you're visiting, because back when I first mentioned on social media that I was going to Turkey, Zerrin from Give Recipe and Ilke from Ilke's Kitchen offered to show us around for a day! We were joined by Zerrin's husband Yusuf, who takes the lovely photos on Give Recipe. (Above from left is Ilke, Yusuf, me, Zerrin, and Donna. If you want to see more photos of us with Zerrin, check out Zerrin's post about our day in Istanbul on Give Recipe.)
We started our food blogger day with a traditional Turkish breakfast (including Simit that we bought from a Vendor.) Of course breakfast included Turkish Tea in the lovely little tulip-shaped glasses.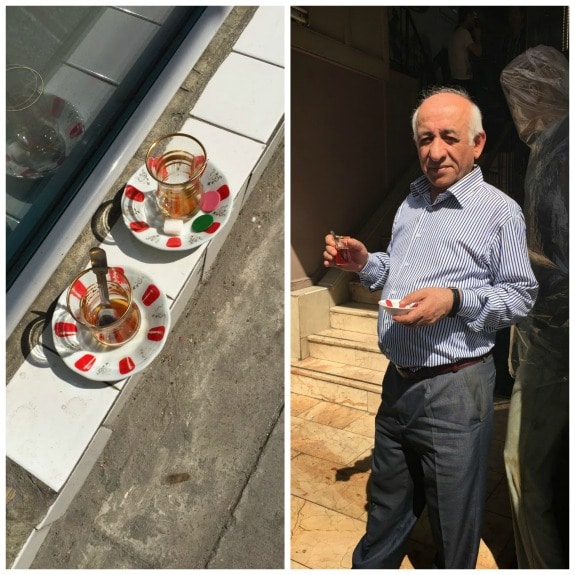 We realized later that the Turkish Tea was quite a part of the culture. You can have it delivered to your place of employment and then leave the glasses on the ledge for someone to pick up later! I thought it was delicious too.
Zerrin, Yusuf, and Ilke took us on a scenic Bosphorus Strait boat tour, which was fun and gave us a chance to see a lot of the shoreline and amazing homes along the water.
I'm sure it's not surprising that the absolute best food we had in Turkey was when we ate with the food bloggers. In this photo are the little dumplings called Manti (carb-loaded but oh so delicious; see Zerrin's Manti recipe) and the shakers of mint, Sumac, and hot pepper that were on restaurant tables.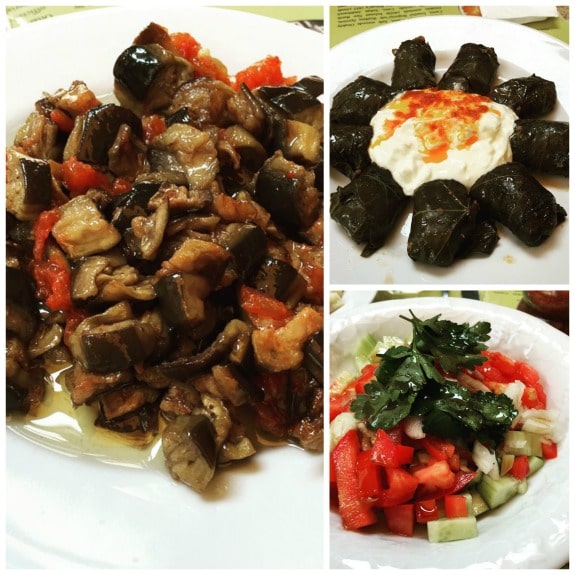 At the same restaurant we had Roasted Eggplant with Olive Oil, Turkish Stuffed Vine Leaves, and a cucumber-tomato salad with herbs. Then we walked around Istanbul visiting famous spots like Independence Avenueand Taksim Square. Zerrin also introduced us to wet hamburgers and took us to try Turkish Ice Cream.We had such a lovely time that day; thank you Zerrin, Yusuf, and Ilke for showing us around and for all the Turkish gifts!
The following day we walked around in the historical district by the hotel and saw more interesting foods in shop windows including stuffed zucchini, beautifully decorated sweets of every kind, an entire shop of Baklava, and other Turkish dishes with eggplant, chicken, rice, and lamb.
That day Donna and I went onBig Bush Istanbul, which allowed us to see a lot in a short time, and also to get off and on the bus when we wanted. Of course we had to get off at The Egyptian Bazaar, which is the most famous Spice Bazaars in Istanbul. I bought some fun things here, including the famous blade-type skewers that Turkish Kebabs are made on.
We also had more wonderful Turkish food including the famous Doner Kebabs (sliced roasted meat) and delicious Pita Stuffed with Cheese. We weren't really tempted to try the double-double or quadruple-quadruple offers at the Turkish McDonalds, but I had to take a photo.
We were stopping over in Turkey partly to avoid jet lag when we went to visit Donna's daughter and son-in-law in Kenya, and after three fun days in Turkey we flew off to Kenya, and a week of traveling in Africa went by before these next photos were shot!
After we flew back from Nairobi for our second time in Turkey we only had one full day to try to see all the things we'd missed, so we headed out for the Hagia Sophia, which was one of the top sights on my list. But there was a long line and we took the advice of a young man (who wanted us to visit his parents' carpet shop!) and went to the Basilica Cisternfirst. This amazing underground cistern was built in the 6th century and was one of the most magical sites we saw. No one knows why the Medusa heads were installed upside down!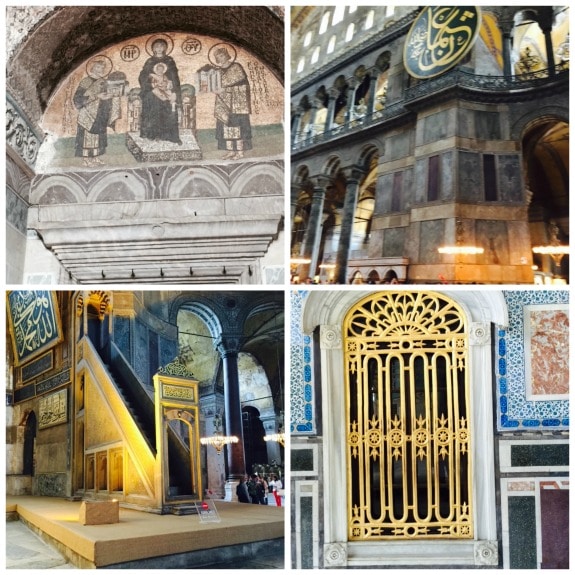 When we came out we were approached by a local guide who informed us that if he gave us a tour of theHagia Sophia, we could go to the front of the ticket line. What a no brainer! And our guide was so knowledgeable about the history of this amazing structure that was first a Christian Basilica, then a Muslim Mosque, and now is a museum and historical site. We thoroughly enjoyed the tour he provided and were glad we decided to splurge a bit instead of waiting in line.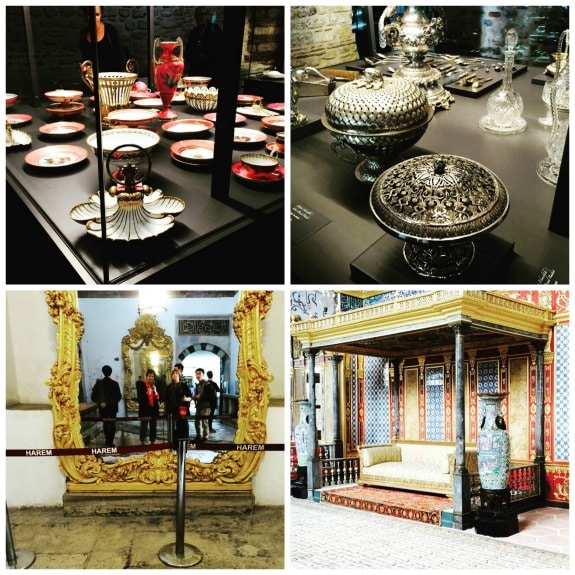 After that we went to Topkapi Palace, a huge palace where the Sultans lived for 400 years. We didn't know what to expect, and it turned out to be so much bigger than we had imagined that we barely saw a fraction of it. Of course we had to see the kitchen stuff, including amazing china and serving dishes. And we visited the harem, where we tried to get selfies in the mirror. You could easily spend an entire day here, so if you get a chance to visit Istanbul, plan accordingly.
Our final stop in Istanbul was The Blue Mosque, where Donna took the obligatory shot of me. (As you walk up to the mosque you see tourists from all over the world taking selfies with the mosque in the background!) The mosque is called The Blue Mosque for the beautiful blue tiles on the walls, and it's still used every day for prayers. (The local carpet hawkers are very aware of times when the mosque is used to pray, and they stand by the gate trying to lure tourists to their shops during that time!) When we finally got to go in, people were still praying, so I didn't take photos inside, but it was a wonderful experience seeing this place that has religious significance to so many people.
Istanbul had been on my travel wish list for a long time, and I'd happily spend more time there seeing other interesting things that Turkey has to offer. If you've been to Turkey I'd love to hear in the comments about what you enjoyed most.
Sights I loved in Turkey:
The Grand Bazaar
Independence Avenue
Taksim Square
The Egyptian Bazaar
Basilica Cistern
Hagia Sophia
Topkapi Palace
The Blue Mosque
Bosphorus Strait
Wonderful Tastes of Turkey:
Turkish Tea
wet hamburgers
Doner Kebabs
Turkish Stuffed Vine Leaves
Turkish Manti
Turkish Ice Cream
Simit
More About Turkey:
Why Travel to Turkey (from Zerrin)
Things Not to Miss in Turkey(We only saw a few of these places!)
Turkey Travel Guide
We are a participant in the Amazon Services LLC Associates Program, an affiliate advertising program designed to provide a means for us to earn fees by linking to Amazon.com and affiliated sites. As an Amazon Associate, I earn from qualifying purchases.