Amazing Recipes for Grilled Kabobs
This collection of Amazing Recipes for Grilled Kabobs has 24 different options so you can make kabobs on the grill all summer long! And of course it's always fun to eat food on a stick!
PIN the recipes for grilled kabobs to try some later!
Grilling season is here and today I'm encouraging you to try some of these Amazing Recipes for Grilled Kabobs the next time you're breaking out the grill. My fondness for grilling recipes is probably obvious, and I love to cook kabobs on the grill.
There are 24 kabob recipes featured here from Kalyn's Kitchen and blogs around the web, and that should be enough good ideas to keep you making kabobs for the rest of the summer! Be sure to scroll down far enough to see all the tasty options for grilling kabobs.
What recipes for grilled kabobs are featured here?
There are kabobs here with beef, shrimp, salmon, chicken, vegetables, sausage, swordfish, and pork, so hopefully there's something for everyone in this great collection of recipes.
Are the grilled kabobs recipes low in carbs?
All the amazing kabob recipes here are suitable for low-carb or Keto diets, but even people who don't care about carbs are going to love these tasty recipes!
What type of skewers are best for grilled kabobs?
Some kabobs from Kalyn's Kitchen have those beautiful blade-type skewers I got in Turkey, and if you're making kabobs I highly recommend using either thicker blade-type skewers (affiliate link) or double skewers (affiliate link) to prevent the meat from spinning around on the skewers. But if you don't have any skewers like that, make sure you squeeze the food tightly together to hold it in place.
How can you get the complete recipe?
Just click any recipe title to get the complete recipe on the original blog. All photos are copyrighted to the blog that posted the recipe.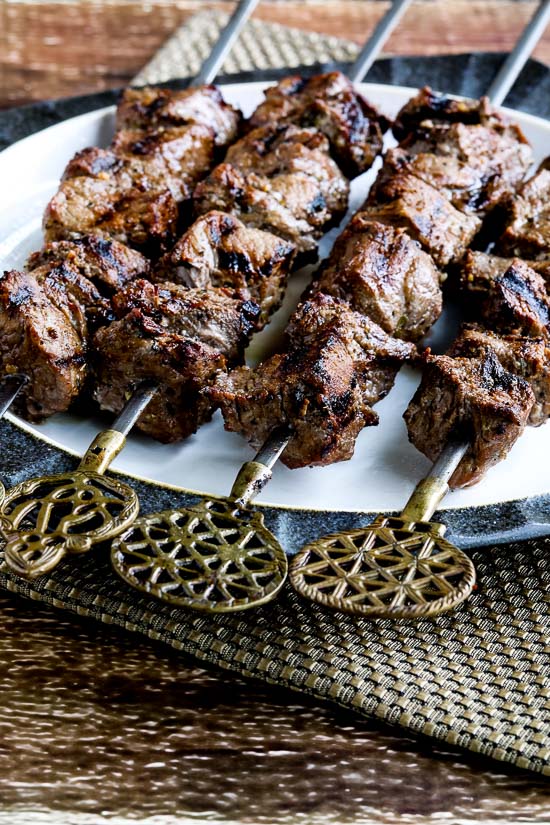 Low-Carb Marinated Beef Kabobs
from Kalyn's Kitchen
Spicy Thai-Style Grilled Veggie Skewers
from The Wanderlust Kitchen
Sanpete County Grilled Turkey (or Chicken) Kabobs
from Kalyn's Chicken
Lemon Shrimp Kabobs
from Taste and Tell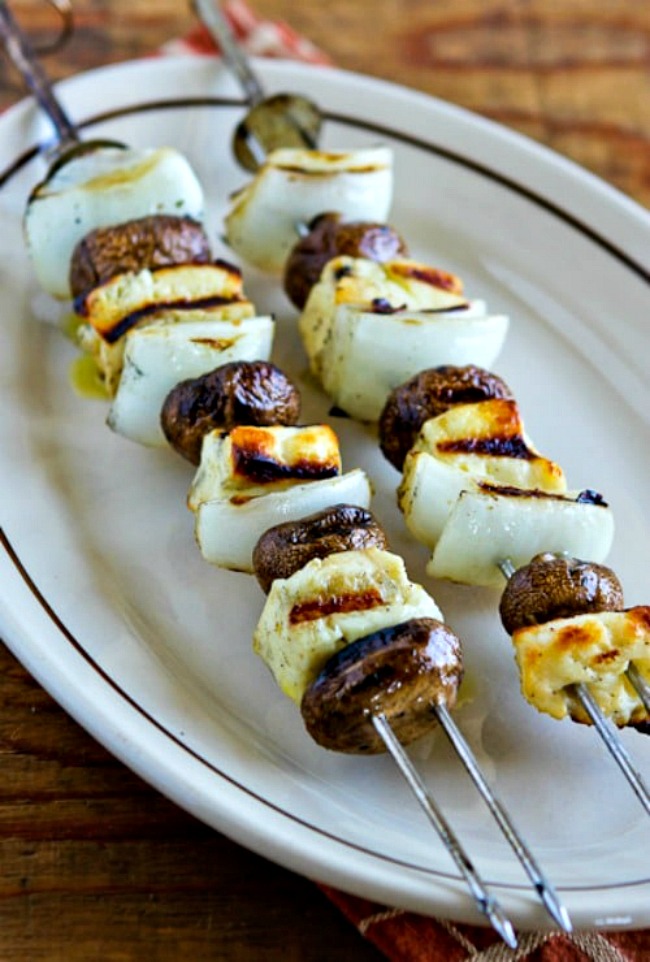 Grilled Halloumi Cheese with Mushrooms
from Kalyn's Kitchen
Low-Carb Lamb Shish Kabobs
from Kalyn's Kitchen
Grilled Smoked Paprika Chicken Kabobs
from Cookin' Canuck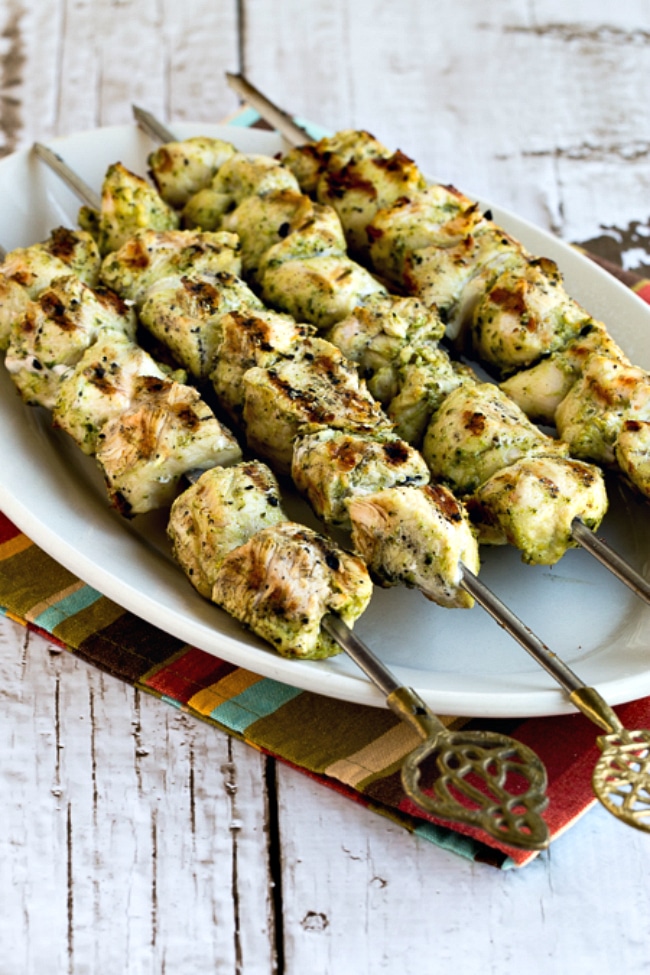 Pesto Lemon Chicken Kabobs
from Kalyn's Kitchen
Chile Mustard Pork Kabobs
from Kalyn's Kitchen
Rainbow Salmon Skewers
from The View from Great Island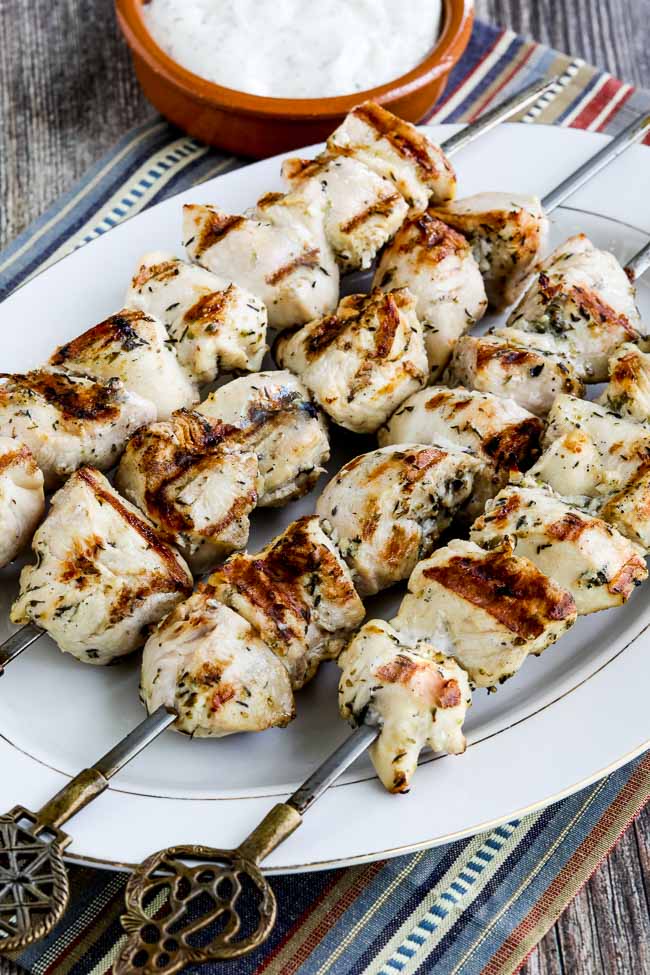 Chicken Souvlaki from Kalyn's Kitchen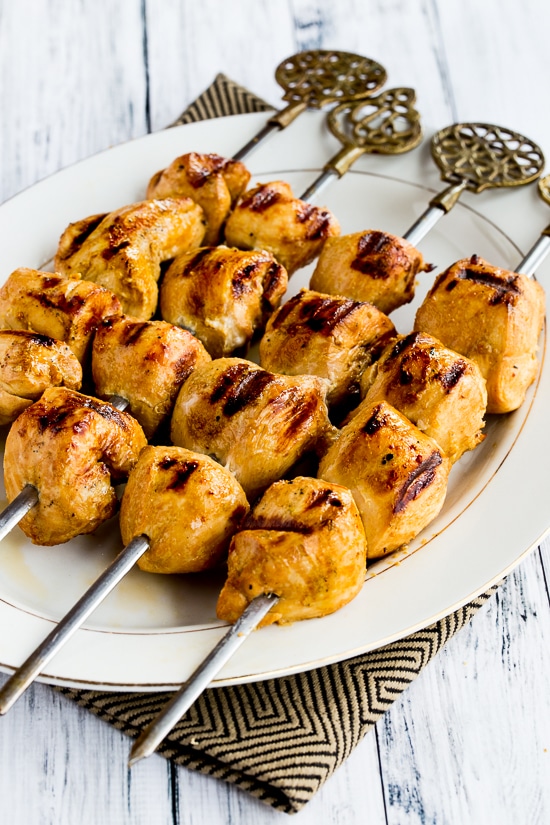 Asian Marinated Chicken Kabobs
from Kalyn's Kitchen
More Recipes for Grilled Kabobs:
We are a participant in the Amazon Services LLC Associates Program, an affiliate advertising program designed to provide a means for us to earn fees by linking to Amazon.com and affiliated sites. As an Amazon Associate, I earn from qualifying purchases.