Tofu Tacos (Video)
Crumbled tofu is baked with spices to become the filling for these Tofu Tacos that are low in net carbs and can be gluten-free! We loved the tofu taco filling in lettuce wraps with avocado-tomato salsa, but you can use low-carb tortillas if you prefer.
PIN the tasty Tofu Tacos to try them later!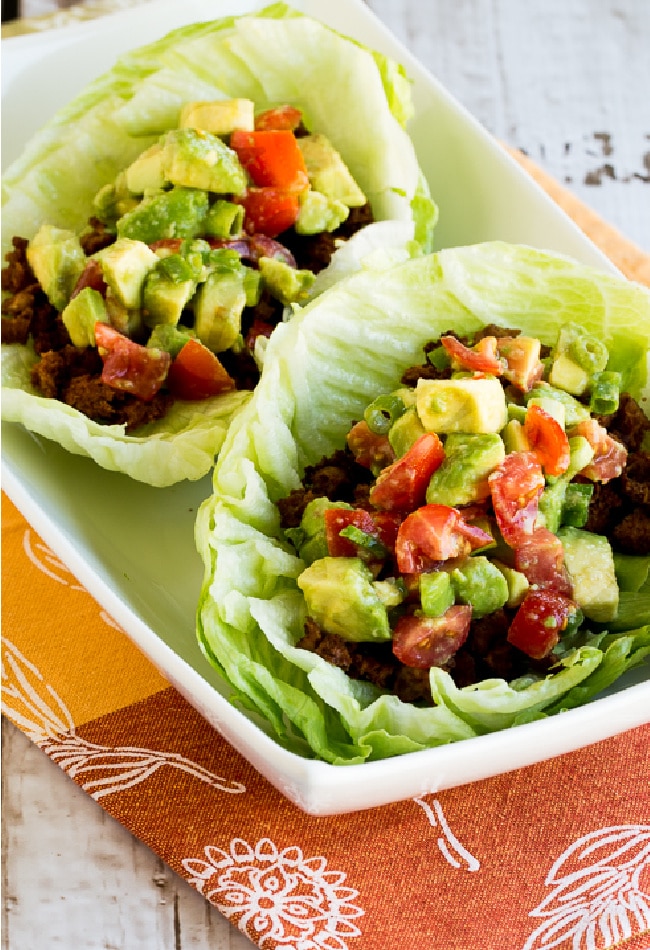 When I went to Kenya and Istanbul with my blogging friend Donna earlier this year, one of the nights in Nairobi we cooked a Mexican food dinner for a bunch of ex-pats who were friends of Donna's daughter Kate. Apparently good Mexican food is impossible to get in Kenya, and we made a huge Mexican feast for the crowd.
Donna is not only a good traveling companion and a very creative food blogger, but she's also a prolific cookbook author, and for the vegetarians attending the dinner she made amazing Tofu Tacos using a recipe from the book 101 Things to do with Tofu (affiliate link) that she wrote with her daughter Anne.
I was intrigued by the interesting process that turned extra-firm tofu into a tofu taco filling that really did taste great, and I liked the tacos made with baked tofu so much I got permission from Donna to share the recipe with my readers. If you're trying to eat more plant-based meals or just like tofu occasionally, I bet this is a recipe you'll want to make over and over!
What ingredients do you need?
What if you don't have ground Ancho Chile?
I love the just-spicy-enough flavor of ground Ancho chile, but any ground chili powder or ground chile you like will work for this recipe.
How else could you use the baked tofu taco filling?
This baked Mexican tofu would be perfect to turn my Perfect Low-Carb Taco Salad or Green Chile Turkey Taco Salad into a vegetarian taco salad meal!
Want more tasty low-carb lettuce wraps?
For more tasty dinners with lettuce wraps, check out my great collection of Low-Carb Lettuce Wraps.
How to Make Tofu Tacos:
(Scroll down for complete recipe with nutritional information.)
You will need 14-16 ounces of extra firm tofu, which has to be frozen and thawed to use in this recipe. Cut the thawed tofu into two slices.
Then press the tofu to remove most of the water (we used a heavy cast-iron pan to press out the water.)
Crumble the pressed tofu, and mix together the softened peanut butter, soy sauce or gluten-free soy sauce, ground cumin, garlic powder, ground Ancho chile, and Cholula Hot Sauce.
Put the crumbled tofu into the bowl with the sauce and stir until all the tofu is coated.
Brush a baking sheet with oil, spread out the crumbled seasoned tofu, and bake about 50 minutes (or slightly longer if you're using a small baking sheet to fit into a toaster oven like I was. I recommend using a large baking sheet!) You can see how the tofu gets darker as it bakes.
While the tofu bakes, combine avocado, lime juice, diced tomato, green onions, olive oil and a pinch of ground cumin to make the avocado-tomato salsa.
Prepare the lettuce cups.
Fill lettuce cup with a scoop of the tofu mixture and top with the salsa.
You can also eat this tasty tofu taco filling inside my favorite low-carb tortillas if you prefer!
More Delicious Recipes with Tofu: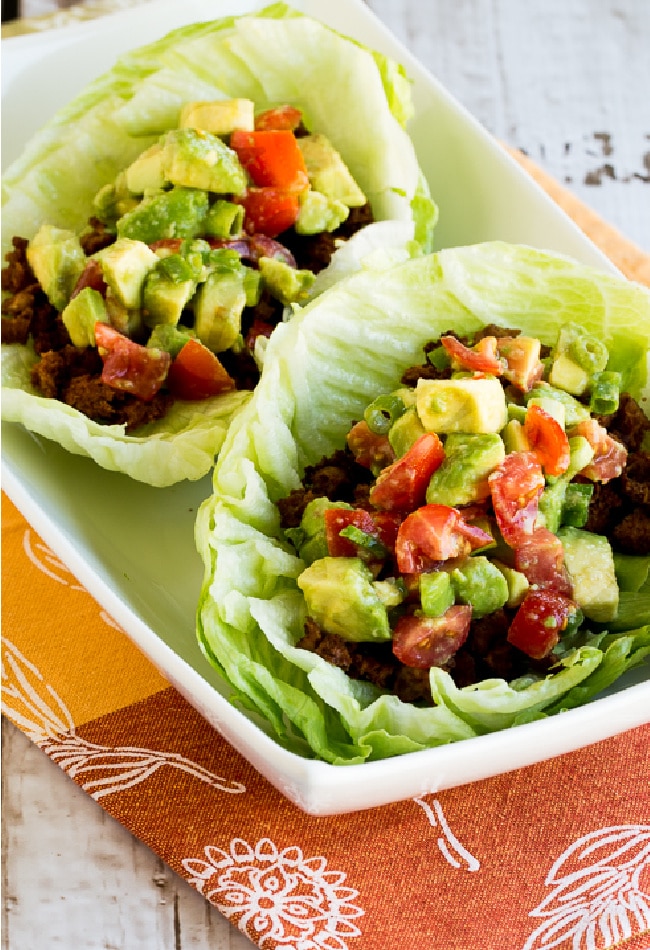 Yield: 6 lettuce wrap tacos
Tofu Tacos
Prep Time 30 minutes
Cook Time 50 minutes
Total Time 1 hour 20 minutes
Tofu is pressed, crumbled, and baked with spices to become the filling in these lettuce wrap Tofu Tacos and they're served with delicious tomato-avocado salsa. You can eat the tofu taco filling in low-carb tortillas if you prefer.
Ingredients
Ground Tofu Filling Ingredients:
16 oz. extra firm tofu, frozen and thawed (see notes)
1 T creamy peanut butter (see notes)
1/4 cup soy sauce (gluten-free if needed)
1 tsp. ground cumin
1 tsp. garlic powder
1 tsp. ground Ancho chile (see notes)
2 tsp. Cholula Hot Sauce (see notes)
olive oil, for brushing baking sheet
Taco and Avocado-Tomato Salsa Ingredients:
2 heads iceberg lettuce
2 small avocados
2 T lime juice. divided
1 cup diced cherry tomatoes
1/4 cup thinly sliced green onion
1 T olive oil
1/4 tsp. ground cumin
Instructions
Tofu must be frozen and thawed for this recipe, so plan ahead for that.
Cut the thawed tofu crosswise into 2 thin pieces, arrange tofu pieces on several layers of paper towel, top with more towels, and put something heavy on the towel to press out the water.
You might need to do this more than once if the tofu is pretty wet. (Here's more about How to Press Tofu if you haven't done it.)
While tofu is pressing preheat oven to 350F/175C.
Brush a large baking sheet with olive oil.
Put the peanut butter into a medium-sized bowl and microwave for a few seconds to soften, then stir in the soy sauce, ground cumin, garlic powder, ground Ancho chile or chili powder, and Cholula or other hot sauce (if using).
When the tofu is mostly dry from being pressed, crumble into pieces with your fingers and mix with the sauce.
Spread out the seasoned tofu crumbles on the baking sheet and bake 20 minutes, then turn tofu over and spread out again.
Bake 20 minutes more, then turn tofu again.
Bake 10-20 minutes more, or until all the liquid has evaporated and the tofu is slightly browned.
While tofu bakes, remove core from lettuce and cut heads in half, then peel off several layers at a time to make large cups to fill with the tofu mixture.
Chop the avocado into small chunks, put in a small bowl, and toss with 1 T lime juice.
Add the diced tomato, sliced green onion, other 1 T lime juice, olive oil, and ground cumin and gently stir together to make the salsa.
When tofu is dried out and slightly browned, fill each lettuce cup with a scoop of the tofu mixture, top with a scoop of salsa, and serve.
You can also eat this tasty tofu taco filling inside my favorite low-carb tortillas if you prefer!
Notes
Some packages of tofu are 14 oz, that will be fine for this recipe.
I like Adams 100% Natural Peanut Butter (affiliate link) which is low in sugar.
If you don't have ground Ancho chile (affiliate link) use any ground chile or chili powder you have on hand. If you don't have Cholula Hot Sauce (affiliate link) use any hot sauce you have on hand. You can skip the hot sauce if you want it to be less spicy.
This ground tofu filling recipe is from 101 Things to do with Tofu (affiliate link), written by my friend Donna and her daughter Anne.
Nutrition Information:
Yield:
6
Serving Size:
1
Amount Per Serving:
Calories: 267
Total Fat: 20g
Saturated Fat: 3g
Trans Fat: 0g
Unsaturated Fat: 16g
Cholesterol: 0mg
Sodium: 667mg
Carbohydrates: 15g
Fiber: 8g
Sugar: 6g
Protein: 12g
Nutrition information is automatically calculated by the Recipe Plug-In I am using. I am not a nutritionist and cannot guarantee 100% accuracy, since many variables affect those calculations.
Low-Carb Diet / Low-Glycemic Diet / South Beach Diet Suggestions:
Tofu Tacos would be suitable low-carb eating plans, even Keto if you use the lettuce wrap option. Tofu is a good low-carb choice that's recommended for all phases of the original South Beach Diet but Tofu Tacos with low-carb tortillas would be only for phase two or three.
Find More Recipes Like This One:
Use Lettuce Wraps to find more recipes like this one. Use the Diet Type Index to find recipes suitable for a specific eating plan. You might also like to follow Kalyn's Kitchen on Pinterest or on Facebook to see all the good recipes I'm sharing there.
We are a participant in the Amazon Services LLC Associates Program, an affiliate advertising program designed to provide a means for us to earn fees by linking to Amazon.com and affiliated sites. As an Amazon Associate, I earn from qualifying purchases.