Perfect Hard-Boiled Eggs
This post has four methods for making Perfect Hard-Boiled Eggs and they're foolproof no matter which easy method you choose! And there are fun recipe ideas here for using hard-boiled eggs once you've made them!
PIN Perfect Hard-Boiled Eggs to make some later!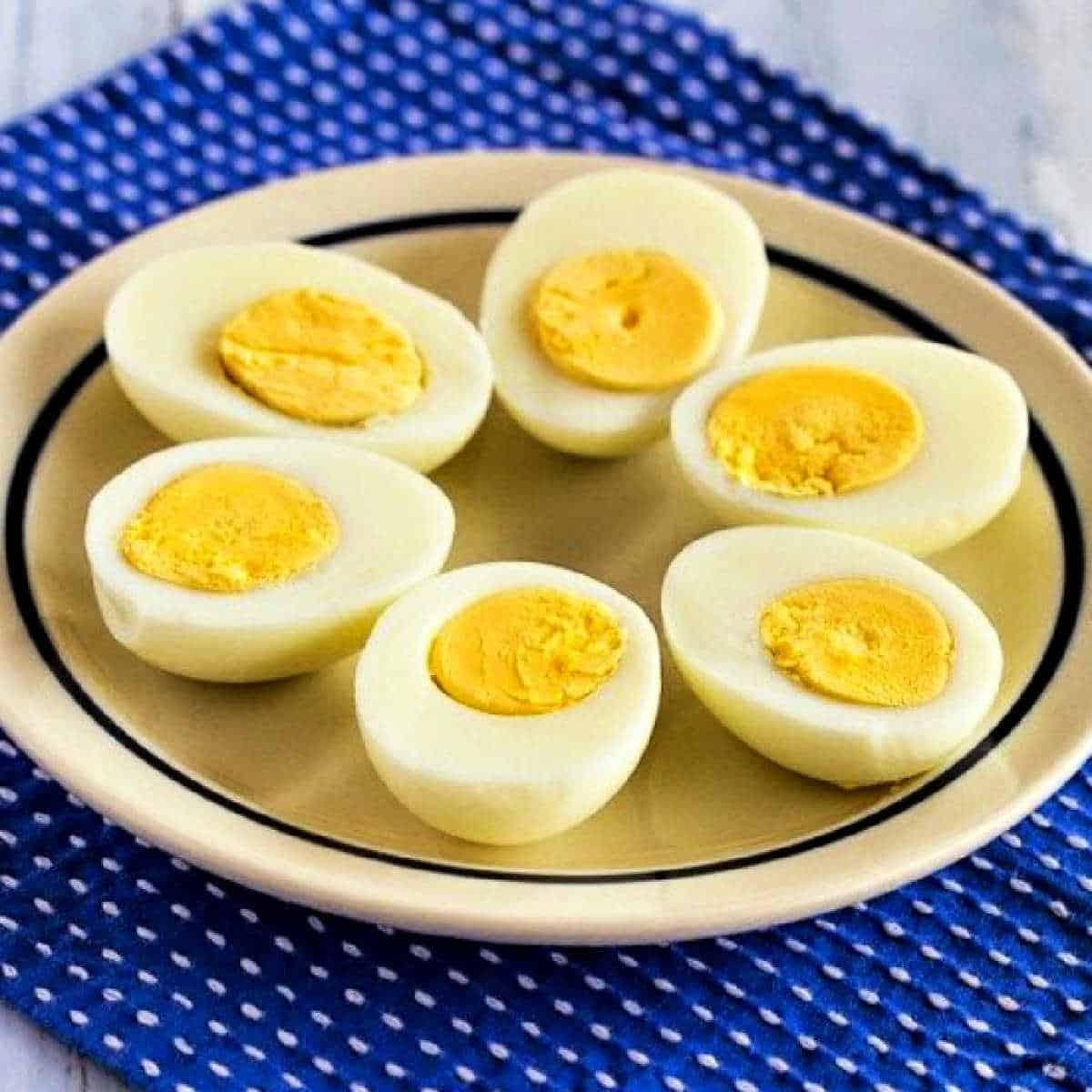 It's getting close to Easter, and that means lots of families will be making hard-boiled eggs and then dyeing them bright colors to go in Easter baskets. This post is a Public Service Announcement to remind you to buy eggs NOW, because eggs that are too fresh are always harder to peel.
And there are also some tricks to making perfect boiled eggs, and I've updated this post to share four foolproof methods for making Perfect Hard-Boiled Eggs to help you make your hard-boiled eggs for Easter if you're celebrating!
If you're going to be making eggs for Easter, try one of these methods; I promise, you will not be sorry! And when you have all those leftover Easter eggs to use up, check below for some great ideas for using hard-cooked eggs; enjoy!
Hard-Boiled Eggs shouldn't really be boiled!
For years I just put eggs in a pan, added water, and boiled them, often with mixed results. Imagine my surprise when I learned that that eggs in the shell shouldn't really be boiled, so I guess we really should be calling them hard-cooked eggs! And I discovered that using a better method for cooking the eggs will produce perfect eggs every time!
Now fast forward quite a few years, and I'm using one of these methods whenever I make hard-boiled eggs! Instant Pot Hard-Cooked Eggs are my preferred method now. But I've also had great results with Steam-Cooked Eggs and Boiling Water Cooked Eggs, and I do pull out my little egg steamer sometimes too. Use one of these methods and your eggs will turn out perfectly every time, with firm yellow yolks, no tinge of green or gray to the yolk, and the shells will remove easily.
Perfect Hard Boiled Eggs: Instant Pot Hard-Cooked Eggs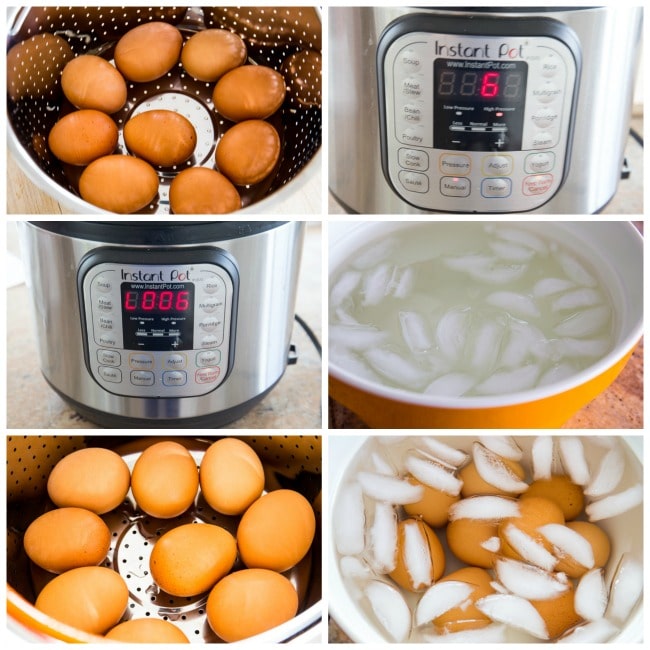 If you're an Instant Pot fan, you'll love making hard-cooked eggs in the Instant Pot! The only tricky part is deciding what time will work best for where you are. I live at a fairly high altitude so I used the 6-6-6 method; that's the time that was recommended by my friend Barbara at Pressure Cooking Today.
You might need to experiment to see how much cooking time gives you perfect results.
Put some kind of steamer baker in the Instant Pot (affiliate link). Put desired number of eggs in the basket and add one cup water. (Cooking time doesn't change with more or less eggs.)
Set the Instant Pot to MANUAL, HIGH PRESSURE, 6 minutes.
When time is up, let the pressure release for 6 minutes. While pressure releases, prepare a bowl with ice water.
After 6 minutes, release the rest of the pressure and carefully open the lid of the Instant pot. Remove eggs (with a large spoon or using the steamer basket) and transfer them to the ice water.
Let eggs soak in the ice water for 6 minutes. Your eggs will be perfectly cooked and peel easily!
Perfect Hard-Boiled Eggs: Steam-Cooked Eggs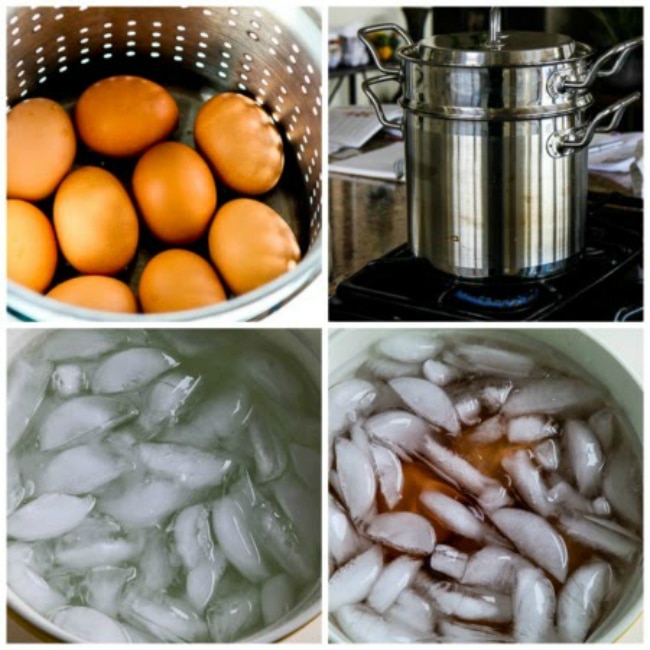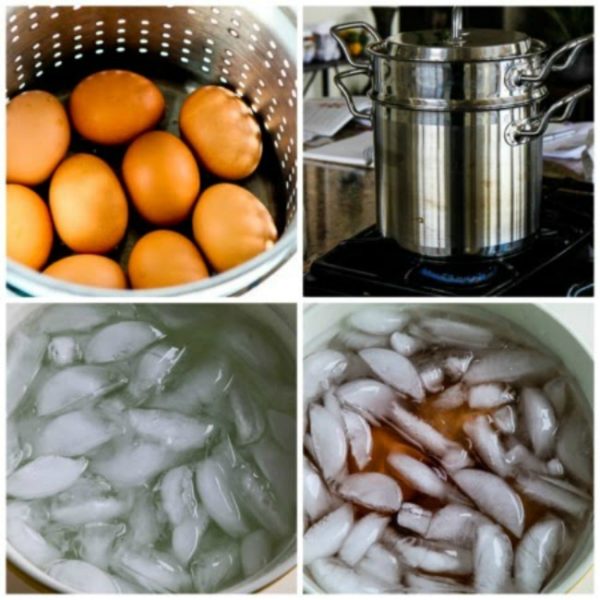 You can use any type of Vegetable Steamer or Steamer Insert (affiliate links) for steamed eggs, but I use the wonderful stovetop stovetop steamer I got from my late stepmother Norma.
Only put enough eggs to fit in a single layer.
Put a couple of inches of water in the bottom of the steamer, as much as you can fit without the water touching the eggs.
When the water comes to a boil, put the lid on and steam eggs 20-22 minutes. (I live at a high altitude so my eggs needed the full time, but 20 minutes will probably be perfect for most places.
You might need to do a test batch to decide what the perfect cooking time is at your altitude.)
While the eggs are steaming prepare a bowl with ice and water.
When eggs are done use a large spoon to immediately transfer them to the ice water bath.
Let eggs sit in the ice water about 10 minutes, then peel. (If you're eating them hot, just leave in the water for a minute or two.)
Perfect Hard-Boiled Eggs: Use an Electric Egg Steamer
If you make hard-cooked eggs often or like to make soft-boiled eggs for breakfast, it might be worth investing in an inexpensive Egg Steamer (affiliate link). I have one of these little gadgets and it really does cook the eggs perfectly without much fuss. If you look carefully at the photo, you see that it has a tool that pokes a hole in each egg when you put it into the basket. Then you add water depending on how done you want the eggs (there's a measuring tube), and it makes a buzzing sound when it's done. Mine is well-used so don't judge me harshly for it looking a bit dirty in this photo!
Perfect Hard-Boiled Eggs: Boiling Water Cooked Eggs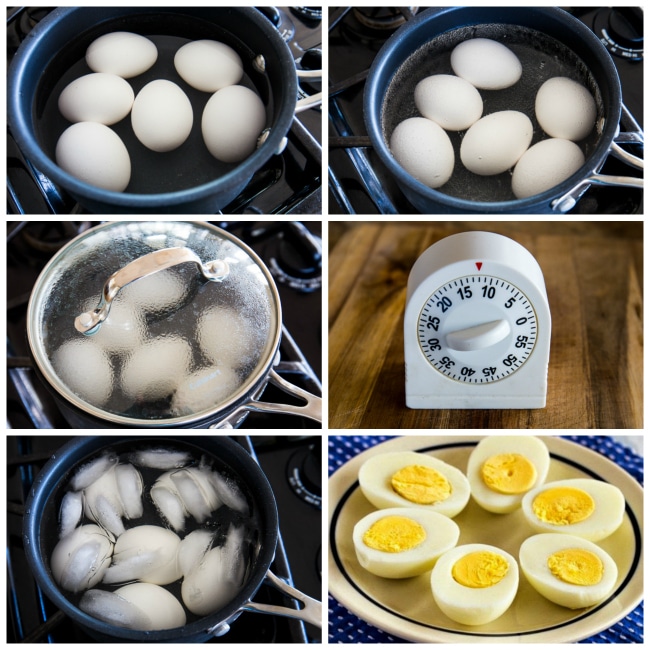 I started using this method in 2007, and if you don't have an Instant Pot or a vegetable steamer this method will also give perfect results every time, although the Instant Pot eggs and steamed eggs are slightly easier to peel.
For best results, take eggs out of the refrigerator and let them come to room temperature before cooking.
Put eggs in a pan large enough to hold all the eggs in a single layer, with water to cover eggs by at least an inch.
Bring water to a boil. As soon as it boils, turn off heat and cover eggs. Set timer for 12 minutes.
After 12 minutes, drain eggs, and add cold water with some ice cubes. Let eggs cool about 10 minutes in cold water, then drain and store in refrigerator.
And the gorgeous eggs at the top of this post were cooked using this old low-tech method!
Recipes to Use Your Perfect Hard-Boiled Eggs:
Without a doubt, deviled eggs are one of my favorite things to make with hard-cooked eggs, and I shared all of My Best Deviled Eggs in one post.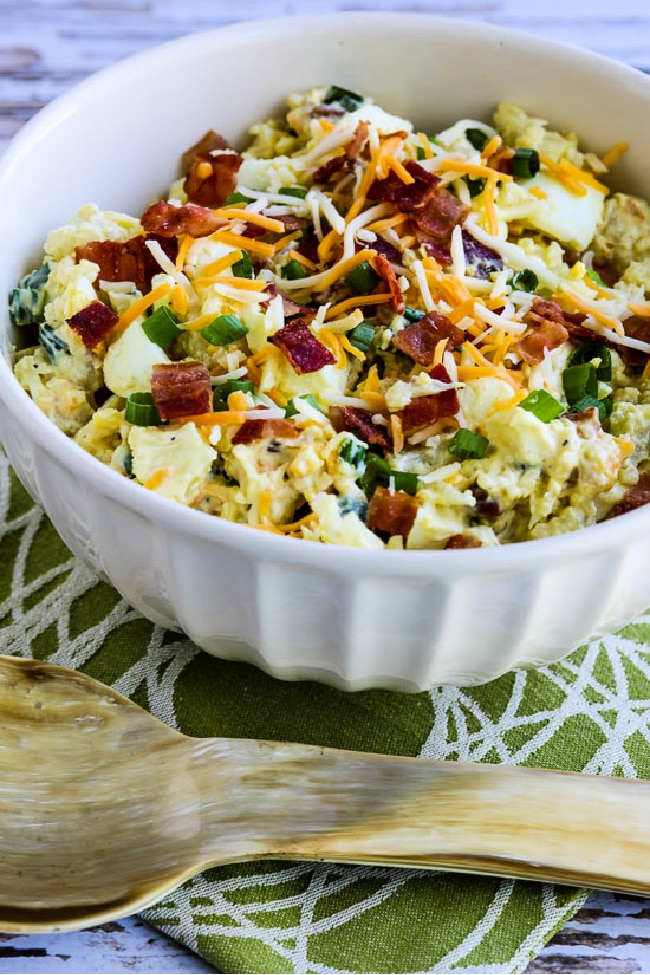 You can't go wrong with this Loaded Cauliflower Mock Potato Salad; even the people who aren't low-carb eaters like this in my family!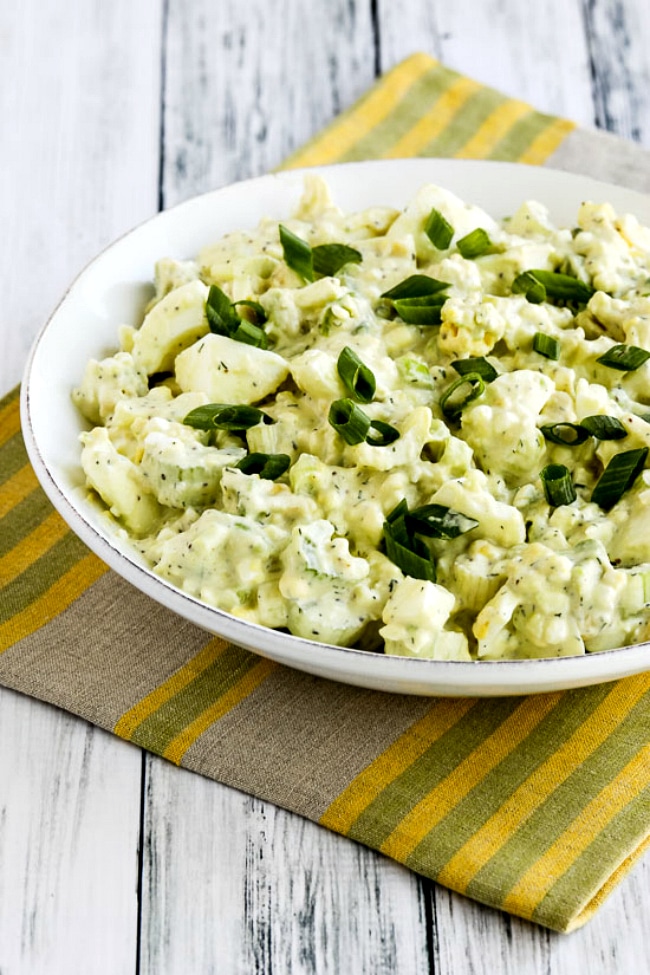 Avocado Egg Salad is another option that's really a wow for me!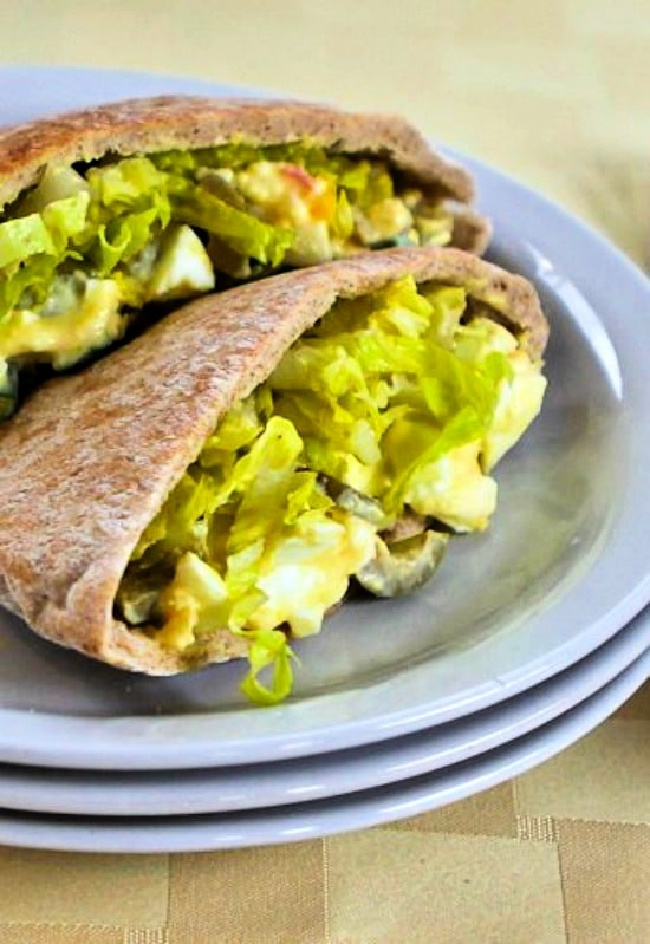 If you use my favorite Low-Carb Pita Bread, this Egg Salad Pita with Green Olives is a low-carb treat! You could eat the tasty egg salad mixture in lettuce wraps for Keto or Gluten-Free if you prefer.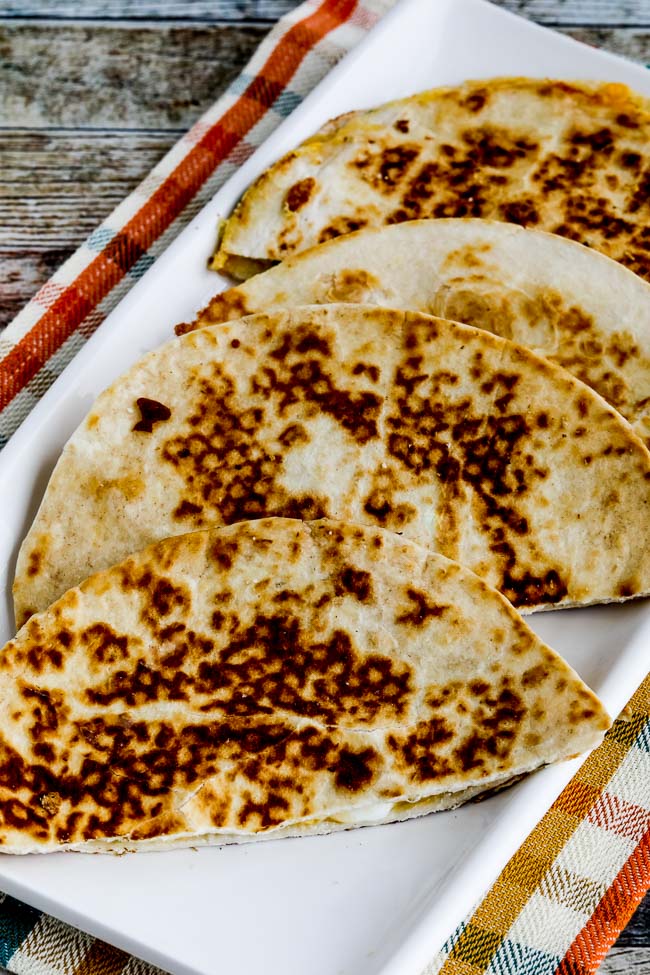 And these Egg Salad Breakfast Quesadillas are a think-outside-the-box idea for using hard-boiled eggs that I got from a Kalyn's Kitchen reader years ago! I use low-carb tortillas but eat the egg salad mixture in lettuce wraps for Keto or Gluten-Free.
More Recipes that use Hard-Boiled Eggs:
Check out my round-up post of Low-Carb and Keto Recipes Using Hard-Boiled Eggs for even more ideas for using those hard-cooked eggs!
Let us know in the comments if you have another great idea for using hard-boiled eggs.
We are a participant in the Amazon Services LLC Associates Program, an affiliate advertising program designed to provide a means for us to earn fees by linking to Amazon.com and affiliated sites. As an Amazon Associate, I earn from qualifying purchases.