Kale Greek Salad
Kale Greek Salad has kale, spinach, tomatoes, cucumbers, olives, and a Feta-lemon vinaigrette giving this salad plenty of Greek flavors! And everyone who enjoys greens and likes Greek Salad will enjoy this combination.
PIN the Kale Greek Salad to try it later!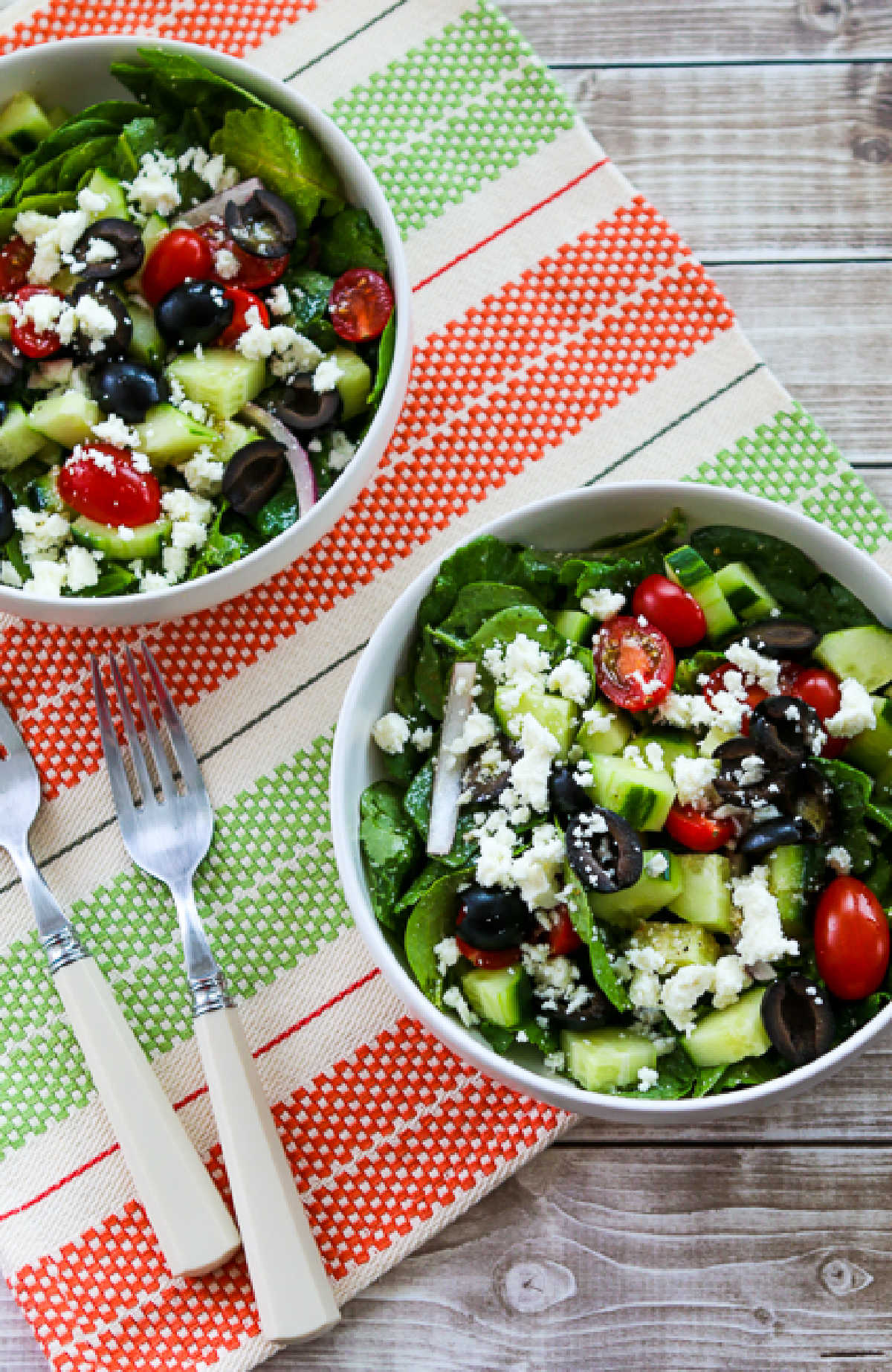 It's not hard to tell how much I love the Greek Salad flavor combination of tomatoes, cucumbers, onions, olives, and Feta, and recipe ideas with those ingredients are always popping into my head. This Kale Greek Salad was inspired by my love of those traditional Greek ingredients combined with the need to use up two big containers of baby kale and spinach that somehow ended up in the fridge at the same time!
But what really moved this salad into the wow category for me was the idea of dressing the greens with a tangy Feta-Lemon Vinaigrette so all those flavors were well-distributed in the salad, and a salad with a double dose of Feta cheese is always going to be a winner for me. I could eat this over and over for a tasty lunch or dinner salad; hope you enjoy!
What ingredients do you need for this recipe?
(This is only a list of ingredients; please scroll down for complete printable recipe. Or if you use the JUMP TO RECIPE link at the top of the page, it will take you directly to the complete recipe.)
What ingredients give this kale salad Greek flavors?
Even though kale and spinach aren't traditional in Greek salad, this recipe has plenty of Greek flavors with Feta cheese, lemon, cucumbers, tomatoes, red onion, and olives. You can use Kalamata olives if you prefer to make it more authentically Greek.
What types of greens can you use for the Kale Greek Salad?
You can definitely make the salad with all kale or all spinach if you prefer. The salad would also be great with mixed greens or my favorite Power Greens mix. I do love using baby greens for a salad like this.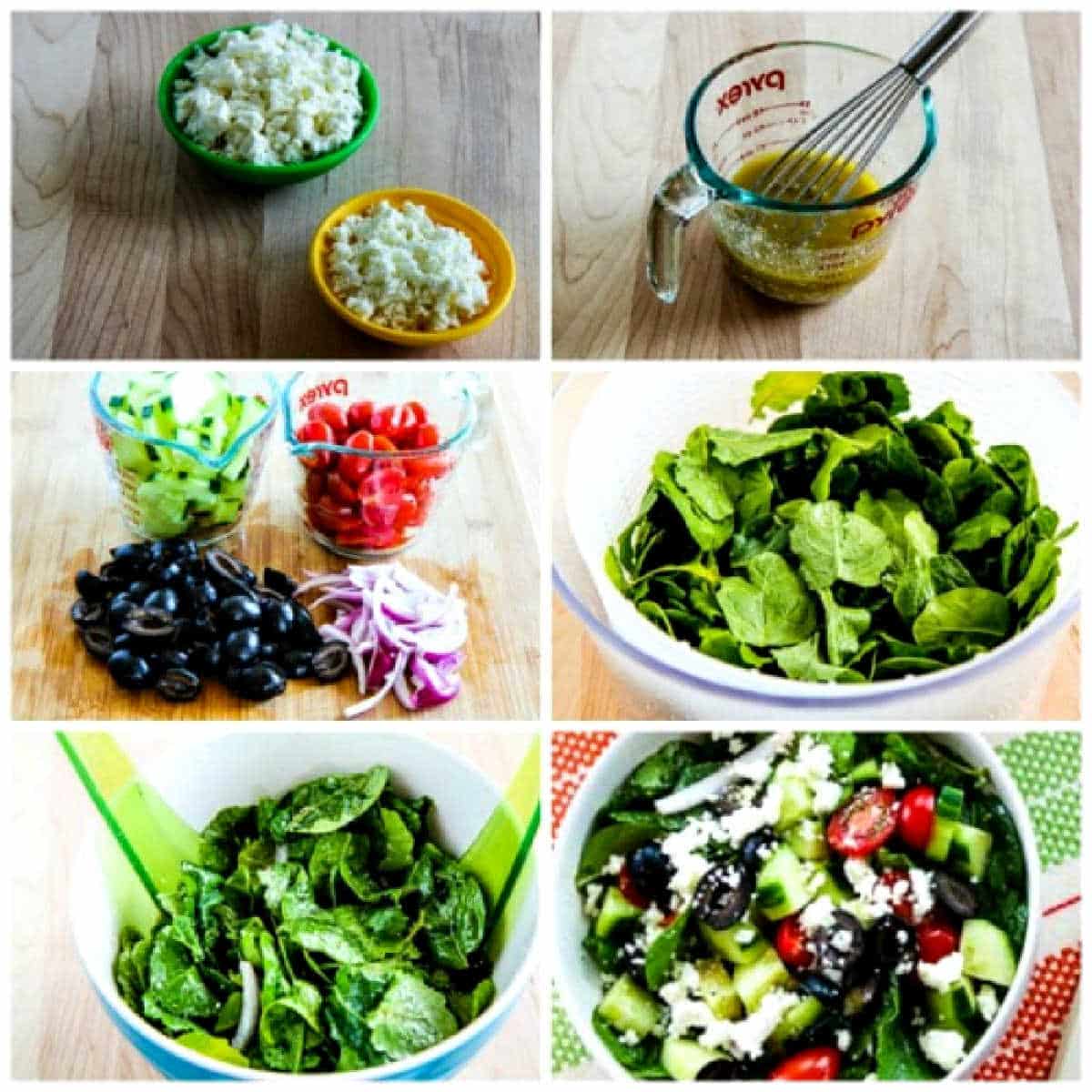 How to make Kale Greek Salad:
(This is only a summary of the steps for the recipe; please scroll down for complete printable recipe. Or if you use the JUMP TO RECIPE link at the top of the page, it will take you directly to the complete recipe.)
You'll need two tablespoons of finely crumbled Feta for the dressing, plus a few ounces of Feta to top the salad.
Whisk together the lemon juice, red vine vinegar, Greek Seasoning (affiliate link), olive oil, and finely crumbled Feta to make the Feta-Lemon Vinaigrette.
Get the olives, cucumbers, cherry tomatoes, and onions prepared to top the salad.
I combined the kale and spinach in my salad spinner and gave them a good soak in ice cold-water to crisp the greens.
Toss together the spinach, kale, and thinly sliced red onions with the desired amount of Feta-Lemon Vinaigrette.
Then top each salad with some chopped cucumbers, tomatoes, olives, and crumbled Feta and enjoy!
Make it a Low-Carb Meal:
This Kale Greek Salad would make a great side dish with Very Greek Grilled Chicken, Easy Baked Pesto Chicken, Air Fryer Fish Sticks, Baked Mayo-Parmesan Fish, or Greek Pork Chops for a low-carb meal.
More Recipes with Greek Salad Flavors:
Yield: 6 side-dish servings
Kale Greek Salad
Prep Time 20 minutes
Total Time 20 minutes
This Kale Greek Salad has a delicious Feta-lemon vinaigrette and this salad combines greens with all the flavors that make Greek salad so popular!
Ingredients
Dressing Ingredients:
2 T fresh-squeezed lemon juice (I use my fresh-frozen lemon juice)
2 tsp. red wine vinegar
1/4 tsp. Greek Seasoning
4 T extra-virgin olive oil
2 T finely-crumbled Feta Cheese
Salad Ingredients:
5 oz. baby kale leaves (see notes)
5 oz. baby spinach leaves (see notes)
1 cup cherry tomatoes, cut in half
1 cup chopped cucumbers
one 6 oz. can olives, drained and cut in half  (see notes)
1/2 small red onion, peeled and cut into thin lengthwise slivers
3 oz. crumbled Feta Cheese
Instructions
Whisk together the fresh-frozen lemon juice, red wine vinegar, Greek Seasoning (affiliate link), and olive oil and when it's combined whisk in the 2 tablespoons of finely-crumbled Feta Cheese.
If your greens are slightly wilted from being in the fridge, give them a good soak in the salad spinner with ice-cold water and then spin dry.
Peel the cucumbers in strips, leaving some peel on for looks, then cut cucumbers in half or quarters lengthwise and cut into slices. (If you're lucky enough to have fresh garden cucumbers, they don't need to be peeled.)
Drain olives well and cut in half.
Cut cherry tomatoes in half.
Cut the peeled red onion into thin lengthwise strips.
Put the dried greens and red onion strips into a bowl and toss with desired amount of dressing so the greens are moistened to your liking, saving some dressing to drizzle over the top.
Arrange greens in individual bowls and top each one with some of the cucumbers, tomatoes, and olives.
Drizzle a little more dressing over the vegetables if desired; then top each salad with Feta Cheese and serve.
Notes
You can switch out the spinach and/or kale for any type of greens that appeal to you. I used regular black olives; Kalamata olives would also be great for this salad.
Recipe created by Kalyn with inspiration from many other Greek salad recipes using these favorite ingredients.
Nutrition Information:
Yield:
6
Serving Size:
1
Amount Per Serving:
Calories: 181
Total Fat: 16g
Saturated Fat: 4g
Trans Fat: 0g
Unsaturated Fat: 11g
Cholesterol: 15mg
Sodium: 454mg
Carbohydrates: 7g
Fiber: 2g
Sugar: 2g
Protein: 4g
Nutrition information is automatically calculated by the Recipe Plug-In I am using. I am not a nutritionist and cannot guarantee 100% accuracy, since many variables affect those calculations.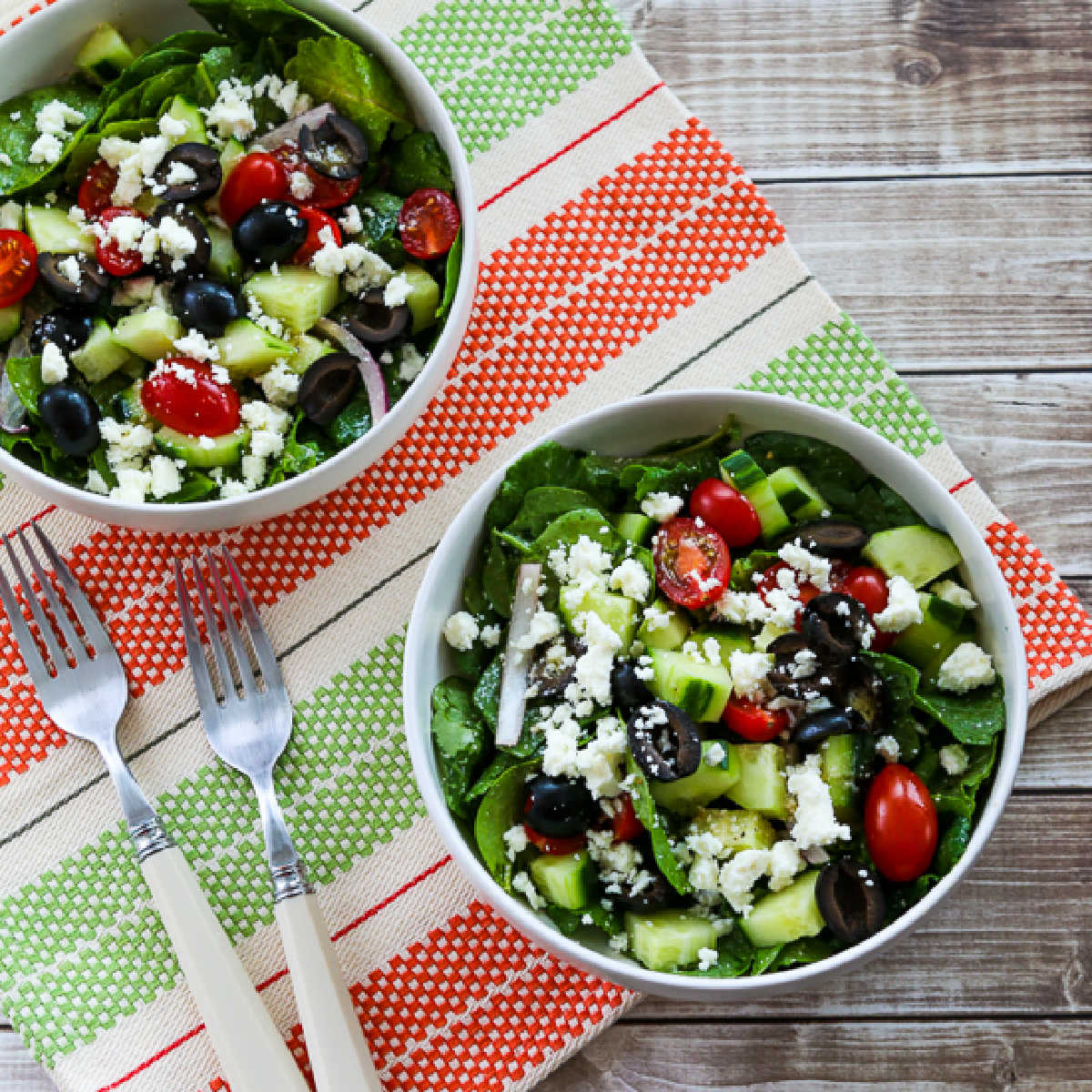 Low-Carb Diet / Low-Glycemic Diet / South Beach Diet Suggestions:
This Kale Greek Salad would be perfect for low-carb and low-glycemic eating plans, including Keto and any phase of the original South Beach Diet.
Find More Recipes Like This One:
Use Salad Recipes to find more recipes like this one. Use the Diet Type Index to find more recipes suitable for a specific eating plan. You might also like to follow Kalyn's Kitchen on Pinterest, on Facebook, on Instagram, on TikTok, or on YouTube to see all the good recipes I'm sharing there.
Historical Notes for this Recipe:
This recipe was posted in 2014. It was last updated in 2023 with more information.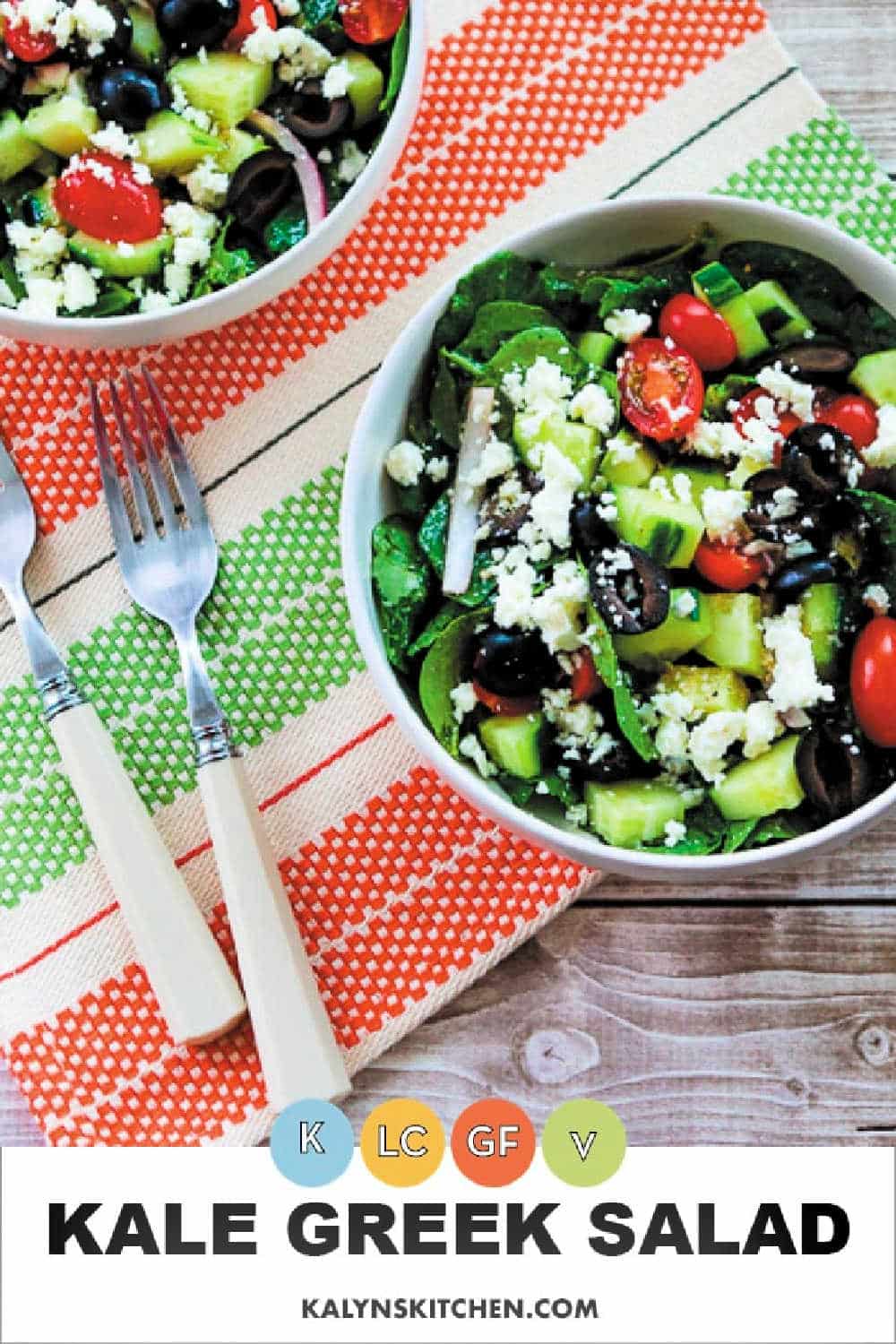 We are a participant in the Amazon Services LLC Associates Program, an affiliate advertising program designed to provide a means for us to earn fees by linking to Amazon.com and affiliated sites. As an Amazon Associate, I earn from qualifying purchases.