Green Bean Salad with Greek Olives and Feta Cheese (Video)
There are so many of my favorite flavors in this tasty Green Bean Salad with Greek Olives and Feta Cheese that uses fresh green beans! And if you go easy on the sweet onions this is a great low-carb salad!
PIN the Green Bean Salad with Feta to try it later!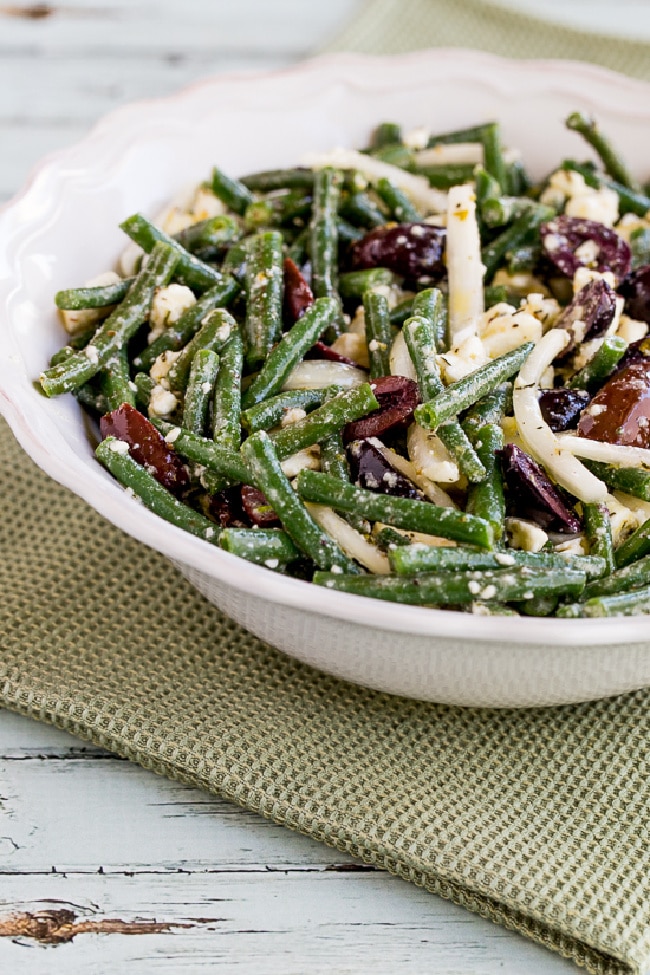 This favorite Green Bean Salad with Greek Olives and Feta Cheese could be a lovely side dish for something cooked on the grill. I first made this green bean salad salad with Feta years ago and took it to a barbecue at the house of my friends Mary and Ken, and I've been making it ever since. And today I'm happy to have new pictures for this tasty salad!
The original version of the salad had two options for a tasty dressing, but as I made the salad through the years the version I liked most evolved into one using a much simpler dressing that featured white balsamic vinegar (or white vinegar). That's the dressing I'm including with this post, and I think you'll like it, but you can use the link above to see the original dressing. The only other thing I changed is to use a little more Feta cheese, because more Feta is always good, right?
What ingredients do you need for this recipe?
What adds Greek flavors to this Green Bean Salad?
Of course the Feta cheese and Kalamata olives definitely give this salad Greek flavors. But the dressing includes the Greek flavor trilogy of olive oil, lemon juice, and oregano, and there is even more Greek flavor from the Greek Seasoning.
What if you don't want raw onion in the salad?
I love the sweet white onion in this salad, but I wouldn't use regular white onion for a salad where the onion is raw. Sweet onions are available any time of year now, but I know raw onion is something that some people don't find appealing, even when the onions are sweet. You can omit the onions, or use thinly sliced green onion if you have some onion-avoiders in the family. But if you like onion, the sweet onions (cut into slivers so they mimic the shape of the green beans) are amazing.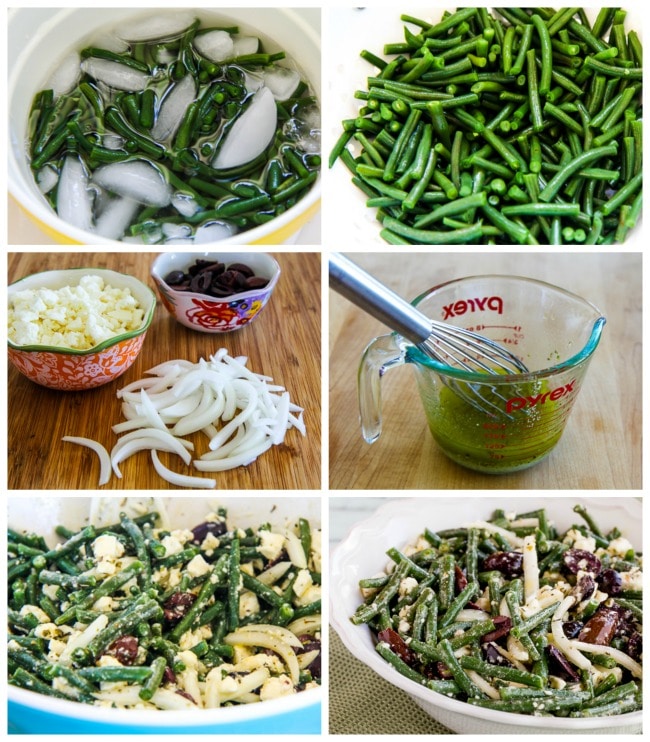 How to make Green Bean Salad with Greek Olives and Feta Cheese:
(Scroll down for complete printable recipe including nutritional information.)
Trim beans, and cut into pieces about 2 inches long.
Steam beans for 5 minutes. Then immediately put beans into ice water to stop the cooking and drain well.
While the beans drain crumble Feta, slice olives, and cut onion into slivers about the same thickness as the beans.
Whisk together vinegar, olive oil, lemon juice, Dried Oregano, Greek Seasoning, and pepper to make the dressing.
Combine beans, olives, and onions and toss with desired amount of dressing, then gently fold in the Feta.
Serve right away or refrigerate.
This will stay good in the fridge for a day or two, although I think it's best the day you make it!
Make it a Low-Carb Meal:
This green bean salad with Feta would be amazing with Chicken Souvlaki, Very Greek Grilled Chicken, Spicy Air Fryer Fish with Remoulade Sauce, Sauteed Scallops with Garlic, or Air Fryer Marinated Chicken Breasts.
More Amazing Salads with Green Beans:
Green Bean, Tomato, Feta Salad
Green Bean Salad with Sausage and Olives
Green Bean Salad with Hearts of Palm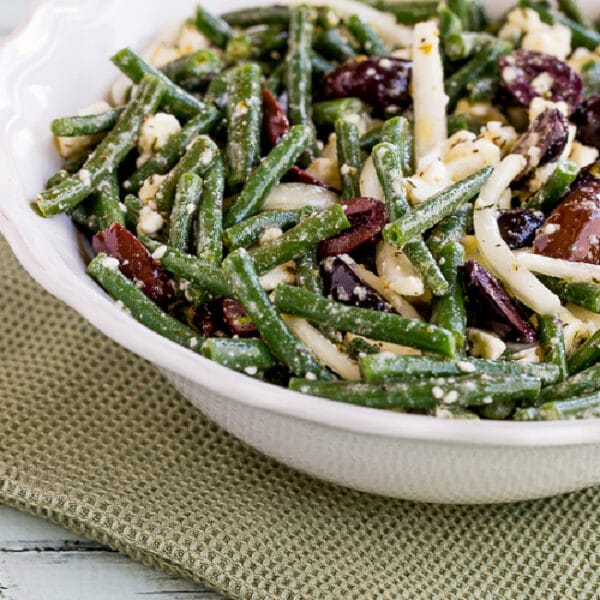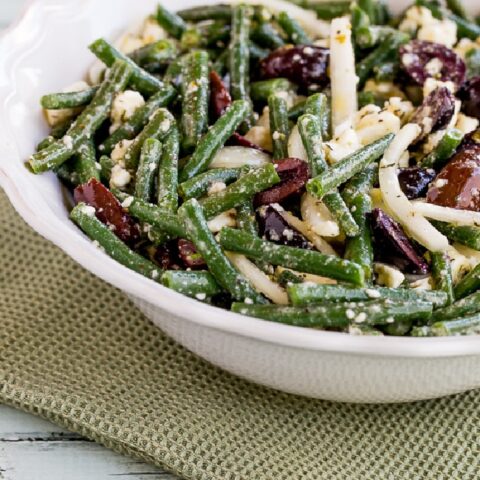 Yield: 6 servings
Green Bean Salad with Greek Olives and Feta Cheese
Prep Time 30 minutes
Cook Time 5 minutes
Total Time 35 minutes
Green Bean Salad with Greek Olives and Feta Cheese combines some of my very favorite ingredients for a tasty salad with Greek flavors.
Ingredients
Ingredients:
1 lb. fresh green beans
1 small sweet white onion, cut in half crosswise, then into slivers the same size as the beans (see notes)
1/2 cup pitted Kalamata Olives, cut in half (see notes)
1 C crumbled Feta cheese
Dressing Ingredients:
3 T white balsamic vinegar (see notes)
2 T extra-virgin olive oil
2 tsp. fresh lemon juice (see notes)
2 tsp. Dijon mustard
1 tsp. dried oregano
1 tsp. Greek seasoning
fresh-ground black pepper to taste
Instructions
Trim both ends of beans. (I trim them by loosely holding a handful of beans while standing them upright on the cutting board to line up ends of beans. Trim, then repeat with the other end.)
Then cut beans into pieces about 2 inches long.
Steam beans until barely tender-crisp, about 5 minutes, then quickly drain beans and plunge into cold water with ice cubes to stop cooking.
Remove quickly from ice water and let beans drain very well in a colander.
While beans are draining, cut onions into strips slightly smaller than beans and cut olives in half.
Crumble Feta Cheese.
Whisk together the white balsamic vinegar (affiliate link), olive oil, lemon juice, Dijon, dried oregano, Greek seasoning (affiliate link), and pepper to make the dressing.
Combine beans, olives, and onions in plastic or glass bowl, pour dressing over and stir a few times so all vegetables are well covered.
Gently stir in Feta and serve.
You can chill several hours to allow flavors to blend and then gently stir in the Feta when you serve the salad, but we skipped the chilling step this time and it was still fantastic.
This will keep for a few days in the refrigerator, but I think it's best the day you make it.
Notes
You can use red onion if you prefer. Use less onion if you want fewer carbs. Use any type of black olives that you like if you're not a Kalamata olive fan.
If you don't have white balsamic vinegar (affiliate link), use white vinegar or white wine vinegar and a pinch of sweetener. I use my fresh-frozen lemon juice in this recipe.
This recipe created by Kalyn.
Nutrition Information:
Yield:
6
Serving Size:
1
Amount Per Serving:
Calories: 167
Total Fat: 13g
Saturated Fat: 4.7g
Trans Fat: 0g
Unsaturated Fat: 7.3g
Cholesterol: 22mg
Sodium: 604mg
Carbohydrates: 10g
Fiber: 2.8g
Sugar: 5.2g
Protein: 5.3g
Nutrition information is automatically calculated by the Recipe Plug-In I am using. I am not a nutritionist and cannot guarantee 100% accuracy, since many variables affect those calculations.
Low-Carb Diet / Low-Glycemic Diet / South Beach Diet Suggestions:
This Green Bean Salad with Greek Olives and Feta Cheese is a good choice for a low-carb or Keto diet plan or any phase of the original South Beach Diet. South Beach would recommend a moderate amount of Feta cheese; other low-carb diet plans would permit more cheese.
Find More Recipes Like This One:
Use Salad Recipes to find more recipes like this one. Use the Diet Type Index to find recipes suitable for a specific eating plan. You might also like to follow Kalyn's Kitchen on Pinterest, on Facebook, on Instagram, or on YouTube to see all the good recipes I'm sharing there.
Historical Notes for this Recipe:
This recipe was first posted in 2008, and it's become a summer favorite at my house. The recipe was last updated in 2022.
We are a participant in the Amazon Services LLC Associates Program, an affiliate advertising program designed to provide a means for us to earn fees by linking to Amazon.com and affiliated sites. As an Amazon Associate, I earn from qualifying purchases.