Stir-Fried Tofu with Ginger and Soy Sauce
Even if you're never cooked tofu, this Stir-Fried Tofu with Ginger and Soy Sauce is so easy to make, and tofu is super low in carbs!
PIN Stir-Fried Tofu with Ginger and Soy Sauce to try it later!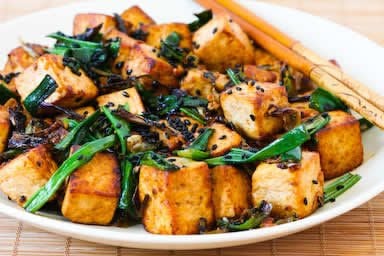 I've enjoyed tofu many times when I've had it in restaurants, but until recently I'd never cooked it at home. I've been determined to try it though, and last weekend I made this delicious stir-fried tofu using my new wok, and a recipe I adapted from Mark Bittman's How to Cook Everything Vegetarian (affiliate link) a book I just couldn't resist at Costco!
Tofu is so fantastic for a meatless and carb-conscious dinner, and this was so delicious! I can see there will be a lot more tofu dishes in my future.
What kind of tofu should you use?
There are four types of tofu, and choosing the right kind is important.I used extra-firm organic tofu for this dish, which worked out perfectly.
I drained my tofu in a colander and then cut it into slices and pressed each slice with a paper towel to squeeze out as much water as I could. If more experienced tofu cooks want to offer tips and advice in the comments, I'll be happy to get them!
Make it a Meal:
Stir-Fried Tofu with Scallions, Garlic, Ginger, and Soy Sauce would taste great with Roasted Broccoli with Soy Sauce and Sesame Seeds or Spicy Grilled Eggplant.
More Delicious Ways to Cook Tofu:
Grilled Tofu Satay with Peanut Sauce from Kalyn's Kitchen, cooked and posted by Rand
Carmelized Tofu from 101 Cookbooks
Tofu Parmigiana from Chick in the Kitchen
Montreal Grilled Tofu Wraps from The Perfect Pantry
More About Stir-Fry Cooking:
If you're not familiar with Chinese cooking, you may want to read the basic rules for stir-frying.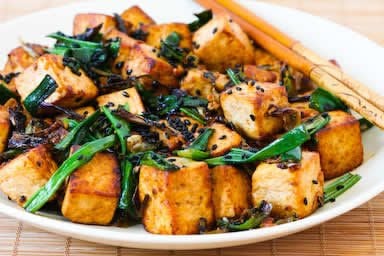 Yield: 4 servings
Stir-Fried Tofu with Ginger and Soy Sauce
Prep Time 10 minutes
Cook Time 10 minutes
Total Time 20 minutes
Stir-Fried Tofu with Ginger and Soy Sauce is so easy to make, even if you're never cooked tofu!
Ingredients
14 oz. extra firm organic tofu
2 T peanut oil (more or less, depending on your pan)
2 tsp. finely minced garlic
2 tsp. finely grated ginger root
1 cup scallions, sliced into 2 inch pieces (see notes)
3 T vegetable stock
1 1/2 T soy sauce (see notes)
1 tsp. black sesame seeds (optional)
Instructions
Remove tofu from package and drain in a colander in the sink for a few minutes.
Then cut tofu into slices about 3/4 – 1 inch thick.
Put each slice between two paper towels and press down on it so most of the liquid is absorbed into the towel, then cut tofu into square cubes.
Put wok or heavy frying pan on stove and preheat pan until it feels hot when you hold your hand over it. Add oil and heat until shimmering.
Then add garlic and ginger, cook about 10 seconds, and quickly add tofu cubes and white pieces of green onion.
Cook, stirring occasionally, until the tofu is quite browned. (I cooked it about 7 minutes to get the tofu as brown as you see in the photo.)
When tofu is well browned, add the stock and cook, stirring, until it is mostly evaporated.
Add the green parts of green onions and cook about 30 seconds. Add soy sauce and stir to distribute.
Turn off heat, put tofu and onions on a serving plate and sprinkle with black sesame seeds.
Serve hot.
Notes
For maximum flavor with tofu, I cut the garlic and ginger much smaller and left it in the finished dish. One cup scallions is about 1 bunch green onions. Keep white parts separate from green parts. I used less than this, but only because I didn't have enough. Use Gluten-Free Soy Sauce (affiliate link) if needed.
Recipe adapted from How to Cook Everything Vegetarian. (affiliate link)
Nutrition Information:
Yield:
4
Serving Size:
1
Amount Per Serving:
Calories: 160
Total Fat: 12g
Saturated Fat: 2g
Trans Fat: 0g
Unsaturated Fat: 10g
Cholesterol: 0mg
Sodium: 369mg
Carbohydrates: 4g
Fiber: 2g
Sugar: 1g
Protein: 11g
Nutrition information is automatically calculated by the Recipe Plug-In I am using. I am not a nutritionist and cannot guarantee 100% accuracy, since many variables affect those calculations.
Low-Carb Diet / Low-Glycemic Diet / South Beach Diet Suggestions:
Stir-Fried Tofu with Scallions, Garlic, Ginger, and Soy Sauce is a great dish for low-carb diet plans, and for any phase of the South Beach Diet.
Find More Recipes Like This One:
Use Stir-Fry Recipes to find more recipes like this one. Use the Recipes by Diet Type photo index pages to find more recipes suitable for a specific eating plan. You might also like to Follow Kalyn's Kitchen on Pinterest to see all the good recipes I'm sharing there.
We are a participant in the Amazon Services LLC Associates Program, an affiliate advertising program designed to provide a means for us to earn fees by linking to Amazon.com and affiliated sites. As an Amazon Associate, I earn from qualifying purchases.